This Vegan Fudge is quick & easy to prepare, using just 6 ingredients you may already have in your pantry. It's a healthier option compared to the traditional version I grew up eating, but it totally satisfies my sweet tooth. And I love how it melts in your mouth!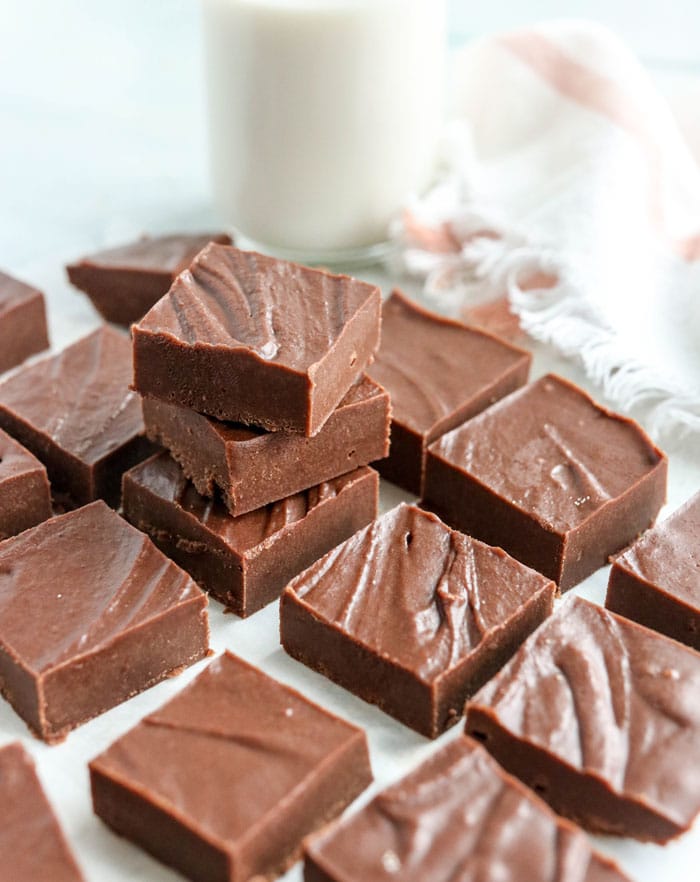 How to Make Vegan Fudge
Making this Vegan Fudge is as easy as it gets. All you need to do is mix 6 simple ingredients in a bowl, pour it into a square pan, and freeze until firm. I like to use homemade almond butter to make it, but you can also use sunflower seed butter for a nut-free version.
Once it's firm to the touch, you can cut it into small squares and eat it right away! Just keep in mind that it melts relatively quickly at room temperature, so don't leave it out of the fridge or freezer for too long.
Does fudge contain dairy?
The fudge I grew up making called for a whole stick of butter and melted chocolate chips, so it's loaded with dairy. This vegan fudge gets its firm texture from the use of coconut oil, which is solid when chilled.
Don't be tempted to use an alternative oil that remains liquid, like olive oil, because the fudge won't firm up in that case. However, if you have another vegan butter option that is solid when chilled, feel free to use that.
Does fudge have gluten?
This vegan fudge is naturally gluten-free and is a great dessert for those dealing with Celiac disease or a food intolerance. I love that it's also naturally-sweetened, so it won't spike my blood sugar as much the traditional version.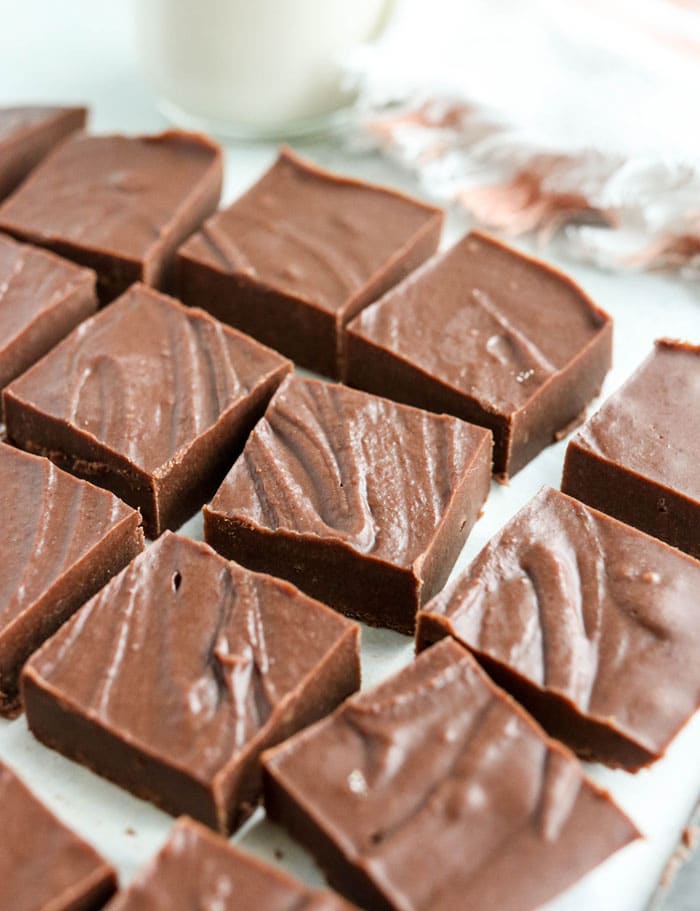 What Other Types of Sweets Can Vegans Eat?
If you're looking for other vegan dessert ideas, try one of the following recipes! They are some of my favorites, and will totally satisfy your sweet tooth.
You can find all of my vegan recipes in my recipe index!
How to Make Vegan Fudge (1-Minute Video):
Vegan Fudge (with 6 ingredients!)
Vegan Fudge is quick and easy to prepare, using just 6 all-natural ingredients. I love that it melts in your mouth just like traditional fudge!
Instructions
In a medium bowl, mix together the almond butter and coconut oil until smooth. (This works best if the ingredients are at room temperature or slightly warm. If using almond butter from the fridge, make sure it sits out on the counter first so that the coconut oil won't solidify instantly when mixed together.)


Add in the cocoa powder, maple syrup, sea salt and vanilla, and stir until smooth and creamy.

Transfer the mixture to a 9-inch square dish, lined with parchment paper for easy removal, and smooth the top with a spatula.

Place the dish in the freezer, and allow the fudge to set for at least an hour before slicing and serving. Thanks to the coconut oil, this raw fudge will melt quickly if left to sit in a warm room, so it's best served directly from the freezer.

Store the leftovers in a sealed container in the freezer. For a softer fudge, store it in the fridge. This fudge lasts up to a month when stored in the fridge, and up to 3 months when stored in the freezer, but we usually eat it all before then!

Nutrition
Calories:
97
kcal
,
Carbohydrates:
4
g
,
Protein:
2
g
,
Fat:
8
g
,
Saturated Fat:
2
g
,
Sodium:
47
mg
,
Potassium:
95
mg
,
Fiber:
1
g
,
Sugar:
2
g
,
Calcium:
39
mg
,
Iron:
0.5
mg
Per Square: Calories: 97, Fat: 8g, Carbohydrates: 4g, Fiber: 1g, Protein: 2g
Recipe Notes:

If you'd rather not use almond butter, cashew butter also works well in this recipe. For a nut-free vegan fudge, try using tahini or sunflower seed butter instead.
Since you can taste this recipe as you go, feel free to adjust any of the ingredients to your taste. And please be sure to leave a comment below if you try something new! We can all benefit from your experience.
—
Reader Feedback: What's are your best vegan dessert recipes? Feel free to share your favorites in the comments below!