Fruit compote is an easy fruit topping you can make with just a few ingredients. It tastes like pie filling, and is perfect for serving over yogurt, ice cream, and more.
What is compote? It's a thick fruit sauce, made from fruit simmered in syrup. In this case, we're using maple syrup to make things as easy (and delicious) as possible.
Making compote is actually quite similar to making chia seed jam, but typically compote is a little more chunky in texture.
Why You'll Love It
It's delicious. Fruit compote tastes like a slice of fruit pie a la mode when you serve it over ice cream. But it's a lot less work than making a pie from scratch! Keep this idea in your back pocket when you want an easy dessert to impress. (Especially when you don't want to turn on the oven.)
It's quick to prepare. This recipe cooks in just 10 to 15 minutes, depending on the type of fruit you use, so it makes a fast dessert! It's delicious served warm, or chilled from the fridge, so you can also make it ahead of time.
It will liven up your breakfast. Fruit compote is delicious when served over yogurt, waffles, oatmeal, french toast, overnight oats, or chia pudding. It basically makes everything taste like fruit pie, with very little added sugar. 
It's convenient. You can use fresh or frozen fruit for this recipe. It's a great way to use up fruit that might be bruised, or going soft on your counters (hello, peaches!) or you can skip the prep work and use frozen fruit instead. Just dump a bag of frozen fruit into a saucepan, and you're ready to start cooking!
Ingredients You'll Need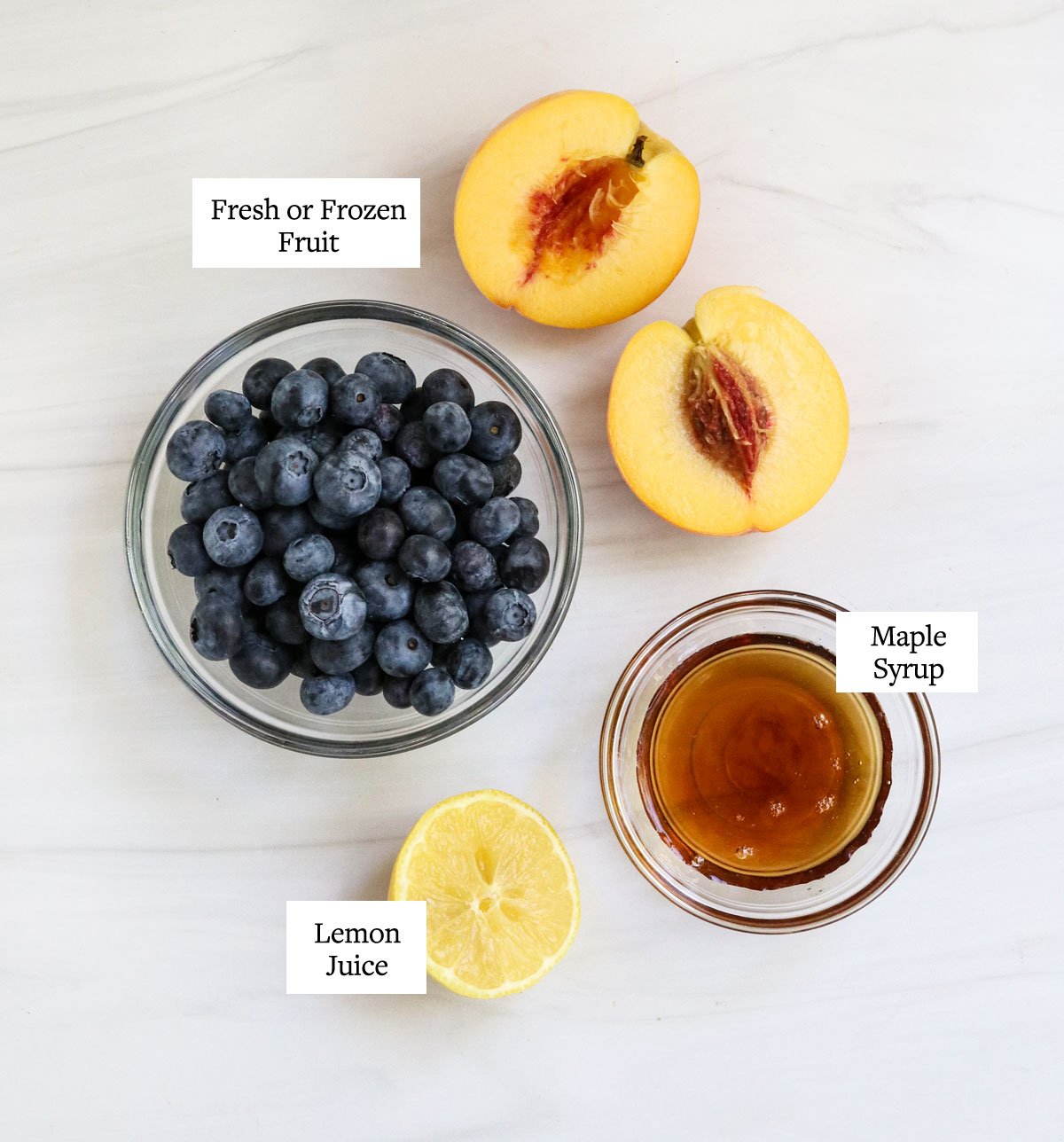 What's in fruit compote?
Fresh or frozen fruit (any variety)
Maple syrup
Lemon juice (optional)
The fruit you use is the star of the show here, so you'll only need a touch of sweetener to bring out the natural sweetness. When using fruit like peaches or blueberries, a squeeze of lime or lemon juice will help brighten up the flavor.
The added lemon juice isn't necessary when using a tart fruit, like raspberries, or a citrus fruit, like oranges. For a lower sugar dessert, you can also use orange juice instead of maple syrup to simmer the fruit.
How to Make Fruit Compote
1. Prepare the fruit.
If using fresh fruit, slice it into 1-inch chunks, so it will cook down faster. There's no need to peel fruit, like peaches, unless you want to, but be sure to remove any seeds or pits.
When using frozen fruit, the prep work is already done for you! Just open the bag of frozen fruit and pour it into the pot.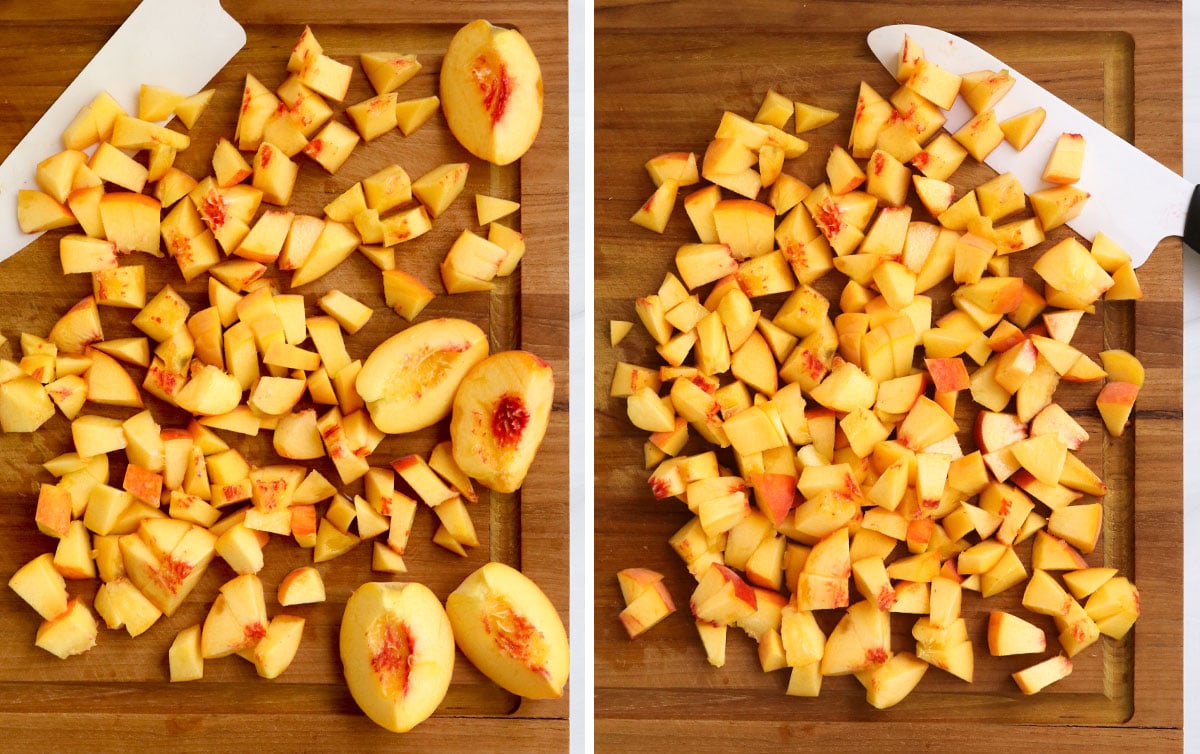 2. Simmer.
Place the fruit in a medium saucepan, and add in the maple syrup and lemon juice, if using. Bring the liquid to a boil over medium-high heat, and stir often. It will take roughly 4 to 5 minutes for the juices to start releasing from the fruit, and then you'll see more liquid bubbling in the pot.
Lower the heat to a gentle simmer, and continue stirring the mixture, breaking up the fruit as you go. It will start to break down as it softens, becoming more jam-like. It typically takes berries, like strawberries or blackberries, about 10 minutes to break down completely. More firm fruit, like peaches, may need 15 minutes of cooking in order to soften up.
3. Enjoy!
Remove the pan from the heat, and let the fruit compote cool for at least 10 minutes. This will let the sauce thicken up slightly. Feel free to adjust any flavoring to taste, adding a little more maple syrup, if a sweeter flavor is desired. You can also add a dash of cinnamon or ginger, if you like!
Serve the compote over vanilla ice cream for delicious sundaes, or serve it over pancakes for an impressive brunch! Leftovers can be stored in an airtight container in the fridge for up to 5 days, so it's a perfect topping for a meal prep breakfast, too. 
Variations & Common Questions
Can I use a different sweetener? You can use honey instead of maple syrup, with similar results. I haven't tested this recipe with a granulated sweetener, so you'd have to experiment if you decide to try that.
What other flavors can I add in? You can get creative with this compote recipe, adding in any other spice that you like. Lemon zest would be a nice addition to a berry compote, or try adding a few fresh basil or mint leaves.
More Fruit Recipes
Almond Flour Blueberry Crisp. This dessert is made with very little added sugar, and is a great way to use up fresh summer berries!
Vegan Strawberry Ice Cream. You'd never guess this ice cream is dairy-free or naturally sweetened.
Baked Apples. Another delicious alternative to pie! Serve this with ice cream on top, for a low-effort dessert.
Peach Salsa. This recipe is tasty way to put fresh summer peaches to good use. Serve it over tacos, burrito bowls, or as a dip for chips.
Cherry Limeade. You can use fresh or frozen cherries for this recipe, and it tastes just as delicious as the kind you'd get from a drive-thru.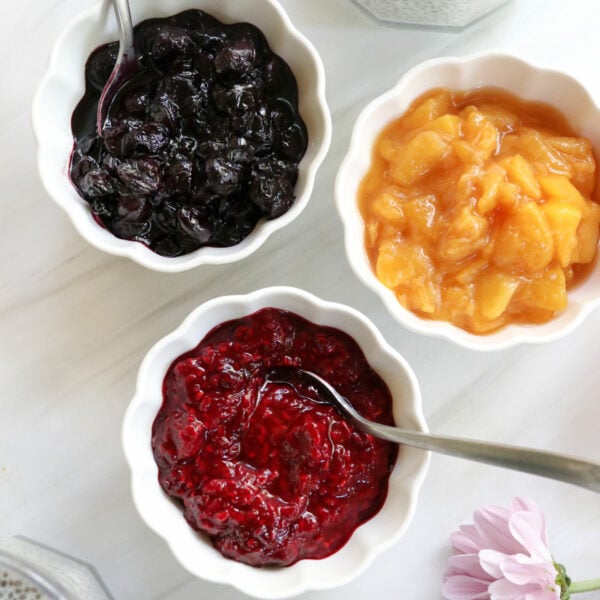 Fruit Compote
Fruit compote is a quick fruit sauce made with simple ingredients. Serve it over ice cream for an easy dessert, or over oatmeal or pancakes for a delicious breakfast.
Ingredients
1

pound

fruit

(fresh or frozen)

2

tablespoons

pure maple syrup

1

teaspoon

lemon juice

(optional)
Instructions
Cut the fruit into small pieces, about 1/2-inch to 1-inch thick. The smaller you cut the fruit, the faster it will cook. There's no need to peel fruits like peaches or apples, unless you prefer to, but do make sure to remove any pits or large seeds. When using frozen fruit, it should already be cut and peeled for you, so you can skip this step!

Place the fruit in a saucepan over medium-high heat, and add in the maple syrup and lemon juice, if using. (The juice isn't necessary for tart fruit, like raspeberries.) Bring the liquid to a boil, which will take about 4 to 5 minutes. Stir often, so the fruit won't start to stick to the bottom of the pan.

Once the juices are boiling, lower the heat to a gentle simmer. Stir often, until the fruit starts to soften and break down. This takes about 5 more minutes of cooking for berries, and it can take up to 10 more minutes of cooking for peaches or apples. Use a spatula or spoon to press on the fruit and break it up as you stir.

When the fruit has softened, remove the pan from the heat and let it cool for at least 15 minutes before serving. It will thicken up slightly as it cools. Serve warm over chocolate cake, cheesecake, pancakes, waffles, and more. Leftover compote can be stored in an airtight container in the fridge for up to 5 days. It's a great topping for overnight oats or chia pudding, if you'd like to meal prep ahead of time, too.
Notes
Nutrition information is for roughly a 1/4 cup of compote made with peaches, assuming you end up with 1 cup of compote from this recipe. This information is automatically calculated and is not a guarantee.
Nutrition
Calories:
75
kcal
,
Carbohydrates:
18
g
,
Protein:
1
g
,
Fat:
0.3
g
,
Saturated Fat:
0.02
g
,
Polyunsaturated Fat:
0.1
g
,
Monounsaturated Fat:
0.1
g
,
Sodium:
16
mg
,
Potassium:
162
mg
,
Fiber:
2
g
,
Sugar:
16
g
,
Vitamin A:
370
IU
,
Vitamin C:
5
mg
,
Calcium:
16
mg
,
Iron:
0.4
mg
If you try this fruit compote recipe, please leave a comment and star rating below letting me know how you like it!