This Vegan Pecan Pie tastes remarkably similar to the kind my grandma used to make, but this one is naturally sweetened without using corn syrup. I'm amazed by how well the filling sets, without using eggs!
What is Pecan Pie Made With?
I wanted this pie to be as healthy as possible, without sacrificing the taste or texture. I included dates in the filling, to help add some structure and natural sweetness, but I also used a little maple syrup to boost the flavor.
Adding the liquid sweetener helps to "loosen up" the filling so that it doesn't have the texture of a date ball. 
To make this pecan pie egg-free, I added 2 tablespoons of ground flax seed to act as a binder. I find that if I use more than that in any given recipe, I can start to taste the flax seeds, but I can't taste them at all in this recipe, and neither could my taste testers. Grinding some extra pecans into the filling also helps with the binding, and provides extra pecan flavor!
Why You'll Love It
With a simple 5-ingredient filling, this vegan pecan pie recipe is just about as easy as it gets. All you need is a blender or food processor to blend it together. (Similar to my Vegan Pumpkin Pie.)
I prefer using the food processor so I can make my crust in it first, and then make the filling in the same bowl. There's only one dish to clean that way!
If you'd like to make a pie crust from scratch, try my Vegan Pie Crust, which is also gluten-free. You can use any other unbaked pie crust that you love, too.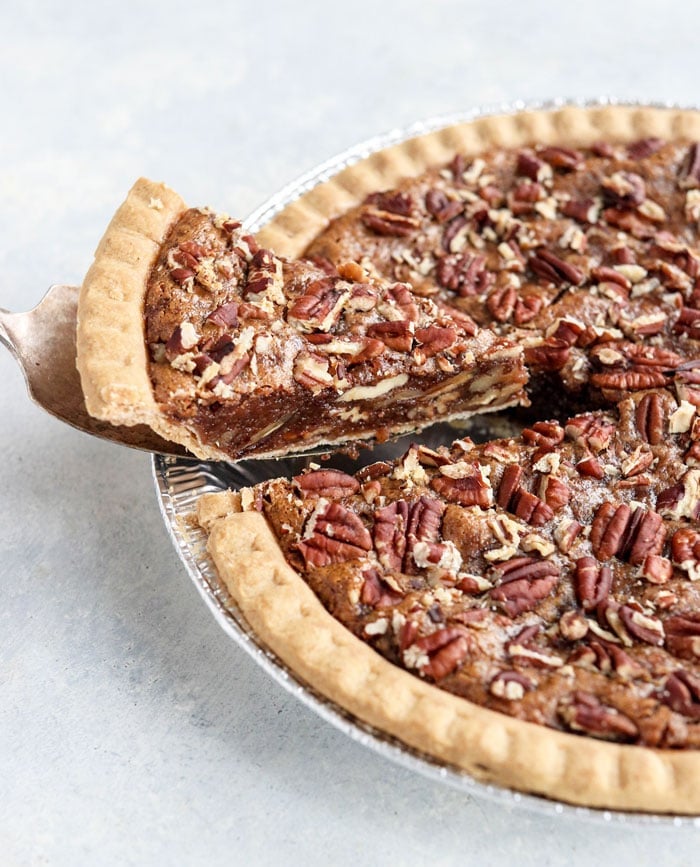 Because I had to test this recipe so many times, I actually relied on a frozen gluten-free crust from Trader Joe's so that I wouldn't have to make a crust from scratch every time. (Testing recipes is like a science experiment, so it's a good idea to have a control when testing the filling– in this case, a store-bought crust kept the experiment results consistent!)
How to Sweeten Pie with Dates
I tested this recipe so many times because I couldn't decide how many dates was the "perfect" amount for this pie. I landed on the recipe below, which uses a 1:1 ratio of dates to maple syrup.
I also tested this recipe using only 1/2 cup of dates + 1 cup of maple syrup, and enjoyed the results– but my testers thought the flavor wasn't quite as authentic, since the maple flavor was a little heavier. I share this just in case you're short on dates for this recipe and want to try it that way instead!
Vegan Pecan Pie (with NO corn syrup!)
This easy Vegan Pecan Pie is naturally sweetened and has a remarkably similar taste and texture to the original, without using eggs or corn syrup! Only 5 ingredients needed.
Ingredients
3/4

cup

medjool dates

, pitted (about 6 ounces)

3/4

cup

maple syrup

2

tablespoons

ground flax seeds

1 1/2

cups

pecan halves

, divided

1/4

teaspoon

fine salt
Instructions
Preheat your oven to 350ºF and press your unbaked pie crust in a 9-inch pan. (You can use an unbaked store bought crust, if you like.)


In a food processor fitted with an "S" blade (or in a high speed blender), combine the dates, maple syrup, flax seeds, 1/2 cup of the pecans, and the salt. Process until the dates are broken down and you have a relatively smooth batter.


Pour 3/4 cup of the pecan halves into the pie crust and spread them out evenly. Pour the batter over the pecans and use a spatula to smooth it evenly. Top the pecan pie filling with the remaining 1/4 cup of pecans-- I like to crush them between my fingers and sprinkle them over the top so that the little pieces are evenly distributed.


Place the pie in the oven to bake at 350ºF for 45 minutes. When it's done baking the top should look drier and the edges of the filling will be firm to a light touch.


Allow the pie to cool completely, for at least 2 hours. You can put it in the fridge to speed the process, if you'd like to. Slice the pie and serve chilled or at room temperature.


Leftover pie should be covered and can be stored on the counter for up to 3 days, or in the fridge for up to a week.

Video
Nutrition
Calories:
283
kcal
,
Carbohydrates:
35
g
,
Protein:
2
g
,
Fat:
15
g
,
Saturated Fat:
2
g
,
Sodium:
72
mg
,
Potassium:
219
mg
,
Fiber:
2
g
,
Sugar:
22
g
,
Vitamin A:
25
IU
,
Vitamin C:
0.2
mg
,
Calcium:
51
mg
,
Iron:
1
mg
Per slice: Calories: 283, Fat: 15g, Carbohydrates: 35g, Fiber: 2g, Protein: 2g
Recipe Notes:
If you're trying to watch your sugar intake, I'm guessing a sugar-free maple syrup would probably work as a swap for the real kind. I don't use zero-calorie sweeteners myself, so please leave a comment below if you give this a try!
As I mentioned above, this recipe also worked with 1/2 cup of dates (4 ounces) + 1 cup of maple syrup, if you'd like to go that route. You can use less maple syrup for a less-sweet pie, if you prefer. I was trying to get it as close to the real thing as possible!
You can also add a splash of vanilla extract, if you like. I tried 1/2 teaspoon and 1 teaspoon in several test batches and felt that the vanilla flavor was overwhelming, so I prefer it without.
As always, if you try something different with this recipe, please leave a comment below to let us know how it worked for you. We can all benefit from your experience!
—
Reader Feedback: What's your favorite holiday pie? I think mine is still French Silk Pie, but my strawberry cream pie and this pecan pie are not far behind!