These Vegan Pumpkin Tarts are an easy and delicious dessert, made without eggs or dairy. You can whip up the filling in no time, without turning on your oven!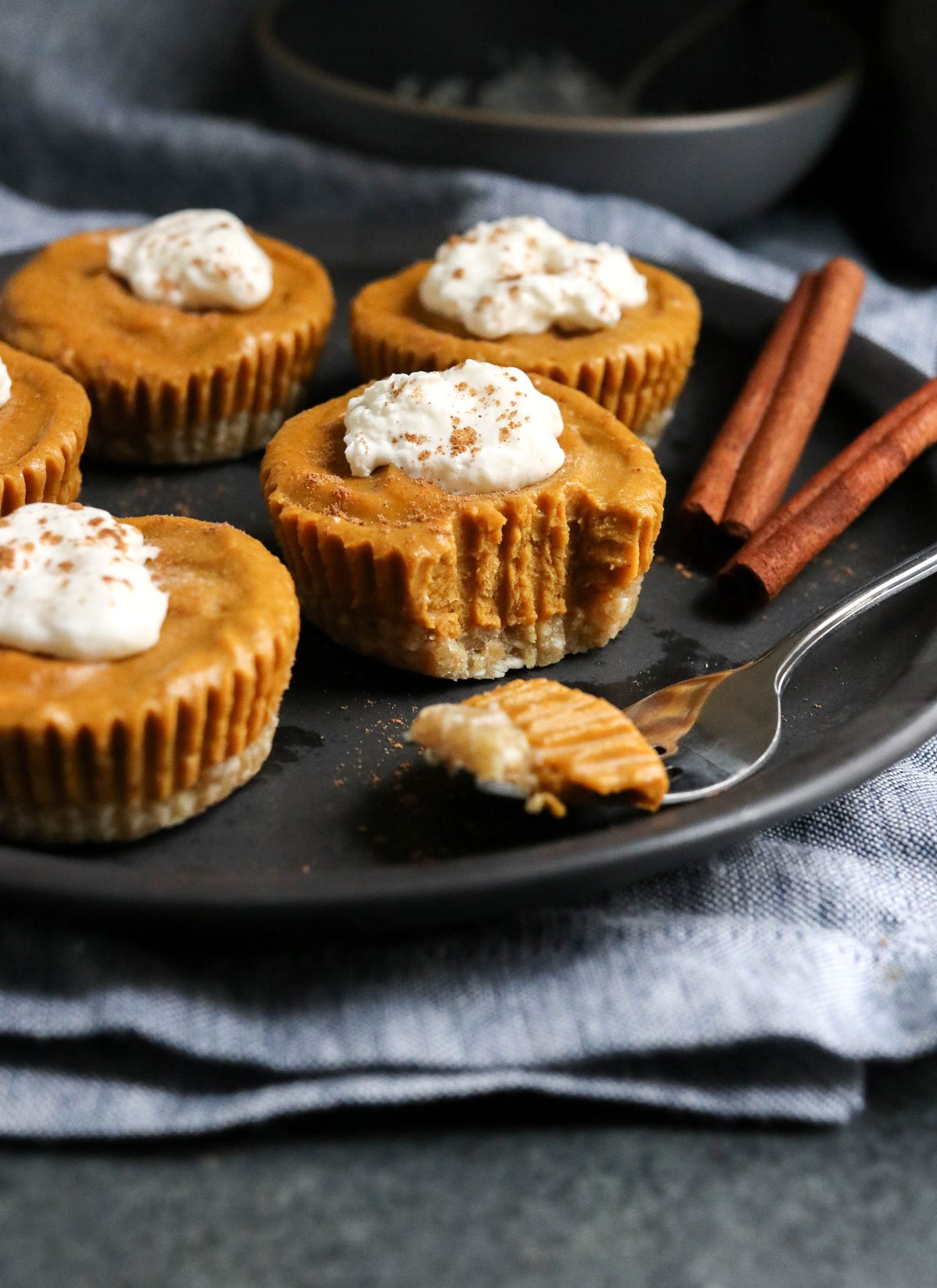 Why You'll Love these Pumpkin Tarts
This healthy dessert comes together in just about 20 minutes of effort, and then they will chill to perfection in your freezer. Keep in mind these vegan tarts won't have the exact same texture as a tradtional pumpkin pie. This is more of a frozen dessert, that's totally fruit-sweetened!
If you like the idea of serving perfectly portioned pumpkin pie "ice cream" desserts to your holiday guests, this recipe is for you.
If you would rather have a dessert with the texture of pie, try my Vegan Pumpkin Pie, instead. It's also sweetened with dates, and has a more traditional, baked texture. In fact, it's the best pumpkin pie I've ever made!
How to Make the Crust
To prepare the crust for these no-bake tarts, you'll simply need to pulse the walnuts in a food processor, along with maple syrup, coconut oil, and salt. The coconut oil helps to act as a binder, so the crust will solidify when chilled.
Note: If you would rather use dates to help bind the crust, you can do that, too! I'd use about 6-8 dates as a substitute for the maple syrup, and pulse them with the walnuts until the mixture is sticky.
When the mixture looks relatively uniform and crumbly, you can press it into the bottom of 9 paper liners in a muffin pan. Place it in the freezer to chill while you make the pumpkin filling.
How to Make the Filling
This no-bake vegan pumpkin pie filling couldn't be easier. Just toss everything in the blender, and blend until smooth! I tried to use as little liquid as possible in this recipe, to keep the texture creamy, rather than "icy."
The more liquid you have to add, the more icy of a texture these final pumpkin tarts will have. So, start with just 2 tablespoons of almond milk, then add 1 tablespoon at a time until the filling blends smoothly.
Spoon the filling evenly over the 9 crusts, then smooth the top. Pop them in the freezer to set, which should take about 2 hours.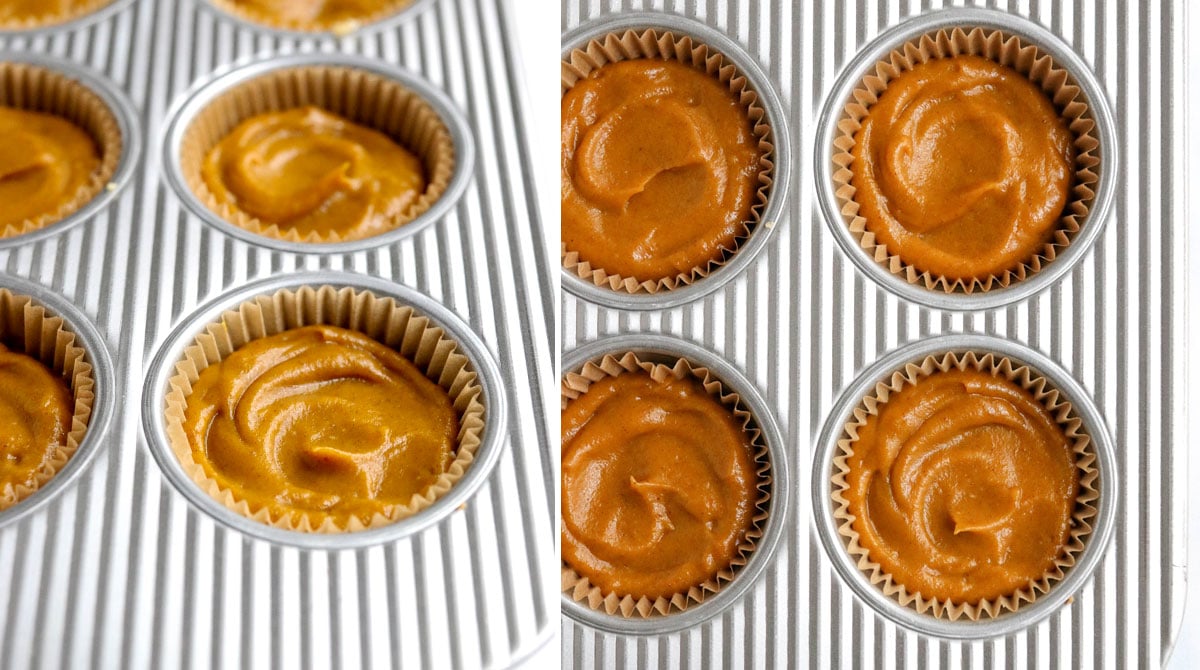 These frozen pumpkin tarts can be stored in the freezer for up to 3 months, but be sure to keep them in an airtight container. I like to make them no more than a week in advance, if I plan on serving these for a holiday meal, just to make sure the flavor is as fresh as possible.
Serve topped with coconut whipped cream, and a sprinkle of pumpkin pie spice, for an extra-pretty presentation!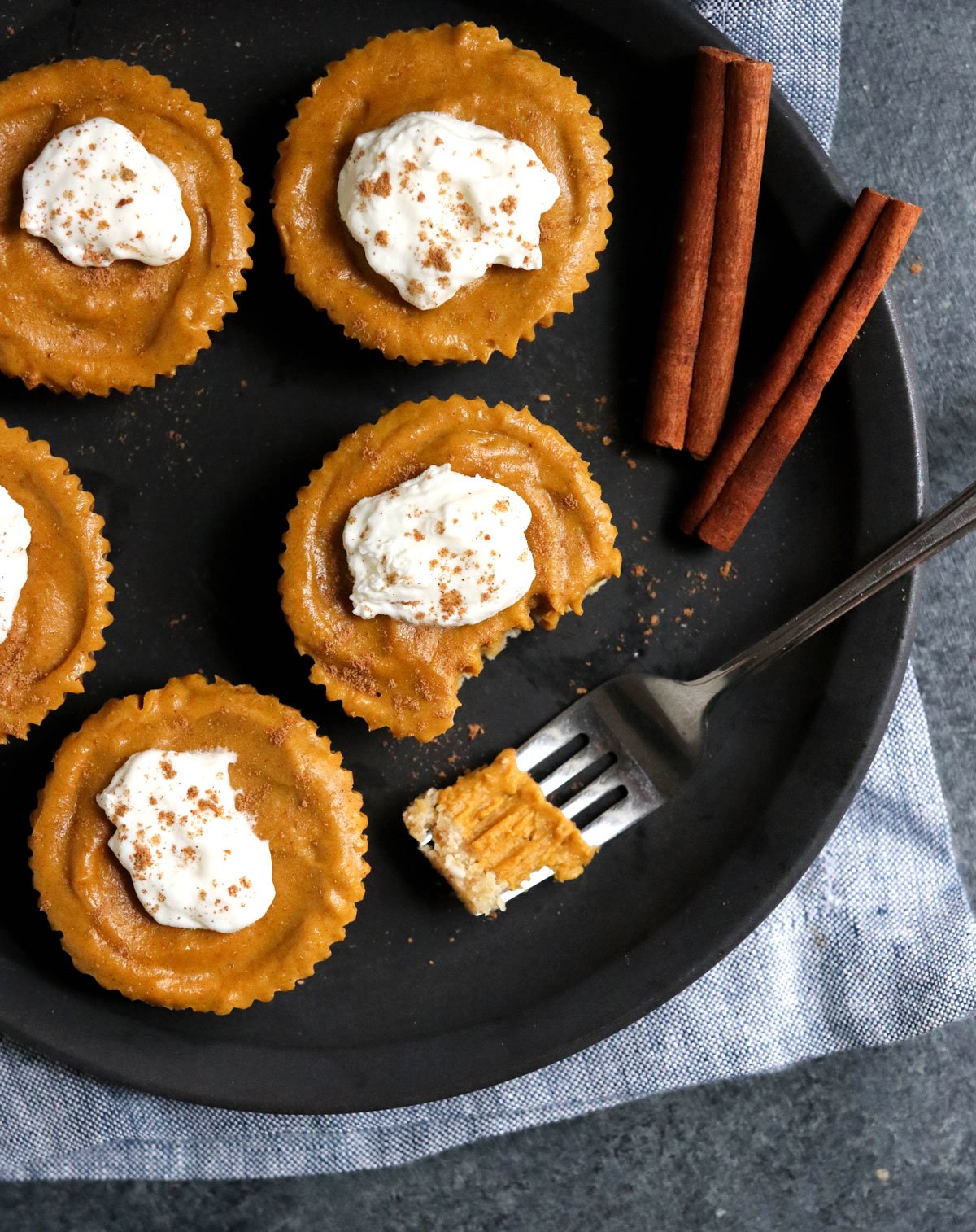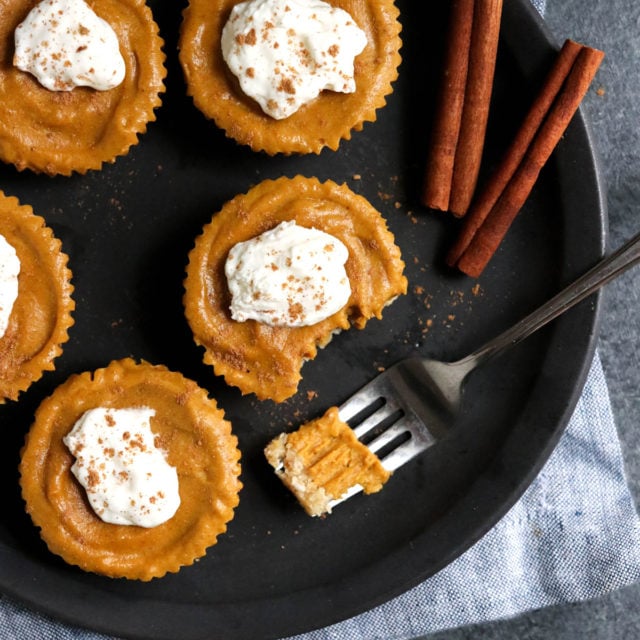 Vegan Pumpkin Tarts (Frozen Dessert!)
These Vegan Pumpkin Tarts are a healthy dessert, packed with Fall flavor! Just blend the ingredients together and pop them in your freezer for a fast, perfectly portioned treat.
Equipment
Instructions
Line a standard muffin tin with 9 parchment cups, and set aside.

In a large food processor, combine the walnuts, maple syrup, coconut oil, and salt together. Pulse briefly, until the dough sticks together when pinched between your fingers. Scoop the dough by heaping tablespoons into the 9 parchment cups and use your fingers to press down and form a crust for each cup. Place the pan in the fridge to set while you prepare the filling.

To prepare the filling, simply combine all of the ingredients in a blender, starting with just 2 tablespoons of almond milk, and blend until completely smooth. Add more almond milk, 1 tablespoon at a time, as needed, to make the filling blend smoothly. (If your dates aren't soft enough to blend easily, soak them in warm water for 10 minutes beforehand.)

Remove the pan of crusts from the fridge, and spoon the batter evenly into the 9 cups. Smooth the tops, then place in the freezer to set completely, about 2 hours.

When the center of the filling is firm to the touch, the tarts are ready to serve! Remove the paper cups while the pumpkin tarts are still frozen. They will get softer as they come to room temperature, so be sure to serve them within 15-20 minutes of pulling them out of the freezer. Leftovers can be stored in an airtight container in the freezer for up to 3 months.
Notes
Nutrition information is for 1 of 9 servings. This information is automatically calculated, and is just an estimate, not a guarantee.
Note: This recipe used to call for 1/4 cup shredded coconut in the crust, plus 1 more tablespoon of maple syrup. I found this made the crust ratio too large compared to the pumpkin filling, so I've started to omit it. If you've been making these tarts for years, I wanted to let you know about this change, in case you want to keep making the crust the same.
If you don't have pumpkin pie spice at home, you can make your own blend, or swap this with 1 1/2 teaspoons ground cinnamon, 1/4 teaspoon ground ginger, and 1/8 teaspoon ground cloves.
Nutrition
Calories:
203
kcal
,
Carbohydrates:
15
g
,
Protein:
3
g
,
Fat:
16
g
,
Saturated Fat:
7
g
,
Sodium:
67
mg
,
Potassium:
204
mg
,
Fiber:
3
g
,
Sugar:
11
g
,
Vitamin A:
4255
IU
,
Vitamin C:
1
mg
,
Calcium:
33
mg
,
Iron:
1
mg
Need More Vegan Holiday Dessert Ideas?
Try one of these fan favorites!
If you try these Vegan Pumpkin Tarts, please leave a comment below letting me know how you like them! And if you make any modifications, I'd love to hear about those, too. We can all benefit from your experience.
—
Reader Feedback: What's your favorite holiday pie?