Baked Apples are quite possibly the easiest Fall dessert. All you need is 7 ingredients, and about 15 minutes of time to assemble, then it bakes to perfection in the oven!
Baked apples pack all the flavor of apple pie, without the extra effort. Just toss thinly sliced apples with some sugar and spices, and then the oven takes care of the rest!
This healthy dessert is a great option for those who need to serve gluten-free or dairy-free guests. It's easier than pie, and is suitable for a number of special diets!
Which Apples Work Best for Baking?
You can make baked apples using almost any apples you have on hand, but I do  have my favorites.
Here are the 8 most popular apple varieties for baking:
Fuji
Honeycrisp
Granny Smith (if you like them slightly tart)
Braeburn
Gala
Pink Lady
Golden Delicious
Jonathan (or Jonagold, which is a hybrid)
There are a few other apple varieties that are famous for apple pie, like Esopus Spitzenberg or Northern Spy, but those names aren't often available in my local stores.
The one variety of apple that I usually stay away from is Red Delicious. Yes, they're red, but their texture is usually mealy and crumbly, and the flavor is underwhelming.
How to Bake Apples
Step 1: Prepare the Apples
To get started, you'll either peel the apples, or skip straight to slicing them. I tend to be lazy and keep the peels on when I'm just making this for my family, which means we'll eat all the extra nutrition found in the apple peels.
However, if you're making this dessert for guests you want to impress, take the extra time to peel them first. The apples will feel extra tender that way, more like an apple pie filling.
Step 2: Toss with Sugar & Spices
Once the apples are sliced, you'll transfer them to a large baking dish, or dutch oven with a lid. (Use the Dutch oven if you have it, so you can skip using foil later.)
Toss the apples with coconut sugar, spices, tapioca starch (which will help the sauce thicken up as it caramelizes), and a splash of orange juice to help keep everything moist and flavorful.
Step 3: Bake
Once the apples are evenly coated, you'll cover the dish (with an oven-safe lid or foil) and bake at 400ºF for 45 minutes. Then you can remove the lid, give the apples a stir, and return them to the oven uncovered to bake for 10 to 15 more minutes.
The liquid will thicken up even more once you uncover the pan, and the apples should be nice and tender, with a slight bite. (So they're not total mush!)
Serve baked apples just like you would a slice of apple pie. I like to add a scoop of vanilla ice cream (there are lots of dairy-free options available if you need one), or you can serve with coconut whipped cream on top.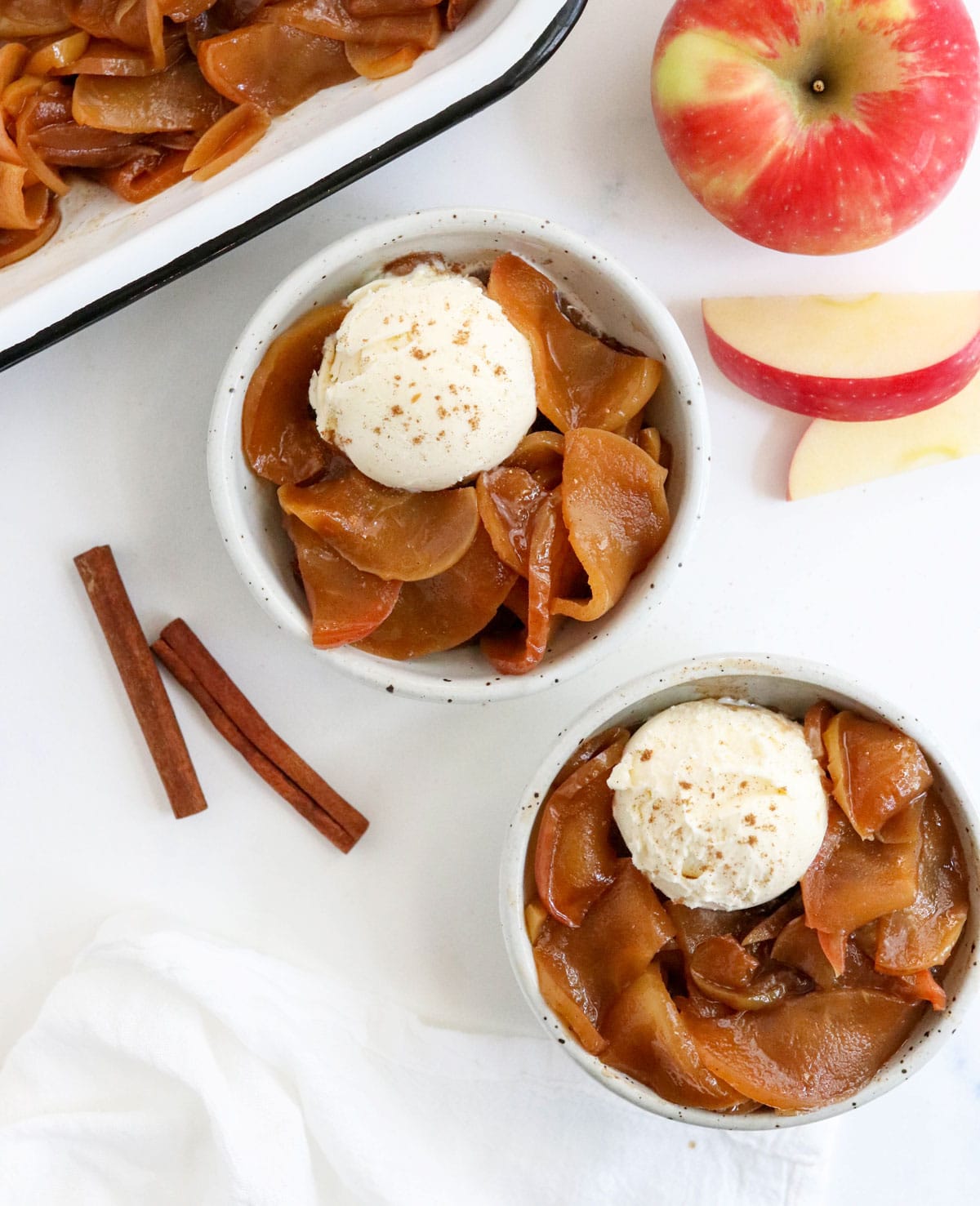 How to Use the Leftovers
Leftover baked apples make an amazing topping for steel cut oats or overnight oats the next morning, too.
Easy Baked Apples
Baked apples are a fast & easy dessert, made with just 7 ingredients. This healthy recipe has the flavor of pie, without the work! Naturally gluten-free & dairy-free, and perfect for holidays.
Ingredients
6

large

honeycrisp apples

(about 2.5 pounds)

1/2

cup

coconut sugar

(84 grams)

1

teaspoon

ground cinnamon

(2 grams)

1/2

teaspoon

ground ginger

2

tablespoons

tapioca starch

(11 grams; or arrowroot/corn starch)

1/4

cup

orange juice

(65 grams)

1/4

teaspoon

salt
Instructions
Preheat the oven to 400˚F. Thinly slice the apples into pieces about 1/8-inch thick. I don't take the time to peel the apples, but you can, if you prefer no peel. (The peels become very soft and tender when they cook!)

In a 6-quart dutch oven, or 9x13 baking dish, toss the sliced apples with the coconut sugar, cinnamon, ginger, tapioca starch, orange juice, and salt. When the apples look evenly coated, cover with the lid (or use aluminum foil to tightly cover), and bake at 400ºF for 45 minutes.

Remove the lid and give the apples a stir. Return to the oven to help any extra liquid evaporate, about 10 to 15 more minutes. The apples should be very soft, in a rich, caramelized sauce.

Let the apples cool for 10 minutes, then serve warm with your favorite toppings, like whipped cream or vanilla ice cream.
Notes
You can use any variety of apple you have on hand for this recipe. I've tested it with Granny Smith and Honeycrisp, but I also love Fuji and McIntosh apples, too.
If you'd rather use maple syrup as a sweetener, I think you could use 1/4 cup maple syrup to replace the 1/2 cup of coconut sugar with similar results.
Nutrition information is for 1 of 6 servings, without toppings. This information is automatically calculated, and is just an estimate, not a guarantee.
Nutrition
Calories:
174
kcal
,
Carbohydrates:
46
g
,
Protein:
1
g
,
Fat:
1
g
,
Saturated Fat:
1
g
,
Sodium:
125
mg
,
Potassium:
259
mg
,
Fiber:
6
g
,
Sugar:
33
g
,
Vitamin A:
141
IU
,
Vitamin C:
15
mg
,
Calcium:
17
mg
,
Iron:
1
mg
More Healthy Holiday Desserts
If you try this Baked Apple recipe, please leave a comment below letting me know how you like it. And if you make any modifications, I'd love to hear about those, too! We can all benefit from your experience.
—
Reader Feedback: What's your favorite holiday dessert?