These Double Chocolate Cookies are made with 100% whole food ingredients— no flour, no oil, and no added sugar. But don't let these healthy ingredients throw you off. These cookies still have a rich and fudgy flavor and texture, almost like a brownie in cookie-form.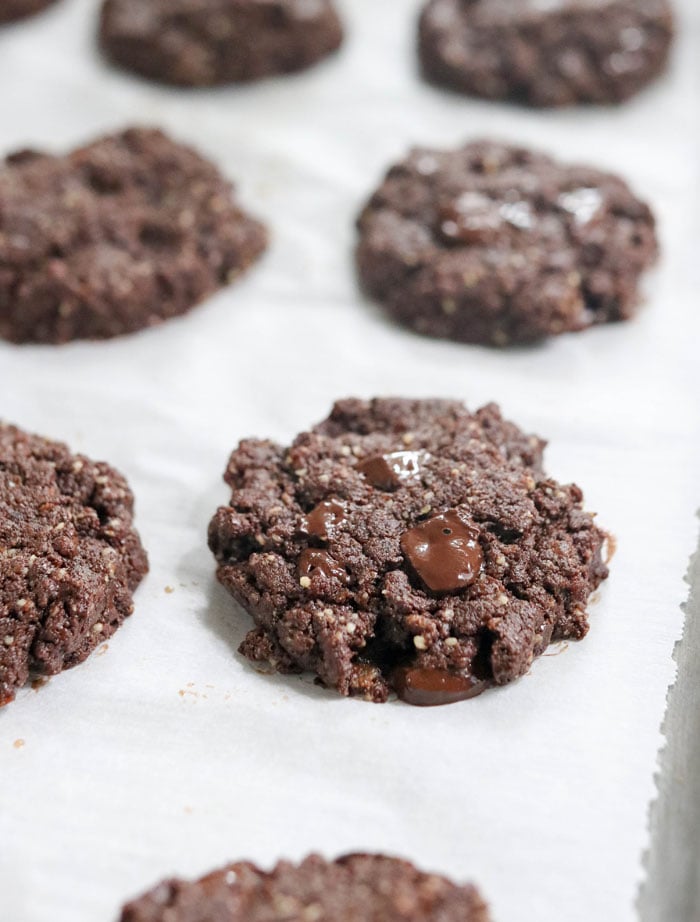 I based these cookies off the recipe for my Healthiest Cookies Ever, which remind me of my childhood favorite "soft batch" cookies, and since they've been such a hit with everyone who tries them, I figured a chocolate variation was in order.
For this version, I added a hefty dose of cocoa powder, and used pecans instead of walnuts for a more mild flavor.
(I tested this recipe with walnuts, as you can see from these photos, but I found their flavor overwhelmed the cookie, so I couldn't taste the chocolate as much– keep this in mind if you plan on making substitutions!)
How to Make Date-Sweetened Cookies
When using dates as a natural sweetener, you'll need a machine that can break them down, and I find that a food processor does that best. (I'm using this one.) Narrow blender jars tend to need more water to keep the dates moving, and that can cause the motor to give off a burning smell. In a pinch, you could probably finely chop the nuts and dates on a cutting board, and then mix them together with your hands for a chunkier cookie.
If you want a 100% naturally sweetened cookie, you can leave out the optional dark chocolate chips, but I love adding something extra for texture here, so I'll usually throw them in for a "double" chocolate flavor that's reminiscent of a brownie.
Some refined-sugar-free add-ins would be:
cacao nibs
extra chopped nuts
dried fruit, like raisins (look for no added sugar on the label)
shredded unsweetened coconut
rolled oats
Feel free to experiment, and let me know in the comments below if you try something that you love.
Vegan Double Chocolate Cookies
I keep these cookies egg-free by using a flax egg, which is simply ground flax (or chia seeds) stirred together with water. These two ingredients will gel together within a few minutes, creating a gooey vegan "egg."
If you're not vegan, feel free to use a chicken egg in its place. (Omit the water and flax seed in this case.)
When making cookies in a food processor, be careful not to over-process them. If you process nuts too long, they will release their natural oils, making for a very oily, greasy cookie dough. The cookies will still bake fine, but they will be a little more messy to work with.
These cookies will not spread the way a cookie made with egg would, so you'll need to use your fingers to press them down into a cookie shape before baking. They will look very similar when baked, but drier.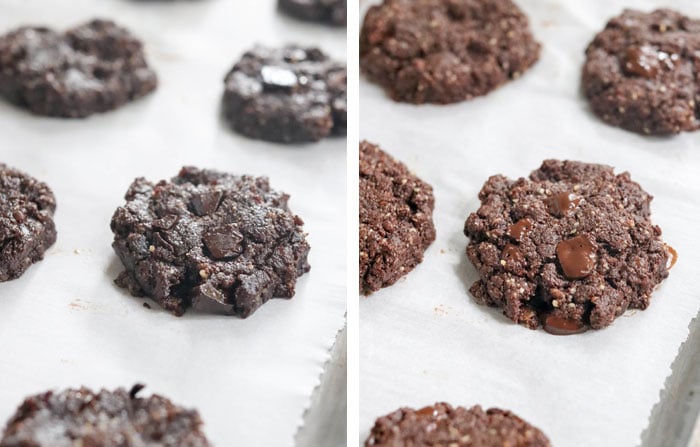 I hope you'll enjoy this healthy cookie recipe the next time a chocolate craving strikes!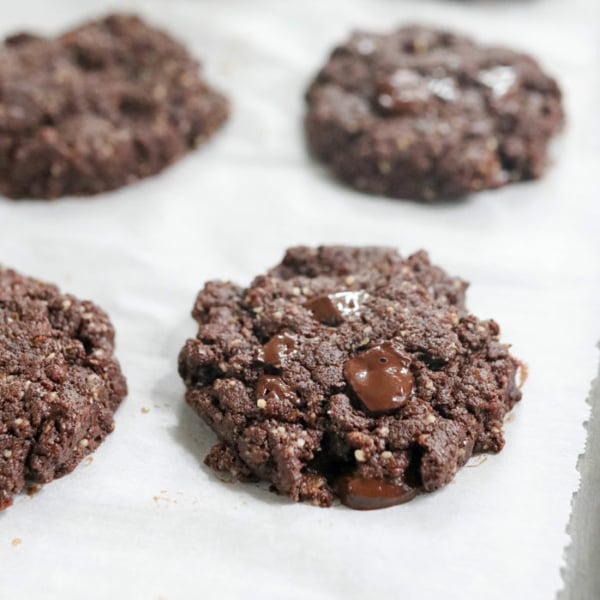 Vegan Double Chocolate Cookies (Date-Sweetened!)
This healthy cookie recipe is made with 100% whole food ingredients-- no flour, no oil, or refined sugar! Naturally sweetened with dates.
Ingredients
1 1/2

cups

pecan halves

1

cup

Medjool dates

, pitted (about 12)

6

tablespoons

cocoa powder

1/4

tsp

salt

1/2

tsp

baking soda

1

tsp

vanilla

1

chia or flax egg

(1 tablespoon ground chia or flax seeds + 3 tablespoons water)

1/2

cup

dark chocolate chips

(optional)
Instructions
Preheat the oven to 350F and line a baking sheet with parchment paper or a silpat. In the bowl of a food processor fitted with an "S" blade, process the dates and pecans together until a crumbly texture is formed. Add in the cocoa powder, salt, baking soda, vanilla, and chia or flax egg (see how to make a flax egg here) and process again until the batter is relatively smooth, a little stickier than traditional cookie dough.

Add in the chocolate chips and briefly pulse, just to combine.

Spoon the batter onto a lined baking sheet, and use your hands to gently flatten the cookie dough. These cookies don't spread much, so be sure to shape the cookies the way you'd like them to look when they're done baking. (Tip: Wet your hands with water to prevent sticking!) Bake at 350F for 12 to 15 minutes, or until the edges are firm and your house smells like brownies. Allow to cool on the pan for 10 minutes, then transfer the cookies to a wire rack to cool completely.

Serve immediately, and store the leftovers in a sealed container in the fridge or freezer for best shelf life. These cookies should last a week in the fridge, and for several months in the freezer.
Nutrition
Calories:
75
kcal
,
Carbohydrates:
7
g
,
Protein:
1
g
,
Fat:
5
g
,
Sodium:
60
mg
,
Potassium:
104
mg
,
Fiber:
1
g
,
Sugar:
5
g
,
Vitamin A:
15
IU
,
Vitamin C:
0.1
mg
,
Calcium:
12
mg
,
Iron:
0.5
mg
Per cookie: Calories: 75, Fat: 5g, Carbohydate: 7g, Fiber: 1g, Protein: 1g
Recipe Notes:
As I mentioned above, feel free to make substitutions as you like, but keep in mind that different nuts and seeds will change the flavor of these cookies. I liked the pecan flavor best, but if you love walnuts or almonds, feel free to use those instead. I find that buttery nuts, like walnuts and pecans, are easiest to break down in the food processor, though.
If you don't have access to dates, another dried fruit, like raisins, may work.
As always, please leave any substitutions you try in the comments below, so that we can all benefit from your experience!
—
Reader Feedback: What's your favorite type of cookie?