The holiday season is officially here! In case you're looking for some tried-and-true holiday gift ideas, I thought I'd share some of my favorites with you here today. I think there's something in here for everyone!
Now, keep in mind that I tend to give practical gifts. I like to gift items that I use myself on a daily basis. Items that help make my life a little easier and more enjoyable.
That's what you'll find in my holiday gift list below, including everything from my favorite kitchen gadgets, to helpful parenting tools, to natural beauty gifts, and more.
Jump to Gift Ideas:
Cooking Gifts
Eco-Conscious Gifts
Beauty Gifts
Coffee & Tea Gifts
Gifts for Kids & Parents

Cooking Gifts
1. KitchenAid Stand Mixer. I bought mine in the Toffee Delight color pictured above. I'm obsessed with all of the accessories you can get with it!
2. Vegetable Sheet Cutter Attachment. If the person you're shopping for already has a KitchenAid Stand Mixer, this is such a fun attachment! It can make lasagna sheets out of zucchini or sweet potatoes, and peels apples into big, long sheets that you can use like a tortilla roll-up. Perfect for those who need to be gluten-free, or are just trying to eat more veggies.
3. Inspiralizer. This is my favorite tool for making zucchini noodles and sweet potato noodles.
4. Instant Pot. I use the 6-quart Duo most often in my home, but if you're cooking for more than 4-6 people you might want to get the 8-quart size instead.
5. Fresh & Healthy Instant Pot Cookbook. If you know someone who is getting an Instant Pot, or has one already but is too scared to take it out of the box, this is the book to get them! I wrote this book with step-by-step instructions, and it's loaded with crowd-pleasing recipes for everyone. (That are just a little bit healthier– without scary ingredients!)
6. KitchenAid 7-Cup Food Processor. This is a great food processor that doesn't take up too much space in your kitchen! You could print out a date balls recipe to go with it, as an easy way to get started with it.
7. Half Baked Harvest Super Simple. I think this would make a beautiful coffee table book, and Teighan's recipes are always both pretty and delicious.
8. Le Creuset Braiser. You'll probably notice this pan often in my photos here on the website, and it was a gift to myself. I use it every week! For a more budget-friendly choice, this Lodge one looks pretty similar.
9. No Excuses Detox. My second cookbook is loaded with easy & affordable recipes that give you no excuse to not eat well. Some of my favorite recipes are in this one, and you'll also find 3 complete meal plans to help you kick-start your healthy eating goals.
10. KitchenAid K400 Blender. This blender is amazingly powerful, and comes at a great price compared to other comparable blenders. (You can buy one with or without a tamper, FYI.)
11. Everyday Detox. My first cookbook is loaded with easy and healthy recipes, all developed with food combining in mind, to help you lose weight and feel your best while eating delicious food. It includes a 7-day jump start guide, along with properly combined entertaining menus.
12. Breville Juice Fountain. This is the first juicer I ever bought, and it's still the one I use most often! It's juices fruits and vegetables well (I use it to make my favorite detox juice and celery juice), and it's pretty quick & easy to clean up.
13. Kyocera Ceramic Knives. These knives are so sharp, and cut through fresh vegetables so easily! I use these everyday in my kitchen, so I think they make a great gift.
14. Glass Meal Prep Containers. These are perfect for someone who likes to pack their lunch, or meal prep ahead of time. I use them for packed lunches! I also love these storage containers with silicone lids, if you want ones that nest into each other for storage.
15. Silicone Muffin Cups. This is great for reducing waste, and they prevent sticking better than traditional paper baking cups. Use them for Egg Muffins or my popular Almond Flour Muffins!
16. All Clad Measuring Cups. I registered for these when we got married (over 10 years ago!) and they are still my favorite measuring cups. (The 1 cup & 1/4 cup has measurements written on the inside, to be multi-purpose!) I also love the measuring spoons that come in this set, because the teaspoon actually fits in my spice jars! If you know someone who cooks A LOT, you may prefer to get a set like this one that includes a 2/3 cup and 3/4 cup measure. I use them all the time!
17. Silicone Oven Mitts. Even if your hand gets wet, you won't get burned with these. By far one of my most used kitchen tools.
18. Stainless steel baking sheets. If you're trying to avoid aluminum cookware, these stainless steel pans make a nice alternative! You can include a silicone baking mat, too.
Eco-Conscious Gifts
1. Reusable Cotton Facial Rounds. Instead of using disposable cotton balls, you can use these cute little cloths to remove your makeup.
2. Wooden Facial Round Holder. I'd get this cute little wooden box to hold the facial cloths mentioned above, to help keep them organized in the bathroom.
3. Leaf Razors. If you or someone you know is tired of plastic razors, my friends swear by these!
4. Stasher Bags. My kids love that these bags come in fun colors and sizes, and they are top-shelf dishwasher safe. They have snack size, sandwich size, pocket size, and even larger 1/2 gallon bags!
5. Glass Straws. I've been using glass straws for the last 8 years, and I still adore them! I think they feel nicer to drink from when compared to stainless steel straws, and they make a beautiful stocking stuffer! (I like that this affordable set comes with a brush for cleaning, too.)
6. Food Huggers. If you tend to have half of an apple or onion left to store, this is an easy & reusable alternative to using plastic wrap, while maximizing storage space in your fridge!
7. Branch Basics. These are my favorite cleaning products! I love that the bottles are reusable, and how effective they are at cleaning laundry, bathrooms, windows, and countertops.
8. Reusable Dish Scrubs. Skip disposable sponges and use these super-effective scrubby cloths to clean your dishes! They are the best for getting stuck-things off your pans. I got one as a gift 2 years ago and I've been hooked ever since.
9. Mason Jar Smoothie Straw Cups. I think these are so cute, and make a great option for drinks on the go.
10. Contigo Travel Mug. This is my favorite stainless steel cup for hot drinks. It keeps drinks warm for hours, and it doesn't leak if you need to drop it in a bag!
11. Glass Travel Mug. If you prefer drinking out of glass instead of stainless steel, I think this is a beautiful option, with a silicone lid– and it comes in several colors.
Coffee & Tea Gift Ideas
If you're not sure what to buy for someone, I feel like you can't go wrong with a warm & cozy drink option!
1. Oxo Tea Infuser. If you're concerned about microplastics leaking into your tea cup from a tea bag, this stainless steel infuser is a great way to use loose leaf tea, instead.
2. Zig Zag Mug. This oversized mug makes me happy every time I use it, so I think it would make a unique gift!
3. Inflammation Tea. This anti-inflammatory blend comes in silk tea bags, for a relaxing cup of tea.
4. Organic Loose Leaf Teas. This assortment would make a nice gift for someone who wants to try a variety.
5. Ninja Coffee Bar. Austin bought this for me as a gift 2 years ago (an older version of this) and we still love it! It's great when you want to brew a single cup of coffee, without using a K-cup. It uses coffee grounds instead, and can also brew a full pot of coffee when needed.
6. Farmhouse Pottery Mug. I just love this mug, with the raw pottery look on the bottom.
7. Death Wish Coffee. This coffee is organic and fair trade, and it has a name that would make the guys in my life laugh. Perfect gift!
8. Milk Frother. I've owned this for nearly 7 years, and it makes the best foam! I use it for homemade almond milk, and the results are amazing.
9. French Press. I've used this to brew both coffee or loose leaf tea. I love how it looks, and how my drinks are brewed in glass instead of plastic.
Beauty Gifts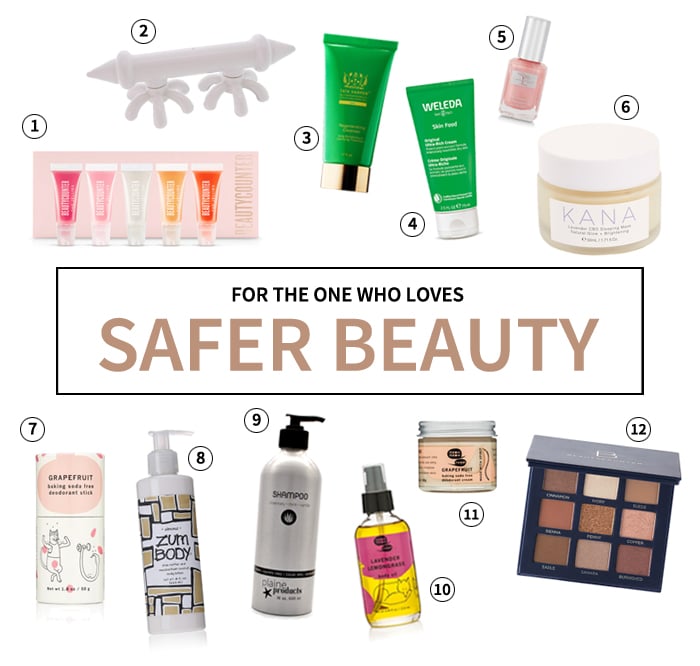 1. Jellies. These cute little lip glosses would be cute to break up and use as a stocking stuffer!
2. Fascia Blaster. This may help to reduce cellulite and increase circulation. I definitely feel a difference in my body when I use it!
3. Tata Harper Exfoliating Cleanser. I'm obsessed with this cleanser. It smells like fresh oranges, and is gentle enough that I can use it several times a week.
4. Skin Food. This moisturizer is a daily must for me. It's super-thick and rich! I even use it on my face in the dry, winter months. They have a light version if you don't care for a thick cream, and I love that one, too!
5. Karma Hues Nail Polish. This brand is made in the USA and comes in lots of colors!
6. Kana Lavendar CBD Mask. I've been using this mask all year long, and it makes my skin look glowing in the morning! Highly recommend.
7. Meow Meow Tweet Deodorant Stick. This natural deodorant is made without baking soda for sensitive skin, and comes in a recyclable tube instead of using plastic.
8. Zum Body Lotion. This is a local KC company, and I love this body lotion! If you love almonds, you'll love this scent, but my kids like the mint one, too.
9. Eco-Friendly Shampoo. My zero-waste friend, Kristina, swears by this shampoo! Once you buy the bottle with the pump, you can buy refills without it and they come with shipping labels so you can return the bottles to be reused.
10. Meow Meow Tweet Body Oil. This comes in glass bottles instead of plastic, and will make your skin feel so soft if you use it right after showering!
11. Grapefruit Deodorant Cream. If you prefer a cream over a stick, this one comes in a glass jar and actually works!
12. Classic Velvet Eyeshadow Palette. This is by far my most-used makeup item. Beautycounter tests each batch of eyeshadow for heavy metal safety, and it's just as rich in color as the department store stuff I used to use!
Gifts for Kids and Parents
1. Roll & Play Game. My kids love this game! It's fun for kids from age 2 to 6, and it's still something they can play together that keeps them active and engaged.
2.OK to Wake Clock. This is amazing for parents and kids! You can set the "green light" to turn on when you want your child to wake up. It's taken a lot of anxiety out of bedtime for my kids, because they know mommy or daddy will always be there as soon as the green light turns on. (We don't use this as much for my 6 year old now, but it's amazing for my 3 year old!)
3. Door Monkey. If you worry about your child waking up in the middle of the night and leaving their room, this is a really handy door lock that keeps their door cracked open, to relieve some anxiety. We use this for my son, who has a bedroom door close to our stairs, so that he won't sleep walk into the hallway.
4. Toy Vet Kit. My 3-year-old daughter loves this set! She can play doctor to all of her dolls, and often likes to give mommy a check-up, too.
5. Foam Blocks. These are a fun alternative to Legos, with so many possibilities for building!
6. Zingo. This is another fun game that both my 3-year-old and 6-year-old enjoy playing together. It's easy enough that younger kids won't get frustrated, but it's fun for the whole family.
7. Squeasy Snacker Pouches. These reusable pouches are made of silicone and don't leak! They're so easy to use for our daily smoothies. I use the 3-ounce size for younger kids, and the 6-ounce one for older kids who will drink more.
8. Blender Toy Set. My daughter loves to pretend to cook, so this is a fun toy if you know a child who loves smoothies. I love that they include pretend lettuce to add to the blender, so they can make a green smoothie!
9. Movie Night Basket. I think it would be a cute gift idea to put together a movie night basket! You can include a favorite DVD, along with some popcorn to pop, and maybe a cozy blanket to cuddle with. My kids are both into Daniel Tiger right now– I find them both very peaceful when it's on, so it's a nice break for parents!
10. Kid-Safe Knives. If you want to get a child more involved in cooking, these would be a great gift to help them safely join in!
11. Cookbook for Young Chefs. I think this would be good for older children (possibly 8 years and up) who want to start cooking!
12. This Is Not My Hat. My whole family loves this book. It's on the dark-humor side, but my son really enjoyed contemplating what happens at the end. (Austin and I just ask, "what do you think happened?")
13. Balance Bike. Skip a tricycle and jump right into these balance bikes! The kids in our neighborhood have learned to balance with these surprisingly fast!
14. Water Wow Coloring Books. These are so much fun for kids, and I love that they are mess-free and resusable! You just fill up the pen with water, and the pages magically show color when the kids use the water brush.
Whether you've found something new for yourself, or to give to your friends and family,  I hope you'll find this gift guide useful!
—
Reader Feedback: What's your favorite gift to give this year?