Looking for a detox juice recipe? While your body already has its own detox system, this easy recipe is a great way to support the process, with plenty of nutrients in each sip.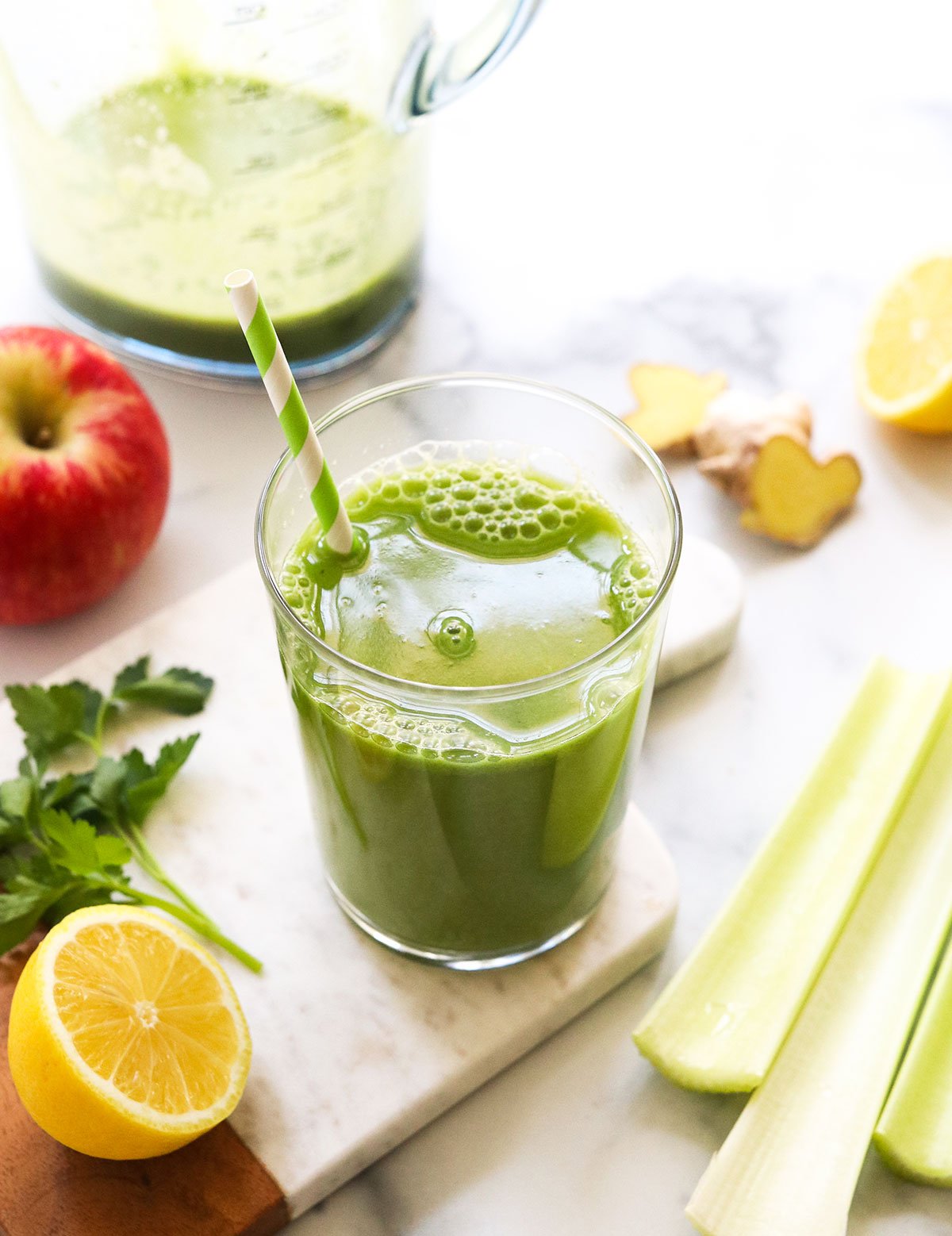 Why You'll Love It
It tastes great. Even if you're not the biggest fan of celery or parsley, the combination of apple, lemon, and ginger, will make this juice taste lightly sweet and refreshing. It's almost like drinking a ginger lemonade!
It's nourishing. Research suggests that most people aren't getting enough nutrients from diet alone, so juicing is a way to get more vitamins and minerals into your day. This is especially true when you include vegetables that you might not eat otherwise, like a huge handful of fresh parsley or a whole bunch of celery.
It's easy to customize. If you aren't a fan of lemon juice, you can swap it for a fresh lime or an orange, instead. You could also swap the apple for fresh pineapple, or choose a slightly lower sugar option by using carrots, instead. (Carrot juice is quite sweet, too, but not as sweet as apple juice.) Feel free to experiment with it!
It's quick to prepare. Instead of chopping a bunch of veggies for a salad, all you have to do is wash the vegetables you want to juice, and make sure they are small enough to fit into the chute of your juicer. When you use a centrifugal juicer, like this one, there is minimal cutting involved and it's ready to drink in 5 minutes or less. (Clean up is pretty easy, too!)
Why not just make a smoothie? Juicing is thought to give your digestive system a rest, since the juicer removes most of the fiber. While eating plenty of fiber is a good thing, a recent study suggests that vegetable juice made with fruit and veggies (in this case it was Japanese spinach) may help to lower cholesterol, too.
Ingredients You'll Need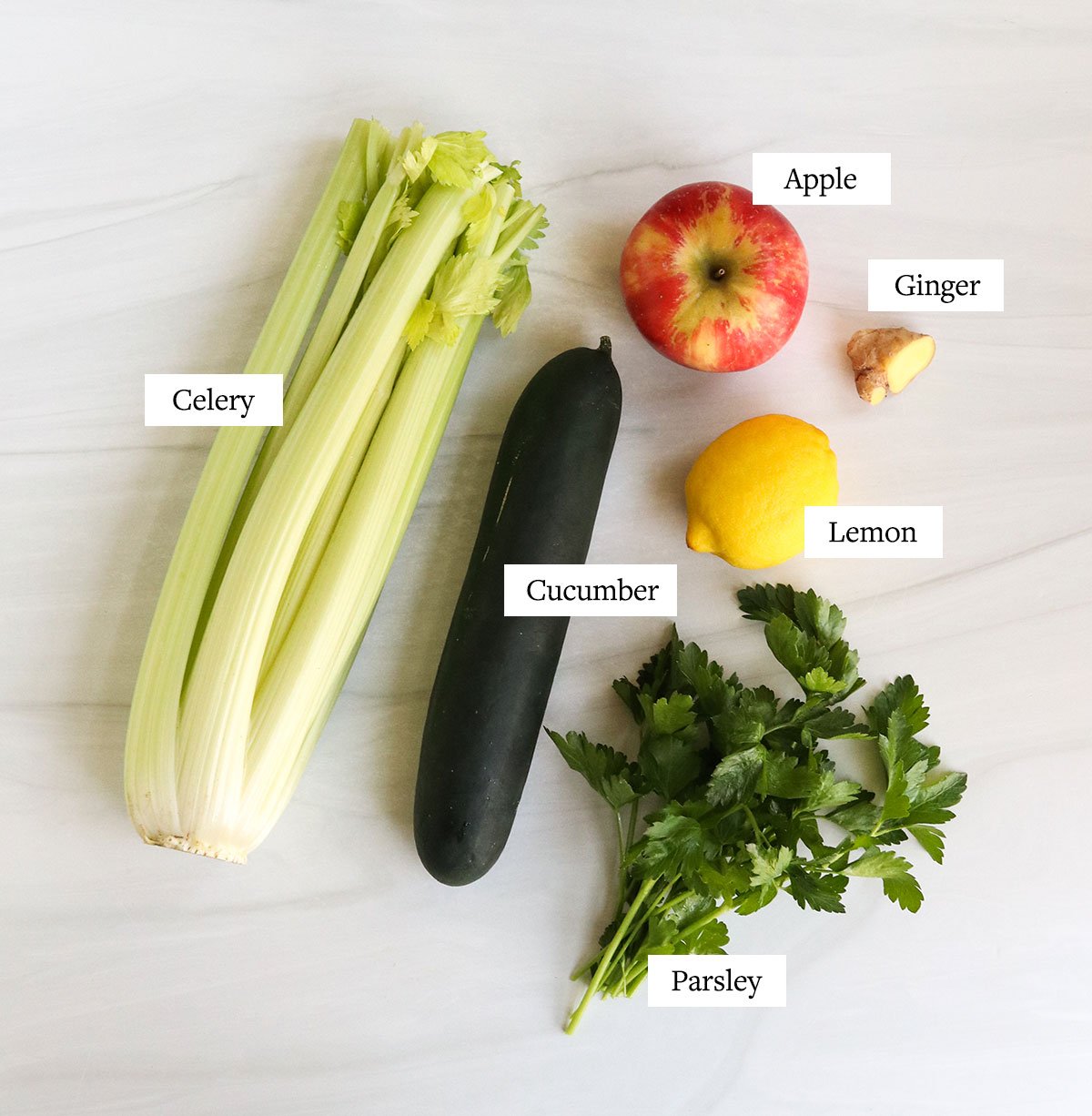 While you can certainly juice any fruits or vegetables that you have on hand, here's a quick overview on the detoxifying ingredients included in this juice recipe.
• Cucumber. Cucumbers are approximately 96% water, so they will help keep you hydrated, and another study suggests that they may help control blood sugar levels.
• Celery. Celery contains antioxidants that may help digestion by protecting gastric mucosa. Research also suggests it could help to improve cognitive function.
• Italian Parsley. Parsley is a natural diuretic and is high in vitamin K. Research suggests that parsley juice may have a protective effect against environmental toxins, particularly against heavy metal exposure (like cadmium, which was tested in that particular study.)
• Apple. Even with the fiber removed, apple juice may help protect against oxidative stress, thanks to its high antioxidant content.
• Lemon. Lemons are known for their detoxifying properties, likely due to their high vitamin C content. The antioxidants found in lemon juice may even have a protective effect on the liver, especially when it comes to injury due to alcohol consumption.
• Ginger. Ginger consumption has been shown to boost digestion, and may even help your immune system, thanks to its anti-viral properties. Ginger has so many potential health benefits, you may want to try making ginger tea, too.
If you are looking to change things up, try adding in fresh beets or kale, as an alternative to any of the ingredients above. You'll get even a larger variety of nutrients this way!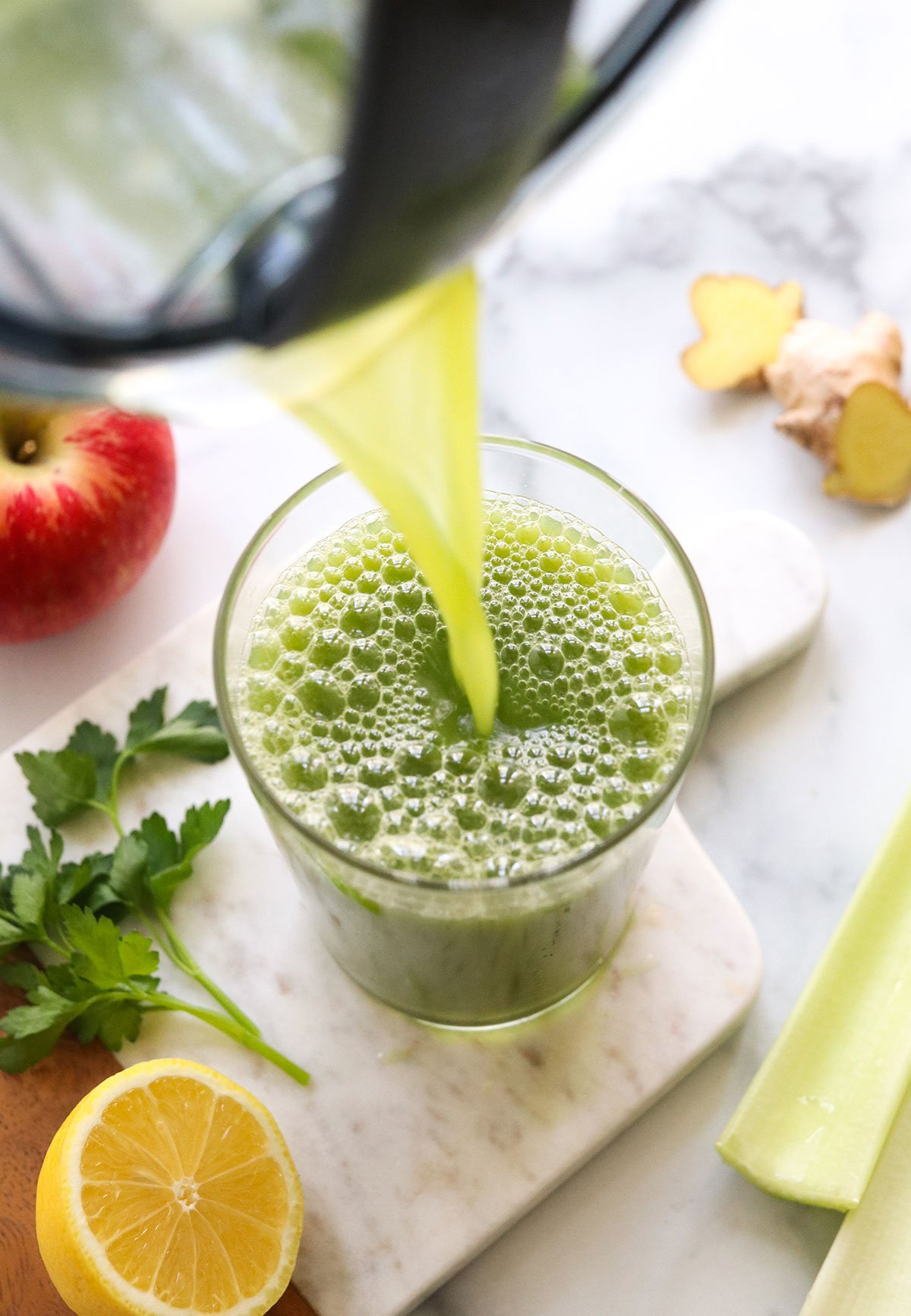 How to Make the Best Detox Juice
1. Prepare the produce.
To get started, you'll need to wash the fresh produce, then cut them down into a size that will easily fit into the chute of your juicer. If you're using a mastication juicer with a narrow chute, you may need to cut everything down into the size of a pickle spear. (The celery stalks should fit perfectly already, but remove their leaves for the best flavor.)
Centrifugal juicers, like the one I use in my photos, tend to have larger chutes, so minimal chopping is required. If you're using a large apple, you might need to cut one or two sides off, to make it fit. Otherwise, the rest should fit just fine!
This is a perk of using a juicer with a large chute, to minimize the prep work. I tend to use my Breville Juicer (< affiliate link) more than any other model I've tried, because the prep & clean-up are so quick.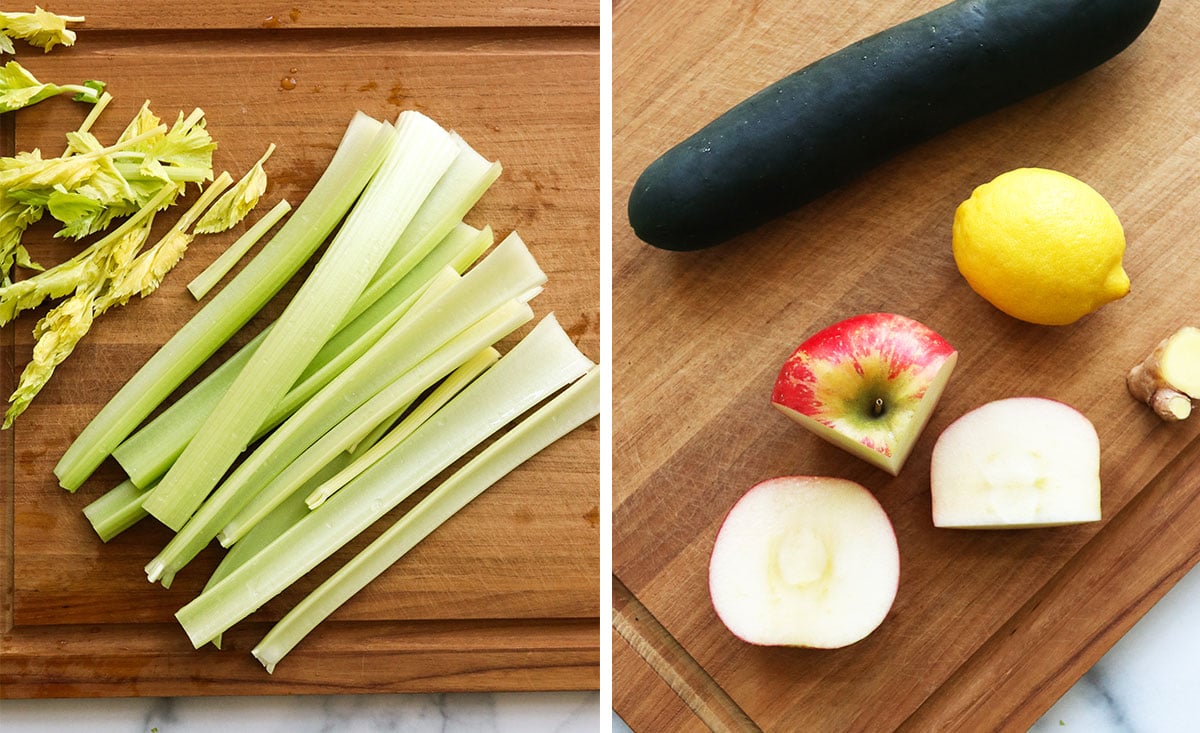 2. Juice the produce.
If your juicer has two speed settings, start with the low setting first. Add the whole cucumber, followed by the celery and parsley nested together. (This will prevent the parsley from flying around your juicer when using a centrifugal model.)
Switch the speed to high, then juice the apple, ginger, and lemon. There's no need to peel the lemon for this recipe, as the peel also contains nutrients, but if you are worried about a bitter flavor, you can cut away the peel first.
Pro Tip: Sandwich the fresh ginger between the apple and lemon as you add them to the chute, so the ginger will be sure to hit the blades of your juicer, without flying away.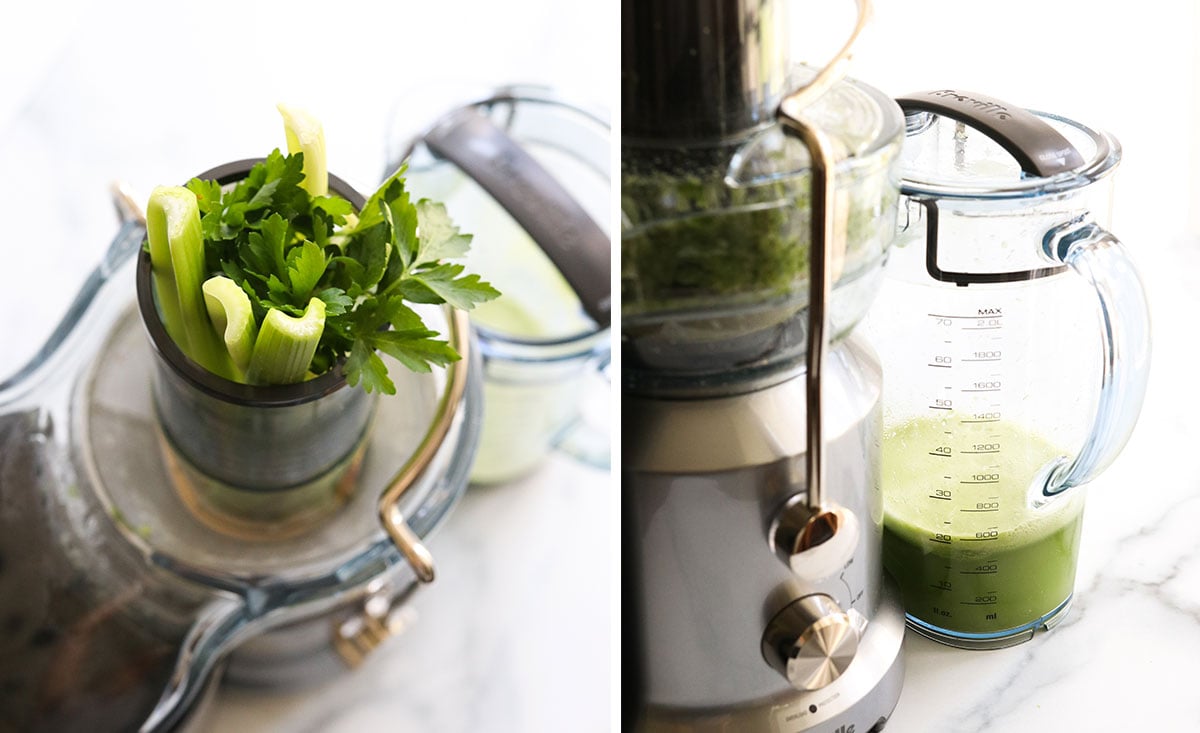 3. Enjoy!
As soon as the produce has been juiced, it's ready to drink right away. Fresh juice is best enjoyed right away, for maximum nutrient absorption.
If you need to make this juice in advance, fill an airtight container all the way to the top, and secure it with a lid to minimize oxidation in the fridge overnight. It's still best to drink juice made with a centrifugal juicer within 24 hours, but if you have a masticating juicer, the juice can be stored in the fridge for up to 3 days.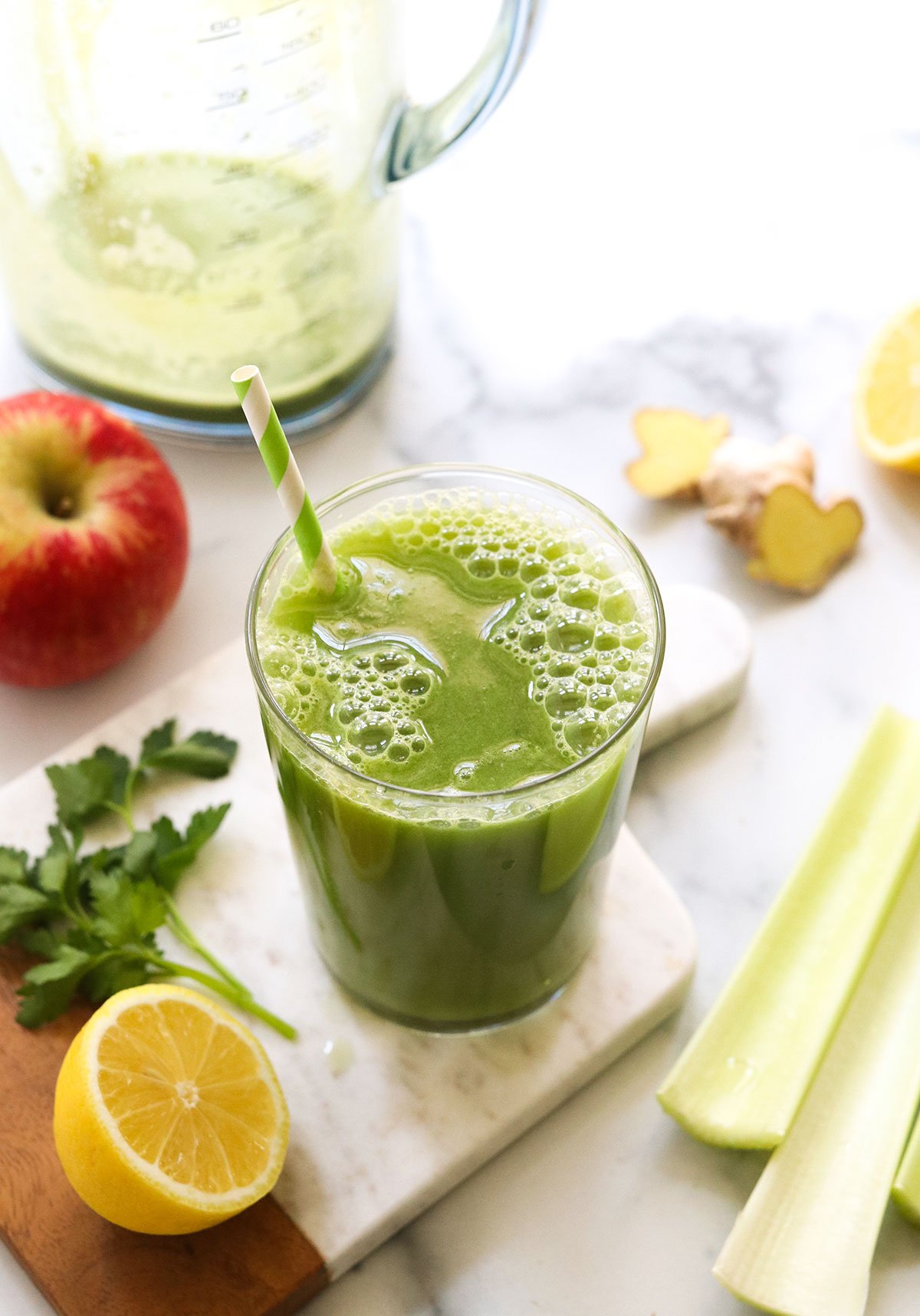 Frequently Asked Questions
When should I drink my detox juice?
You can drink this juice anytime, but many like to enjoy it on an empty stomach, for maximum nutrient absorption. It may also stimulate a bowel movement in the morning, thanks to the added lemon juice and overall hydration.
How do you flush toxins out of your body?
The body tends to remove toxic waste through feces, urine, and sweat. We also remove the waste product carbon dioxide through breathing. The food you consume is only part of the equation when it comes to supporting your body's natural detoxification process, so make sure you're encouraging these elimination methods, too. (My portable sauna has also been a game-changer when it comes to sweating!)
How long should I do a juice cleanse? 
You can incorporate this juice as part of a healthy lifestyle, without fasting. Think of it as drinking a liquid vitamin each morning! It's best to work with a doctor or health care professional, if you're making drastic lifestyle changes (especially if you currently take medication, as drinking this juice this may help to lower your blood sugar or blood pressure.)
Can I make this juice in a blender?
Yes, if you don't have a juicer on hand, you can cut the produce up into smaller pieces and blend it in a high-speed blender, for about 60 to 90 seconds. The cucumber should provide plenty of liquid as it blends, but you can add a splash of water, if needed. Strain the blended juice through a fine mesh strainer or nut milk bag to remove the fiber, and then the juice is ready to drink. 

Note: There is SO MUCH fiber in this drink, that it would not make an appealing smoothie. Try my detox smoothie recipe, if you prefer not straining out any fiber.
Looking for more green juice recipes? Try Celery Juice, Carrot Ginger Juice, or Beet Juice for more delicious ideas.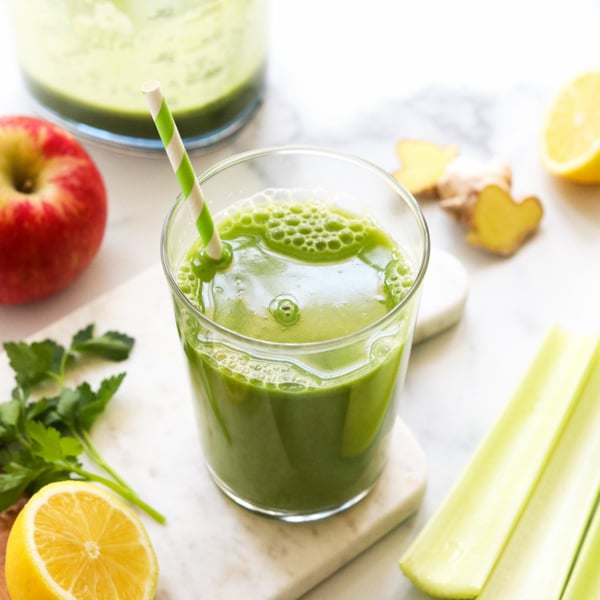 Detox Juice
This Detox Juice recipe is an easy & delicious way to get more nutrients into your day, while supporting your body's detoxification system. No drastic juice cleanses required!
Equipment
Ingredients
1

large

cucumber

1

head of celery

(about 6 to 8 ribs)

1

small handful

Italian parsley

1

medium

apple

1

small

lemon

1

inch

fresh ginger
Instructions
If your juicer has two speeds, start on low. Run the cucumber through the juicer, followed by the celery and parsley nestled together to help prevent the parsley from flying around in the chute. (This is only an issue when using a centrifugal juicer, not a masticating one.)

Switch the speed to high, then juice the apple, ginger, and lemon. Sandwich the ginger between the apple and lemon, so that it won't fly around in the chute or go into the pulp basket before it hits the blade of the juicer.

Your juice pitcher will separate the juice from the foam on top as you pour it into a glass, then enjoy it right away for the most nutrition. If using a centrifugal juicer, you can store the juice for up to 24 hours in the fridge in an airtight container. If using a masticating juicer, you can store the juice in an airtight container in the fridge for up to 72 hours. Either way, make sure you fill the container all the way to the top, so that no air is left inside to help slow down the oxidation process.
Notes
Nutrition information is for the whole batch, but will vary based on the size of your produce each time. This information is just an estimate, and not a guarantee.
Note: There's no need to peel the lemon or ginger for this recipe, but removing the lemon peel will potentially make the juice taste less bitter. It's up to you and how much effort you want to put into the preparation!
Nutrition
Calories:
183
kcal
,
Carbohydrates:
49
g
,
Protein:
4
g
,
Fat:
1
g
,
Saturated Fat:
1
g
,
Sodium:
43
mg
,
Potassium:
889
mg
,
Fiber:
10
g
,
Sugar:
27
g
,
Vitamin A:
677
IU
,
Vitamin C:
77
mg
,
Calcium:
103
mg
,
Iron:
2
mg
If you try this detox juice recipe, please leave a comment and star rating below letting me know how you like it.