This Mac n' Cheese is a quick & easy weeknight dinner with a sneaky serving of cauliflower in each bite. I love how you can make it in the Instant Pot, without using any other special equipment for the creamy cauliflower sauce. (Normally you would have to use a blender, too!)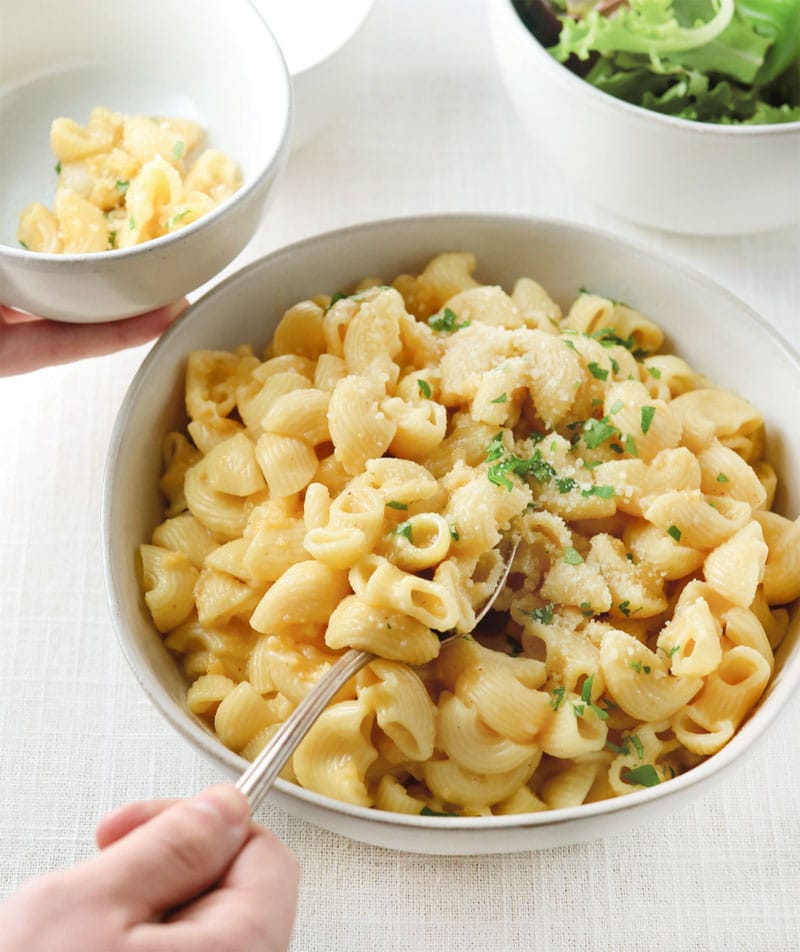 As an Amazon Associate I earn from qualifying purchases.
This recipe comes from The Fresh & Healthy Instant Pot Cookbook, which is out in stores today.
You can find it at Target, Barnes & Noble, Amazon, and everywhere else that books are sold. I'm so excited for you to have it in your hands!
If you love photos in cookbooks, get excited!!
There is a photo for EVERY recipe in this book, as well as nutrition information and tons of tested substitutions for any dietary needs you might have. (There's even a whole substitution section in the front of the book so you can feel confident making your own modifications, too.)
All of the recipes in this book are free gluten-free, or include a tested alternative, refined sugar-free, and there is a vegan and dairy-free option for nearly every recipe, too. (Even the ones that call for meat are made with vegan sauces, so swapping out the protein is easy!)

Instant Pot Mac n' Cheese
Today I wanted to share with you my Hidden Cauliflower Mac n' Cheese because it was one of my more brilliant moments while writing this book. I noticed that the Instant Pot had the tendency to over-cook vegetables, so I took advantage of that in this recipe. I added a pound of cauliflower directly into the sauce, and voila– it basically dissolves into the cooked pasta when you stir it after the cooking cycle. How amazing is that?
This is the perfect recipe for kids and picky eaters in your family. They get to eat a delicious Mac n' Cheese, and YOU get to sneak a serving of veggies onto their plate. It's a win-win! If you don't feel like chopping up fresh cauliflower, you can even use a bag of frozen cauliflower (or try butternut squash for a fun Fall twist) to make the prep process as quick as possible.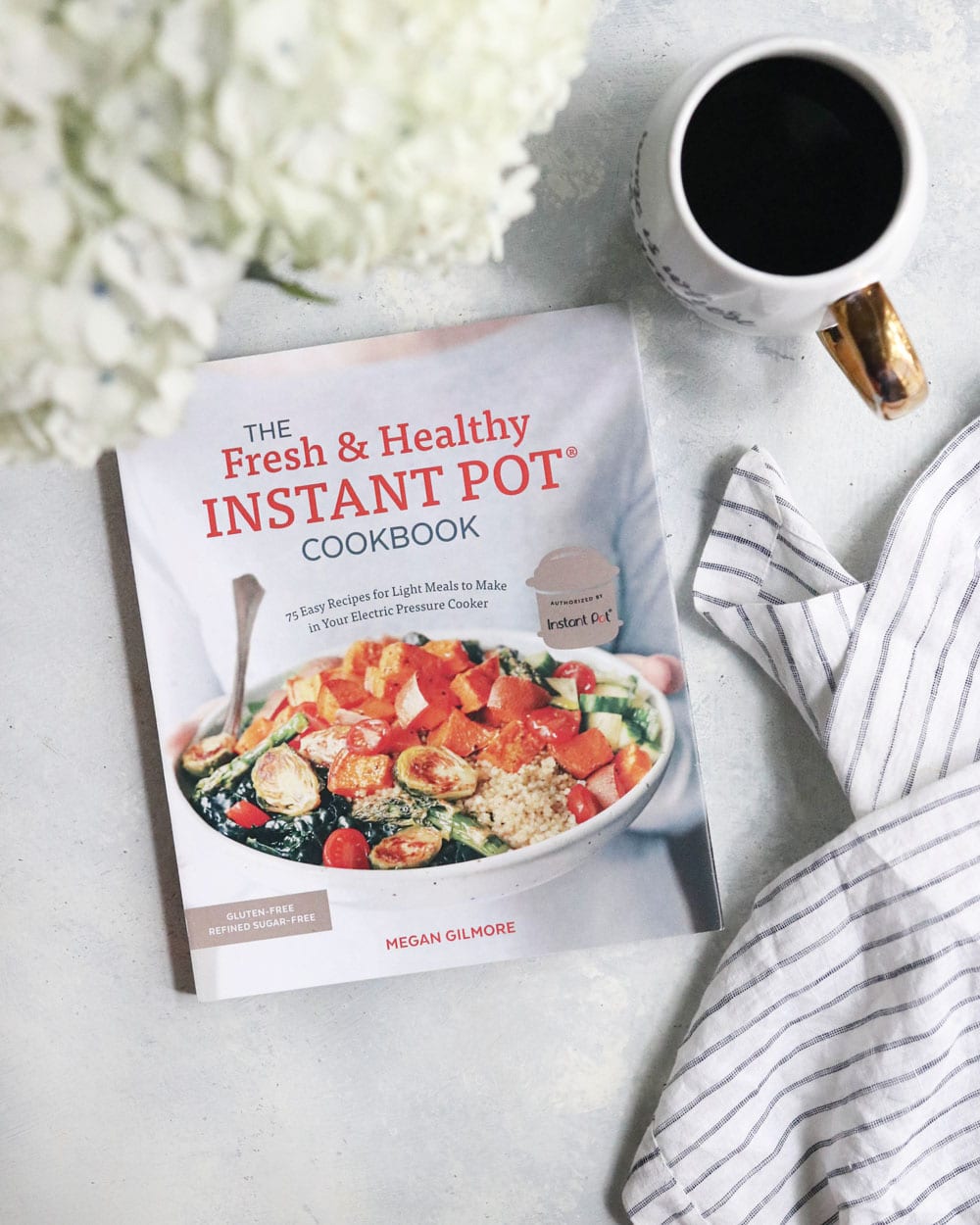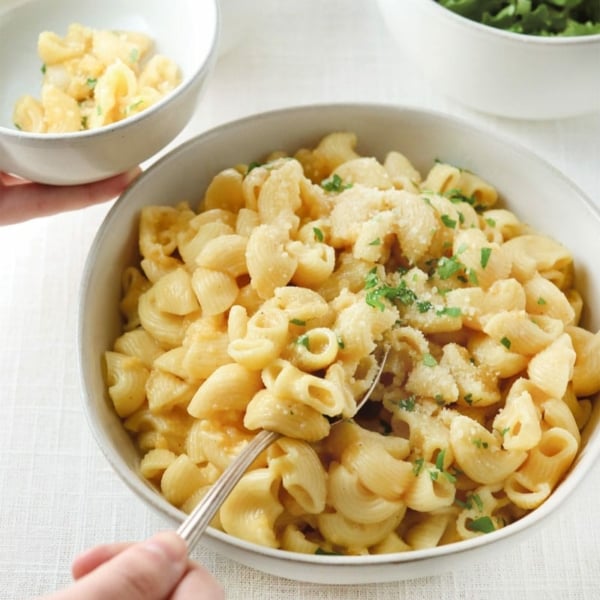 Hidden Cauliflower Mac n' Cheese in the Instant Pot!
This healthy Mac n' Cheese makes an easy weeknight dinner, ready in about 30 minutes. I love how you can sneak an entire pound of cauliflower into this pasta, because it practically dissolves when you give it a stir after cooking it in the Instant Pot. Vegan & gluten-free variations are included!

Ingredients
1

pound

whole wheat macaroni

(see gluten-free option, if needed)

4

cups

water

2

tablespoons

soy sauce

(or tamari, for gluten-free)

1

tablespoon

spicy brown mustard

1 1/2

teaspoons

fine sea salt

1

pound

cauliflower florets

(fresh or frozen)

4

ounces

extra-sharp cheddar cheese

1/4

cup

grated parmesan

(or other choice, like Gruyere)
Instructions
Secure the lid and move the steam release valve to Sealing. Select Manual or Pressure Cook to cook on high pressure for 3 minutes. While the pot is coming to pressure, shred the Cheddar (you should have about 1 cup).

When the cooking cycle is complete, let the pressure naturally release for 10 minutes (so don't touch the pot until 10 minutes has passed), then move the steam release valve to Venting to release any remaining pressure.

When the floating valve drops, remove the lid and stir the pasta well, using a spatula to break up any pasta that has stuck together or stuck to the bottom of the pot. (A little sticking is to be expected, but it will loosen up when you stir.) Use the spatula to mash any intact cauliflower florets against the side of the pot to help them dissolve into the pasta sauce.

Add the Cheddar and Parmesan and stir well. Adjust the seasonings as needed and serve warm. Store leftovers in an airtight container in the fridge for 4 days.
Notes
All of the recipes in The Fresh & Healthy Instant Pot Cookbook are gluten-free or include a gluten-free modification, and there is also a tested vegan modification for most recipes, too. Other than this Mac n' Cheese recipe, all of the sauces are all naturally vegan and dairy-free, to make swapping out the protein easy.
Make it Vegan: Use store-bought vegan cheese, or make a cashew "cheese" sauce. Soak 1 cup raw cashews for 1 hour, then drain and rinse. In a blender, combine 2 cups of the water with the cashews, 2 tablespoons freshly squeezed lemon juice, and 1/4 cup nutritional yeast. Blend on high speed until smooth. Add the blended mixture to the Instant Pot, along with the remaining 2 cups water and the rest of the ingredients. Cook as directed. Stir in an additional 1/2 cup water after cooking for a creamier sauce.
Make it Gluten-Free: Omit the macaroni and soy sauce, and use gluten-free pasta and tamari instead. Use only 3 cups water and cook on high pressure for
0 minutes (see page 17). Let the pressure naturally release for 8 minutes, then continue as directed above.
Nutrition
Calories:
305
kcal
,
Carbohydrates:
61
g
,
Protein:
19
g
,
Fat:
8
g
,
Saturated Fat:
4
g
,
Cholesterol:
23
mg
,
Sodium:
1163
mg
,
Potassium:
419
mg
,
Fiber:
1
g
,
Sugar:
1
g
,
Vitamin A:
225
IU
,
Vitamin C:
36.5
mg
,
Calcium:
234
mg
,
Iron:
3.4
mg
Per Serving: Calories: 305, Fat: 10g, Carbohydrates: 43g, Fiber: 7g, Protein: 18g
Recipe Notes:
Check the recipe above for gluten-free and vegan modifications. I include these for almost every recipe in the new Instant Pot Cookbook, too. There's also a vegan & gluten-free Instant Pot Mac n' Cheese already here on the blog. It's one of my favorites!
No Instant Pot? No Problem!
Stove Top Method: Combine all of the ingredients into a large pot over high heat on your stove, and add an extra 1/2 cup of water to account for any evaporation that might occur. Bring the water to a boil and give the mixture a stir to make sure your pasta doesn't stick together, then cover the pot with a lid and lower the heat to a simmer. Cook the pasta according to the directions on the package, about 10 minutes for pasta that isn't too al dente. (My kids don't like any "bite" to their pasta, and I don't either.) Remove the lid and test the pasta. The cauliflower should be tender, and you should be able to press it into the side of the pot, using the back of a spoon to help any big chunks dissolve. If the pasta has too much liquid, raise the heat on the stove and simmer it until the sauce has thickened a bit. Stir in the cheese and adjust any seasoning to taste. Serve warm.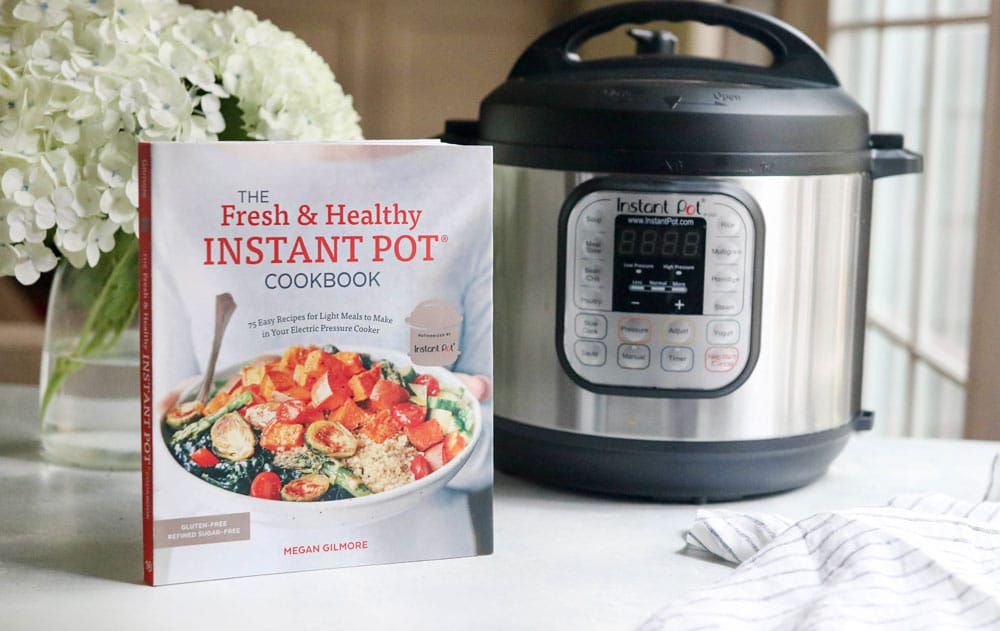 I can't wait to see what you cook from the new book. Make sure you tag me @detoxinista or use the hashtag #freshhealthyinstantpot so I can find your posts on social media and cheer you on!
—
Reader Feedback: What other comfort foods would you like to make in your Instant Pot this Fall?