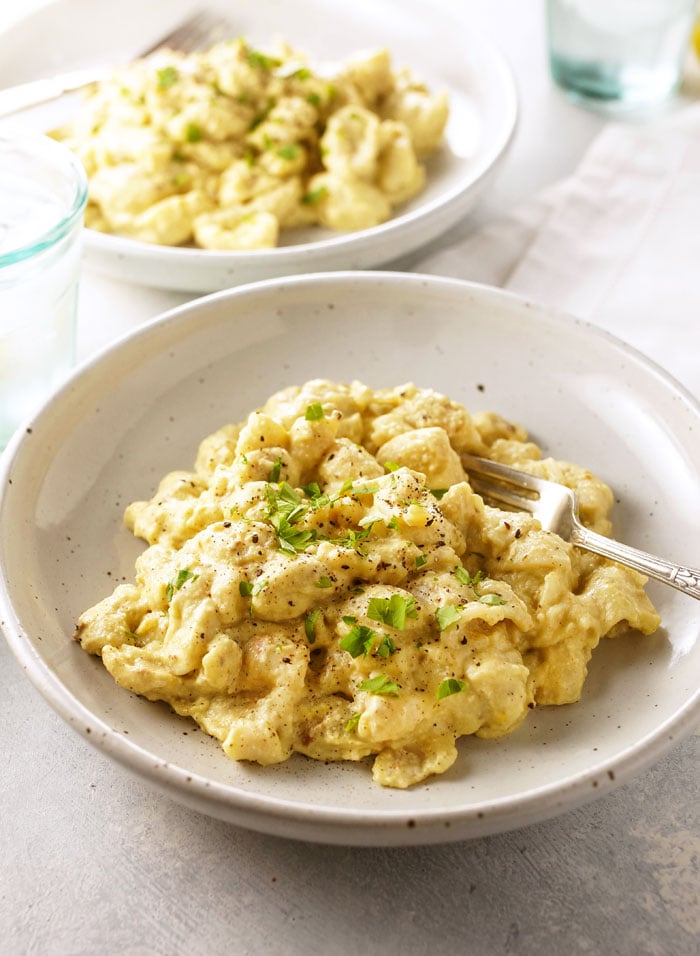 It might sound far-fetched, but this Instant Pot Vegan Mac n' Cheese is inspired by Ina Garten's recipe that I make every year at Thanksgiving. Her recipe is incredibly rich and decadent– hence why we only make it once a year– and it's also exhausting to prepare because you have to shred over a pound of cheese. What makes her recipe special is her use of gruyere cheese and nutmeg, which provides a subtle nutty flavor that pairs perfectly with the salty aged cheese.
While my recipe doesn't actually contain any cheese, adding nutmeg to my cashew-based cream sauce makes reminds me of Ina Garten's original recipe. My dad tasted it recently and told me it's my best Mac n' Cheese yet! (Which is saying something if you've already tried my best Vegan Mac n' Cheese recipe.) Perhaps we'll be serving this one at Thanksgiving this year, since it would save us a LOT of time and effort.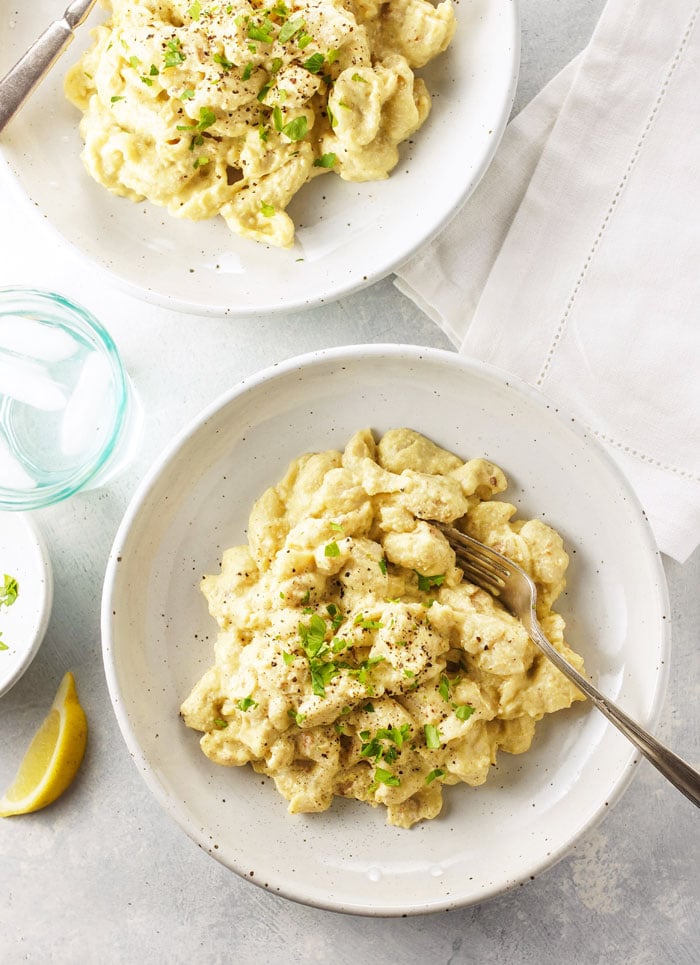 This Vegan Mac n' Cheese requires just 3 simple steps: Blend, Dump, and Stir. This is my first time developing a recipe where the pasta cooks in the sauce all at the same time, and I love the results. The starchiness of the pasta thickens the sauce, leaving you with a creamier result than if you were to prepare the pasta separately. The only downside to cooking pasta in the pressure cooker is that you can't stop and stir the pot they way you could if you were cooking it on the stove. As a result, some of the pasta does stick to the bottom of the pan. I found that this issue is easily resolved by stirring a bit more water in at the end of the cooking cycle, which helps un-stick any pasta and also helps to thin out the sauce, making it creamier.
Something else to note while making this recipe is the size of your pasta package. This was a total "duh" moment for me, but while I was working on this recipe (making it over 10 times!) I found that I had accidentally bought two different sized bags of gluten-free pasta. So, when I thought I was consistently using a one-pound bag for testing, I was actually using a 12-ounce bag sometimes. No wonder it took me so long to figure this one out! My favorite pasta that I tried while testing this recipe was DeLallo's gluten-free shells (made from 100% brown rice flour), so I highly recommend you seek out a similar pasta for best results. Enjoy!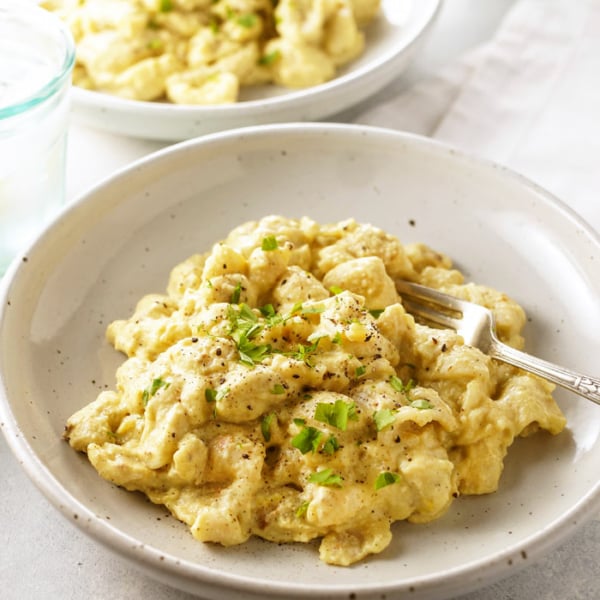 Instant Pot Vegan Mac n' Cheese
A fast and creamy dairy-free and gluten-free mac n' cheese made in the Instant Pot! Made with cashews, lemon juice, and nutritional yeast, this sauce is thickened when it cooks directly in the same pot as the pasta.

Ingredients
1

cup

raw cashews

, soaked in water for 2 hours*

4 1/2

cups

water

, divided

1/4

cup

nutritional yeast

2

teaspoons

fine sea salt

2

tablespoons

freshly squeezed lemon juice

1

tablespoon

apple cider vinegar

1/4

teaspoon

ground nutmeg

12

ounces

gluten-free pasta

(I used DeLallo brand)
Instructions
Drain the cashews and discard the soaking water. In a high-speed blender combine the cashews, 2 cups of water, nutritional yeast, salt, lemon juice, vinegar, and nutmeg. Blend until smooth.

Add the pasta to the bowl of your

Instant Pot

, and pour the sauce over the top. Stir well. Use 2 more cups of water to "rinse out" your blender, swishing the water in the empty blender container to help pick up any of the seasoning that may have been left behind. Pour the water from the blender container into the Instant Pot, then seal the lid and make sure the knob at the top is turned to the "sealing" position. Cook on high pressure for 0 minutes (yes, zero minutes), then let the steam pressure naturally release for 8 minutes.

When the screen reads LO:08, carefully release the steam in the pot by moving the steam release vent to "venting," then remove the lid. Pour the remaining 1/2 cup of water into the pot and use a wooden spoon to stir well, making sure to remove any pasta that has stuck to the bottom of the pot. Adjust any seasoning to taste, and serve warm.

Feel free to make this more of an "adult" Mac n' Cheese by adding your favorite vegetables before serving. I love to stir-in roasted broccoli, sautéed mushrooms, or simply fold in fresh baby spinach so that it wilts before serving.
Notes
*Note: If you make this in the 8-quart Instant Pot, you may get a "burn" error as it comes to pressure. (This typically doesn't happen with the 6-quart pot.) If you DO get the burn error-- don't panic. In fact, I recommend that you simply wait (LEAVING THE LID SEALED) for 10-15 minutes, so that the pasta and liquid are locked in the heat. This will finish cooking your gluten-free pasta and your meal will still turn out well! When you remove the lid, use a wooden spoon to stir the pasta, scraping anything that might have gotten stuck on the bottom, then adjust the seasoning to taste and serve. To avoid the burn error, you can arrange a vegetable on the bottom of the pot, like chopped cauliflower or butternut squash, to prevent the pasta from touching the bottom. The veggies will become very tender from the cooking and will blend right in when you stir the cooked pasta later!
Nutrition
Calories:
329
kcal
,
Carbohydrates:
52
g
,
Protein:
7
g
,
Fat:
10
g
,
Saturated Fat:
1
g
,
Sodium:
787
mg
,
Potassium:
178
mg
,
Fiber:
2
g
,
Sugar:
1
g
,
Calcium:
14
mg
,
Iron:
1.5
mg
Per Serving: Calories: 329, Fat: 10g, Carbohydrates: 52g, Fiber: 2g, Protein: 7g
I have a feeling this method would work well for my nut-free Mac n' Cheese recipes, like my Sweet Potato Mac n' Cheese or the Butternut Mac n' Cheese found in my cookbook, No Excuses Detox. I plan on trying those in the future (when I'm not burnt-out on eating Mac n' Cheese), but if you want to experiment, I'd use the same 4-ish cups of water to 12 ounces of pasta ratio.
Stove Top Directions: If you don't have an Instant Pot, but want to make it on the stove, I would use the same method as described above. Instead of pressing a button on the Instant Pot, simply bring the mixture to a boil, then cover and steam for 10 minutes. Then let it sit for another 10 minutes with the heat off. Feel free to stir occasionally, to help prevent the pasta from sticking to the bottom of the pan. Add extra water at the end if you feel that it is needed for texture, and adjust seasonings to taste.
Slow Cooker: I haven't tested this recipe in a slow cooker yet, but most vegetarian recipes I've tried cook well on low for 6 hours, or high for 3 hours. If you try it this way, please leave a comment below letting us know how it worked for you!
Variation: If you have leftovers of this Mac n' Cheese, I like to pour my favorite marinara sauce over the top for a "creamy tomato sauce." It's so good, you won't miss a sprinkling of cheese on your pasta!
Food Combining: This nut-based sauce is not properly combined over grain-based pasta, but you can reduce the water for the sauce to one cup and serve it over steamed veggies, cooked spaghetti squash, or spiralized zucchini noodles for a properly combined dish.
—
Reader Feedback: Have you ever made a one-pot pasta before? Let me know if you have another favorite I should try!