These Date Brownies are AMAZING! Just like my recipe for the Healthiest Cookies Ever, this healthy brownie recipe has no flour or added sugar. It's sweetened with only dates! This recipe also happens to be gluten-free, dairy-free, egg-free, vegan, and paleo friendly, so people with a wide variety of special dietary needs can enjoy them.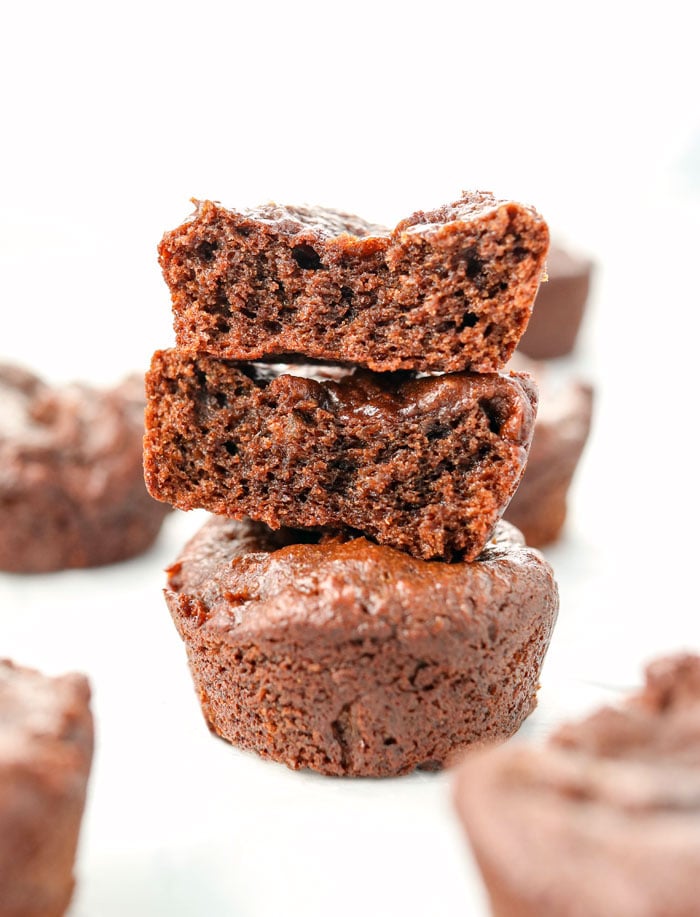 Why Dates Make the Best Sweetener
While I love using coconut sugar and maple syrup as natural sweeteners, lately I've been on a mission to figure out how to use dates as a substitute for sugar in baking. If you ask me, they are probably the healthiest natural sweetener on the planet.
Dates are a great source of iron, potassium, and B-vitamins, and studies have shown that they may have anti-inflammatory and anti-tumor effects. Also, despite their natural sugar content, studies have determined that dates are low-glycemic and a safe sweetener for diabetics. If you're pregnant or plan to become pregnant, studies have shown that consistently eating 6 dates a day may help to improve your labor experience.
Each brownie has just 49 calories and 3 grams of natural sugar, for a healthy treat that won't send your blood sugar skyrocketing.
How to Make Date Brownies
The key to getting a fudgy texture in these date brownies is baking them in a mini muffin tin. They're similar to the popular "2-bite brownies" or mini brownie bites you've probably seen at grocery stores.
I don't recommend trying to bake this brownie batter in a traditional square pan, because I'm afraid the centers would remain forever gooey with an underbaked texture. The key to the perfect texture is using a mini muffin pan, so don't be tempted to try something different without expecting drastically different results.
Date Brownie Substitution Ideas
The one thing I think you can play around with in this recipe is what kind of nut butter you use. I've tested this recipe with both peanut butter and macadamia nut butter as well, but I recommend using cashew butter in this recipe to keep it Paleo-friendly, and avoid to the acrylamide risk I mentioned in my last post.
Keep in mind that the brownies will taste like whichever nut butter you use. (Macadamia nut butter has the most neutral flavor, but due to its high fat content the resulting brownies are also gooier in texture– which is fine since this is a vegan recipe, but be warned.)
I imagine you could experiment with this recipe even more, but I'm really happy with the texture  and sweetness this particular combination produces, so I hope you'll enjoy it, too.
Healthy Date Brownies
These Date Brownies are amazingly fudgy, and taste like the real thing-- only they are flourless and sweetened with dates!

Instructions
Preheat the oven to 350ºF and grease a mini muffin tin with spray oil, or your favorite oil, to help prevent sticking. 

In a food processor fitted with an "S" blade, combine the dates and water and process until the dates have broken down into a paste. (They may turn into a ball in the processor, which is also okay.)

Add in the cashew butter, ground flax, cacao powder, baking soda, vanilla, and vinegar and process again until a sticky, uniform dough is created. (If you need to add 1 more tablespoon of water to help it blend smoothly, that's okay.) The batter will be thick and sticky.

Use a cookie scooper to help you scoop the dough into the greased mini muffin tin. (Roughly using 1 tablespoon of dough per slot.) Use your fingers to gently flatten each mound of dough. Because the dough is very sticky, it helps to get your fingers wet with water before pressing each mound down so your fingers won't stick to the dough.

Bake until the tops look dry, about 12 to 15 minutes. (The centers will still feel slightly soft to the touch.) Remove from the oven and let the brownies cool completely, at least 30 minutes, before attempting to remove them from the pan. They firm up as they cool, but are very fragile when warm. Run a knife around the edge of each brownie to help loosen them to be removed, then serve immediately or store them in the fridge in an airtight container for up to 2 weeks.
Notes
If you don't mind a bit of added sugar, you can add up to 1/2 cup of mini chocolate chips into this recipe for a double chocolate brownie. 
Update Note: This recipe was updated in January 2023. I decreased the vinegar and vanilla by 1 teaspoon each (the recipe used to call for 2 teaspoons of each) and swapped the cashew butter for almond butter, since brands can vary so much on cashew butter lately. Feel free to use the original amounts, if you prefer it that way. 
Nutrition
Calories:
49
kcal
,
Carbohydrates:
5
g
,
Protein:
1
g
,
Fat:
2
g
,
Sodium:
24
mg
,
Potassium:
82
mg
,
Sugar:
3
g
,
Vitamin A:
5
IU
,
Calcium:
8
mg
,
Iron:
0.5
mg
Date Brownie Nutrition (per brownie): Calories: 49, Fat: 2g, Carbohydrates: 5g, Protein: 1g
Substitution Notes:
As I mentioned above, I believe any nut or seed butter will work with this recipe, but keep in mind that you will definitely be able to taste whichever option you use. So, if you use peanut butter you'll have a peanut butter-tasting brownie, and if you use sunflower butter, you'll have a (nut-free!) brownie that tastes like sunflower butter. So, make sure you love the flavor of whichever nut or seed butter that you choose to use. The most neutral-flavored option I've tried so far is macadamia nut butter (which is seriously delicious!) but the resulting brownies have a gooier texture, as if they are undercooked.
If you use other nut butters, such as almond butter or peanut butter, you might want to lower the oven temperature to 250ºF and double the baking time to help prevent any acrylamide formation. (A potential human carcinogen.)
If you can't tolerate cacao powder, you might want to try using carob as an alternative. You can also use cacao powder and cocoa powder fairly interchangeably in baked goods, so feel free to use cocoa powder if that's what you have on hand.
If you'd like to add any add-ins, I'd just recommend that you keep them small so that the texture is distributed evenly. Cacao nibs, mini chocolate chips, or chopped nuts would all be great options. (I'd use 1/2 cup total.)
If you'd prefer to use whole nuts instead of nut butter, I would double the amount called for (so 1/2 cup nut butter = 1 cup whole nuts) and I would grind them in the food processor first, before adding in the dates and water.
For more date-sweetened recipes, check out these posts:
Reader Feedback: Would you like to see more date-sweetened recipes in the future? Do you prefer recipes that call for date paste/syrup, or whole dates better?