Date Brownies are 100% fruit sweetened, but you'd never know just by tasting them. They are made without flour or oil, and have a rich & chewy texture you'll love!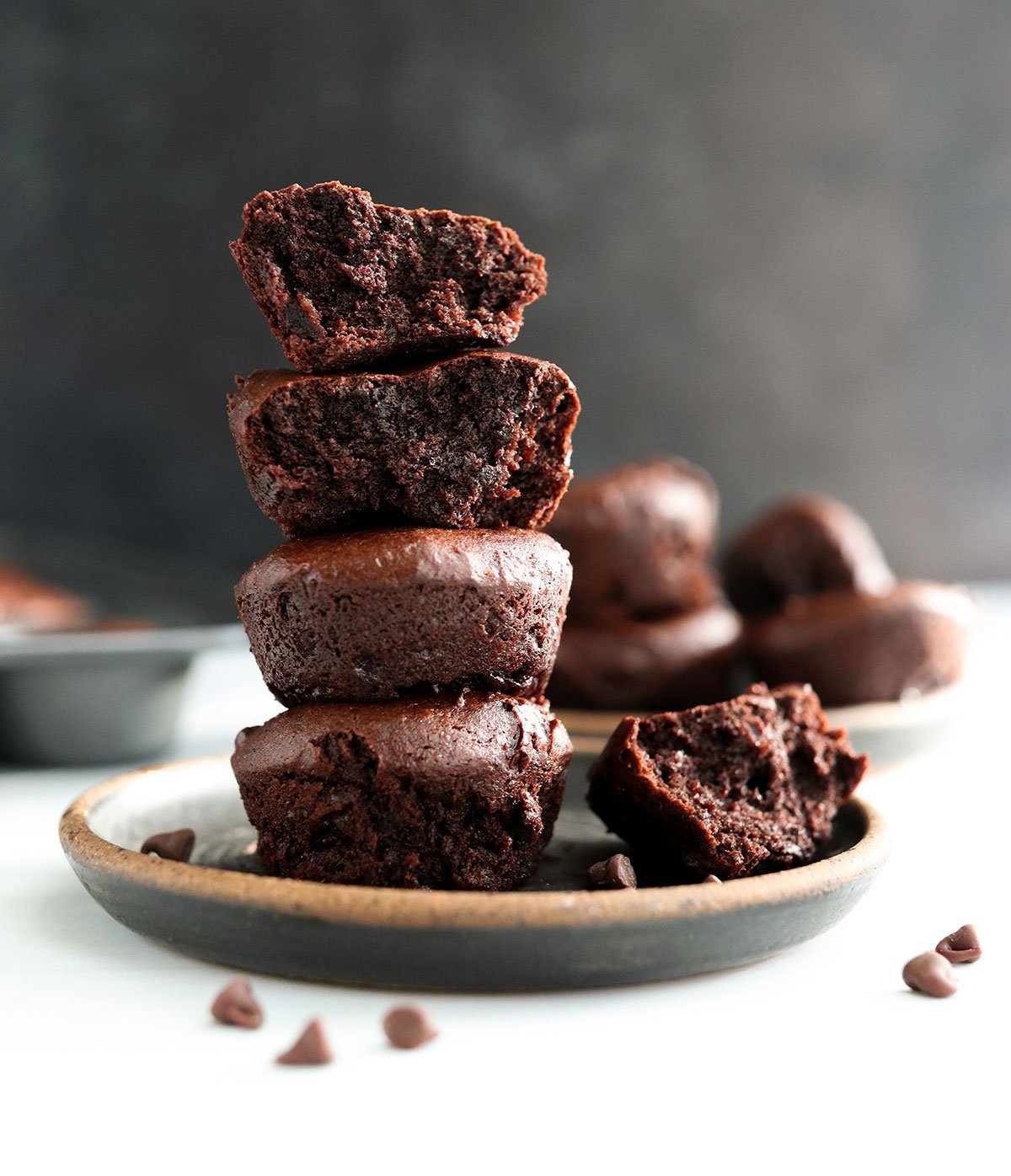 Why You'll Love Them
They're delicious. These healthy brownies have a rich chocolate flavor, and a texture similar to the two-bite brownie bites you'd find at the grocery store. My kids gobble them up! (And they are quite picky.)
They're naturally sweet. Dates are the perfect sweetener for this recipe, with a caramel-like flavor that isn't too detectable. (Unlike banana or applesauce, which would contribute almost too much flavor to a chocolate dessert.)
They're nourishing. Dates contain important minerals, like iron and potassium, and when you pair them with nutrient-rich ingredients like almond butter and cacao powder, these brownies will help you get more fiber and antioxidants into your day.
They're perfect for special diets. If you're trying to avoid added sugar, or are following a Paleo, vegan, dairy-free, or gluten-free eating plan, this recipe is perfect for you! Be sure to check out the substitutions below, if you need to make a swap.
Ingredients You'll Need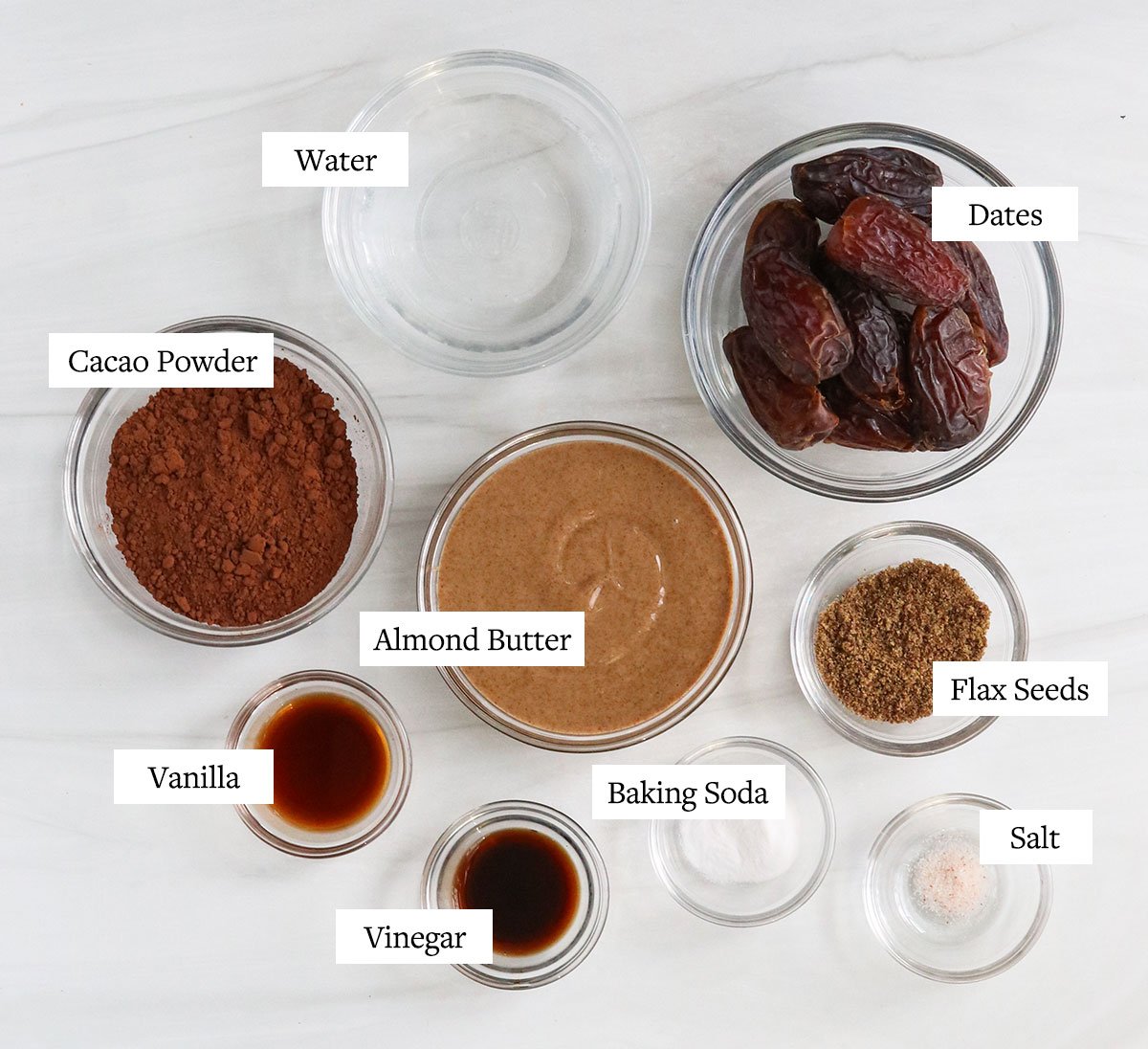 This recipe requires no added sugar– just pitted Medjool dates! You can add in a few mini chocolate chips, if you'd like a double-chocolate brownie, but that's totally optional.
If you don't have almond butter on hand, you can use any other nut butter you like, such as peanut butter, cashew butter, or sunflower seed butter, instead.
Note: This recipe works best if your dates are soft and squishy. They should be easy to split apart with your fingers to remove the pit. If your dates feel too hard or dry, try soaking them in a bowl of very hot water for 10 minutes to help them soften up.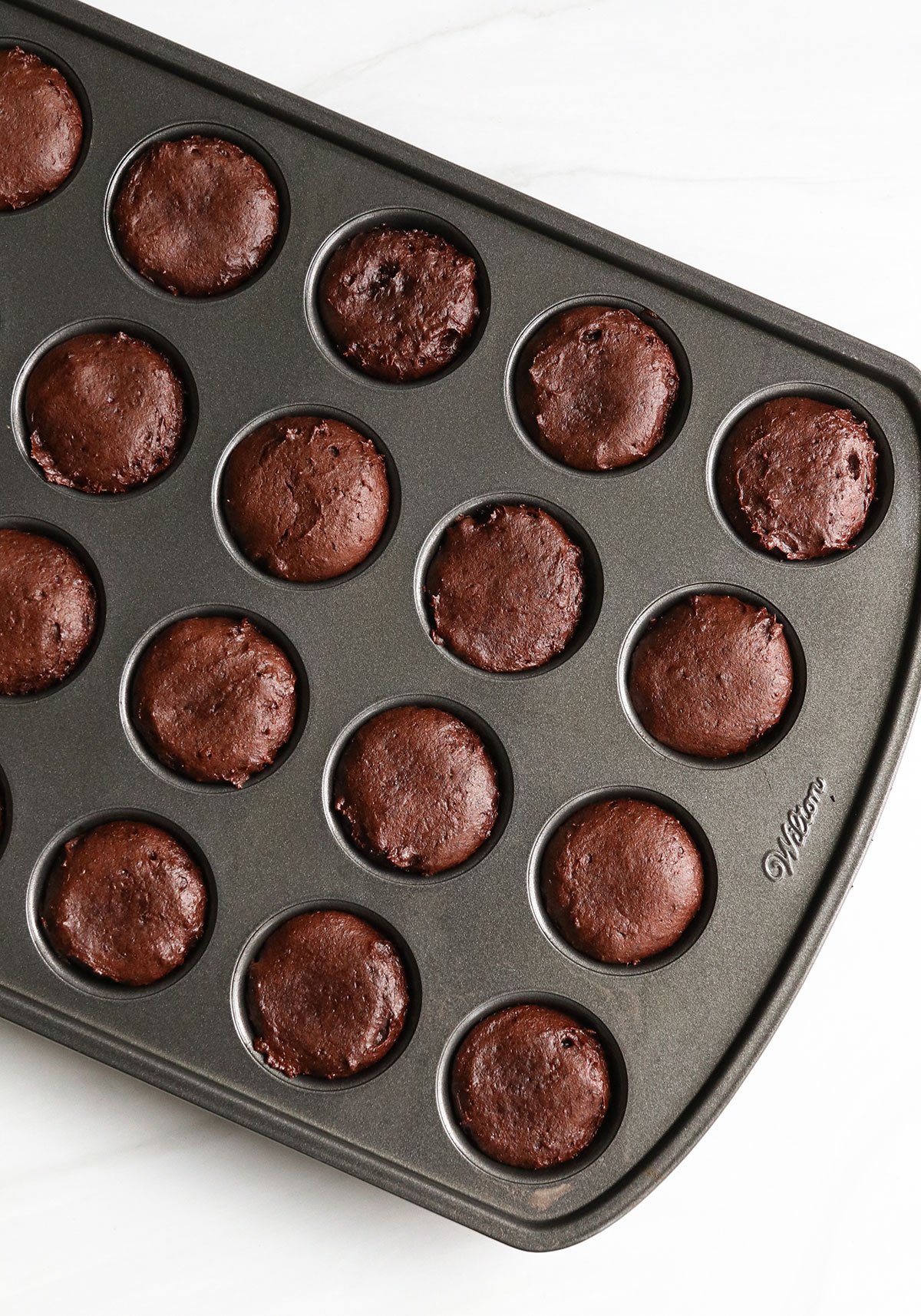 How to Make Date Brownies
1. Process.
Add the dates and water to a food processor, and process briefly to help them break down, about 60 seconds.
Next, add in the almond butter, ground flax seed, cacao or cocoa powder, baking soda, vanilla extract, vinegar, and salt. (The vinegar is here to help react with the baking soda, but you won't taste it in the final brownies.)
Process again, until the batter looks thick and sticky. Use a spatula to scrape down the sides of the machine, if needed.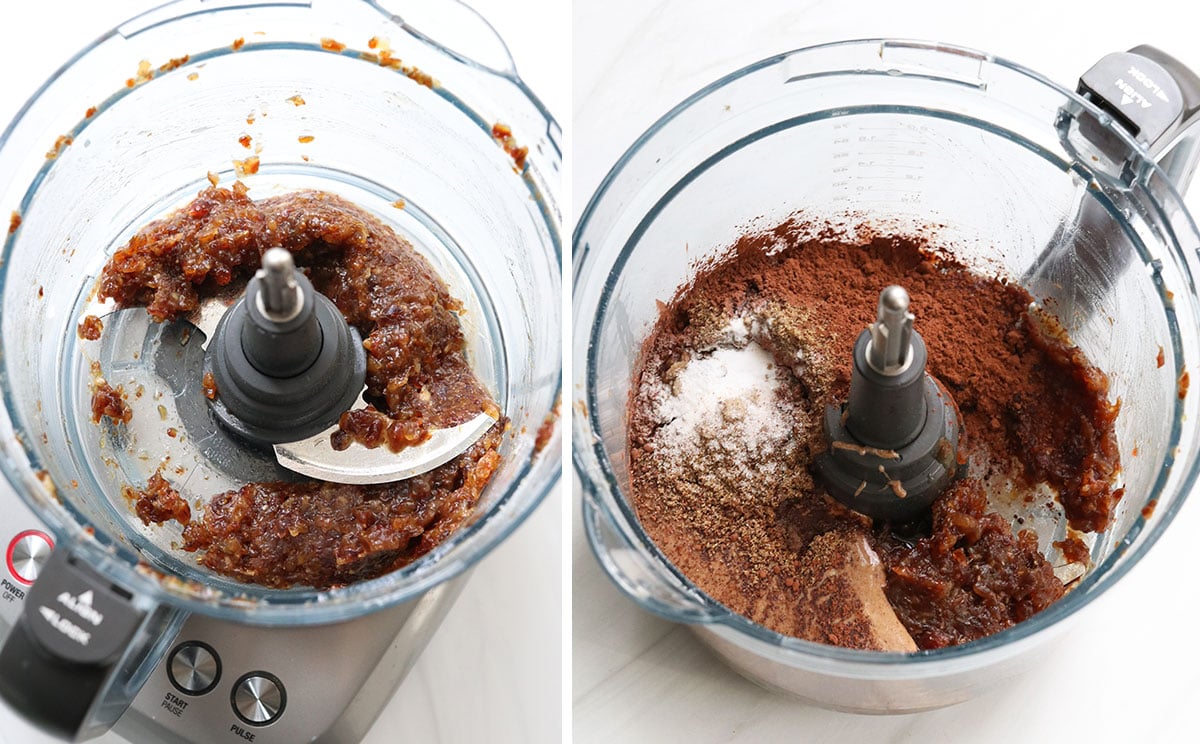 2. Scoop.
Prepare a mini muffin pan by greasing it with coconut oil or olive oil. Use a 1-ounce cookie scoop, or a tablespoon, to scoop the mixture into each slot of the prepared pan. You might not fill all 24 spots; I usually get 18 to 20 brownie bites from this batch.
Get your fingers wet, and flatten the tops of the brownies. If you'd like to add a few chocolate chips on top, now is the time to do so.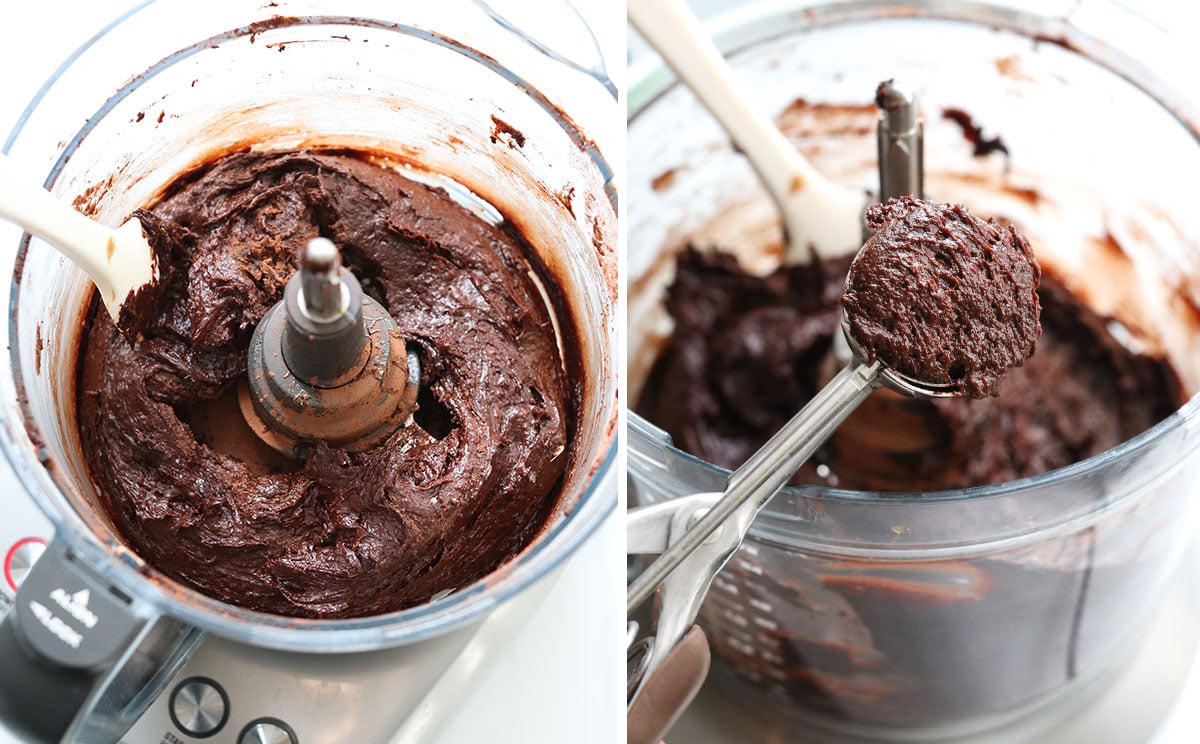 3. Bake.
Place the pan in an oven preheated to 350ºF and bake until the tops look dry, about 12 to 15 minutes. Remove the pan from the oven, and let the brownies cool completely in the pan.
They will be quite fragile while they are warm, but will firm up with a chewy texture once they are cool.
Run a knife around the edges of each brownie, then use the knife to help you lift it out of the pan. Since these brownies are made without egg, they may sink slightly in the center, but the texture should still be amazing.
Store leftover date brownies in an airtight container in the fridge for up to 1 week. Or you can freeze them for up to 3 months.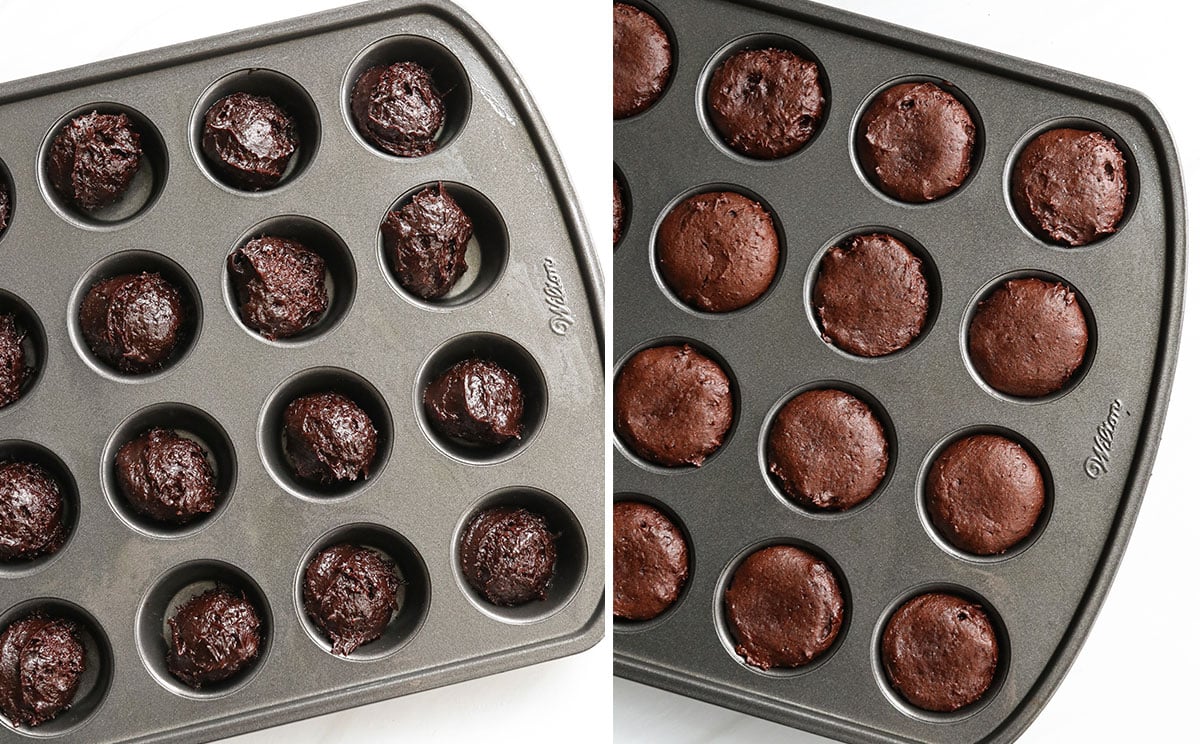 Frequently Asked Questions
Can I bake these in a square pan instead?
Using a mini muffin pan ensures that the brownies will cook correctly, with a perfectly chewy center. I don't recommend trying this brownie recipe in square baking pan, unless you're prepared for a potentially gooey center. 
Can I use almond flour instead of the almond butter?
I haven't tested it that way yet, but if you want to experiment with it, I would try using slightly more almond flour in that case. (I would start with a 1/4 cup more and see how the batter comes together.)
Can I use real eggs instead of the flax?
Yes, if you don't need a vegan recipe, you can replace the ground flax seeds and water with a real egg, instead. In that case, you'll blend the egg with the dates during the first step. 

Why does this recipe call for vinegar?
The vinegar will react with the baking soda, to help the brownies rise without using eggs. You can replace the baking soda and vinegar in this recipe with a teaspoon of baking powder, if you prefer.
Looking for more date-sweetened desserts? Try the Healthiest Cookies Ever, my Healthy Birthday Cake, or Peanut Butter Date Cookies for more ideas.
Healthy Date Brownies
Date Brownies are rich & fudgy, and taste like the real thing! You'd never believe they are made with no flour, and naturally sweetened with dates.
Instructions
Preheat the oven to 350ºF and grease a mini muffin tin with spray oil, or your favorite oil, to help prevent sticking. 

In a food processor fitted with an "S" blade, combine the dates and water and process until the dates have broken down into a paste. (They may turn into a ball in the processor, which is also okay.)

Add in the almond butter, ground flax, cacao powder, baking soda, vanilla, and vinegar and process again until a sticky, uniform dough is created. (If you need to add 1 more tablespoon of water to help it blend smoothly, that's okay.) The batter will be thick and sticky. 

Use a tablespoon or 1-ounce cookie scoop to help you scoop the dough into the greased mini muffin tin. Use your fingers to gently flatten each mound of dough. Because the dough is very sticky, it helps to get your fingers wet with water before pressing each mound down so your fingers won't stick to the dough. 

Bake until the tops look dry, about 12 to 15 minutes. (The centers will still feel slightly soft to the touch.) Remove from the oven and let the brownies cool completely, at least 30 minutes, before attempting to remove them from the pan. They firm up as they cool, but are very fragile when warm. Run a knife around the edge of each brownie to help loosen them to be removed, then serve immediately or store them in the fridge in an airtight container for up to 2 weeks.
Notes
Nutrition information is for 1 of 22 brownie bites. This information is automatically calculated, and is just an estimate, not a guarantee.
• If you don't mind a bit of added sugar, you can add up to 1/2 cup of mini chocolate chips into this recipe for a double chocolate brownie. 
• Update Note: This recipe was updated in January 2023. I decreased the vinegar and vanilla by 1 teaspoon each (the recipe used to call for 2 teaspoons of each) and swapped the cashew butter for almond butter, since brands can vary so much on cashew butter lately. Feel free to use the original amounts, if you prefer it that way. 
• Any nut or seed butter will work with this recipe, but keep in mind that you will definitely be able to taste whichever option you use. So, if you use peanut butter you'll have a peanut butter-tasting brownie, and if you use sunflower butter, you'll have a (nut-free!) brownie that tastes like sunflower butter. So, make sure you love the flavor of whichever nut or seed butter that you choose to use.
• If you'd prefer to use whole nuts instead of nut butter, I would double the amount called for (so 1/2 cup nut butter = 1 cup whole nuts) and I would grind them in the food processor first, before adding in the dates and water.
Nutrition
Calories:
54
kcal
,
Carbohydrates:
6
g
,
Protein:
2
g
,
Fat:
3
g
,
Saturated Fat:
0.3
g
,
Polyunsaturated Fat:
1
g
,
Monounsaturated Fat:
2
g
,
Sodium:
26
mg
,
Potassium:
98
mg
,
Fiber:
1
g
,
Sugar:
4
g
,
Vitamin A:
8
IU
,
Vitamin C:
0.002
mg
,
Calcium:
25
mg
,
Iron:
0.4
mg
If you try this date brownie recipe, please leave a comment and star rating below letting me know how you like it!