This Coffee Smoothie tastes like a fancy coffee shop drink, without the refined sugar or dairy. It's naturally-sweetened with fruit, and is made with home brewed coffee, so you get to control the caffeine level.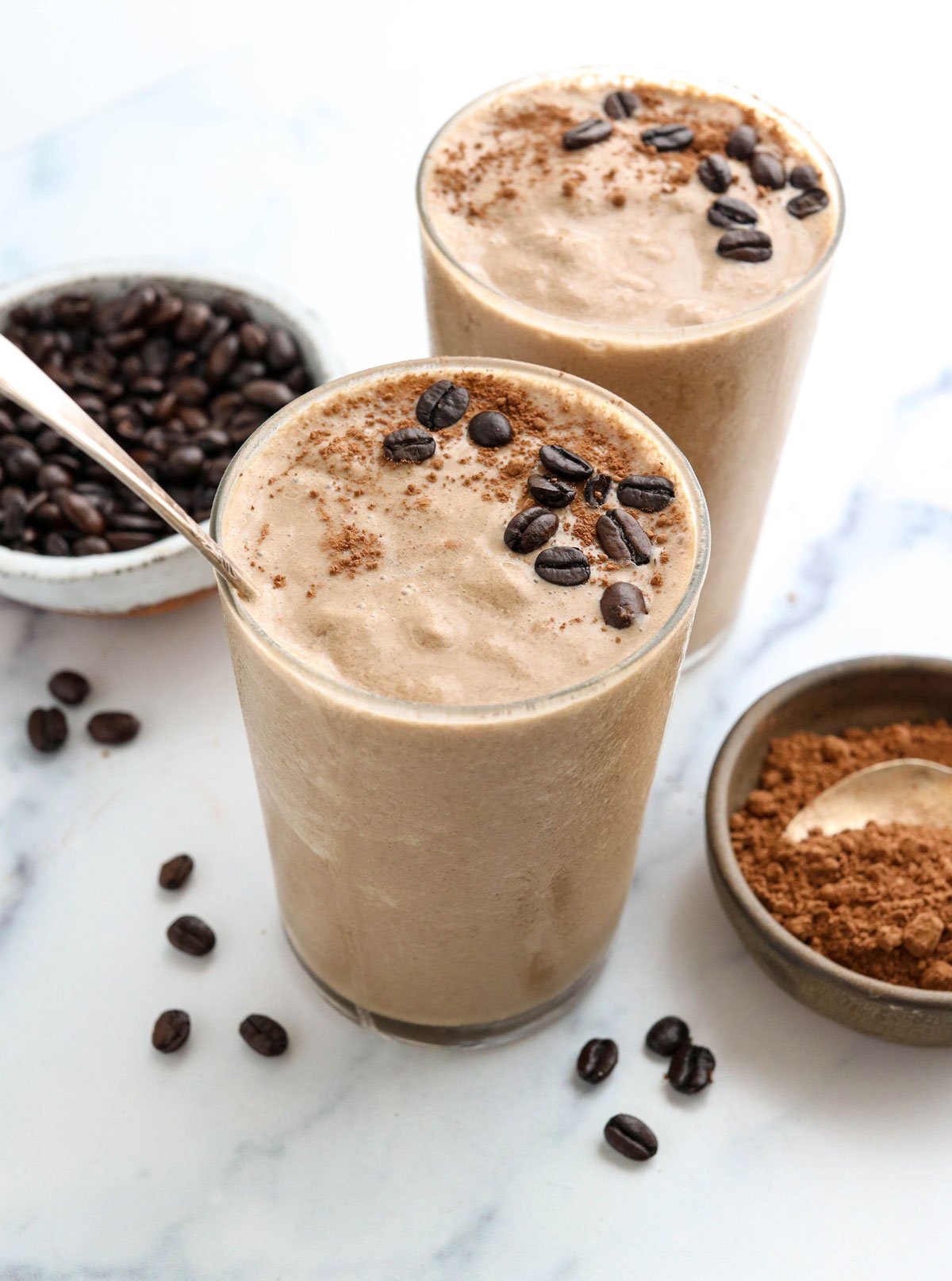 Can You Put Caffeine in Smoothies?
Yes! This coffee smoothie recipe is a great way to use up leftover brewed coffee. Have a cup of coffee that went cold while you were distracted? Use it here!
You can use regular or decaf coffee in this recipe. I recommend a strongly brewed cup, so the coffee flavor will shine through. You can always add an extra splash of coffee as you blend, to up the flavor if needed. (Or see the coffee ice cube trick below, for even more coffee flavor.)
Coffee Smoothie Ingredients
Here's what you'll need:
Brewed coffee. You can use regular or decaf. Or, use a 1/2 cup of water + a teaspoon of instant coffee, instead.

Dates. Dates are my favorite natural sweetener, because they pack extra fiber and iron in each bite. Plus, they don't lend a "banana" flavor to this coffee-flavored drink. (However, if you prefer using a banana, I've got tips for you below!)
Hemp Hearts. A complete source of plant-based protein, hemp hearts contain all the essential amino acids the body needs. They add a nice creaminess to this recipe, without using protein powder.
Nut Butter. Almond butter or cashew butter will add creaminess, without using a specialty milk.
Ice. Blend everything together first, and once it's smooth you can add ice for a "slushy" texture.
Wondering what else you can add? I like to add a handful of fresh spinach (which does give it a green hue), and frozen zucchini is also a great replacement for the ice cubes, if you want some extra nutrition in each sip.
Why No Banana?
Call me crazy, but I don't think bananas + coffee are a great flavor match.
Bananas usually work well for creating creamy, thick smoothies, but I prefer to use them in my Chocolate Peanut Butter Banana Smoothie or PB&J Smoothie instead. The dates are WAY better in this recipe!
That being said, if you want to use a frozen banana in this recipe, I've tested that for you, too. You can replace the dates with 1 frozen banana + 1 tablespoon of maple syrup, for a similar level of sweetness, and not "too much" banana flavor. (It's still noticeable to me, but I am not a huge banana fan in smoothies.)
Add Extra Coffee Flavor to your Smoothie
You can boost the coffee flavor of this smoothie by using coffee ice cubes instead of regular ice. To make them, just pour leftover brewed coffee into an ice cube tray and freeze it overnight!
I would use half coffee ice cubes and half regular ice cubes, if you don't want the coffee flavor to become too bitter or overwhelming.
Why You'll Love It
This coffee smoothie is a naturally-sweetened, nutrient-dense alternative to a Frappuccino from Starbucks. This smoothie packs 10 grams of plant-based protein per serving, plus 6 grams of fiber, to help keep you satisfied for hours.
I usually drink it as a breakfast replacement, with maybe a handful of nuts or a piece of fruit later as a mid-morning snack. Whenever you try it, I hope you'll love it as much as I do!
More Smoothie Recipes to Try
Coffee Smoothie | Healthy Blended Coffee!
This Coffee Smoothie is naturally sweetened and more nutrient-dense than a fancy coffee shop drink. It reminds me so much of the popular blended drink from Starbucks!
Equipment
Ingredients
1/2

cup

brewed coffee

(not hot)

3 to 4

Medjool dates

, pitted (soak in hot water for 15 minutes if they are not soft)*

1

tablespoon

hemp hearts

1

tablespoon

nut butter

1

cup

ice cubes

, or more as needed
Instructions
In a high-speed blender, combine the coffee, 3 dates, hemp hearts, and nut butter. Blend until very smooth. Taste the mixture, and add an extra date if you'd like it to be sweeter.

Add the ice cubes and blend again, until the smoothie has a slushy texture. Serve right away for the best consistency.
Notes
Nutrition information is for the whole batch. This is just an estimate, and not a guarantee.
This recipe works best with soft, squishy dates. If you can only find dry ones from a bulk bin, I recommend soaking them in hot water for 10- 15 minutes before blending.
As an alternative, you can replace the dates with 1 frozen banana + 1 tablespoon of maple syrup. In that case, you may need to use a few less ice cubes to achieve a slushy texture.
Nutrition
Calories:
386
kcal
,
Carbohydrates:
58
g
,
Protein:
10
g
,
Fat:
16
g
,
Saturated Fat:
1
g
,
Sodium:
16
mg
,
Potassium:
679
mg
,
Fiber:
7
g
,
Sugar:
49
g
,
Vitamin A:
185
IU
,
Calcium:
132
mg
,
Iron:
3
mg
If you try this Coffee Smoothie, please leave a comment below letting me know how you like it. And if you make any modifications, I'd love to hear about those, too. We can all benefit from your experience!