Lentil Bolognese is a hearty vegetarian pasta sauce, made with protein-packed lentils. I love how filling and flavorful this sauce is, using easy pantry ingredients.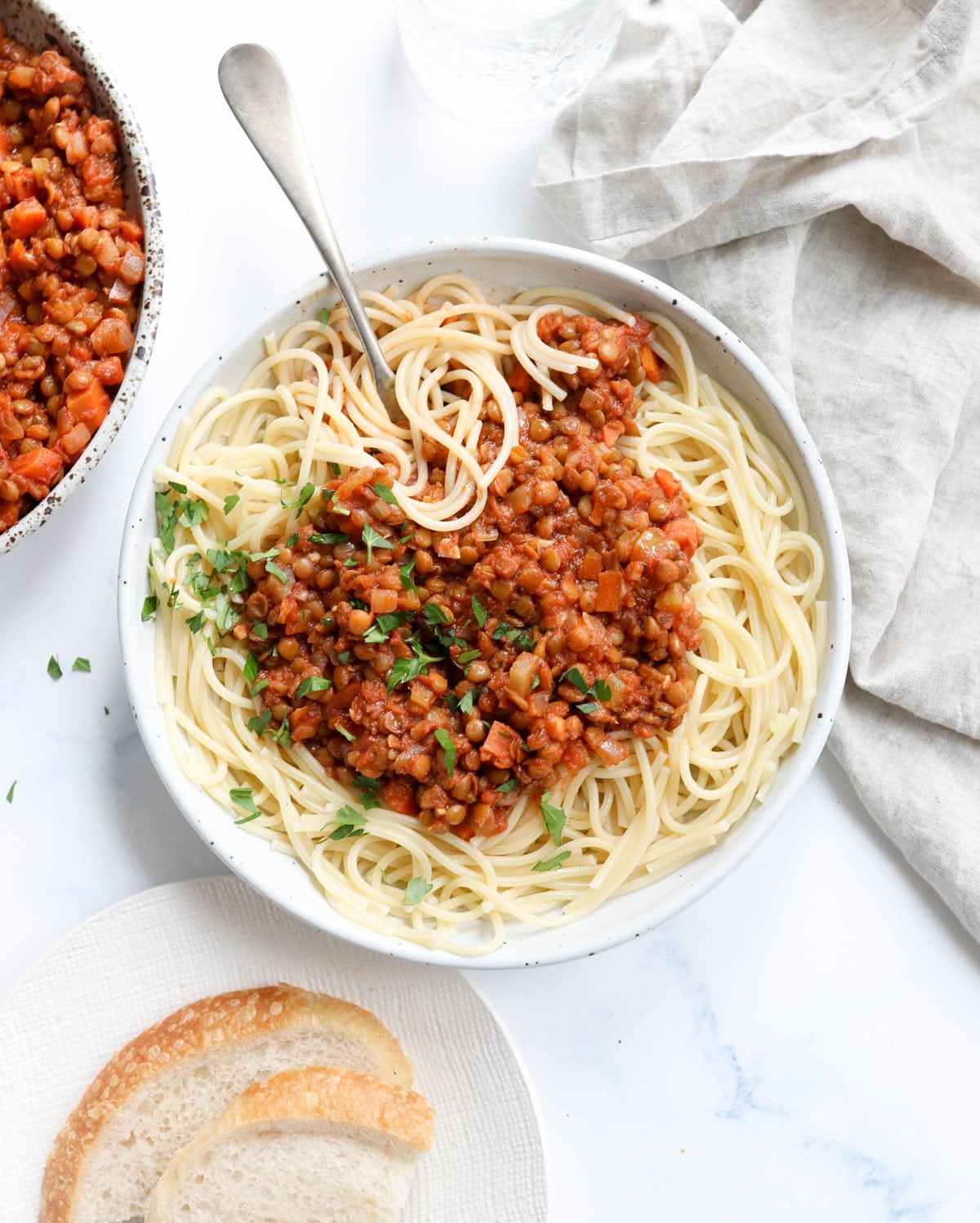 Which Lentils Work Best for Bolognese?
I use green lentils in this recipe, because they hold their shape when cooked. (They also work the best for making a lentil salad.) Brown or black lentils should work similarly, if you need to make a swap.
If you only have red lentils on hand, keep in mind that they will cook faster and may give this sauce more of a "mushy" texture. Not bad, just different! For more red lentil recipes, try my Red Lentil Soup or Lentil, Kale & Quinoa Stew.
Benefits of Lentils
Lentils are an affordable and accessible source of plant-based protein, and I love how they absorb the flavors that you cook them with.
Here's why I love lentils:

Lentils are rich in polyphenols, which may help to balance blood sugar. (source)
One 8-week study suggests that eating lentils each day may help to improve cholesterol, by lowering "bad" LDL cholesterol levels and raising the "good" HDL ones. (source)
Lentils may also help to lower blood pressure. (source)
I also love that lentils are easy to store, so you can always have some on hand in your pantry! (Check out my pantry staples shopping list, if you need some more ideas for stocking up your home.)
How To Make Lentil Bolognese
To make this flavorful sauce, you'll start by sauteing onion, celery, and carrot. I dice the vegetables very small, so that my kids won't complain about any "chunks" in the sauce, but you can also use a food processor to break them down into an even finer texture.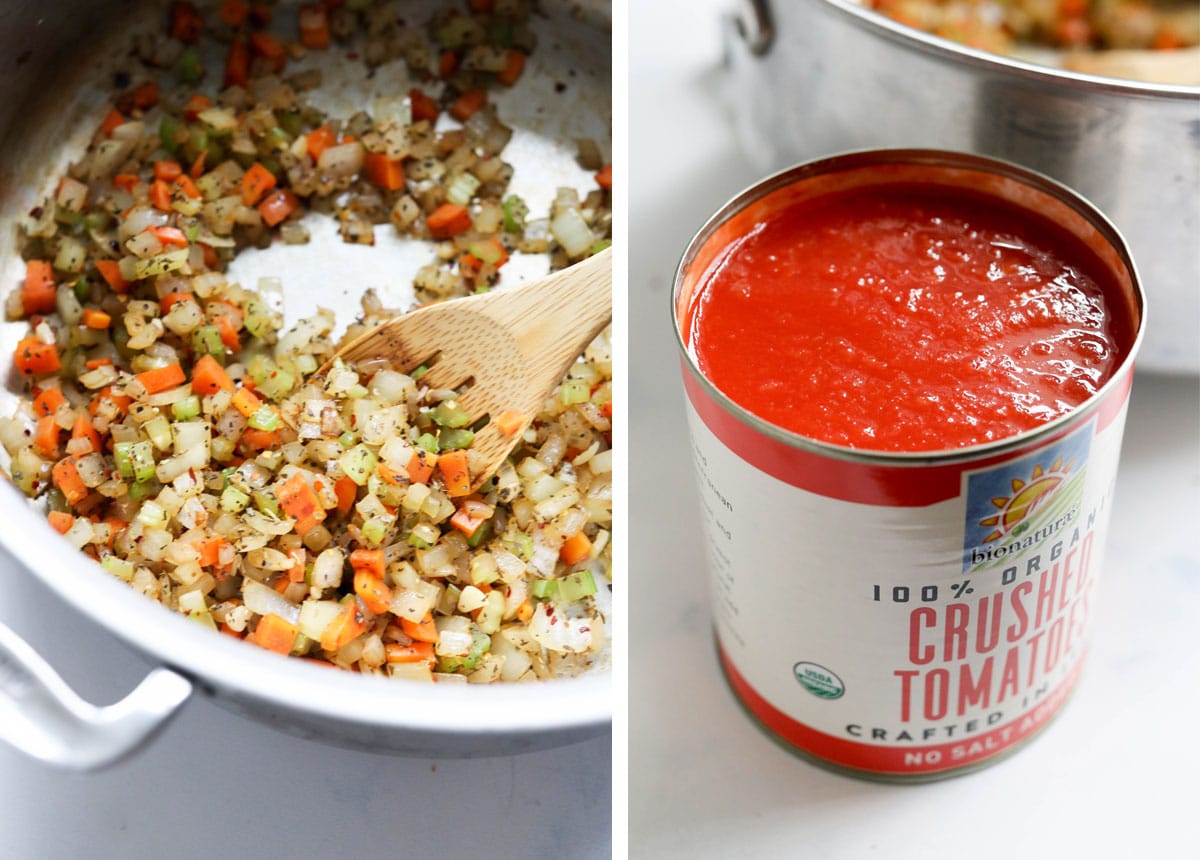 Add in your favorite seasonings, like garlic, basil, and oregano, then add in a big can of crushed tomatoes, green lentils, and water.
I also like to start seasoning the sauce now, with salt and a splash of maple syrup, to help create a richly-flavored sauce. (Leave out the added sweetener if you want to, though.)
When you cook lentils with tomatoes and salt, I find that they take a little longer to cook than if you were to just cook them in plain unsalted water. However, the result is worth it!
This sauce simmers to perfection in about 45 minutes, and makes a hearty portion that will serve several people, or leave you with some leftovers for an easy lunch. I like to serve the leftovers over baked sweet potatoes, for a change, too.
More Vegan Pasta Recipes
If you need some more dairy-free pasta ideas, try these popular options!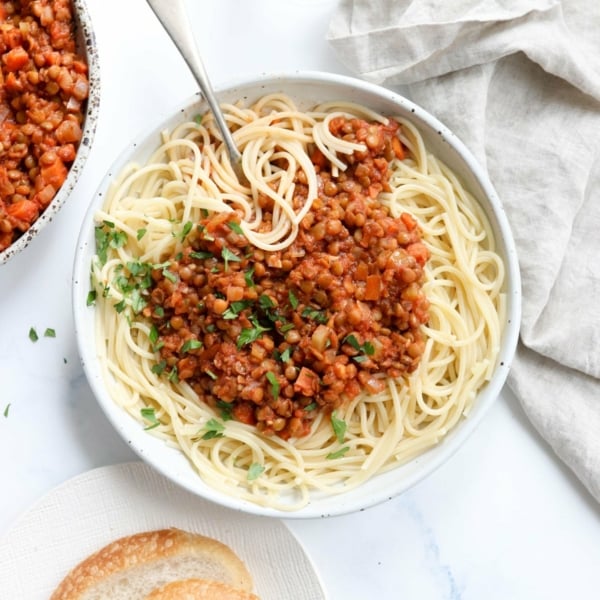 Easy Lentil Bolognese (Vegan!)
Lentil Bolognese is a hearty vegetarian sauce and the perfect pasta topping. I love how it's loaded with plant-based protein!
Ingredients
1

tablespoon

olive oil

1

yellow onion

, finely chopped (about 1 cup)

1

carrot

, finely chopped (about 1/2 cup)

1

celery stalk

, finely chopped

3

garlic cloves

, minced

1

teaspoon

dried basil

1

teaspoon

dried oregano

1/2

teaspoon

crushed red pepper flakes

(optional; for spice)

3/4

cup

dry green lentils

1

tablespoon

maple syrup

1

(28 oz) can

crushed tomatoes

(I use no salt added)

2 1/2

cups

water

fine sea salt
Instructions
In a large 6-quart pot, heat the olive oil over medium-high heat. Saute the onion, carrot, and celery until tender.

Add in the garlic, basil, oregano, and red pepper flakes and stir briefly.

To the vegetables, add in the lentils, maple syrup, crushed tomatoes, water, and 1 teaspoon of salt. (If the tomatoes are unsalted; otherwise start with just half the salt to be on the safe side.) Stir well, then bring the liquid to a boil.

Once boiling, lower the heat to a small simmer and let the sauce cook uncovered until the lentils are tender, about 40 to 45 minutes. Stir every now and then to make sure nothing sticks to the bottom of the pot, and to make sure the liquid isn't evaporating too quickly. (If the heat is up too high, the liquid can evaporate too fast.)

When the lentils are easily smashed with a fork against the side of the pot, they are done. Season the sauce with additional salt to taste. (I usually add another 1 teaspoon, starting just 1/2 teaspoon at a time.) You can also brighten up the sauce with a squeeze of fresh lemon, or a splash of balsamic vinegar, if you prefer.

Serve warm, with your favorite cooked noodles. The leftover sauce can be stored in an airtight container in the fridge for up to a week, or you can freeze it for up to 3 months.
Notes
Green lentils give this sauce the best texture because they hold their shape well, but you can make this with red lentils if you prefer. The cooking time will be at least 15 minutes shorter in this case.
Nutrition
Calories:
123
kcal
,
Carbohydrates:
19
g
,
Protein:
6
g
,
Fat:
3
g
,
Saturated Fat:
1
g
,
Sodium:
16
mg
,
Potassium:
288
mg
,
Fiber:
8
g
,
Sugar:
4
g
,
Vitamin A:
1707
IU
,
Vitamin C:
3
mg
,
Calcium:
33
mg
,
Iron:
2
mg
Nutrition info above is a rough estimate for 3/4 to 1 cup of sauce. Check your ingredients at home for a more accurate number.
If you try this recipe, please leave a comment below letting me know how you like it! And if you make any modifications, I'd love to hear about those, too. We can all benefit from your experience!
–
Reader Feedback: What's your favorite way to use lentils?