Broccoli Pesto is a delicious alternative to traditional pesto. You'll squeeze more broccoli into your life, and this recipe is extra-affordable because no pine nuts are required. Once you taste it, you'll want to lick the bowl clean.
Why You'll Love It
It's a delicious way to eat more veggies. This broccoli pesto adds nutrients and flavor to basic staples, like pasta, fried eggs, chicken, and more. I want to add a dollop to everything when I have a stash of this in the fridge.
It's nut-free. If you are cooking for someone with nut allergies, or just prefer to avoid expensive pine nuts, this recipe is for you.
It's flexible. This pesto tastes the most authentic when you use a little parmesan cheese, but I've also included a vegan variation in the recipe below, if you need a dairy-free option. It's inspired by my Vegan Pesto, which is also delicious.
You'll get more antioxidants. Broccoli contains the antioxidants lutein and zeaxanthin, which may help to promote eye health. It's also a great source of vitamin C!
It may help to lower inflammation. Eating broccoli for 10 days has been shown to lower levels of inflammation in smokers, possibly because broccoli contains kaempferol, which has anti-inflammatory properties.
Once you taste it, I think you'll fall in love with the flavor.
How to Make It
Steam. You'll need to cook the broccoli, so it's fork tender. I like to do this by adding an inch of water to a saucepan, adding in a steamer basket, and then bringing that to a boil. Add in the broccoli, cover, and steam until the broccoli is bright green and tender, about 8 minutes.
Blend. Once the broccoli is cooked, transfer it to a blender and add in the rest of the pesto ingredients. Blend until very smooth, about 60 seconds. You can also use a food processor, if you don't mind a slightly chunkier texture.
Enjoy! Adjust the flavor to taste, adding more lemon juice or salt to taste, and then serve it with your favorite cooked pasta, or as a condiment for any other main entree.
That's it! Store this broccoli pesto in the fridge for up to a week, and add it to your meals for an extra boost of flavor. One spoonful goes a long way!
How to Serve It
Need some ideas for using up pesto? Try these!
Add it to eggs. I like to serve it as a topping on fried or scrambled eggs. It adds so much flavor!
Pasta. This is the obvious choice, and for good reason. It's a delicious pasta sauce, especially with sauteed veggies added into the mix. Try my Pesto Pasta Salad for a chilled variation.
Grilled Cheese Sandwich. If you haven't tried adding pesto to your grilled cheese, you're missing out. It's my favorite.
Add it to a wrap. This would be a delicious spread for a veggie wrap during the week.
Use it on Mediterranean Bowls. A dollop of pesto and a dollop of hummus are the perfect combination on a quinoa lunch bowl.
Serve it on pizza. This is a tasty alternative to red sauce, or try adding a few spoonfuls of pesto on top to boost the flavor of your next pizza night. My Almond Flour Pizza Crust or Cauliflower Pizza Crust are two favorites.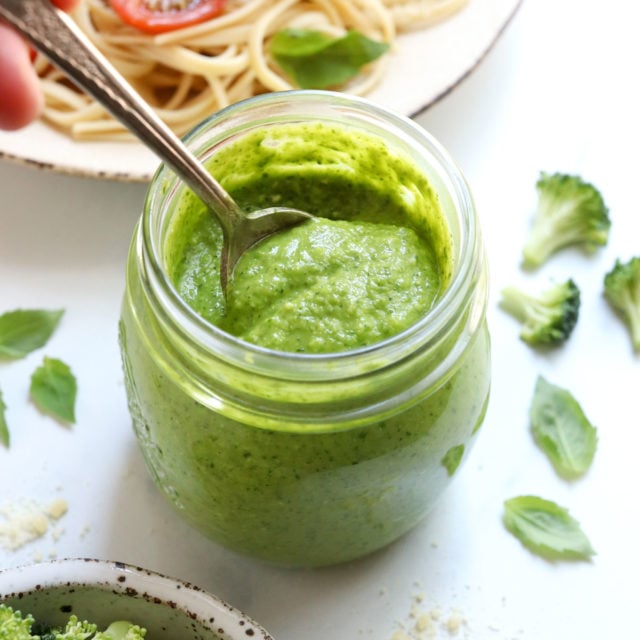 Broccoli Pesto
Broccoli pesto is a delicious pesto variation, made without nuts! Once you taste it, you'll want to eat it straight with a spoon, but it's also delicious on pasta, sandwiches, and more.
Equipment
Ingredients
1

cup

chopped broccoli florets

(4 ounces)

1

cup

fresh basil

, tightly packed (23 grams)

2

garlic cloves

(5 grams)

2

tablespoons

fresh lemon juice

(28 grams)

1/4

cup

extra-virgin olive oil

(53 grams)

3/4

teaspoon

sea salt

(5 grams)

1/4

cup

grated Parmesan cheese

(35 grams; or 1 tablespoon white miso)

2

tablespoons

water

(25 grams)
Instructions
To prepare the broccoli, fill a small saucepan with 1-inch of water and arrange a steamer basket inside. Add the broccoli to the steamer basket, keeping it lifted up out of the water, and bring the water to a boil. Once boiling, lower the heat and cover, cooking until the broccoli is easily pierced with a fork, about 8 minutes.

While the broccoli is cooking, you can add the rest of the pesto ingredients to a blender to be efficient with your time. When the broccoli is done, add it to the blender and blend until smooth, about 60 seconds.

Taste and adjust any seasoning, as needed. Serve right away with your favorite pasta, or on a sandwich. Store the leftover pesto in an airtight container in the fridge for up to 5 days.
Notes
Nutrition information is for roughly a 1/4 cup of pesto, assuming this recipe makes 1 1/4 cups of pesto for you. This information is automatically calculated, and is just an estimate, not a guarantee.
Nutrition
Calories:
127
kcal
,
Carbohydrates:
2
g
,
Protein:
3
g
,
Fat:
12
g
,
Saturated Fat:
2
g
,
Polyunsaturated Fat:
1
g
,
Monounsaturated Fat:
8
g
,
Cholesterol:
4
mg
,
Sodium:
432
mg
,
Potassium:
89
mg
,
Fiber:
1
g
,
Sugar:
1
g
,
Vitamin A:
410
IU
,
Vitamin C:
20
mg
,
Calcium:
76
mg
,
Iron:
1
mg
If you try this Broccoli Pesto, please leave a comment below letting me know how you like it. I really appreciate your feedback!