This Almond Flour Pizza Crust is super-easy to prepare, and is the perfect pizza crust alternative if you're looking for something gluten-free and grain-free. It's inspired by one of my favorite box mixes (by Simple Mills), and happens to be vegan, too!
Can you Substitute Almond Flour for Regular Flour?
If you've ever tried making your own almond flour pizza crust, by using a recipe that calls for regular flour, you might have noticed that things usually need to be adjusted when you swap it for almond flour.
Almond flour is higher in protein and fat, so you'll typically need less oil than a traditional recipe might call for.
Since almond flour is gluten-free, it doesn't naturally bind the way regular flour would, either. That's why many almond flour recipes call for an egg, or egg substitute.
In this case, I add arrowroot starch and ground flax seed to the pizza crust, to help it hold together. Without those, this recipe would have more of a crumbly, cracker-like texture.
What Makes this Recipe Healthier?
Almond flour is more nutrient-dense than white flour, so this pizza crust will leave you feeling more full and satisfied when compared to a traditional recipe.
Here are a few potential benefits of working with almond flour:
What I love also love about almond flour, is that it contains just one ingredient– almonds! You can even make your own homemade almond flour, if you don't want to run out to the store for a bag.
Keep in mind, that you'll get the best results in this case by using blanched almond flour, which is finely ground with the skins removed. Almond meal, on the other hand, has flecks of brown in the flour and can give you more cake-like, dense results.
How to Make Pizza Crust with Almond Flour
To make this recipe, you'll simply stir all of the ingredients together in a bowl. The dough will be thick, resembling cookie dough.
Transfer the dough to a lined baking sheet, then use your hands to press it out into a flat circle, about 8-inches in diameter.
This isn't a huge pizza crust, but you can double the recipe if you'd like to serve more than 2 people. (I would make 2 separate 8-inch pizza crusts in that case, so that the pizza doesn't get too large to handle.)
The crust should be roughly 1/4-inch thick. Bake it for 10 minutes at 400ºF, until the crust looks dry on top. It will still feel slightly soft inside if you press lightly on it with your fingers.
Add your favorite pizza toppings to the baked crust, then bake for 10 more minutes, or until the toppings are hot and the cheese is bubbly. You may want to turn on your oven's broiler for the last 1 to 2 minutes, to help the cheese bubble.
I like to use Miyoko's Vegan Mozzarella for a dairy-free cheese– it melts and tastes remarkably like the real thing. (I've also heard you can freeze the block and then shred it like real cheese!)
How to Freeze It
If you like the convenience of having a pizza crust stashed in your freezer, you can double this recipe and bake a second pizza crust to save for later. You don't have to add the toppings before you freeze it, but you can if you want to.
Tightly wrap the pizza crust to prevent freezer burn, or slice it into 4 pieces and store them in an airtight container so you can heat up individual slices when you need a fast meal.
Making Substitutions
I've tested this recipe several times, trying the adjust the amount of oil and arrowroot needed. I've found that when you reduce the amount of arrowroot, the resulting crust is a little more crispy, with the edges of the crust reminding me of a cracker. If you like that texture, you can reduce the arrowroot by at least 2 tablespoons– using only 1/4 cup total.
The oil is added to this recipe so that you can flatten out the crust with your hands. If you use only water, the dough becomes very sticky, so it's hard to work with, and the mouthfeel of the crust is "gummier" in texture.
I always try to keep oil to a minimum in my recipes, so trust me when I say this is the least I can get away with and still have my family enjoy this pizza crust.
Feel free to adjust the seasoning to your taste, too! I love the addition of garlic and oregano, to help counteract the mild almond flavor, but you can leave them out if you don't have them on hand.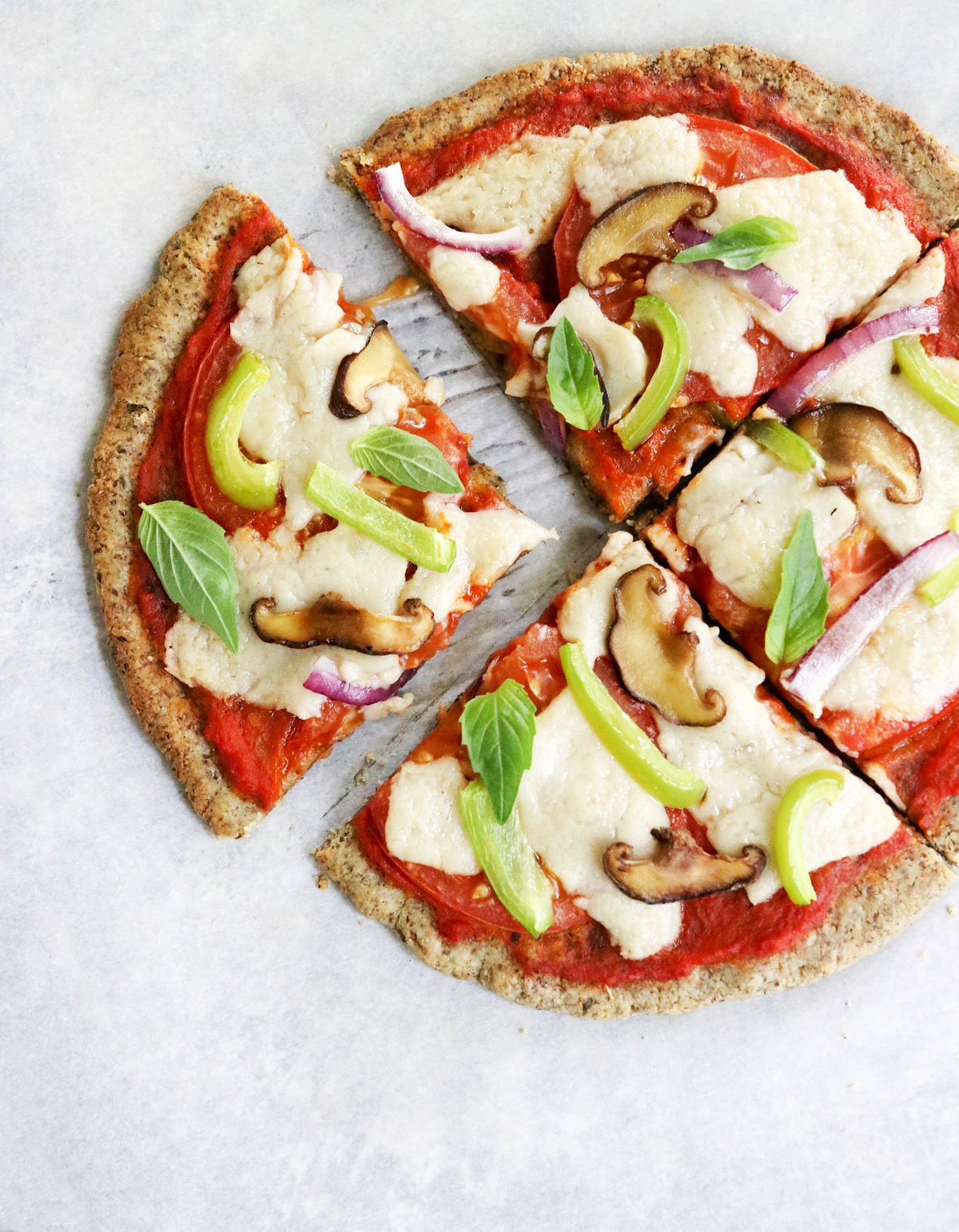 Almond Flour Pizza Crust
This Almond Flour Pizza Crust is naturally gluten-free and Paleo friendly, and it happens to be vegan, too! This crust takes just 10 minutes to stir together, and is sturdy enough for you to pick up with your hands.
Ingredients
1/2

cup

blanched almond flour

(53 grams)

6

tablespoons

arrowroot starch

(50 grams; tapioca or corn starch should work, too)

1/4

cup

ground flax seed

(27 grams; or ground chia seeds)

1

teaspoon

baking powder

(5 grams)

1/2

teaspoon

garlic powder

(2 grams)

1/2

teaspoon

dried oregano

1/4

teaspoon

fine sea salt

(1 gram)

3

tablespoons

water

(41 grams)

2

tablespoons

olive oil

(25 grams)
Instructions
Preheat the oven to 400ºF and line a baking pan with parchment paper.

In a large bowl, combine the almond flour, arrowroot, flax, baking powder, garlic, oregano, and salt. Whisk well to break up any clumps, then stir in the olive oil and water. Stir well, until the dough sticks together. It will have a dense texture, similar to that of cookie dough.

Transfer the dough to the prepared baking sheet, and use your hands to press it out into a flat circle, about 1/4-inch thick, and roughly 8 to 10 inches in diameter. Bake at 400ºF for 10 minutes.

When the crust is done baking, add your favorite pizza toppings then return the pizza to the oven and bake for another 10 minutes, or until the cheese is bubbly. If your cheese isn't bubbly by then, I like to turn on the broiler and watch it 1 more minute with the oven door cracked, to make sure nothing burns. That is usually sufficient for getting all of the toppings nice and hot!

Slice the pizza into 4 pieces, and serve warm. Leftovers can be stored in an airtight container in the fridge for up to 3 days.
Notes
I haven't tried freezing this pizza crust yet, but I imagine you could bake an extra crust and freeze it for later if you want to double this recipe and make 2 crusts at the same time.
Nutrition
Calories:
479
kcal
,
Carbohydrates:
34
g
,
Protein:
10
g
,
Fat:
36
g
,
Saturated Fat:
4
g
,
Sodium:
301
mg
,
Potassium:
365
mg
,
Fiber:
9
g
,
Sugar:
1
g
,
Calcium:
206
mg
,
Iron:
2
mg
Nutrition information is for half the pizza. This information is automatically calculated and is just an estimate and not a guarantee. For best results, refer to the labels on your ingredients at home.
More Almond Flour Recipes
If you have more almond flour to use up, be sure to try one of these recipes below!
If you try this recipe, please leave a comment below letting me know how you like it! And if you make any modifications, I'd love to hear about those, too. We can all benefit from your experience!
–
Reader Feedback: What's your favorite way to use almond flour?