If you have a sweet tooth, like me, but are trying to avoid grains or refined sugar, these Paleo cookies are the perfect solution. They're all made with whole food ingredients, and taste just as good as the traditional versions!
I have shared so many cookies here on my website over the years that I wanted to narrow it down to my very favorites, so you'll have an easy place look the next time you need a delicious gluten-free cookie. You can't go wrong with these!
My Favorite Paleo Cookies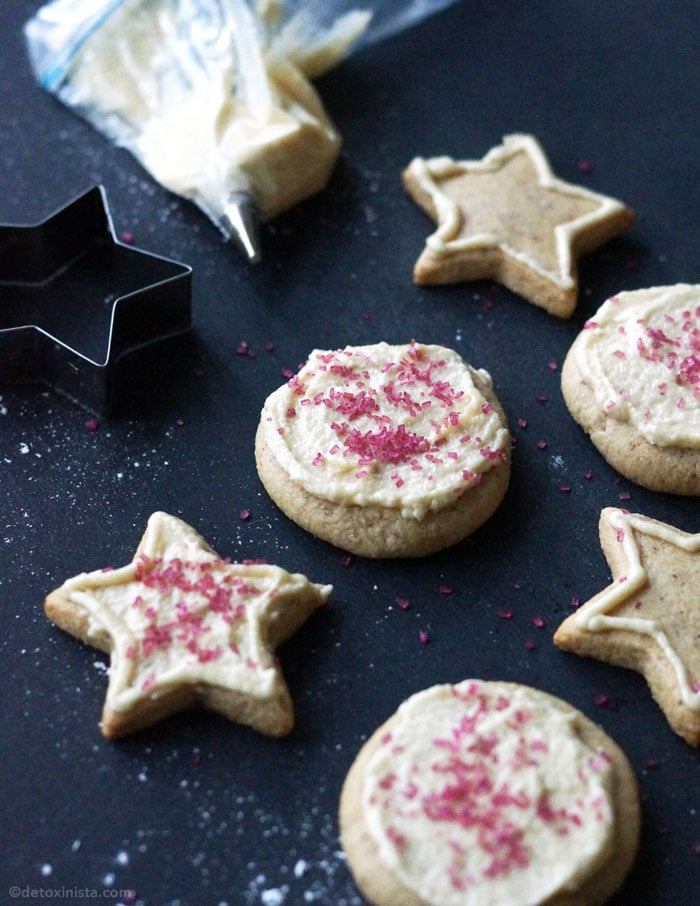 These Paleo sugar cookies are made with almond flour, and without eggs, so they're actually vegan, too. They have an authentic taste and texture, and I love that my kids can safely taste the batter as they help me make fun cut-out shapes.
These cookies are made with almond flour for a rich and buttery cookie. They almost remind me of shortbread, studded with dark chocolate chips. (To avoid refined sugar in the chocolate chips, try using a chopped chocolate bar that is sweetened with coconut sugar, or crunchy cacao nibs instead.)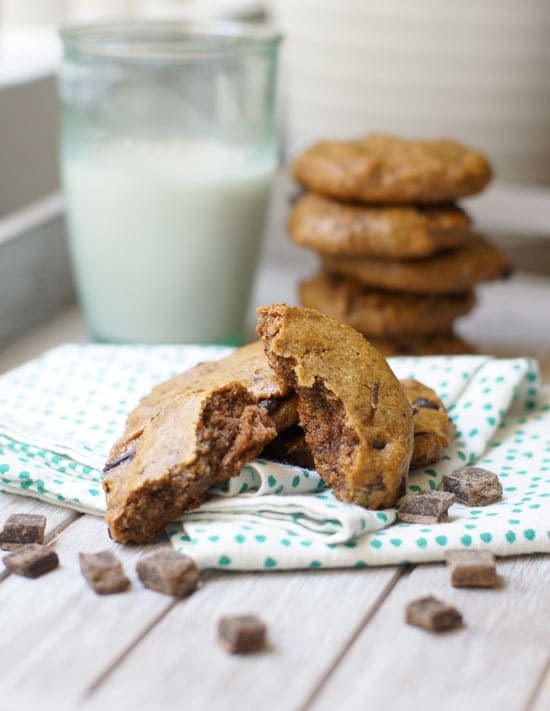 These cookies are just about as healthy as a cookie can get. They're made without flour and are naturally sweetened with dates! As odd as it might sound, they actually remind me of the "Soft Batch" cookies I grew up eating, which were my favorites!
These cookies are a fun way to sneak some extra matcha into your day. I love their bright green color and the subtle mint flavor. I like to add some dark chocolate chips at times, but you could also use cacao nibs for a sugar-free option.
These double-chocolate cookies are almost brownie-like, with a rich flavor and chewy texture. I love that they're naturally sweetened with dates and happen to be egg-free, too.
Gingerbread cookies are one of my favorite holiday treats! I always look forward to cutting them out and decorating with a fun frosting. (Try this Coconut Sugar Icing for a naturally sweetened option.)
If you need to avoid almond flour, these coconut flour cookies make an excellent alternative. They almost remind me of a mini muffin top, with a light and fluffy texture.
These thumbprint cookies are bursting with almond flavor, and are complimented perfectly with a quick cherry jam in the center. I imagine you could use any other jam you like, though!
One of the first grain-free cookies I ever tried were these Paleo shortbread cookies, and they are still one of my favorites. They are incredibly easy to make with a rich and buttery flavor.
Who says you shouldn't have cookies for breakfast? This recipe is grain-free, nut-free, and naturally sweetened with fruit for a healthy option you can reach for anytime of the day. It's even AIP-friendly, for those with special dietary needs.
What separates a Snickerdoodle cookie from a sugar cookie? Creamy of tartar gives these grain-free cookies their signature tangy flavor, and then they're topped with plenty of cinnamon for a sweet and spicy flavor.
There's something about using cashew butter as the base of these cookies that makes them extra-buttery and delicious. I love that this recipe is flourless, and naturally sweetened with coconut sugar!
Grain-Free Cookie Recipes
I hope that these grain-free cookie recipes will prove helpful for any special dietary needs you or your family may have. We always keep a batch of these stored in the freezer for when a sweet craving strikes.
In fact, my husband prefers eating most grain-free cookies directly from the freezer for an extra-crispy and crunchy cookie. I highly recommend you try it!
–
Reader Feedback: What's your favorite type of cookie? (Healthy or otherwise!)