This Peanut Butter Banana Smoothie tastes like a milkshake, but it's made without any added sugar. The ratio of ingredients below gives you the perfect texture every time!
Why You'll Love It
It tastes like dessert. If you're trying to cut back on added sugar, but you want to enjoy something sweet, this smoothie recipe is the perfect solution. It's filling enough to make for breakfast, or you can split it for an easy snack.
It's easy to customize. You only need 5 simple ingredients for this recipe, but you can easily make changes to use up what you have on hand. Try adding protein powder or Greek yogurt for extra protein, or switch up the flavor by adding in cocoa powder or a different nut butter.
It has the texture of a milkshake. Using frozen banana is key to this recipe, as it gives the smoothie an ice cream like texture. You also won't want to add more liquid than the recipe calls for, in order to keep it thick & slushy!
It's nourishing. Bananas are a great source of fiber and potassium, which may help to promote heart health. Paired with peanut butter and ground flax seeds, this smoothie packs extra protein and omega-3 fatty acids in each sip.
Ingredients You'll Need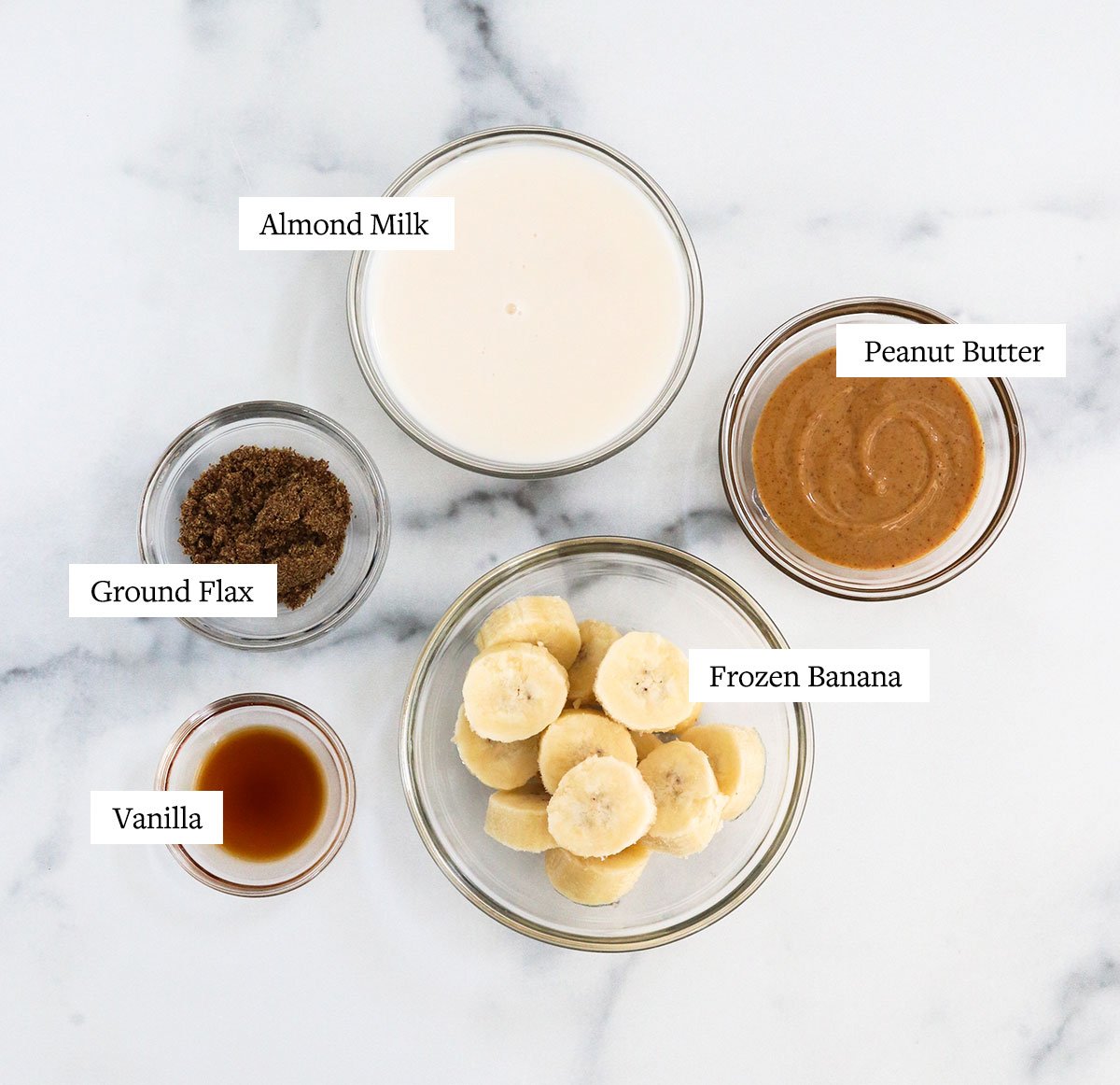 For a simple smoothie, all you need is frozen bananas (yes, frozen is key!), peanut butter, and a little liquid to help facilitate blending. Be sure to freeze ripe bananas, with plenty of brown spots on their skin, to achieve a sweet flavor in this recipe.
The ground flax seeds add filling fiber and help the shake thicken up even more, but you can omit them if you don't keep ground flax on hand. Chia seeds or rolled oats would also make an excellent add-in for thickening purposes.
Not a fan of peanut butter? Feel free to use cashew butter, almond butter, or even sunflower seed butter as an easy swap.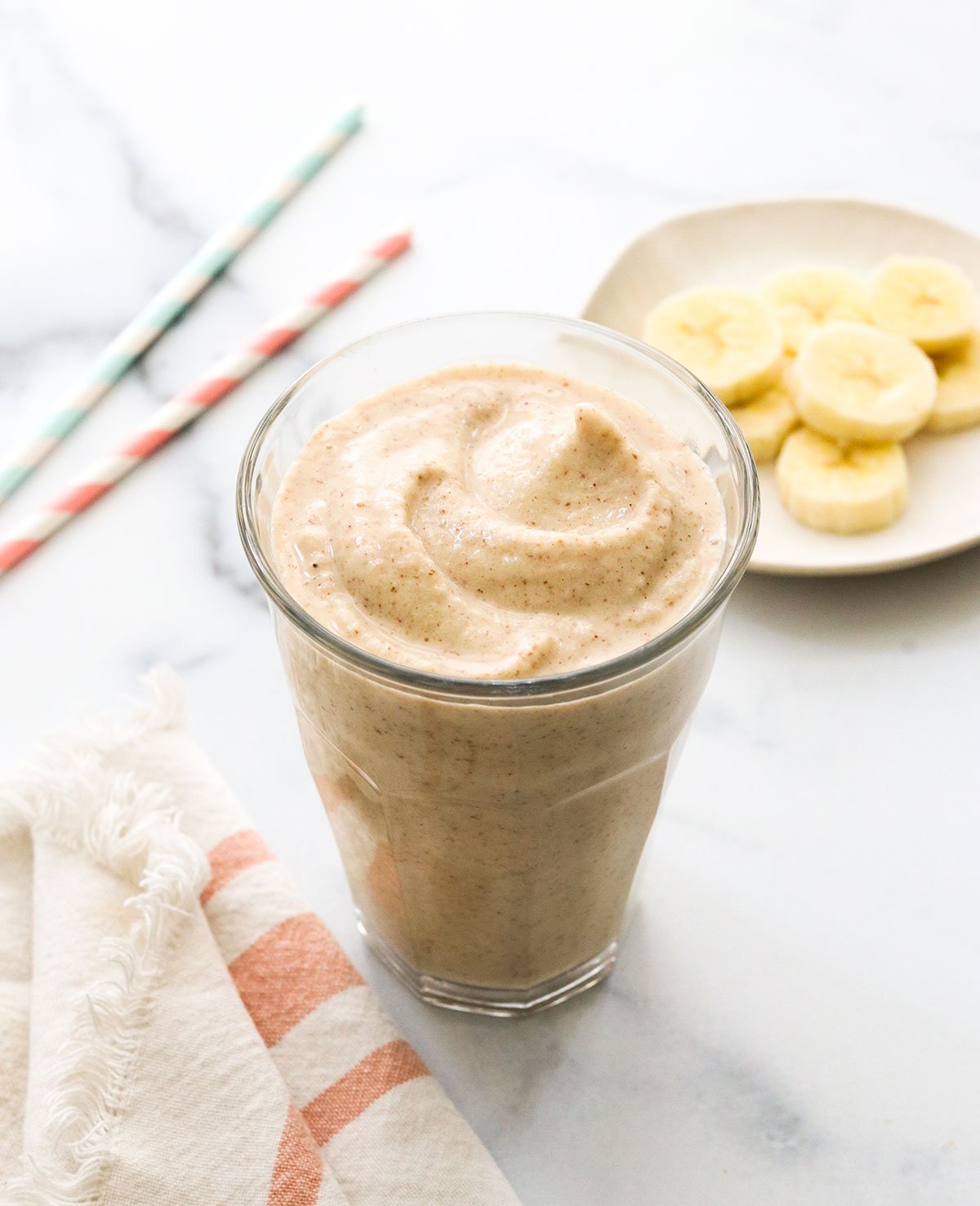 How to Make a Peanut Butter Banana Smoothie
1. Prep the ingredients.
You'll have an easier time blending the smoothie if you take the time to slice the frozen banana into 1/2-inch coins, or bite-sized pieces first.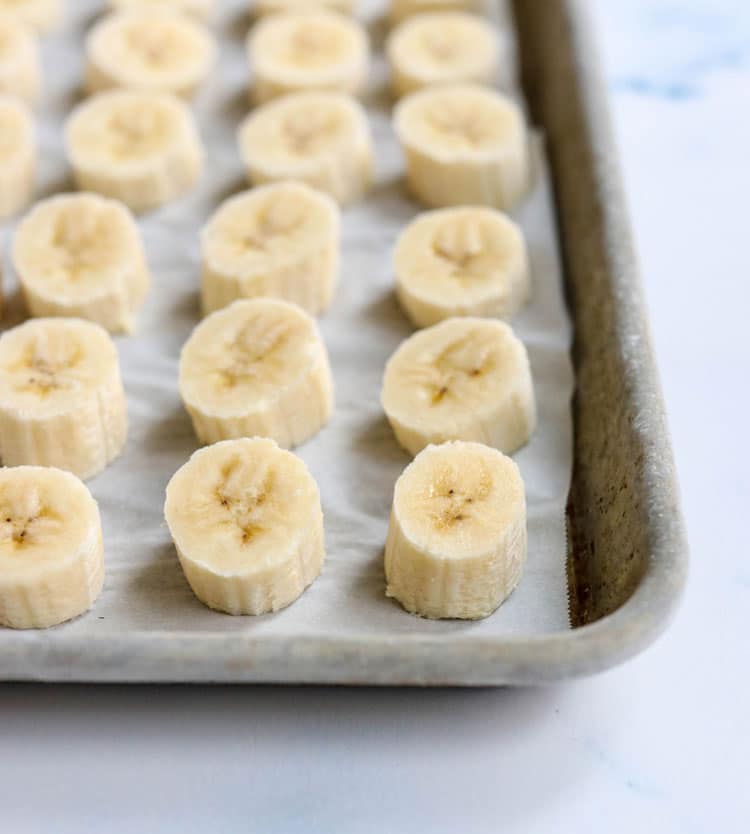 Tips for freezing bananas: I tend to freeze bananas whole (just peel them and pop into an airtight container in the freezer overnight) for easy measuring.
Alternatively, you can slice them into coins and then freeze them in a single layer on a parchment-lined baking sheet, if you find that method easier. You'll need to transfer the frozen pieces to an airtight container later, to help preserve their flavor.
2. Blend.
Add the frozen banana slices, peanut butter, ground flax seeds, vanilla extract, and almond milk to a blender. Secure the lid and blend until the banana is totally broken down, about 60 seconds.
Stop and scrape down the sides of the blender, as needed, to help keep everything blending smoothly. If you need to add an extra splash of water or milk, you can do that just 1 tablespoon at a time, so the smoothie doesn't become too runny in texture.
3. Add ice. (Optional)
For a thicker smoothie texture, you can add a handful of ice to the blended smoothie. Secure the lid and blend again, until the ice is totally pulverized, with no visible chunks remaining.
Keep in mind that adding ice will dilute the flavor slightly, so don't add too much at once! You can always keep adding more, if needed. This is a good option, if you prefer to enjoy your smoothie with a spoon, rather than sipping it through a straw.
4. Enjoy!
Serve this creamy peanut butter banana smoothie right away, for the best flavor and texture.
Have leftovers? Leftover smoothie can be poured into an ice pop mold and stored in the freezer, if you want a frozen treat for later. Or, you can store it in the fridge for up to 48 hours, if you don't mind a more runny texture later.
Frequently Asked Questions
Can I use a different liquid for the base?
Yes, of course! You can use any non-dairy milk like oat milk, coconut milk, soy milk, or even just plain water for blending this smoothie.  (Regular milk works, too, if you don't need a dairy-free recipe.) The combination of peanut butter and frozen banana provides a creamy texture, so the liquid isn't a big deal in this case. 
Can I add greens?
Feel free to add in a big handful of spinach to this smoothie, if you don't mind it having a green hue. The spinach won't affect the peanut butter smoothie flavor, so it's a great way to get more leafy greens into your life. (If you prefer to use kale, try my Tropical Kale Smoothie, instead.)
What if I need more sweetness?
You can add a squeeze of honey (but it's not vegan, FYI), a splash of maple syrup, or a pitted date to this recipe, for a sweeter flavor.
Looking for more smoothie variations? Try my favorite PB&J Smoothie, Flax Seed Smoothie, or Oatmeal Smoothie for more ideas.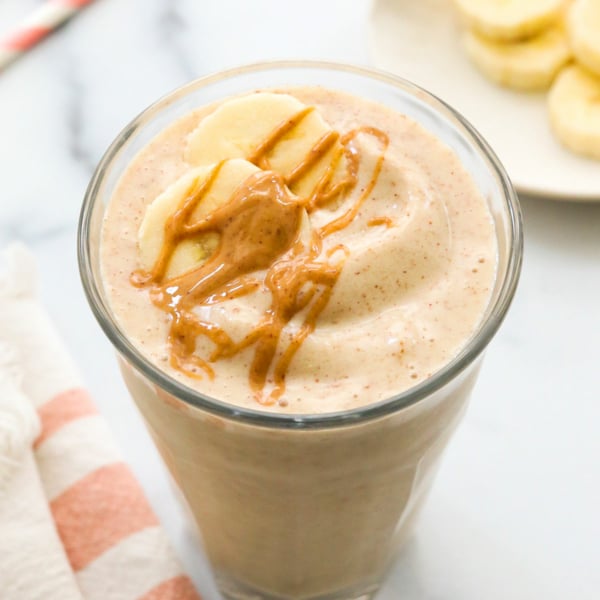 Peanut Butter Banana Smoothie
This Peanut Butter Banana Smoothie tastes like a milkshake, but with no added sugar! This easy recipe makes a healthy breakfast or snack on-the-go.
Equipment
Instructions
In a high-speed blender, combine the almond milk, frozen banana, peanut butter, flax seeds, and vanilla. Blend until very smooth, stopping to scrape down the blender as needed.

At this point you can make adjustments, adding an extra tablespoon of water or milk if the smoothie isn't blending well, or you can add a handful of ice cubes to help it thicken up into more of a slushy texture. Just keep in mind that additions will dilute the flavor slightly, so keep them to a minimum. You can also add a squeeze of honey, or a splash of maple syrup, for extra sweetness.

Once the smoothie is blended, it's ready to serve right away for the best taste and texture. Top with extra sliced banana or a drizzle of peanut butter, if you'd like.
Video
Notes
Nutrition information is for the entire recipe. This information is automatically calculated, and is just an estimate, not a guarantee.
See the full post above for substitution notes & tips. Leftover smoothie can be frozen in a mini ice pop mold (affiliate link), if you'd like a sweet treat later.
Nutrition
Calories:
357
kcal
,
Carbohydrates:
37
g
,
Protein:
10
g
,
Fat:
21
g
,
Saturated Fat:
4
g
,
Polyunsaturated Fat:
7
g
,
Monounsaturated Fat:
9
g
,
Sodium:
303
mg
,
Potassium:
663
mg
,
Fiber:
7
g
,
Sugar:
18
g
,
Vitamin A:
76
IU
,
Vitamin C:
10
mg
,
Calcium:
190
mg
,
Iron:
1
mg
If you try this peanut butter banana smoothie recipe, please leave a comment and star rating below letting me know how you like it.