Green smoothies are an easy way to eat more fruits and vegetables. I love how you can't taste the spinach at all, so it's great for beginners. I like to enjoy it as a meal replacement for breakfast, or as a snack during the day!
Why Are Green Smoothies Good For You?
According to the CDC, only 1 in 10 adults eat enough fruits and vegetables every day. Green smoothies can help in this department!
My green smoothie recipe below has 2 cups of fruit and 1 to 2 cups of leafy greens per serving, which will have you well on your way to meeting your daily fiber and nutrient needs. And you'll actually enjoy it, because it tastes amazing!
Which Greens Should You Put in a Smoothie?
The best green to add to a smoothie is spinach, if you're just starting out. It blends easily in blender, and you can't taste it at all in the recipe below. I even add spinach to my favorite chocolate smoothie, because it's so neutral in flavor!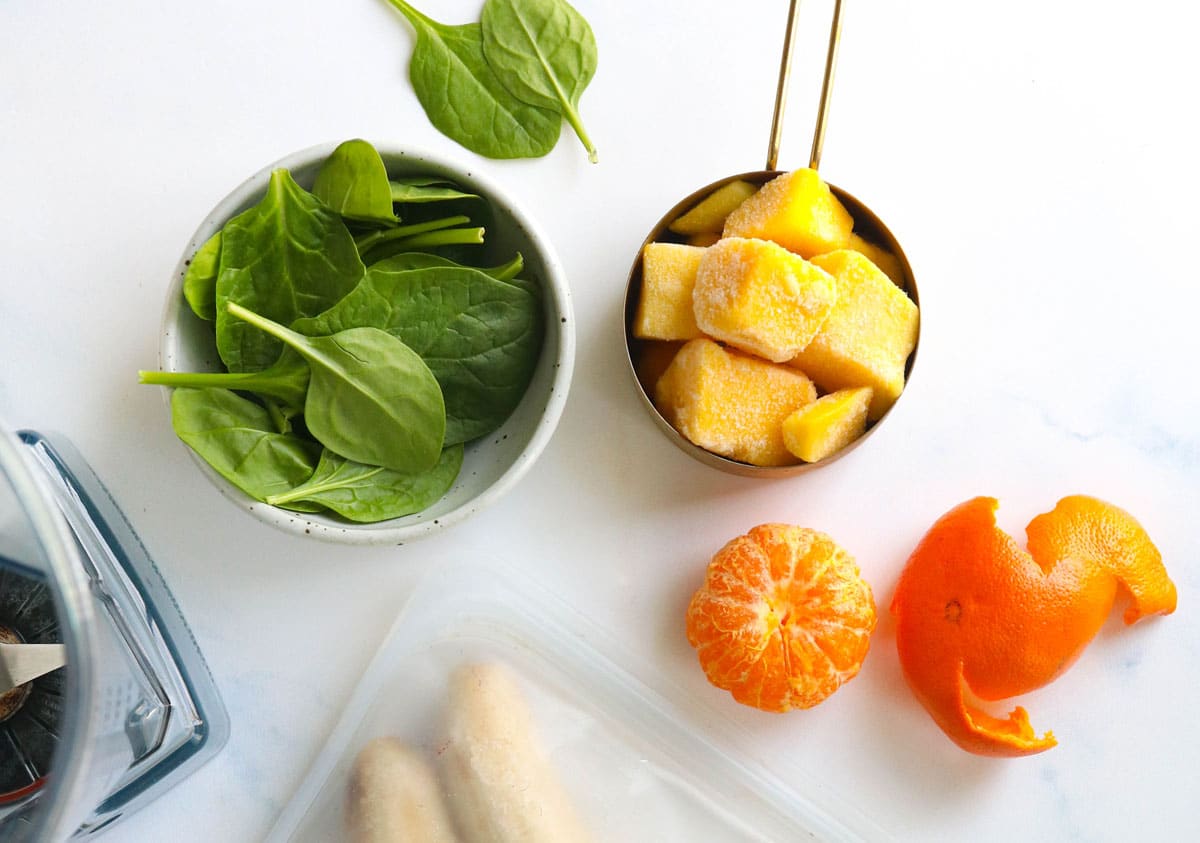 As you get more adventurous, you can branch out and start adding other greens to your smoothies, like kale, swiss chard, or romaine. You can even add other vegetables, like frozen broccoli, cauliflower, or carrots!
How to Make the Best Green Smoothie
To make a delicious green smoothie every time, you'll just need to follow this simple formula:
1 cup water or milk. I like to use almond milk or hemp milk, for plant-based protein.
1/2 cup orange juice. This helps hide the green flavor, if you're new to this, or if you're planning to serve picky kids. You can also use a freshly peeled, seedless orange for the added fiber, or add a pitted Medjool date for sweetness, instead. Or, try adding a spoonful of raw honey or maple syrup if you need a boost of sweetness.
1 frozen banana. Here's how to freeze bananas the right way. Be sure to slice it into coins if you don't have a powerful blender.
1 cup frozen fruit. Use mango or pineapple if you want a green color, or use blueberries if you want to hide the greens from a picky eater. Frozen fruit will thicken your smoothie, without diluting the flavor like ice would.
1 to 2 large handfuls of fresh baby spinach. I use raw spinach in smoothies, because store-bought frozen spinach is usually stronger in flavor.
Optional Add-Ins: You can add a tablespoon of almond butter or a little avocado for creaminess and a source of healthy fats to help you stay full. I don't use protein powder very often (try this smoothie recipe if you do want to use protein powder), but I do like to add hemp hearts as a complete source of plant based protein, too.
If you only have fresh fruit on hand, instead of frozen, you'll want to cut-down on the liquid so that the smoothie isn't too runny in texture. In that case, you might want to add some ice at the end, to help thicken it up, but only after all the fruits and veggies are broken down in your blender.
The Benefits of a High-Speed Blender
Since we're talking about smoothies, I also wanted to quickly mention that the type of blender you use will make a big difference in the final result.
I'm in love with my Vitamix (I bought this certified refurbished model to save money), but I've also had good results with KitchenAid's K400 blender, the Instant Pot Ace blender, and certain models of Ninja. (Only with the ones with Auto IQ in the individual size… I have tried older models, and the larger pitcher, and wasn't as impressed in that case.)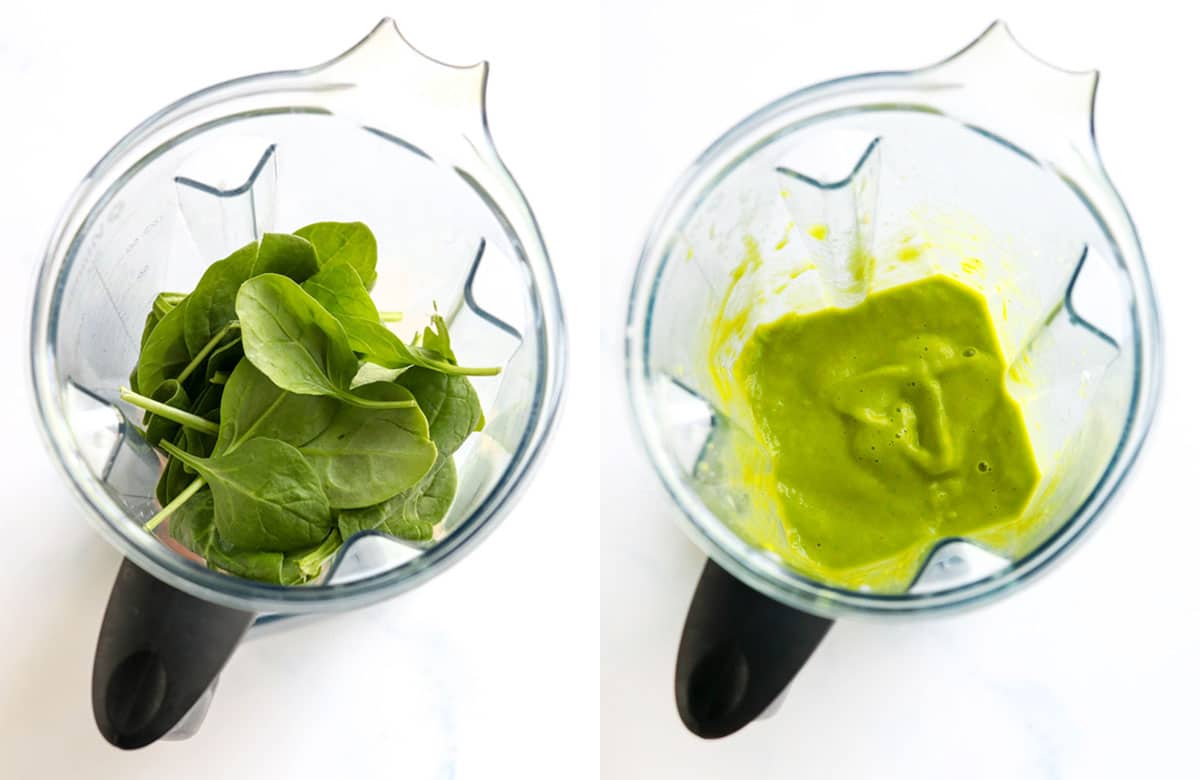 A high-speed blender will give you a smoothie that is silky-smooth, with an ice cream-like texture and no flecks of leafy greens to chew. Smoothies are so much more pleasant that way.
If you think you'll be making green smoothies often, or dairy-free sauces like Cashew Queso or Cauliflower Alfredo, or healthy desserts like Avocado Pudding or Vegan Frosting, then a good blender is a worthy investment.
I use my blender at least twice a day every day!
More Healthy Smoothie Recipes
If you have other ingredients on hand in your fridge or freezer, try one of these other popular smoothie recipes!
I hope these recipes, and the one below, will give you a good jumping-off point for your next smoothie. These are easily adaptable to use what you have on hand in your freezer, so feel free to get creative!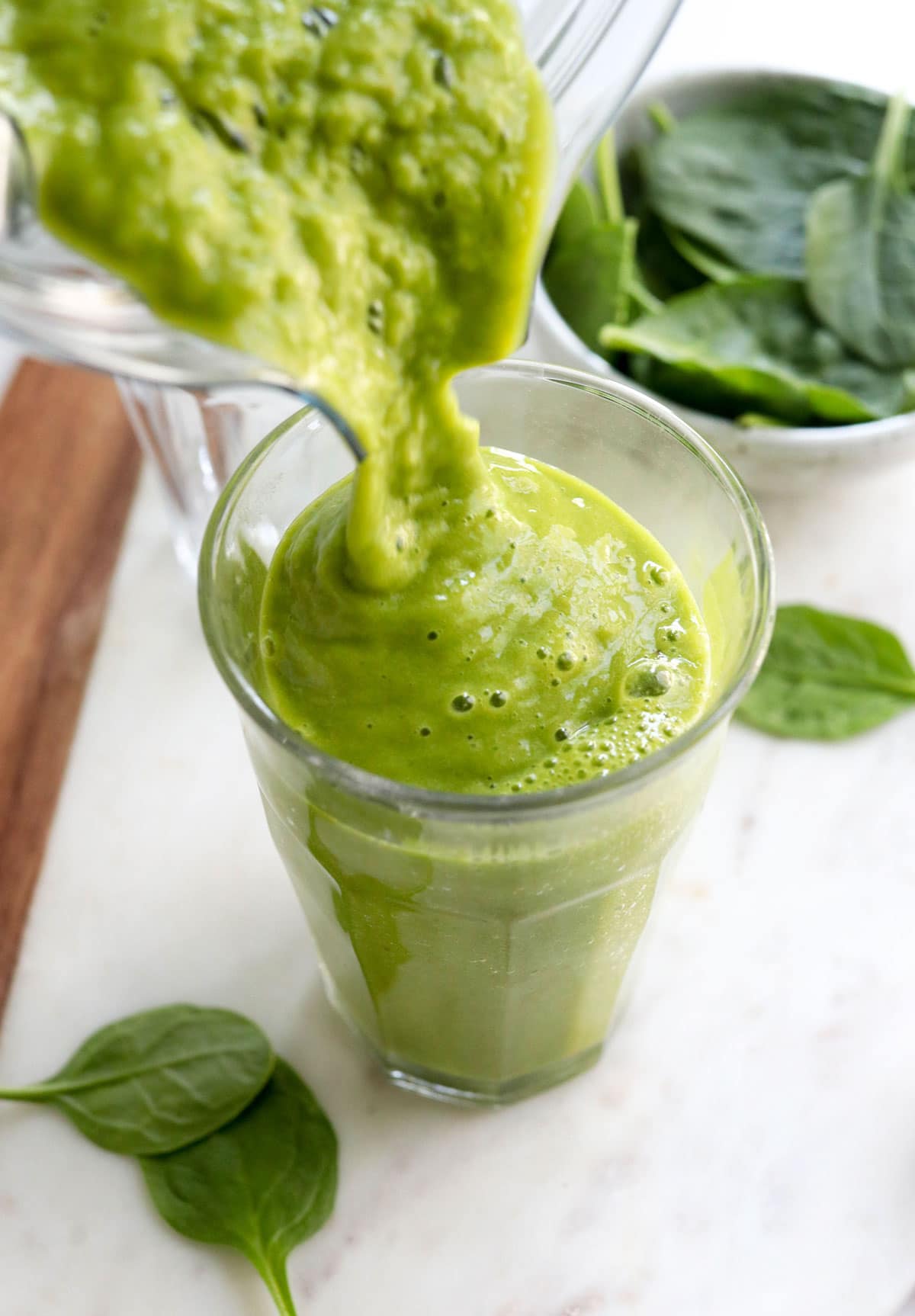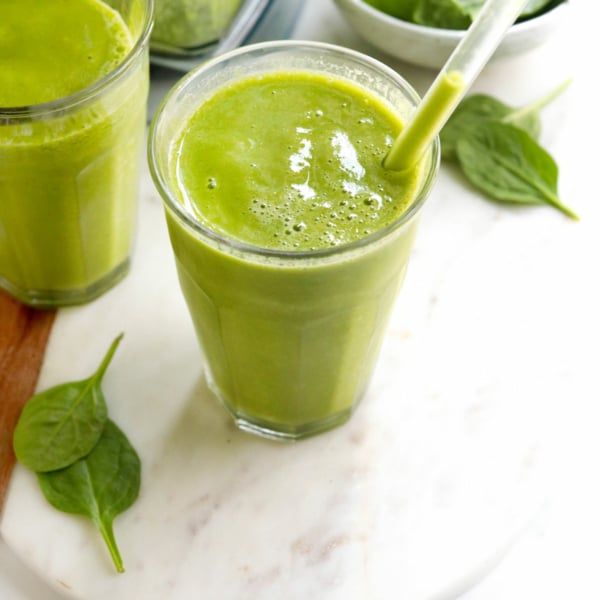 Favorite Green Smoothie Recipe
This green smoothie recipe is perfect for beginners, because you can't taste the greens at all!
Equipment
Ingredients
1

cup

water or milk

(I like to use almond or hemp milk)

1/2

cup

orange juice

(see notes)

1 to 2

large handfuls

fresh baby spinach

1

frozen banana

, cut into coins

1

cup

frozen mango

(or other fruit, like frozen strawberries or blueberries)
Optional Add-Ins:
1-2

tablespoons

hemp hearts

1

tablespoon

almond butter or peanut butter

1/4

ripe avocado

, peeled with pit removed
Instructions
Add the water, orange juice, and spinach into the blender and blend until the greens are completely broken down. This will ensure you don't get bits of greens in your final smoothie. If you are adding in any of the optional add-ins, like almond butter or hemp hearts, you should blend them during this step, too.

Add in the frozen banana and mango, and blend again until smooth and slushy. Serve right away for the best texture and flavor.
Notes
The orange juice adds sweet and tart flavors to this smoothie, which make it taste really great. As an alternative, you can use a whole peeled seedless orange instead. Or, you can add a squeeze of fresh lemon juice and a pitted Medjool date for similar sweet and tart flavors.
Nutrition
Calories:
267
kcal
,
Carbohydrates:
66
g
,
Protein:
4
g
,
Fat:
1
g
,
Saturated Fat:
1
g
,
Sodium:
40
mg
,
Potassium:
1115
mg
,
Fiber:
6
g
,
Sugar:
48
g
,
Vitamin A:
4922
IU
,
Vitamin C:
141
mg
,
Calcium:
61
mg
,
Iron:
2
mg
Nutrition information is for the whole batch, without optional add-ins. This information is automatically calculated and is just an estimate, not a guarantee.
If you try this recipe, please leave a comment below letting me know what you think. And if you make any modifications, I'd love to hear about those, too!
–
Reader Feedback: What's your favorite smoothie combination?