Protein Waffles are an easy make-ahead breakfast that will make your life easier. Prepare a big batch over the weekend and pop them in the toaster for a fast morning!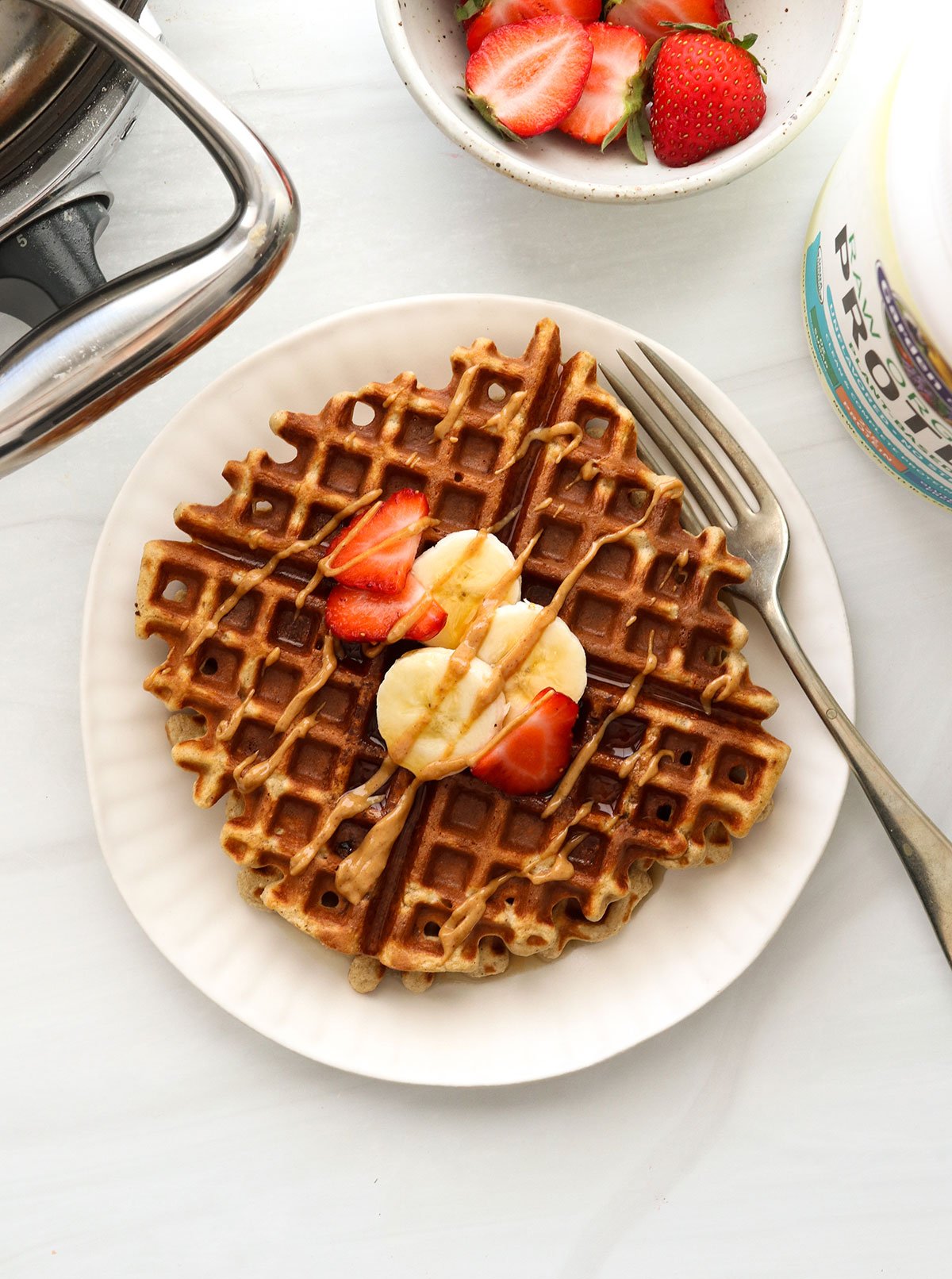 These protein waffles came into existence because it's a struggle to get my kids fed in the morning before school. We love the convenience of a toaster waffle, but the average freezer waffle has only 3 grams of protein in a serving size (which is 2 waffles!).
Even the popular protein waffles sold at the store require that you eat TWO waffles to reach the 12 grams of protein advertised on the front of the box. This homemade version packs up to 15 grams of protein into a single waffle, depending on the brand of protein powder you use, and they taste delicious enough that my kids look forward to eating them.
This recipe tastes good without any additional maple syrup for serving, so it's the perfect meal prep option for breakfast on the go. After testing 20+ batches over the past month, I can confidently say this is now one of our favorite waffle recipes!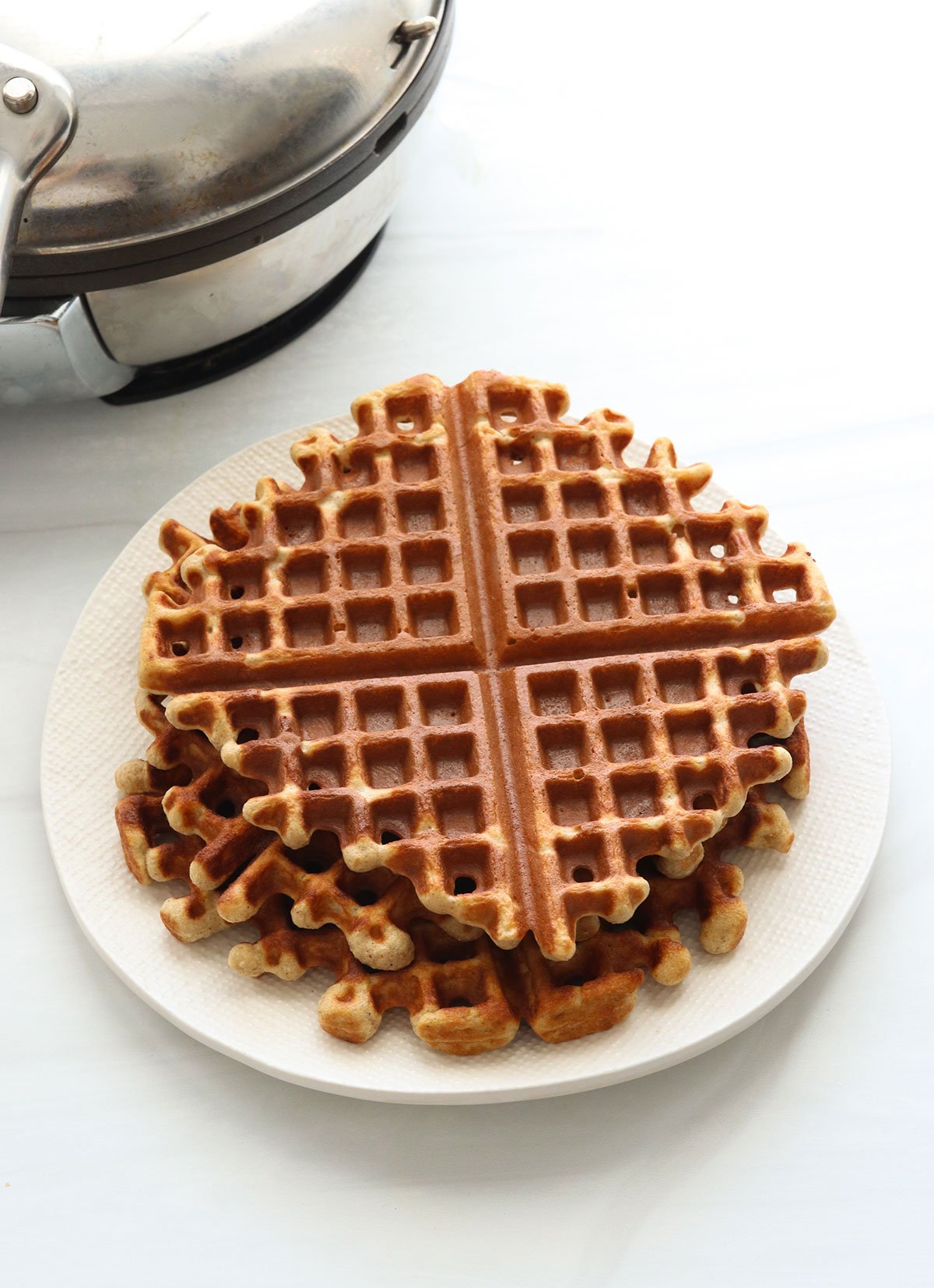 Ingredients You'll Need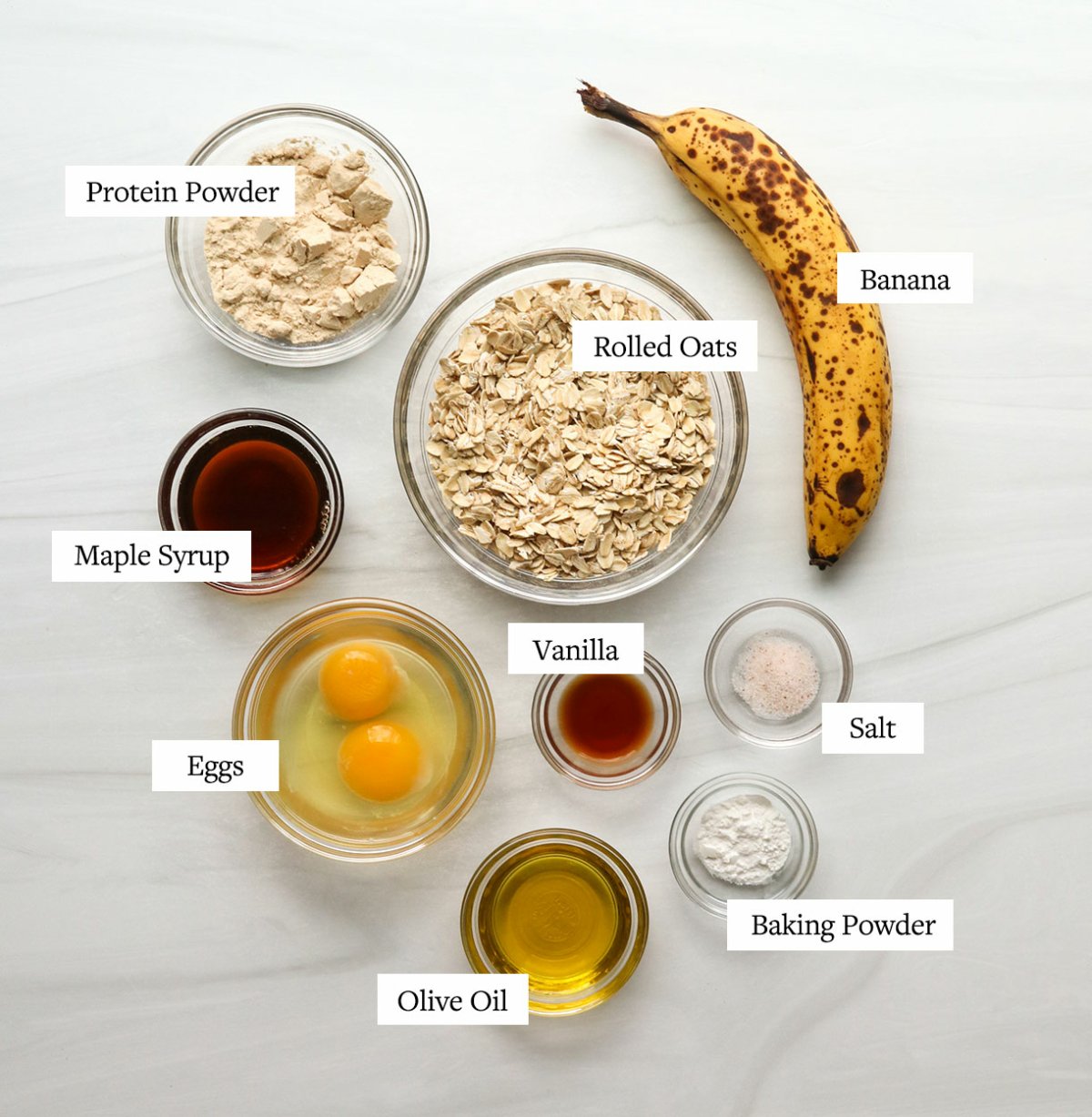 I've tested this recipe with both vanilla protein powder (Truvani brand) and unsweetened protein powder, so be sure to read all of the recipe notes. The ingredients will vary slightly if your protein powder is already sweetened.
If you don't have ripe bananas on hand, feel free to experiment with applesauce, Greek yogurt, pumpkin puree, or even cottage cheese, instead. You'll find more substitution tips below!
Need a gluten-free recipe? Oats are naturally gluten-free, but make sure you look for "certified gluten-free" packaging, to make sure there is no cross-contamination during processing.
How to Make the Best Protein Waffles
Plug in your electric waffle maker, so it can start preheating while you prepare the batter. (I set the heat to a 5 out of 7 on my machine.) This recipe is very quick to make, so you may finish making the batter before the waffle iron is done heating up.
In a high-speed blender, combine the rolled oats, banana, eggs, protein powder, maple syrup, olive oil, baking powder, vanilla extract, water, and salt. Blend until the batter looks very smooth, about 60 seconds.
Spray your preheated waffle iron with cooking spray, then pour a 1/3 cup of the batter into the center of the waffle maker. This will NOT fill the waffle iron all the way to the edges, because a full round waffle will not fit in a standard toaster.
Note: This recipe hasn't been tested with a Belgian waffle maker, because that size won't fit in a standard toaster. Keep in mind that a thicker waffle like that will require triple the amount of batter, so you may need to double the recipe in that case, and you'll need to reheat it in a larger toaster oven.
Close the lid on your waffle maker and cook until it beeps. Waffle irons will vary, so check on the waffle to make sure it's a golden brown color and easily releases from the waffle iron. You may need to leave the waffle to cook for another minute or so.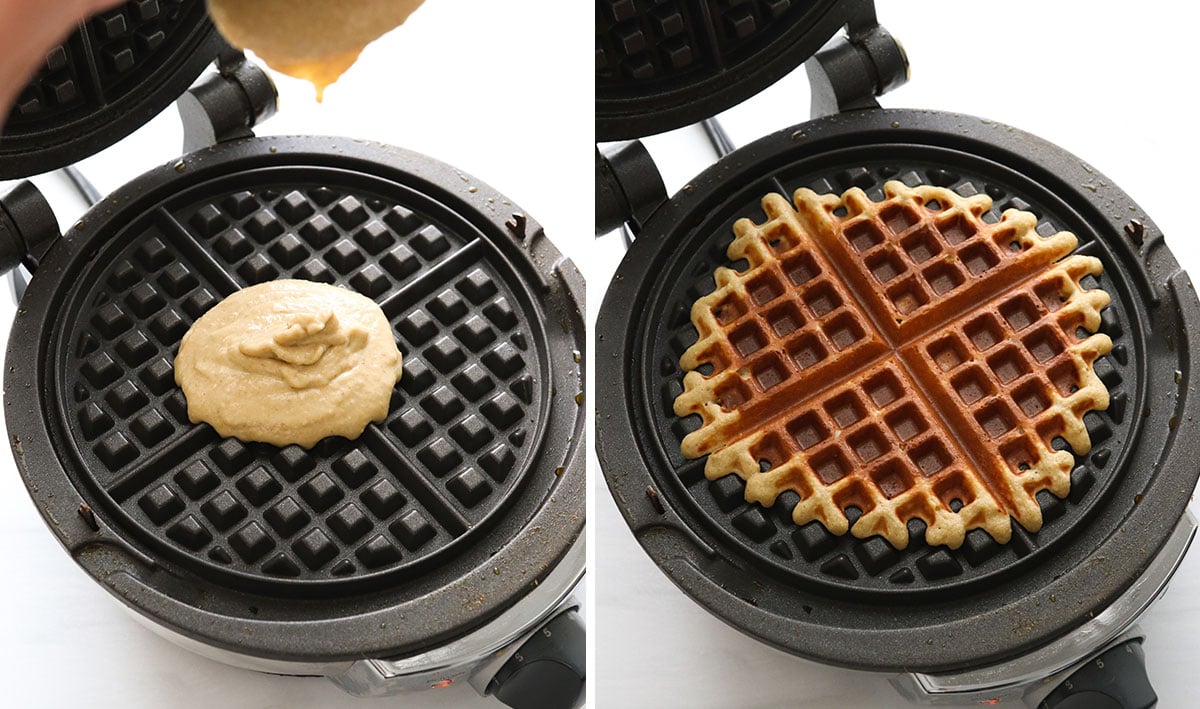 Repeat with the remaining batter, making roughly 5 high-protein waffles. Double the recipe if you'd like to make a larger batch! Serve warm with peanut butter and fresh berries, or any other toppings you love.
Leftovers can be stored in an airtight container in the fridge for up to 5 days. Or freeze them for up to 3 months!
To reheat a chilled or frozen protein waffle, simply pop it in the toaster. It should be heated through by the time the waffle pops back up! (I typically use a medium-heat setting, but toasters will vary.)
Frequently Asked Questions
Can this recipe be used to make protein pancakes?
Yes, if you prefer to skip the waffle maker you can use this recipe for pancakes instead. 
Can I use oat flour instead of rolled oats?
Yes, you can replace the rolled oats in this recipe with 1 scant cup of oat flour.
Which protein powder works best?
I tested this recipe with Truvani vanilla protein powder and Garden of Life unsweetened plant-based protein. I imagine whey protein powder or powdered collagen would also work if you keep those on hand.
Can I use a different oil?
Yes, feel free to use any other oil you prefer. If using coconut oil, just keep in mind the batter might be a little thicker since it is solid when it touches cold ingredients (like eggs from the refrigerator). 
Can I make this with egg whites?
Yes, you can use 2 egg whites per whole egg as a swap.
Can I make different flavors?
Yes, you can sprinkle a few dark chocolate chips or blueberries into the waffle batter as they cook. A pinch of ground cinnamon is also delicious! You can also adjust the flavor with toppings, like adding a drizzle of almond butter or other nut butter on top when serving. 
Looking for more healthy breakfast recipes? Try my Chocolate Protein Smoothie, Breakfast Bowls, Tofu Scramble, or Healthy Breakfast Casserole for more ideas.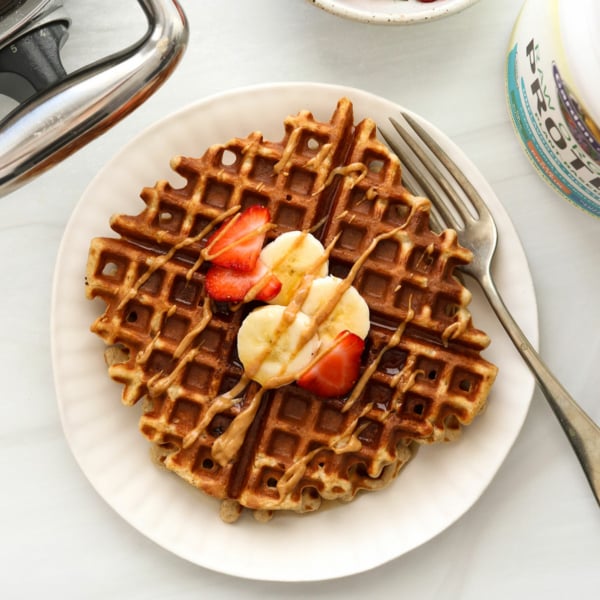 Protein Waffles (That Taste Good!)
Protein Waffles are an easy make-ahead breakfast that you can pop in your toaster to reheat. Each waffle packs extra protein, to help keep you feeling full.
Equipment
Instructions
Begin preheating your waffle iron right away. It should be done preheating by the time your batter is ready.

In a high-speed blender, combine the banana, eggs, oats, protein powder, olive oil, maple syrup, baking powder, vanilla, salt, and water. Secure the lid and blend until the oats are pulverized and the batter looks smooth, about 60 to 90 seconds.

The batter will look runny at first, but let it rest in the blender pitcher for 5 minutes. It will thicken up as the oats absorb the water, and this will result in more evenly-cooked waffles.

Lightly grease the waffle iron with cooking spray and pour ⅓ cup of the batter into the center of the waffle iron. Close the lid and cook on medium-high heat until the waffle iron beeps that it's done. Waffle irons may vary, so each waffle might require another minute or two of cooking time. You'll know they are done when the waffles are a light golden brown color and can be removed easily from the waffle iron.

Repeat with the remaining batter, making roughly 5 waffles. (This amount of batter may not entirely fill your classic waffle maker, but these should fit in a standard toaster for easy reheating later.) See notes below if using a Belgian-style waffle maker.

Serve the waffles warm with any toppings you like. Leftovers can be stored in an airtight container in the fridge for up to 5 days, or in the freezer for up to 3 months. Pop them in the toaster to reheat until crispy again.
Notes
Nutrition information is for 1 waffle, assuming you get 5 total from this batch. (This is what I get when using the 1/3 cup measure for each waffle.) This information is automatically calculated using generic ingredients and is just an estimate, not a guarantee.
This recipe was tested with a classic waffle iron, making waffles about a 1/2-inch thick and 5 inches wide (so they will fit in the toaster for easy reheating). If you are using a Belgian waffle maker, you will most likely only get 2 waffles from this batch, since the waffles will be so much larger.
Protein Powder Note: This recipe was tested with Garden of Life Unsweetened Plant Based Protein Powder. Other protein powders may vary in flavor and texture. If you want to use a vanilla protein powder that is already sweetened, omit the vanilla and maple syrup in this recipe. (I tested with Truvani Vanilla Protein Powder this way, and the waffles were also good!)
*Some protein powders will give you only 9 grams of protein per waffle, which is still better than the store-bought frozen waffles I've seen at the store.
Nutrition
Calories:
232
kcal
,
Carbohydrates:
25
g
,
Protein:
15
g
,
Fat:
9
g
,
Saturated Fat:
2
g
,
Polyunsaturated Fat:
1
g
,
Monounsaturated Fat:
5
g
,
Cholesterol:
75
mg
,
Sodium:
264
mg
,
Potassium:
372
mg
,
Fiber:
3
g
,
Sugar:
9
g
,
Vitamin A:
121
IU
,
Vitamin C:
2
mg
,
Calcium:
119
mg
,
Iron:
3
mg
If you try this protein waffle recipe, please leave a comment and star rating below letting me know how you like it.