Rosemary tea is a warm & comforting drink that you probably didn't know you needed until now.  All you need is two ingredients to make it!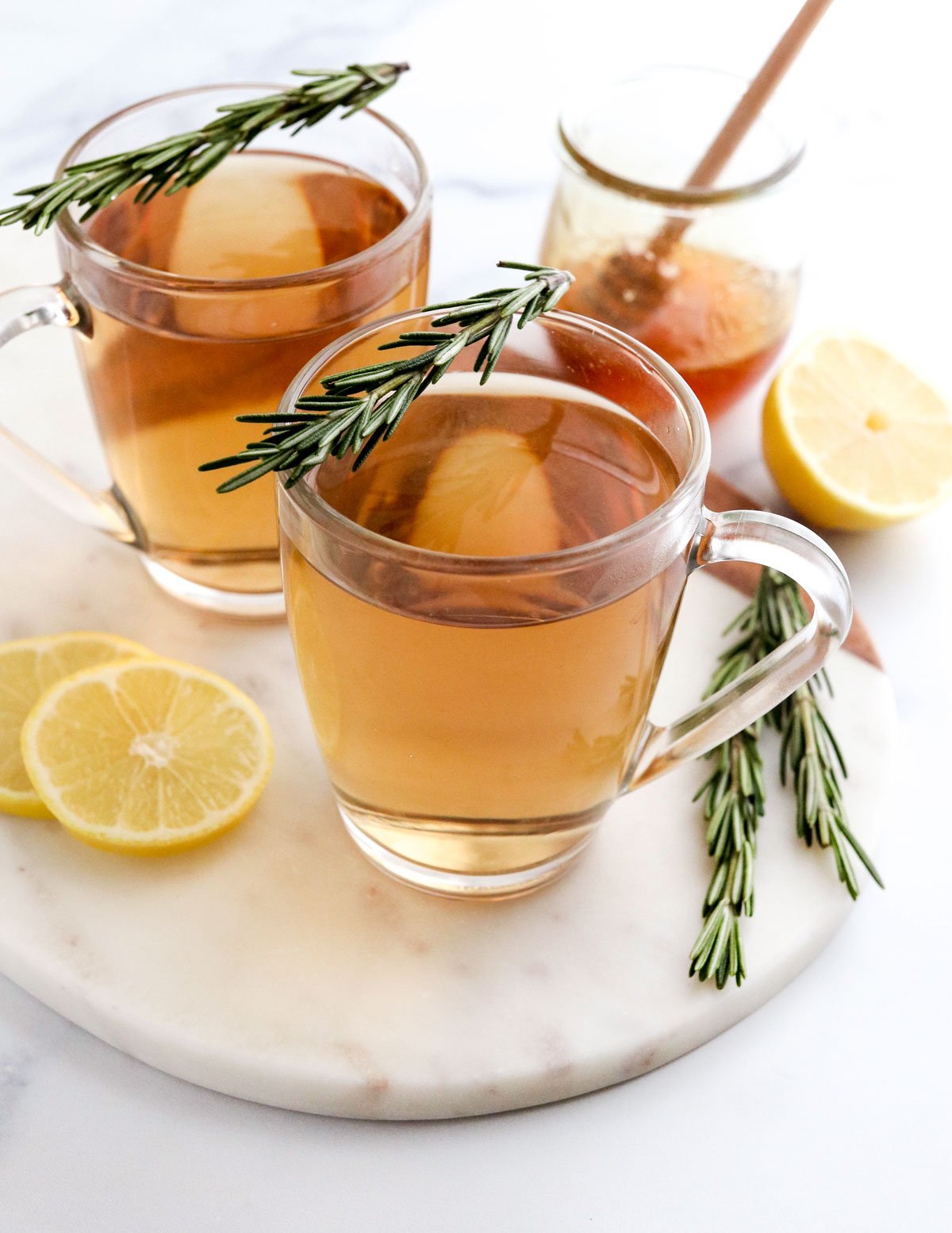 Benefits of Rosemary
What is rosemary tea good for? There are so many reasons why you might want to sneak more rosemary into your day.
So, what do you have to lose? Rosemary tea takes just minutes to prepare, and it's a great way to make sure you stay hydrated at the same time.
How to Make It
To make rosemary tea, you'll combine just two ingredients: rosemary and water!
I use 1 sprig of rosemary per 2 cups of water. You can use only the leaves if you want to, but I throw the whole sprig (including the stem) into the pot, since we'll be straining it out later.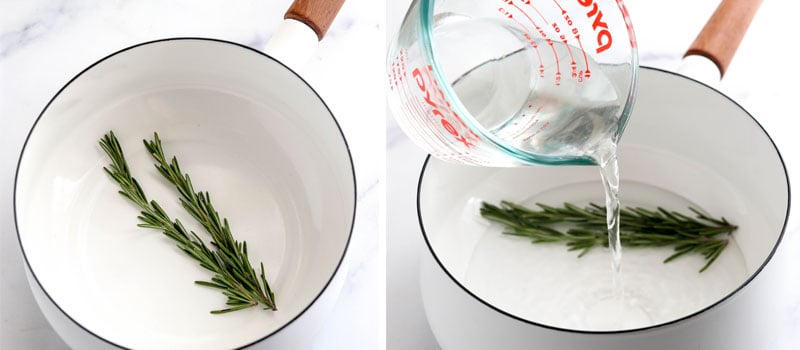 Bring the liquid to a boil over high heat, then lower the heat and let it simmer together for 1 to 5 minutes. The longer you let the tea simmer, the stronger (and more potent) the rosemary flavor will be.
Use a slotted spoon to remove the rosemary and any leaves that might have fallen off, then serve the strained tea warm right away.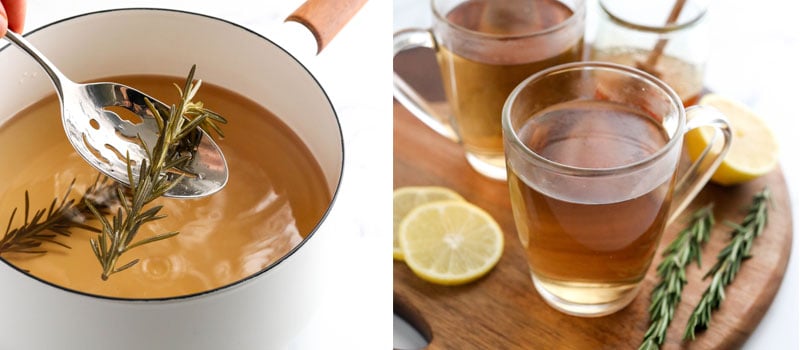 Rosemary tea tastes refreshing on its own, but just like Ginger Tea or Elderberry Tea, you can serve it with lemon and honey, to taste.
Can You Drink it Iced?
Yes! The recipe below is for a double batch of tea, and when I'm only making it for myself, I save the other half for a refreshing rosemary iced tea later in the day.
In fact, I think Rosemary Iced Tea is a great way to ease yourself into the flavor of this tea, as it can be slightly overpowering when warm.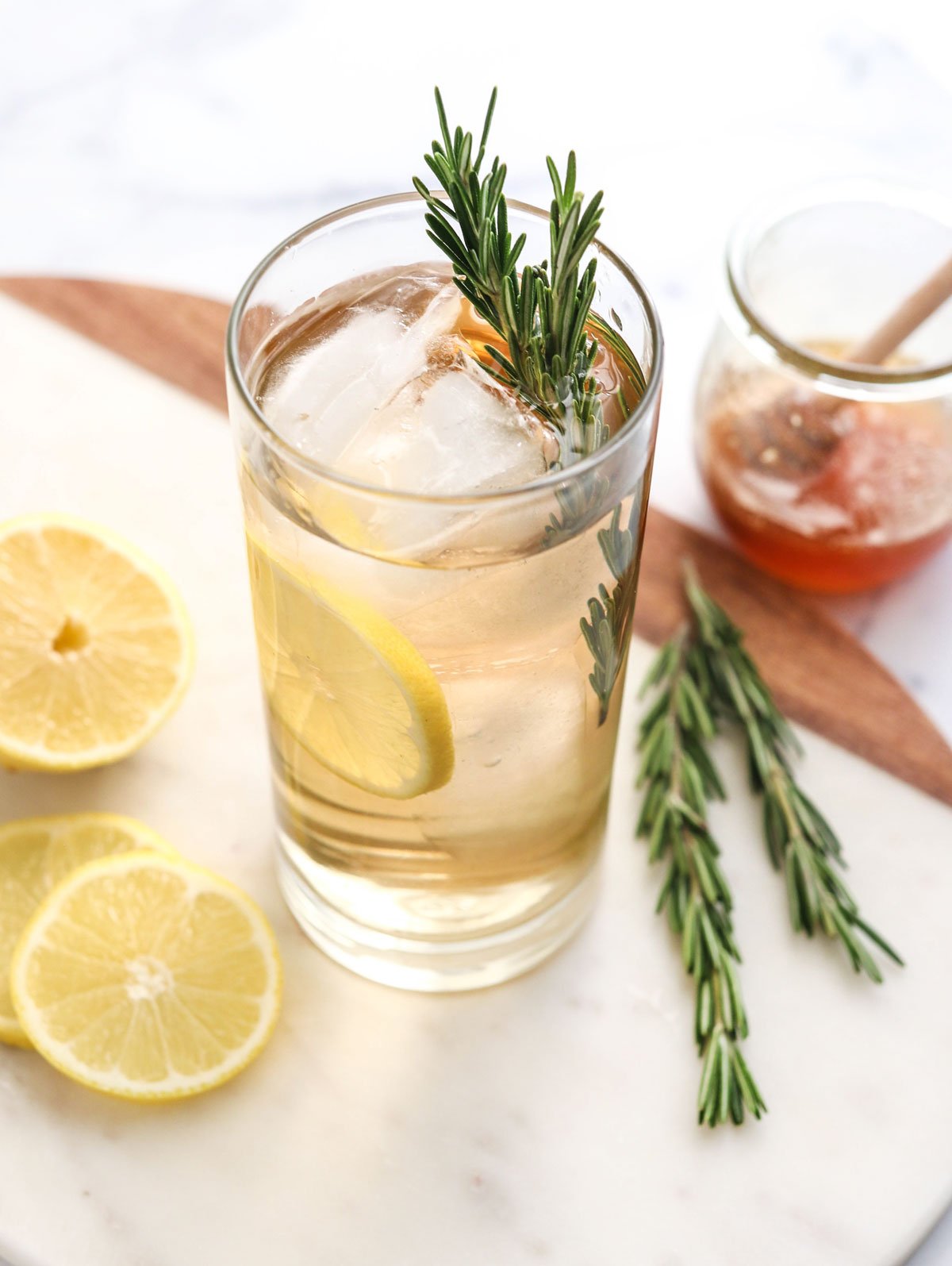 If you pour the tea over ice cubes while it's still warm, the ice will melt and dilute the rosemary flavor, so you don't need any added flavorings. (Although, adding a lemon slice is really nice in the iced tea, too!)
I think I like the iced version almost better than the warm version, so be sure to try it.
Potential Side Effects of Rosemary
What are the side effects of rosemary tea? Since rosemary is a potentially potent herb, it can act similarly to some medications (like naturally lowering blood pressure).
Before you start a daily routine of drinking rosemary tea, it's best to talk with your doctor if you are taking:
As a reminder, I'm not a doctor, so be sure to talk with your health care professional for personalized care and recommendations.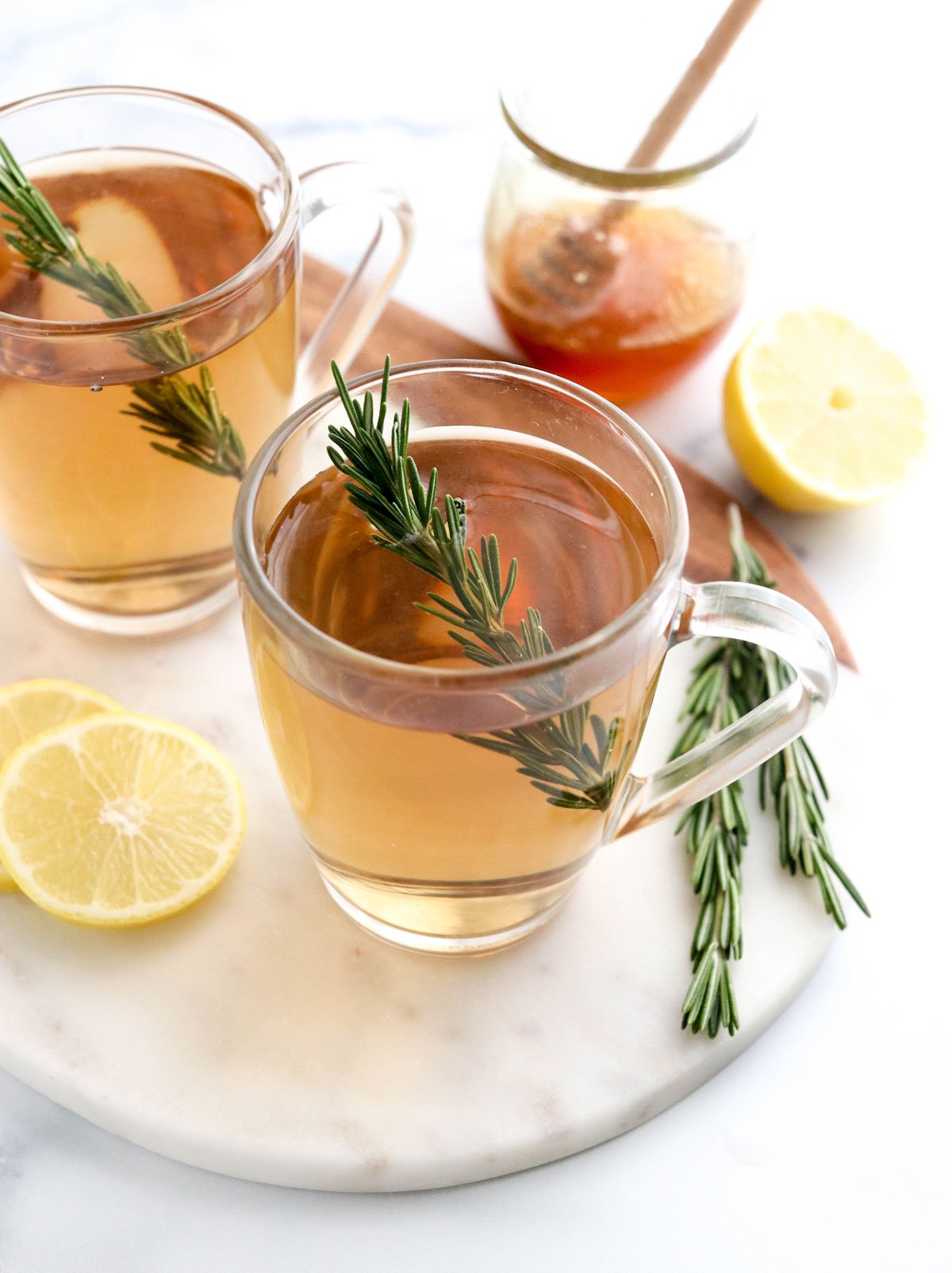 Extra Add-Ins
Want to add more flavor to your rosemary tea? You can add fresh ginger slices, cinnamon sticks, or whole cloves to the pot and simmer them together.

Each ingredient has potential health benefits, too!
However you make this fresh rosemary tea, I hope you'll enjoy it!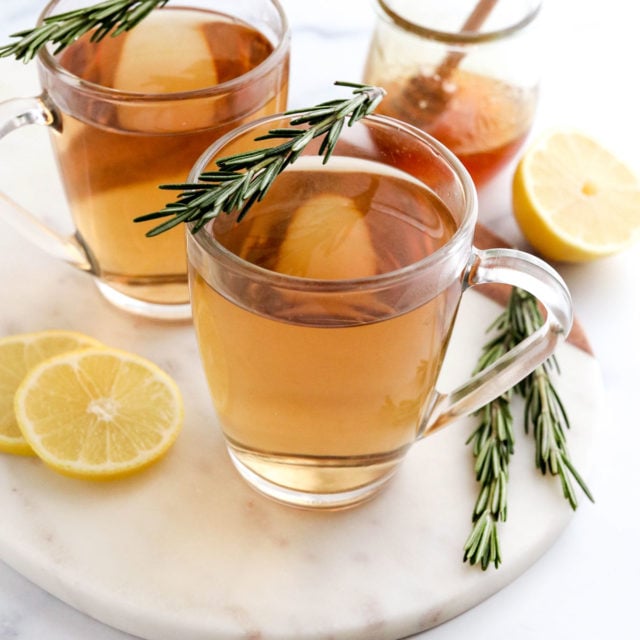 Rosemary Tea
Rosemary tea is a fragrant warm drink that you can make at home, without buying any expensive tea bags. Once you try it, you'll fall in love!
Ingredients
2

sprigs

fresh rosemary

4

cups

water
Instructions
Combine the rosemary and water in a saucepot, and bring it to a boil. Lower the heat and let it gently simmer for 1 to 5 minutes. The longer to simmer it, the more potent the rosemary flavor will be.

When it's done simmering, use a slotted spoon to remove the rosemary and any leaves that may have fallen off.

Pour the strained tea into 2 mugs and serve. If you're only cooking for 1, I like to store the other half of the tea in an airtight container in the fridge and serve it as iced tea later! Or you can reheat for a warm beverage.
Video
Notes
Nutrition information is for 1 serving, and is just an estimate, not a guarantee.
I always boil enough tea for two servings so I can have another glass of rosemary iced tea later, but cut this recipe in half if you'd rather not have leftovers. Or, if you need more, feel free to double or triple this recipe!
Nutrition
Calories:
1
kcal
,
Carbohydrates:
1
g
,
Protein:
1
g
,
Fat:
1
g
,
Saturated Fat:
1
g
,
Sodium:
24
mg
,
Calcium:
14
mg
More Cozy Drink Ideas
Looking for more warm drinks? Try one of these!
If you try this Rosemary tea recipe, please leave a comment below letting me know how you like it! And if you make any modifications, I'd love to hear about those, too. We can all benefit from your experience.
–
Reader Feedback: What's your favorite cold weather drink?