This Smoked Salmon Salad is an easy and beautiful dish to assemble, tossed with a refreshing lemon-dill dressing. I love the contrasting textures and flavors!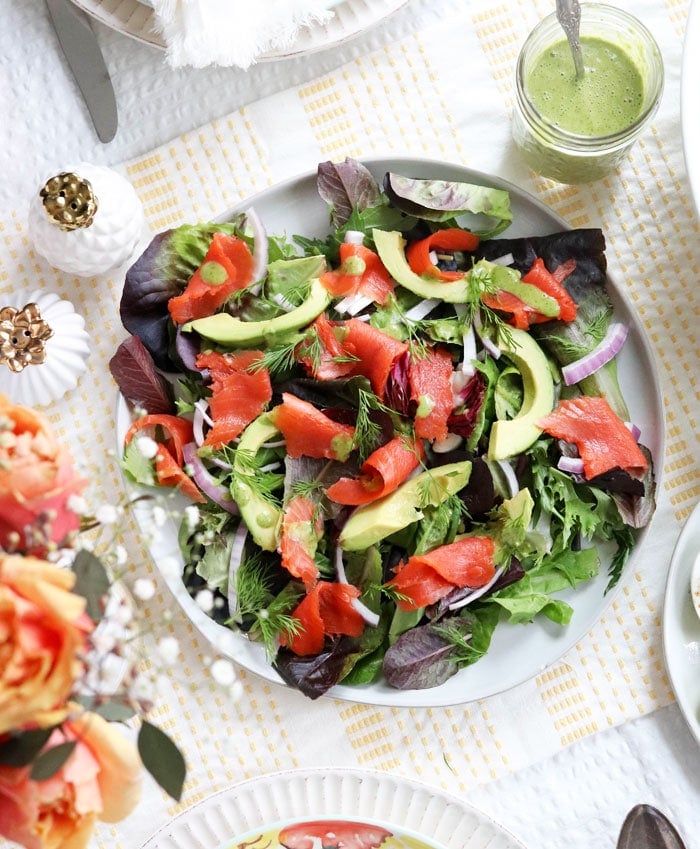 Smoked Salmon on Salad
I love using smoked salmon as a protein on my salads, because there's no extra prep work involved. You don't have to cook it ahead of time, or even slice it. You can serve it straight from the package, ripping it into smaller pieces with your fingers as you assemble the salad.
What is the Best Smoked Salmon to Buy?
When shopping for smoked salmon, I always look for wild-caught Alaskan salmon. Compared to farm-raised fish, wild-caught typically has a better ratio of anti-inflammatory omega-3 fatty acids to omega-6 fats, and it gets its natural dark pink color from the antioxidant astaxanthin. (If you check the label on farm-raised fish, many have coloring added to mimic this look.)
Do you have to Cook Smoked Salmon?
Smoked salmon is often served as-is, but if you don't love the texture of cold smoked salmon (it can have the mouth feel of raw fish) you also have the option of heating it up. When I worked in a restaurant, we would heat up smoked salmon for salads in our pizza oven when customers requested it. You can do this at home, too!
Just lay the salmon pieces on a large baking sheet and put it under your oven's broiler for a minute or two. When the fish turns more opaque and light pink in color, it's done. (Be careful not to overcook it, though, as it can dry out quickly.) You can also throw it in a skillet over medium heat to sauté until a more cooked look is achieved, if you prefer to skip the oven. Keep in mind that cooked smoked salmon will be slightly saltier in flavor than the cold version.
Smoked Salmon Salad Dressing
Lemon and dill are a perfect pair with smoked salmon, as the acid helps to cut the fattiness of the fish. Paired with fresh dill, this salad is ultra light and refreshing! I highly recommend using fresh dill in this case, but if you don't have any available you can start with a teaspoon of dried dill and add more to taste as you go.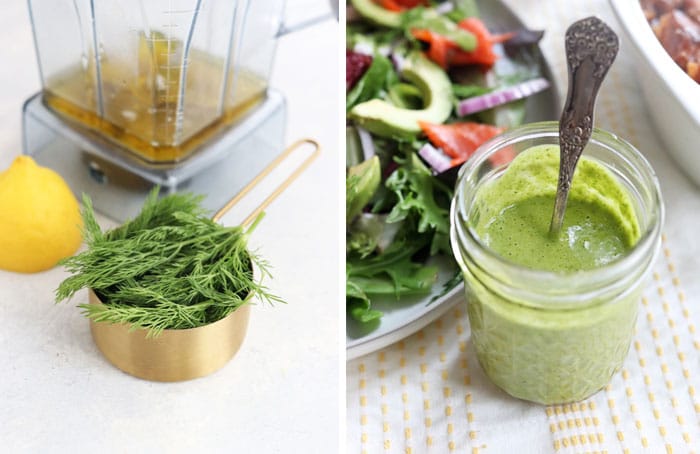 How Long Can Smoked Salmon Be at Room Temperature?
If you're planning on serving this smoked salmon salad at a party, plan on having it out on the table for no more than 2 hours. Once opened, smoked salmon can be stored in an airtight container in the fridge again for up to 5 days.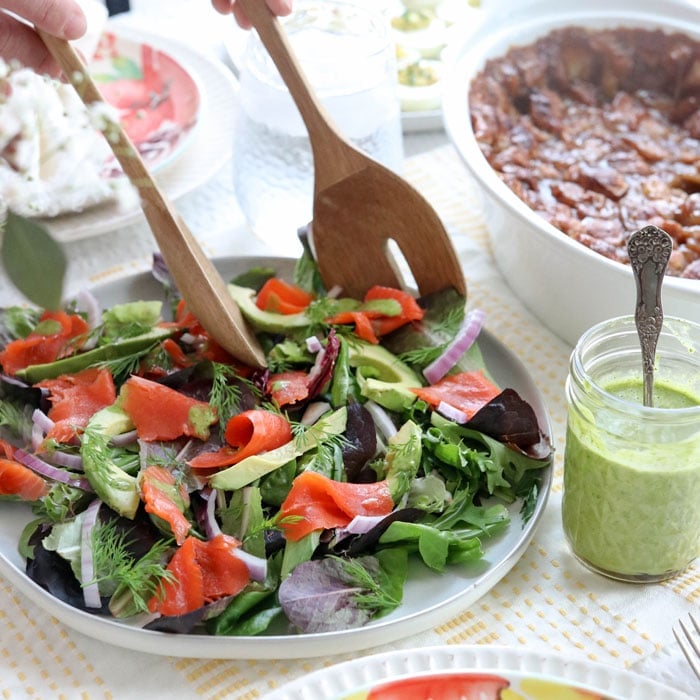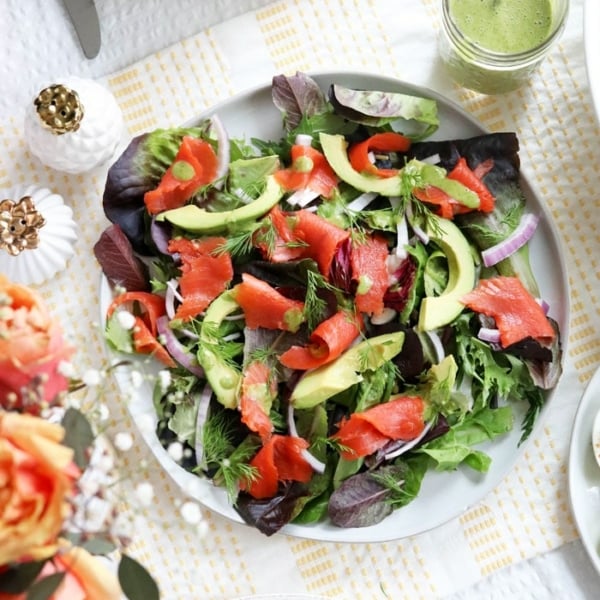 Smoked Salmon Salad with Easy Dill Dressing
This SMOKED SALMON SALAD is an easy and beautiful dish to bring to a party! It's tossed with a fresh dill dressing, with avocado and red onion.

Ingredients
Dill Dressing
3

tablespoons

lemon juice

1/4

cup

extra virgin olive oil

2

tablespoons

water

1

teaspoon

spicy brown mustard

1

tablepoon

maple syrup

1

clove

garlic

1/2

cup

fresh dill
Smoked Salmon Salad
8

ounces

mixed greens

4

ounces

smoked salmon

1

ripe avocado

, sliced

1/2

red onion

, thinly sliced
Instructions
To prepare the dressing, combine the lemon juice, olive oil, water, mustard, maple syrup, garlic, and fresh dill in a blender and blend until smooth. Taste and adjust the seasoning, if needed.


To assemble the salad, fill a large bowl or plate with the mixed greens. Top them with small pieces of smoked salmon, slices of avocado, and the red onion. Drizzle the dill dressing over the top just before serving.


Leftover salad can be stored in the fridge for up to 4 days, but it keeps best if the leaves haven't touched the dressing, so store the dressing separately for best shelf life.

Nutrition
Calories:
255
kcal
,
Carbohydrates:
9
g
,
Protein:
7
g
,
Fat:
22
g
,
Saturated Fat:
3
g
,
Cholesterol:
6
mg
,
Sodium:
259
mg
,
Potassium:
465
mg
,
Fiber:
3
g
,
Sugar:
1
g
,
Vitamin A:
1195
IU
,
Vitamin C:
28.8
mg
,
Calcium:
32
mg
,
Iron:
1.3
mg
Per Serving: Calories: 255, Fat: 22g, Carbohydrates: 9g, Fiber: 3g, Protein: 7g
Recipe Notes:
I've made this salad dressing using red wine vinegar instead of lemon juice, and the result is also good if you happen to only have that on hand.
Feel free to add any other favorites, such as crumbled goat cheese or capers, to this salad. Leave a comment below to let us know what else you try with it!
–
Reader Feedback: Are you a fan of smoked salmon? Let me know how you serve it! My other favorite thing is to sauté smoked salmon with scrambled eggs, red onion, and fresh dill. It's amazingly good!