Stovetop Popcorn tastes infinitely better than the kind you'd microwave in a bag, and all you need is about 10 minutes to make it. Get all of my tips & tricks below!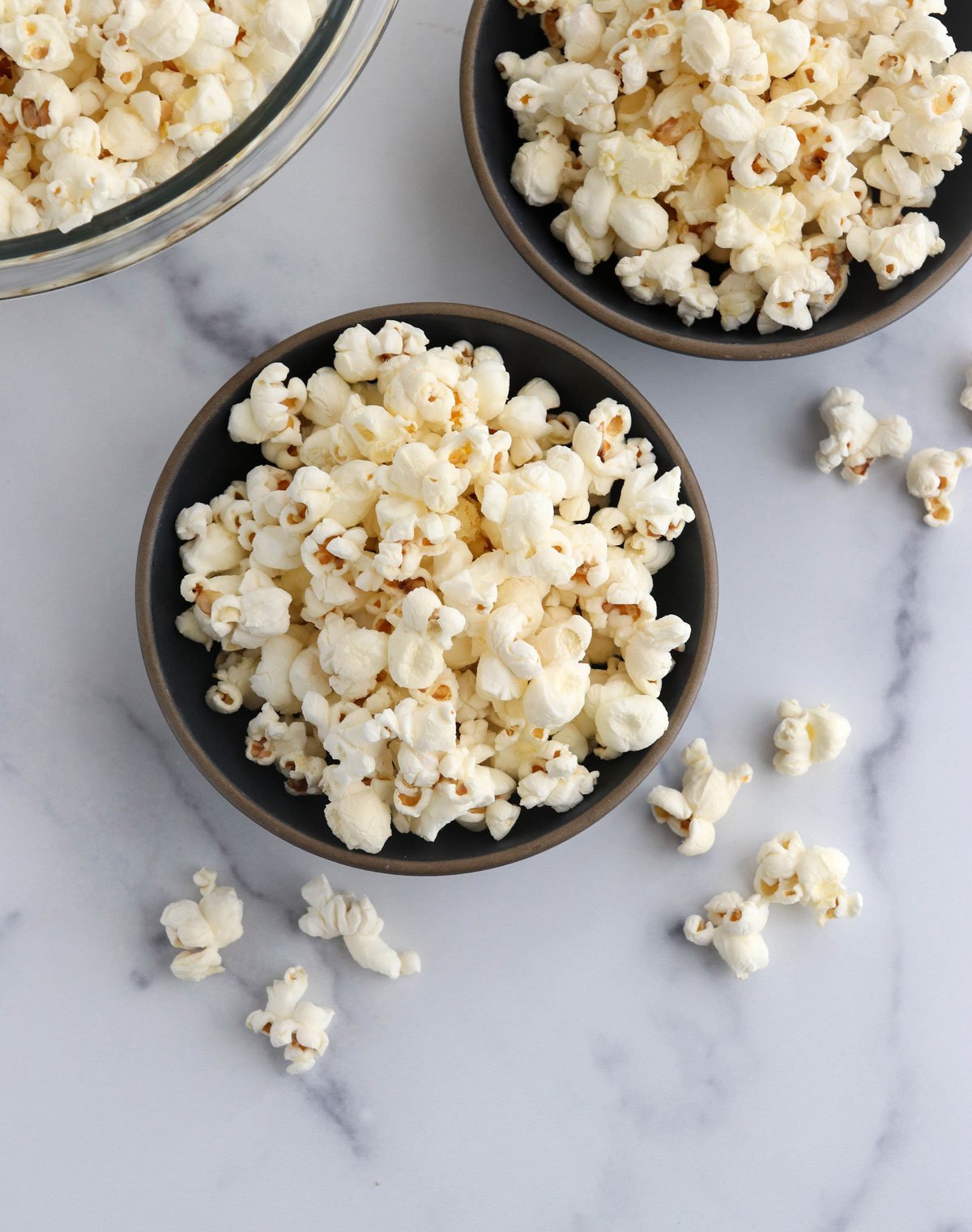 Why Is Stovetop Popcorn Better?
Stovetop popcorn is made with just 3 ingredients– popcorn kernels, oil, and salt.
If you look on the back of popular microwave popcorn brands, I think you'll find significantly more ingredients, some of which you might not even recognize. Some brands even contain a flavoring chemical called diacetyl, which the CDC has linked to lung disease.
How to Avoid Chewy Popcorn
Why can popcorn turn out chewy? If you keep the lid tightly sealed on the pot while the popcorn is popping, the excess steam might be absorbed by the popcorn, giving it more of a "chewy" texture.
Be sure to leave the lid slightly cracked as the popcorn pops, so that steam can escape. This will ensure your popcorn stays as crisp as possible!
Is Popcorn Healthy?
As far as crunchy, salty snacks go, popcorn is one of the better options, especially when you use organic kernels and a good quality oil. Popcorn is a whole grain, and one study suggests that it has 15x the antioxidants compared to a snack like whole grain tortilla chips.
Here's more to love:
It also couldn't be easier to make! Below you'll see how, with step-by-step photos.
How to Make It on the Stove Top
Add oil to the bottom of a heavy bottomed pot. I like to use a 4-quart dutch oven (like this one), which retains heat really well, especially when compared to stainless steel pot.
Cook over medium heat. Don't be tempted to use too high of a temperature, or the popcorn kernels may start to burn before they pop. If you smell a "burnt" aroma as the popcorn pops, the whole batch will taste burnt. So, be patient!
Test a few kernels first. I like to place 2 to 3 kernels in the oil as it heats up. Once you hear them pop, you'll know the oil is hot and you can add the rest of the kernels.
Leave the lid cracked. If you totally seal the pot with the lid, the popcorn may get an unappealing, chewy texture from the steam trapped inside. Leave the lid cracked, so the popcorn won't pop out, but steam will have the chance to escape.
Lower the heat slightly. Once you hear the popcorn popping rapidly, it's okay to lower the heat slightly. This will help to ensure the popcorn doesn't burn as the last few kernels pop.
Season liberally. If you think your homemade popcorn tastes bland, you may not have seasoned it enough! I typically use 1/2 teaspoon of fine sea salt per 1/2 cup of dry popcorn kernels. If you want to get fancy, you can add a sprinkling of Parmesan cheese (in that case, cut back on the salt), or nutritional yeast for a dairy-free "cheesy" flavor.
Which Oil Works Best?
You can use any mild-flavored oil you have on hand, but coconut oil or olive oil are my preferences when it comes to the oil to use. Do not use butter, as it will burn before the popcorn is popped.
Should you Worry About the Smoke Point of Oils?
If you've been concerned about cooking with olive oil due to its smoke point, research published in 2018 shows that an oil's smoke point doesn't necessarily predict how it will perform when heated. In fact, olive oil has proven to be a very stable oil when heated, possibly due to its antioxidant levels and monounsaturated fat content, even when heated at high temperatures. (Coconut oil is also shown to be a stable choice in this study, right behind olive oil.)
How Much Does 1/2 Cup Kernels Make?
A 1/2 cup of dry popcorn kernels makes approximately 14 cups of popcorn. That makes the serving size very generous! One serving is roughly 3.5 cups of popcorn, so it's no wonder it's so filling!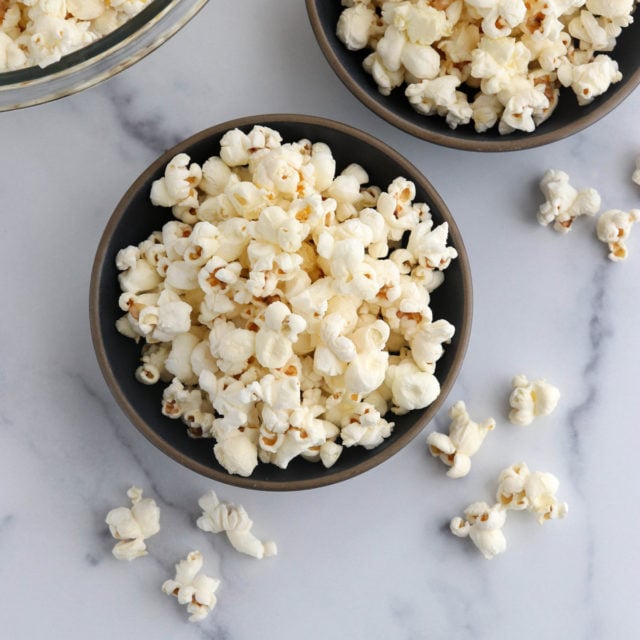 Stovetop Popcorn (Perfect Every Time!)
Here's how to make perfect Stovetop Popcorn, with just 3 simple ingredients. It's a great healthy snack when you need a salty fix!
Ingredients
2

tablespoons

olive oil or coconut oil

(use 3 tablespoons if using a 6-quart pot)

1/2

cup

popcorn kernels

Fine sea salt, to taste
Instructions
In a pot over medium-high heat, add the oil and 2 of the popcorn kernels. I typically use a 3.5-quart pot with a lid, but if you're using a larger 6-quart pot, be sure to use an extra tablespoon of oil so that the bottom is totally coated, for best results.

Listen carefully for the 2 kernels to pop. When they do, add in the rest of the popcorn kernels, cover with a lid, and remove the pot from the heat briefly, about 30-45 seconds. You may start to hear the popcorn kernels start to pop, even while they are removed from the heat.

Return the pot to the burner, and be sure to crack the lid so that steam will escape, without letting any kernels pop out. The popcorn should start popping rapidly. Every 20 seconds or so, gently shake the pot so the un-popped kernels will fall to the bottom.

When the popcorn starts slowing down, I like to lower the heat even more, so that the already-popped popcorn won't burn. If you smell burning, the whole pot will taste burnt, so watch it closely. It takes roughly 2 to 3 minutes for the whole batch to pop. When the pops are 5 seconds apart, turn off the heat and let the pot rest for 1 more minute, so there's no surprise pops when you take off the lid.

Season the popcorn right away with salt, and any other seasonings you like. I typically use 1/2 teaspoon of fine Real Salt per 1/2 cup of kernels, but you can start will half that and add more to taste. Popcorn is best served right away, but the leftovers can be stored in an airtight container for up to 48 hours without losing too much crunch.
Notes
This recipe makes approximately 14 cups of popcorn, so a serving is 3.5 cups in this case. Nutrition information is automatically calculated, and is just an estimate, not a guarantee.
Nutrition
Calories:
139
kcal
,
Carbohydrates:
15
g
,
Protein:
2
g
,
Fat:
8
g
,
Saturated Fat:
1
g
,
Sodium:
2
mg
,
Potassium:
56
mg
,
Fiber:
3
g
,
Sugar:
1
g
,
Iron:
1
mg
If you try this Stovetop Popcorn, please leave a comment below letting me know how you like it! And if you make any modifications, I'd love to hear about those, too. We can all benefit from your experience.
–
Reader Feedback: What's your favorite salty snack? Be sure to try my Baked Sweet Potato Chips or Roasted Pumpkin Seeds, too. If you need something sweet, my Peanut Butter Granola Bars are also a hit!