Stuffed Spaghetti Squash is one of the easiest spaghetti squash recipes you'll ever try. There's no need to bake the squash ahead of time, so everything cooks at once for a simple, hands-off weeknight meal. It's healthy and comforting!
Why You'll Love It
This idea came to me while working on a how to cook spaghetti squash tutorial. Spaghetti squash usually has to cook for at least 45 minutes to become tender, and that seems like a lot of work for only a "prep" portion of a recipe.
You need pre-cooked spaghetti squash to make something like cheesy spaghetti squash casserole or Spaghetti Squash Chow Mein.
But, what happens if you stuff the squash, and then bake it raw?
I had to find out, and that's how this recipe came to be. The squash turns out perfectly tender, and while I was afraid it might turn out super-watery… it doesn't! Any extra liquid mixes right in as you stir the filling into the cooked squash.
The filling is hot, the cheese on top is golden and melt-y, and the squash is tender. It all bakes in one pan, for an easy, healthy meal.
Ingredients You'll Need
Here's what you'll need:
Spaghetti squash
Marinara sauce
Cooked lentils
Shredded mozzarella cheese
I like to use canned lentils for convenience in this recipe (no need to pre-cook anything!) but you can certainly use cooked ground beef, or cook your own lentils, if you don't have canned on hand. Or, feel free to add in anything else you love!
How to Bake Spaghetti Squash
1. Cut & clean the squash. Cut the spaghetti squash in half lengthwise to create two halves that will sit up on their own, like boats.
Use a spoon scrape out the seeds and gooey insides. You can save them for roasted squash seeds later, if you'd like to!
2. Make the filling. Use canned lentils and a jar of your favorite marinara sauce for convenience.
Drain and rinse the canned lentils, then add them to a large bowl, along with one cup of marinara sauce and salt. Stir well.
3. Fill & Bake. Arrange the squash halves on a rimmed baking sheet, cut-side facing up, the season each half generously with salt.
Divide the lentil filling among the two halves, filling the cavity as much as possible. Top with shredded mozzarella cheese. (Use vegan cheese, if you want these to remain dairy-free.)
Bake until the squash is tender and the cheese is golden and bubbly, about 50 to 55 minutes.
4. Enjoy! Let the squash cool for 5 to 10 minutes, then use a fork to separate the squash strands along the inside of the bowl.
Mix the filling into the cooked squash, season with additional salt, if needed, and enjoy while it's warm and cheesy.
I usually serve one squash half per person, so this is an easy meal for two adults. Feel free to double it if needed, or save the other half for an easy lunch if you're only cooking for one!
Helpful Tips & FAQ
How do I choose a good spaghetti squash? Look for a squash that is golden or dark yellow in color, with a very firm skin. If it's pale, or has soft spots, it's not a good choice. You also want the stem to be dry and in tact. (If it's missing a stem, the squash may spoil faster.)
What size spaghetti squash works best? I look for a squash that is 3 to 4 pounds, and about 7 to 8 inches in length. A smaller squash will cook faster, and a larger one will take longer to cook, so you'll just need to watch the oven if you end up with a different size.
How do I avoid watery noodles? Spaghetti squash can be watery if you overcook it. Luckily, with this recipe, the noodles tend to turn out more "al dente," so the squash isn't too watery. You can start checking on the squash at the 45-minute mark if you're concerned about over-cooking the squash noodles.
Is spaghetti squash good for you? Spaghetti squash has only 31 calories per cup, so it's a low calorie option compared to regular pasta. It's also a great source of vitamin C, which acts as an antioxidant, and may help to lower the risk of cardiovascular disease.
I hope you'll enjoyed this Stuffed Spaghetti Squash recipe soon. I can't wait to hear what you think!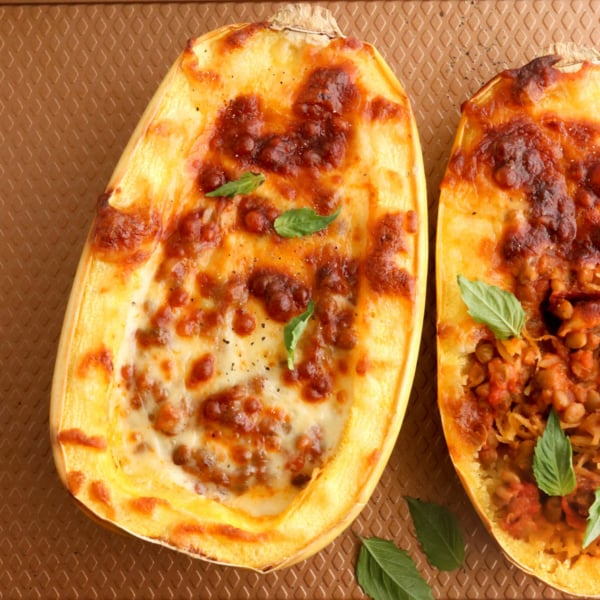 Stuffed Spaghetti Squash
This is the easiest spaghetti squash recipe! Just clean the squash, fill it, and bake for a healthy and comforting one-pan meal.
Ingredients
1

spaghetti squash

(about 3.5 pounds)

1

(15 ounce) can

brown lentils

(or 1 1/2 cups cooked)

1

cup

marinara sauce

fine sea salt

3/4

cup

mozzarella cheese

, shredded
Instructions
Preheat the oven to 400ºF. Carefully cut the spaghetti squash in half lengthwise, then use a spoon to scoop out the seeds and gooey inside, leaving behind the firm squash in the center. (Save the seeds for roasting later, if you'd like!)

To prepare the filling, drain and rinse the canned lentils, then transfer them to a mixing bowl. Add in the marinara sauce and 1/4 teaspoon of salt, and stir well.

Place the squash, cut-side facing up, on a rimmed baking sheet and season the inside with salt. Divide the filling between the two halves, filling up the center cavity, then top each half with the mozzarella cheese.

Bake at 400ºF for 50 to 55 minutes, or until the squash is fork tender and the cheese is golden and bubbly. Let the squash cool for 5 to 10 minutes, then use a fork to scrape the tender squash into strands, and mix it in with the sauce. Season with additional salt, as needed, and enjoy warm. Leftovers can be stored in an airtight container in the fridge for up to 5 days.
Video
Notes
Nutrition information is for one stuffed squash half. This information will vary depending on the size of the squash, the type of cheese you use, and the brand of marinara sauce.
For a vegan stuffed squash, feel free to omit the cheese or use a vegan cheese, instead.
Nutrition
Calories:
552
kcal
,
Carbohydrates:
84
g
,
Protein:
33
g
,
Fat:
13
g
,
Saturated Fat:
6
g
,
Polyunsaturated Fat:
2
g
,
Monounsaturated Fat:
3
g
,
Cholesterol:
33
mg
,
Sodium:
992
mg
,
Potassium:
1744
mg
,
Fiber:
26
g
,
Sugar:
23
g
,
Vitamin A:
1411
IU
,
Vitamin C:
22
mg
,
Calcium:
380
mg
,
Iron:
10
mg
If you try this Stuffed Spaghetti Squash recipe, please leave a comment below letting me know how you like it.
–
Reader Feedback: Would you like to see more spaghetti squash recipes? Let me know if you have any other requests in the comments below!