This Cauliflower Fried Rice is a delicious way to eat more vegetables and tastes remarkably like the popular take-out dish. You can serve it as a vegan stir-fry, or bulk it up with a protein, like eggs or chicken, to make it a Paleo and Whole30 compliant dish.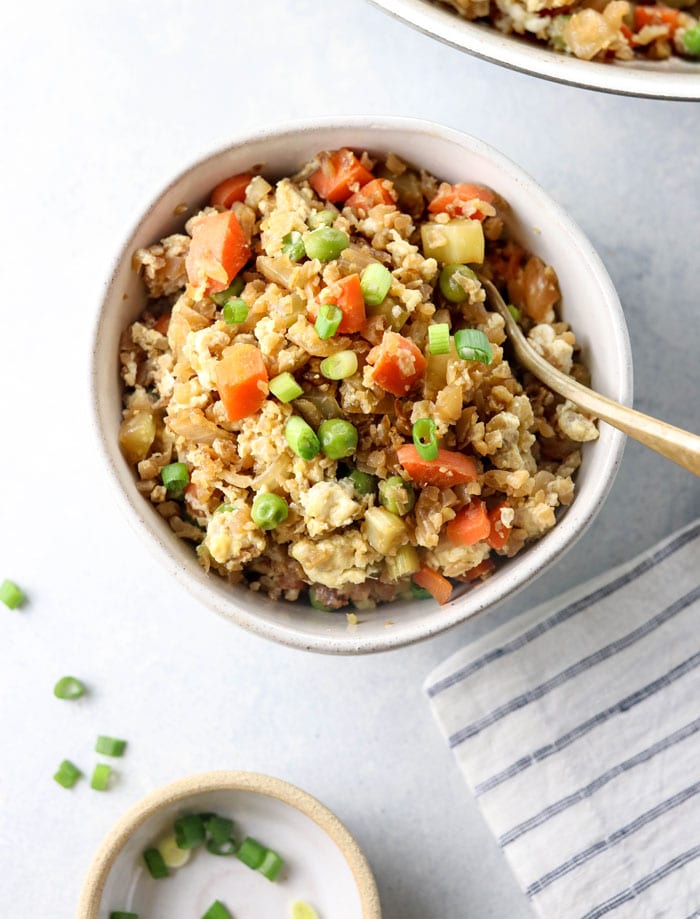 Does Cauliflower Rice Taste like Real Rice?
Cauliflower rice is low in carbohydrates, but it is not quite as neutral in flavor as real rice. You can hide the cauliflower flavor with plenty of seasoning, though! In this case, the tamari (which is gluten-free soy sauce) completely masks the "cauliflower flavor" that some people aren't a fan of.
Whether you typically like cauliflower or not, you'll probably love this cauliflower fried rice. It's fooled my dad and my husband into thinking they're eating the real thing!
Pro Tip: You can ease your family into the idea of cauliflower rice by mixing it with real rice. I start with about a 50/50 mix, so that they get the texture of real rice, with plenty of veggies mixed in!
How to Make Cauliflower Fried Rice
To get started, you'll need some cauliflower rice, which is simply raw cauliflower that has been pulsed in a food processor to create a rice-like texture.
Cauliflower Rice without a Food Processor
No food processor? You can also grate the cauliflower using a box grater for a similar effect. Check out this how to make cauliflower rice tutorial for a video demonstration.
Keep in mind that many stores now offer riced cauliflower in the fresh and frozen produce sections to help you save time and effort, too, though in my opinion freshly made cauliflower rice tastes a million times better.
Once your rice is prepared, making this recipe is quick and easy. You'll just sauté the vegetables you plan to include until they are tender, then add in the cauliflower rice and seasonings at the end, because the rice will cook quickly.
If you need a vegan recipe, you can serve this veggie-based dish as soon as the vegetables are tender. It's a great way to eat a TON of veggies all at once! For more protein, feel free to add eggs or high-quality meat. This recipe is very adaptable.
How Long Does Cauliflower Fried Rice Last?
I love eating these leftovers cold from the fridge, or reheated! Cauliflower rice starts to smell pretty bad after two days in the fridge, so that's as long as I recommend storing this recipe. (Make sure it's in an airtight container so your fridge won't stink, either.)
You can freeze cauliflower rice for up to 3 months in advance, but I recommend freezing it raw, because it's softer when you thaw it later.
How to Make Cauliflower Fried Rice (1-Minute Video):
Cauliflower Fried Rice
Cauliflower fried rice is a delicious way to eat more vegetables, made with cauliflower rice and gluten-free soy sauce. It tastes remarkably like the real thing!
Ingredients
1

tablespoon

olive oil

1/2

yellow onion

, chopped

2

carrots

, chopped

2

celery stalks

, chopped

1

garlic clove

, minced

1

teaspoon

fresh ginger

, minced

1

cup

green peas

(fresh or frozen)

4

cups

cauliflower "rice"

1/4

cup

tamari

(gluten-free soy sauce), plus more to taste

2

eggs

1/2

teaspoon

sesame oil

(optional)
Instructions
Heat the olive oil in a large deep skillet, and saute the onion, carrots, and celery until they start to soften, about 5 minutes. Add in the garlic and ginger, and stir one more minute, just until fragrant.


Add in the peas and cauliflower rice, along with the tamari. Stir to combine, then cover with a lid to let the vegetables cook until tender, about 5 to 8 minutes. Stir occasionally to prevent sticking, and feel free to use a splash of water to remove any vegetables that stick to the bottom of the pan.


To add the eggs, use a spatula to move the cooked fried rice to the edge of the pan, leaving a well in the middle. Add a splash more oil to the center of the pan and then crack the two eggs into the middle of the pan. When you see them start to cook, use a spatula to scramble them in the middle, until cooked through.


Mix the eggs into the rest of the cooked fried rice, and adjust any seasoning to taste, adding more tamari if desired. Serve warm. Leftover rice can be stored in the fridge in an airtight container for up to 4 days.

Notes
This recipe is easy to adapt to your tastes and preferences, too. If you're vegan, simply omit the egg and add some crumbled tofu, instead. For a keto-friendly recipe, leave out the peas and carrots. Feel free to use whatever you have on hand! I think broccoli, snap peas, and mung bean sprouts would be the perfect addition for next time.
Nutrition
Calories:
174
kcal
|
Carbohydrates:
19
g
|
Protein:
10
g
|
Fat:
7
g
|
Saturated Fat:
1
g
|
Cholesterol:
93
mg
|
Sodium:
928
mg
|
Potassium:
798
mg
|
Fiber:
6
g
|
Sugar:
8
g
|
Vitamin A:
5590
IU
|
Vitamin C:
95.3
mg
|
Calcium:
81
mg
|
Iron:
1.9
mg
Nutrition information above is for 1 of 4 servings. This information is automatically calculated, and is just an estimate, not a guarantee.
Recipe Notes:
If you're making this recipe for someone who is gluten-free, make sure you use tamari, which is a gluten-free soy sauce. (Regular soy sauce contains gluten.)
If you need to avoid soy, try using coconut aminos as an alternative to the soy sauce or tamari.
Feel free to use any other veggies you have on hand. This recipe is very adapatable! If you only have dried spices on hand, I'd start with 1/4 teaspoon of dried garlic and ginger, and then add more to your taste.
If you try this recipe, please leave a comment below letting me know how you like it. And if you try a modification, please let me know how that goes, too. We can all benefit from your experience!
—
Reader Feedback: What's your favorite way to serve cauliflower rice? If you haven't tried it yet, you should also try my Mexican Cauliflower Rice Casserole and my Cauliflower Rice Jambalaya.

SaveSave