Cauliflower rice is a staple in our home, because it's easy to make and is a delicious way to add more vegetables to your day. My favorite ways to serve it are in a Cauliflower Fried Rice and in my famous Cauliflower Pizza Crust, but you can also use it in place of rice in nearly any other recipe. It's low in calories and carbohydrates, while being Paleo, and Keto-friendly, and I love how you can make it in just minutes!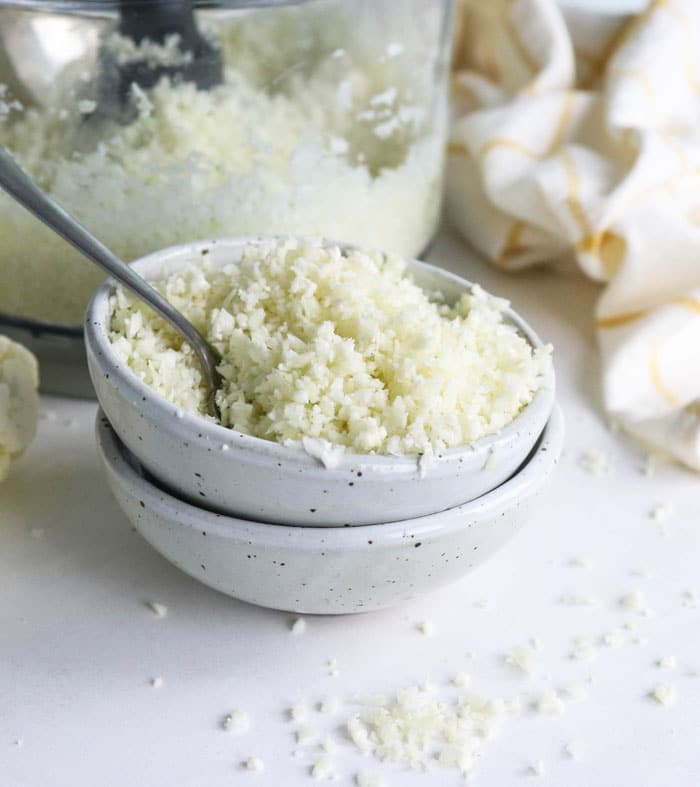 What is Riced Cauliflower?
Cauliflower "rice" is simply cauliflower that has been grated or chopped into rice-like pieces. The texture is similar to rice, and it goes almost unnoticed when you cook it with other flavors, like soy sauce, or serve it with a flavorful coconut curry sauce.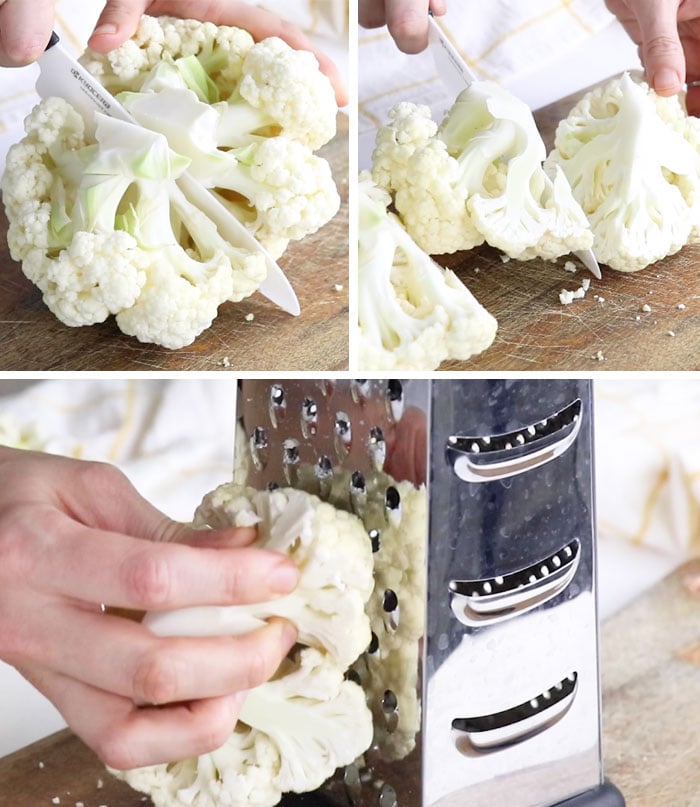 Does Cauliflower Rice Taste Good?
If you like cauliflower, you'll definitely like cauliflower rice, but even if you're not usually a fan of the cruciferous vegetable, I think you should give this "rice" a try. If you're trying this rice for the first time, I recommend that you make it fresh, using one of the two methods below. Freshly made cauliflower rice tastes so much better than the pre-riced cauliflower that you buy at the store.
I imagine that this is due to the fact that the cauliflower rice at the store is probably older, and therefore smells stronger and doesn't have as great of a texture. Frozen cauliflower rice is great for using in pizza crust and even in smoothies, but I don't use it for a "fried rice" recipe as often because I think the flavor is a little stronger when compared to fresh, and the texture isn't as firm once it thaws.
What are the Benefits of Cauliflower?
Cauliflower rice is probably the most popular with Paleo and low-carb crowds, because cauliflower is low in calories and carbohydrates. One cup of cauliflower rice has only 25 calories and 3 net carbs, while a cup of cooked brown rice has 218 calories and 42 grams of net carbs.
Cauliflower is also loaded with nutrients! Here's why I love it:
If you're following a grain-free diet, or are just trying to add more vegetables into your day, cauliflower rice makes an easy solution. You can even mix it into real rice to help make the transition a little easier.
How Long Does Cauliflower Rice Last?
Cauliflower rice tastes the best the day you make it, but you can store it in an airtight container in the fridge for up to 2 days. (After that, it starts to get softer in texture and smells unpleasantly pungent.)
For a longer shelf life, you can freeze cauliflower rice for up to 3 months. I think frozen cauliflower rice works best for making pizza, like my Vegan Cauliflower Pizza Crust, or in a low-sugar smoothie, and it could also work in my Mexican Cauliflower Rice Casserole.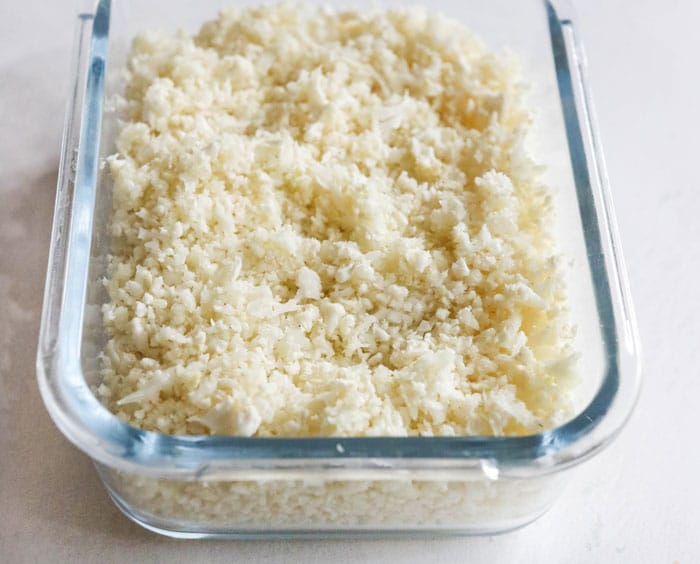 How to make Cauliflower Rice ( 1-Minute Video):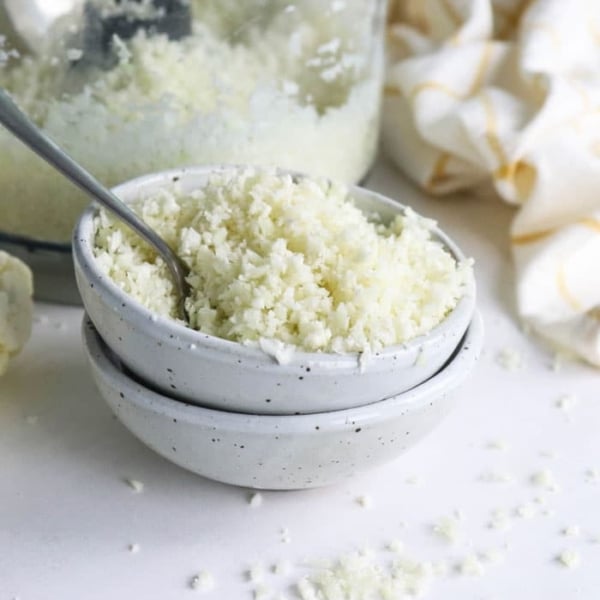 How to Make Cauliflower Rice (Two Ways!)
Here's how to make cauliflower rice in just minutes, using either a box grater or food processor.
Instructions
Method 1: Box Grater
Remove the leaves from the head of cauliflower, then slice the cauliflower into 4 large chunks through the center of the stem.

Using the side of the box grater with the largest holes, hold one piece of the cauliflower at the stem, and grate the cauliflower florets into a rice-like texture. Repeat the process with the remaining 3 pieces, until all of the cauliflower is riced. You'll need to stop grating when your knuckles get too close to the sharp surface, so you can dice anything that is leftover with a knife.
Method 2: Food Processor
Remove the leaves from the head of cauliflower, and cut the caulflower into small florets. Small, relatively similar-sized pieces ensure that the food processor will break down everything evenly, but you don't have to dice it or anything.

Transfer the cauliflower florets to a food processor fitted with an "S" blade, and process until a rice-like texture is achieved. I like to pulse the food processor a few times, to make sure no large chunks remain.

The cauliflower rice is now ready to use! You can serve it raw, like in a Cauliflower Tabbouleh Salad, or saute it for a Cauliflower Fried Rice. Leftover raw cauliflower rice can be stored in an airtight container in the fridge for up to 2 days, or in the freezer for up to 3 months.
Nutrition
Calories:
113
kcal
,
Carbohydrates:
23
g
,
Protein:
9
g
,
Fat:
1
g
,
Saturated Fat:
1
g
,
Sodium:
136
mg
,
Potassium:
1356
mg
,
Fiber:
9
g
,
Sugar:
9
g
,
Vitamin C:
218.6
mg
,
Calcium:
100
mg
,
Iron:
1.9
mg
Cauliflower Rice Nutrition (per cup): Calories: 25, Fat: 0g, Carbohydrates: 5g, Fiber: 2g, Protein: 2g
Recipe Notes:
If you don't have cauliflower on hand, broccoli can also be "riced" using the same methods. It just won't fool anyone thanks to its color.
If you give cauliflower rice a try, let me know what you think about it! And if you have any other tips or tricks to share, please leave a comment below so we can all benefit from your experience.
–
Reader Feedback: What's your favorite way to use cauliflower rice?