This easy oatmeal tastes like zucchini bread in a bowl. It's packs a healthy dose of vegetables into each bite, and is a properly combined way to enjoy oatmeal for breakfast.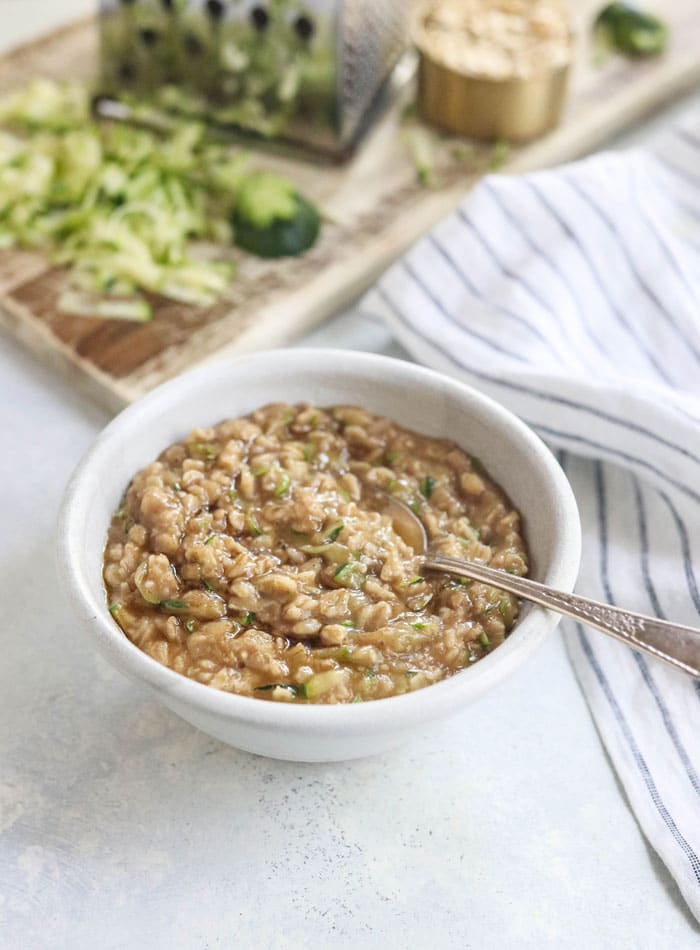 When it comes to food combining, I'm often asked what you can eat on top of oatmeal for a properly combined meal. Most people like to top their oatmeal with fresh fruit (which is also a healthy choice), but vegetables make an even better option when it comes to streamlining your digestion and reducing bloat.
Fruit digests very quickly, and is also very cleansing. Because of that, people who practice food combining believe it's best to eat fruit on its own, so that it can digest quickly and have its nutrients absorbed as efficiently as possible. (Without any other foods slowing them down.) Instead of enjoying fruit on top of your oatmeal, simply enjoy it an hour or so beforehand to maximize your digestion.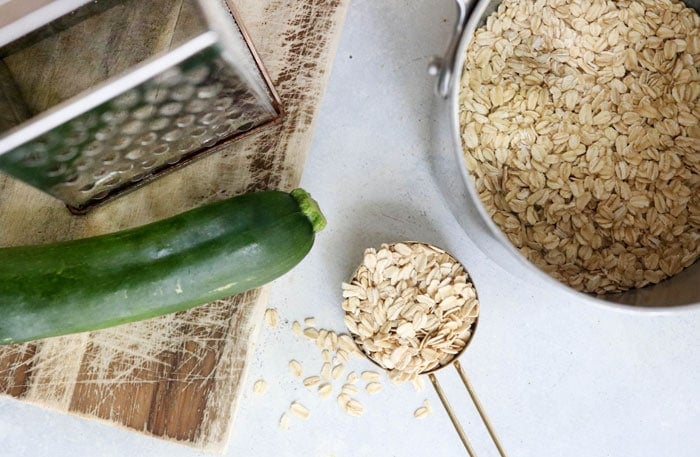 This comforting bowl of oats is brimming with zucchini and some classic zucchini bread spices like cinnamon, which is thought to help balance blood sugar levels, and nutmeg. What's even better, is that it's easier to make than zucchini bread, because you don't need to drain any moisture from the zucchini– you'll naturally simmer it off as you cook the oatmeal.
How to Make Zucchini Oatmeal
I made this batch of oatmeal using old-fashioned rolled oats, but you can use steel cut oats if you prefer– the cooking time will just be longer, in that case. (I prefer to make steel cut oats in the Instant Pot, because it's more hands-off.) To make this zucchini bread version, simply add shredded zucchini, a splash of maple syrup, and a some spice to the oatmeal for an added dose of flavor and nutrients.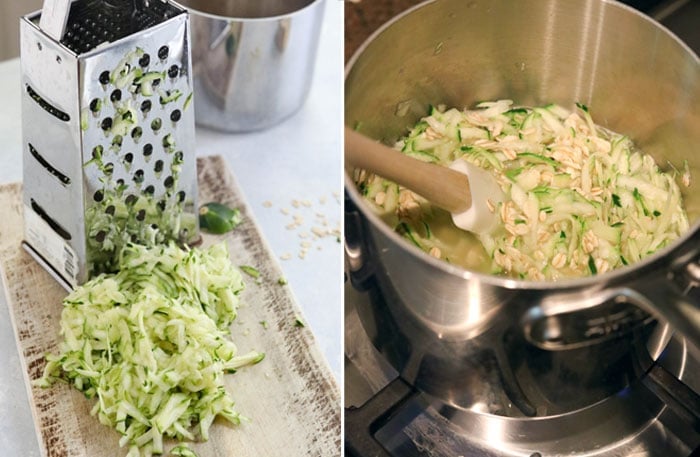 I like to go a little heavy-handed with the cinnamon, since it's packed with antioxidants and has anti-inflammatory properties, but feel free to season your oatmeal to your personal taste. I find nutmeg pretty overpowering in flavor, so a teeny-tiny bit goes a long way.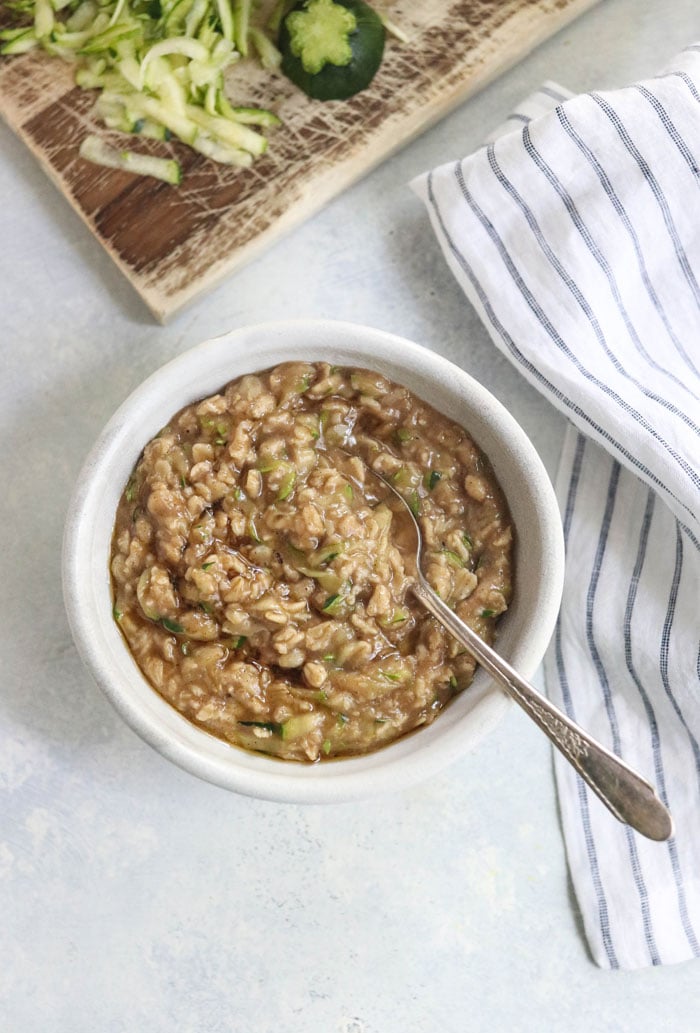 Easy Zucchini Oatmeal
STARCH | Gluten-free, Dairy-free, Nut-free, Soy-free, Egg-free, Vegan
This healthy oatmeal tastes like zucchini bread in a bowl, and packs a dose of veggies in each bite. It's also properly combined for streamlined digestion.

Ingredients
1

cup

old-fashioned rolled oats

(certified gluten-free, if needed)

1 3/4

cups

water

1

zucchini

, shredded

1

teaspoon

ground cinnamon

Pinch of

ground nutmeg

Pinch of

salt

2

tablespoons

maple syrup

(or sweetener of choice)
Instructions
Combine the oats, water, zucchini, cinnamon, nutmeg, and salt in a small saucepan over high heat on the stove. Bring the mixture to a boil.


Once boiling, lower the heat and simmer until the oats are tender, about 5 minutes, stirring often. Add the maple syrup to taste, and serve warm.

Nutrition
Calories:
226
kcal
,
Carbohydrates:
44
g
,
Protein:
6
g
,
Fat:
2
g
,
Sodium:
23
mg
,
Potassium:
447
mg
,
Fiber:
5
g
,
Sugar:
14
g
,
Vitamin A:
195
IU
,
Vitamin C:
17.6
mg
,
Calcium:
75
mg
,
Iron:
2.1
mg
Per serving: Calories: 226, Fat: 2g, Carbohydrates: 44g, Fiber: 5g, Protein: 6g
Recipe Notes:
If you'd like to make this with steel cut oats, you'll need to simmer the oats for closer to 25 minutes. If you don't want to stand over the stove, use an Instant Pot instead.
For quick-cooking oats, you'll only need to cook them for 1 minute until tender.
—
Reader Feedback: How do you like to top your oats?