If you haven't tried cooking sweet potatoes in the air fryer yet, I hope today's post will be your motivation! Air Fryer Sweet Potatoes cook quickly, with little oil, and make a perfect healthy side dish. You can cook them cubed or whole!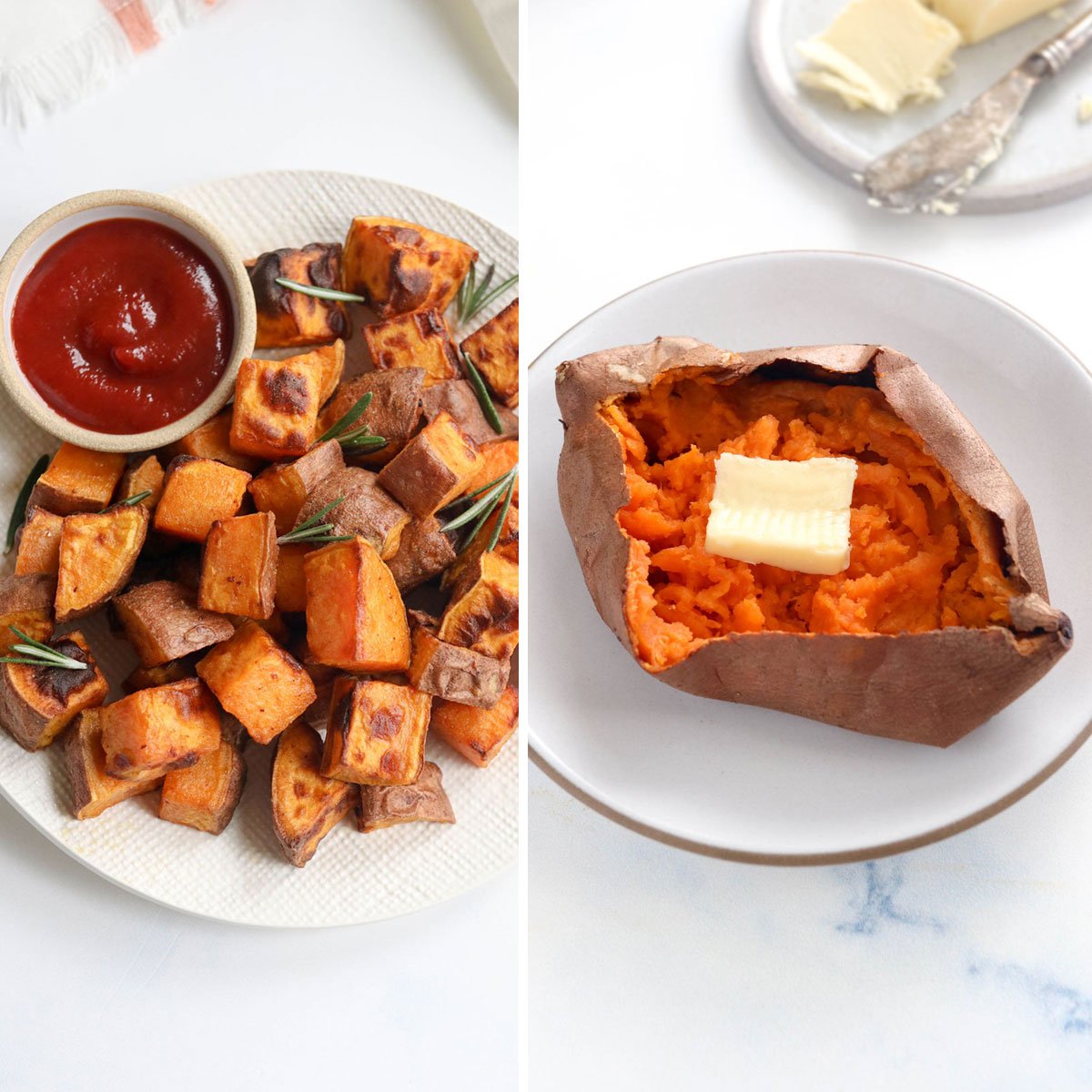 Do Sweet Potatoes Need to Be Soaked in Water?
If you've tried my classic Air Fryer French Fries, you may already be aware that soaking potatoes in water is thought to draw out some of their starches, resulting in a crispier result when they are cooked.
Sweet potatoes don't get as crispy as white potatoes, so I think it's important to set your expectations accordingly. In my experience, soaking sweet potatoes doesn't make a huge difference in how crispy they turn out, so I personally skip this step to save myself the extra time and effort.
To make crispier sweet potatoes, you can try my Air Fryer Sweet Potato Fries, which have a light coating that help them crisp up. Cutting the potatoes into thin shapes also helps with crispiness. The thinner you cut them, the crispier they will be.
It's also important to serve them right away, as most foods will soften as they cool.
Cubed Sweet Potatoes in the Air Fryer
Cutting sweet potatoes into 1- or 2-inch cubes is the fastest way to cook them in the air fryer. The small size means they will cook quickly, and I like to toss them in seasonings for a savory "home fries" result.
These are my favorite seasonings to pair with sweet potatoes:
Garlic Powder
Onion Powder
Chili Powder
Fresh rosemary
Salt
You can see my go-to spice blend in the printable recipe below. What I love about this cubed method is that there's very little prep work to do, and they are ready to eat in just about 20 minutes. It's faster than cooking them in the oven!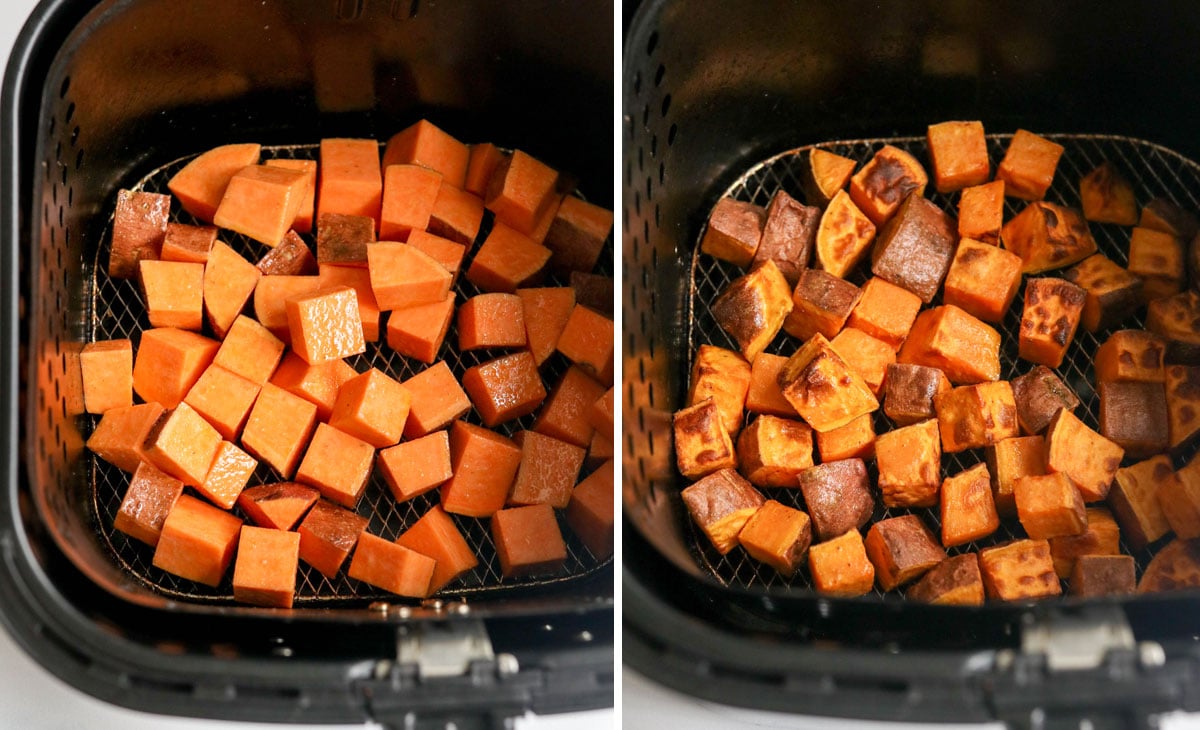 Air Fryer Baked Sweet Potatoes
I love cooking baked sweet potatoes in the air fryer, because the skin gets nice and crispy, while the interior cooks to tender perfection.
When it comes to baked sweet potatoes, choosing the right shape will ensure your success. Look for potatoes that are narrow, rather than super-wide or awkwardly shaped, to get potatoes that will cook evenly. I prefer to cut wider sweet potatoes into cubes, for more guaranteed results.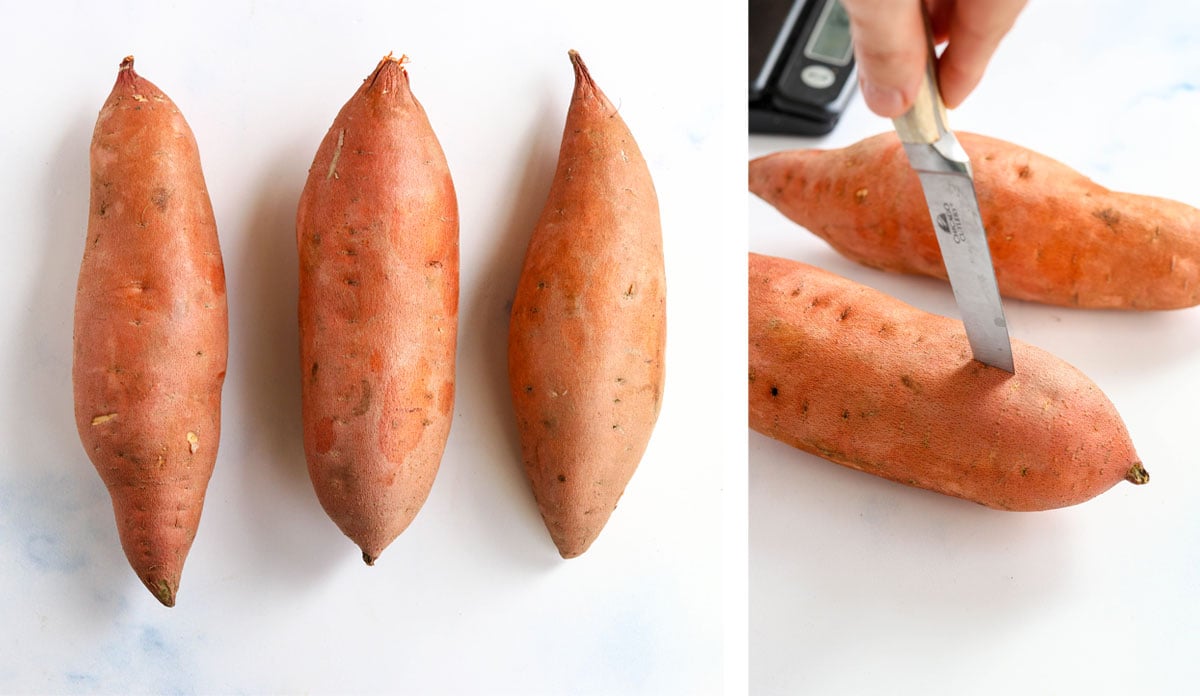 Just like baking a potato in the oven, to cook sweet potatoes in the air fryer you'll pierce them to vent, then rub the skins with olive oil and salt. That's all you need to do before they start cooking!
Air Fryer Cooking Time and Temperature for Sweet Potatoes
Since cubed sweet potatoes cook quickly, I like to cook them at 360ºF for 20 minutes. If you cut them into smaller pieces, they could cook in as little as 15 minutes, so I always like to check on them at the 15-minute mark to remove any that could be done. Then I shake the basket to turn the potatoes, and return them to cook for 5 more minutes.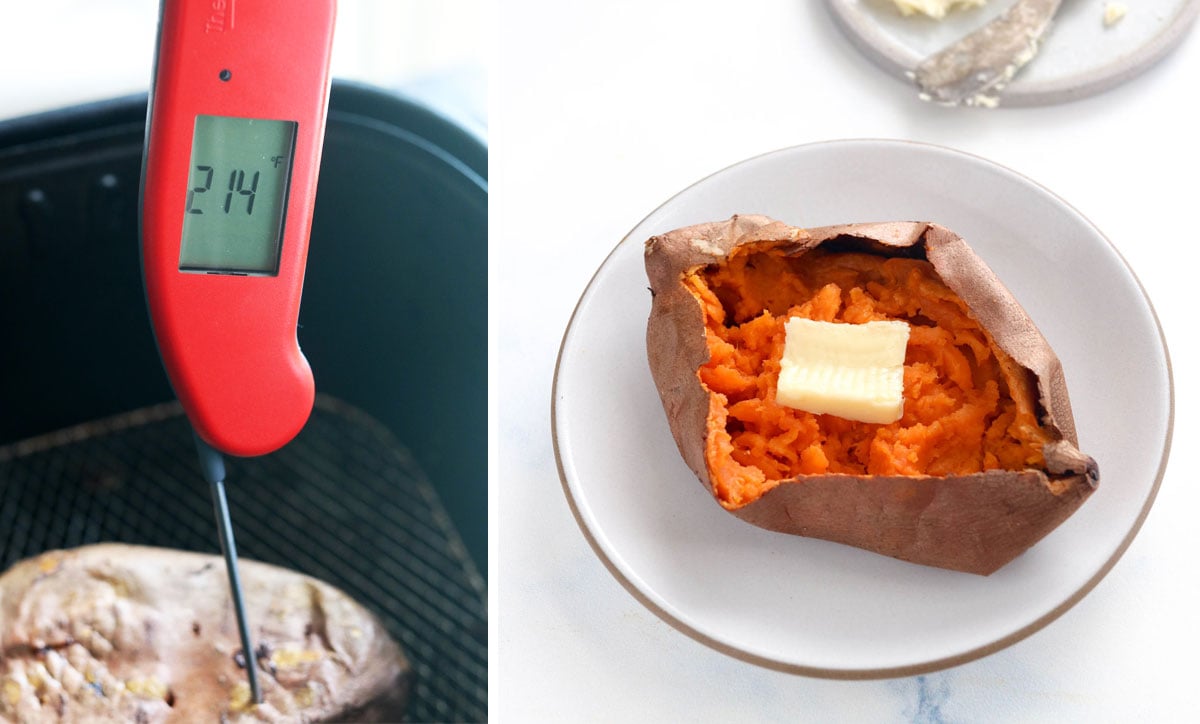 To cook baked sweet potatoes in the air fryer, I go by these guidelines:
6 ounces or less: 30 minutes at 400ºF
7 to 12 ounces: 45 minutes at 400ºF
12 ounces or more: 1 hour at 400ºF
The cooking times above are general guidelines based on my experience, but the most fool-proof system I've found to make sure a potato is done in the middle (without cutting it open) is to take its internal temperature with a meat thermometer. If the potato has reached 207ºF or higher, the potato should be perfectly tender in the center.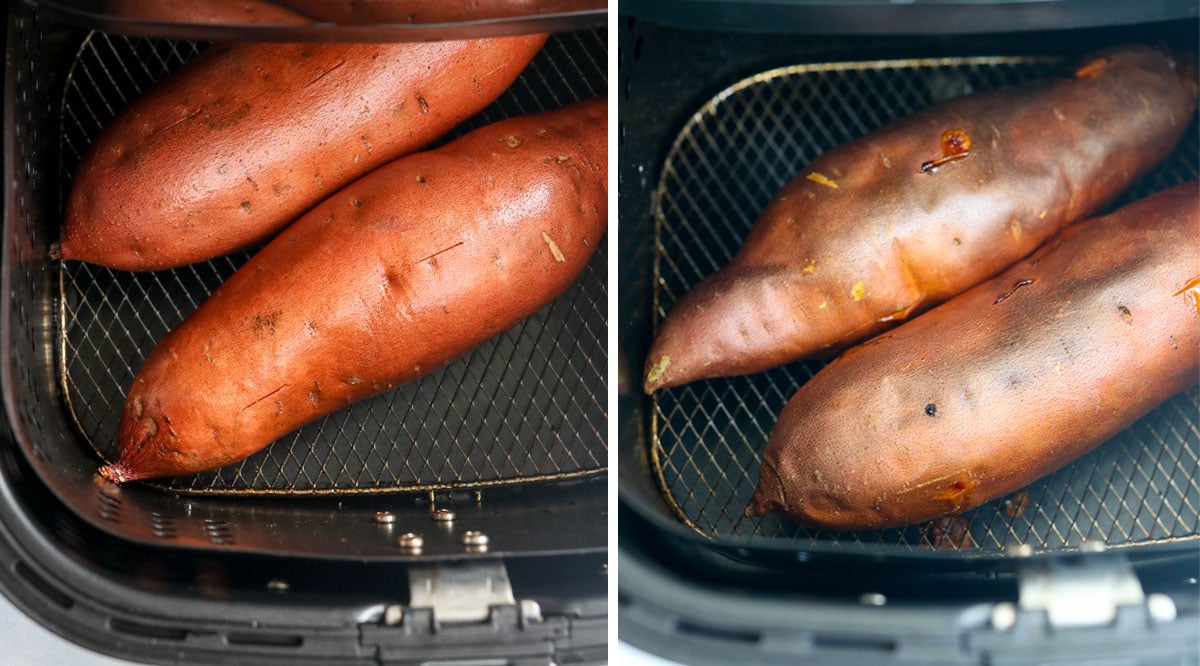 Sweet Potato Recipes
If you cook more sweet potato than you can eat in one sitting, I have several recipes to help you use up your leftovers!
Air Fryer Sweet Potatoes (Baked or Cubed)
Here's how to cook perfect Air Fryer Sweet Potatoes! You can bake them whole, or cubed for a faster side dish.
Equipment
Ingredients
Cubed Sweet Potato "Home Fries"
1

pound

sweet potatoes

1

tablespoon

olive oil

1/2

teaspoon

garlic powder

1/2

teaspoon

onion powder

1/2

teaspoon

fine sea salt
Baked Sweet Potatoes
2

(8 ounce)

sweet potatoes

, narrow in shape

olive oil
Instructions
Cubed Sweet Potatoes
Cut the potatoes into 1-inch cubes and transfer them to a large bowl. Toss them with the olive oil, garlic powder, onion powder, and salt, coating them evenly.

Transfer the potatoes into the air fryer basket, arranging them in a single layer. Cook for 15 minutes at 360ºF.

When the time is up, check on the potatoes and remove any small pieces that might be done. Shake the basket to turn the potatoes, then return to cook for another 5 minutes at 360ºF. The potatoes are done when they are golden on the outside, and easily pierced with a fork. Serve warm right away, as they will soften as they cool.
Baked Sweet Potatoes
Scrub the potatoes well, then dry and pierce each potato with a knife several times to vent. Rub the skins with olive oil and season generously with salt.

Place the potatoes in the air fryer basket, and cook at 400ºF for 45 minutes, or until the potatoes reach an internal temperature of 207ºF when you check them with a meat thermometer. (This timing is for an 8 oz. potato; see notes for other weights.)

Serve warm, with your favorite toppings. Leftover sweet potato can be used in a number of ways, so be sure to check out the recipe ideas mentioned in this post!
Notes
Baked Sweet Potato Cooking Times by Weight:
6 ounces or less: 30 minutes at 400ºF
7 to 12 ounces: 45 minutes at 400ºF
12 ounces or more: 60 minutes at 400ºF
Nutrition
Calories:
261
kcal
|
Carbohydrates:
47
g
|
Protein:
4
g
|
Fat:
7
g
|
Saturated Fat:
1
g
|
Sodium:
707
mg
|
Potassium:
764
mg
|
Fiber:
7
g
|
Sugar:
10
g
|
Vitamin A:
32176
IU
|
Vitamin C:
5
mg
|
Calcium:
68
mg
|
Iron:
1
mg
Nutrition information is automatically calculated based on an 8 ounce potato, and is an estimate, not a guarantee. Be sure to look at the labels on your ingredients at home for a more accurate calculation.
If you try this cooking method, please leave a comment below letting me know how you like it! And if you make any modifications, I'd love to hear about those, too. We can all benefit from your experience!
–
Reader Feedback: What's your favorite way to serve sweet potatoes?