One of my favorite things about an air fryer is how it makes perfect baked potatoes. The skin is nice and crispy on the outside, and while the insides are perfectly fluffy and tender. Below, I'll show you how to choose the right cooking time to get delicious results every time.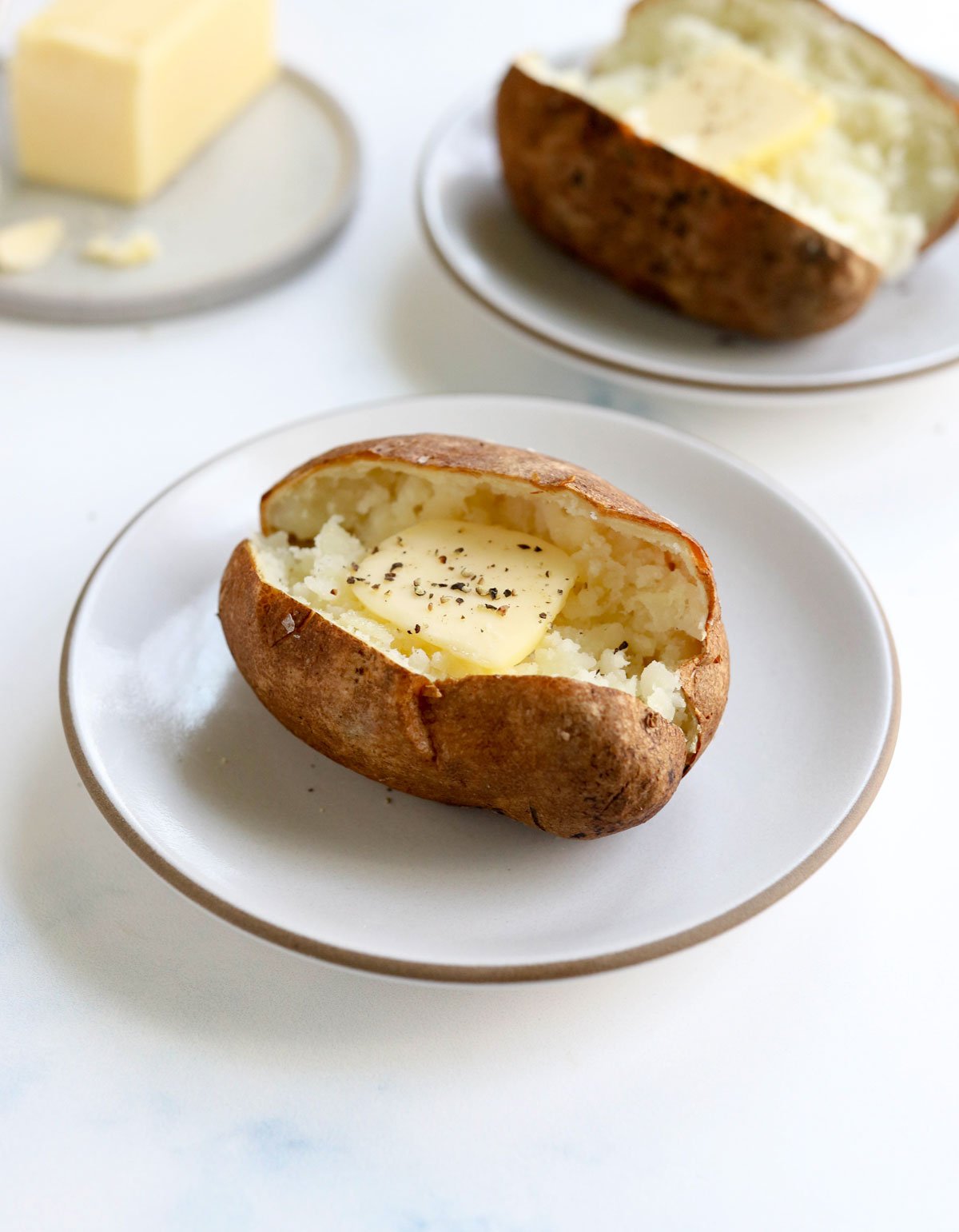 How to Prepare Baked Potatoes
First, choose baking potatoes that are roughly the same size for even cooking. I like to use Yukon Gold potatoes because the insides have a creamier texture, but Russet potatoes work, too.
The more narrow your potato, the better. Potatoes that are very thick in the middle or are lopsided will cook unevenly, and it will be more challenging to get the very center of the potato cooked thoroughly.
Next, scrub the potatoes well to remove any dirt, then pierce them several times with a knife or fork (I find that it's easier with a knife), to help them vent.
Then rub the potatoes with olive oil and then sprinkle them with sea salt. This will create a crispy and flavorful skin!
Can you Put Aluminum Foil in the Air Fryer?
Unlike a microwave, you can use aluminum foil in an air fryer, since it's more similar to an oven. If you don't want your baked potato skins to get too crispy, you can cover the potatoes in aluminum foil if you would like to.
I personally avoid using aluminum when possible, since cooking with it may leach small amounts of aluminum into your food. This study suggests that wrapping meat in aluminum foil can significantly increase its aluminum content. The increase ranged from 89% to 378% higher aluminum in red meat, and 76% to 215% in poultry. But, the choice is up to you!
How Long to Cook Potatoes in an Air Fryer
Baking potatoes is easy, so the only challenge is determining how long to cook them. After cooking potatoes in my air fryer for over a month, I've found that the following cooking times result in perfect baked potatoes.
For potatoes that weigh:
8 oz. or less: Bake at 400ºF for 45 minutes
9 oz. to 16 oz. = Bake at 400ºF for 1 hour
Over 16 oz: Bake 400ºF for 1 hour and 15 minutes (or until an internal temperature of 207ºF is reached)
I use a kitchen scale to weigh my potatoes, so that I'll have a good idea of how long they'll need to cook, but you can also use a thermometer to check the temperature of the middles. (Just like you would when cooking meat!) I've found that an internal temperature of 207ºF to 210ºF is usually a good sign that the potatoes are tender all the way through.
Which is the Best Air Fryer?
If you've been following along on Instagram, you may have seen that I've tested 4 different models of air fryers at this point. I'm always curious to see how different machines affect my recipes, so I tested two nearly identical potatoes at the exact same cooking time in both my NuWave air fryer and the Cuisinart Air Fryer.
The resulting potatoes were both perfectly cooked on the inside, but the potato that was cooked in the Cuisinart model was almost too crispy on the outside. I believe the Cuisinart model runs nearly 50ºF hotter than the basket-style air fryers I've worked with, so keep that in mind when following air fryer recipes online.
I preferred the potato from my NuWave air fryer in this particular test run, because the skin wasn't quite so crunchy, but I've used this baked potato timing in my Instant Vortex and the Breville air fryer, as well, and all of them worked successfully.
Air Fryer Baked Potatoes (Perfect Every Time!)
Here's how to cook perfectly fluffy baked potatoes in your air fryer. I love how crispy the skin gets on the outside!
Ingredients
2

(8 oz or smaller)

Baking potatoes

, I like Yukon Gold or Russet

olive oil
Instructions
Scrub the potatoes to remove any dirt, then dry well and pierce them several times with a fork or knife to vent. (I think it's easier to pierce them with a knife.)

Rub the potato skins with olive oil and season them generously with salt. Arrange them on the air fryer basket. (I don't bother preheating the air fryer, but you can if you want to.)

Set the air fryer to cook at 400ºF for 45 minutes. (If using a larger potato, see the Notes.) I like to turn the potatoes over halfway through the cooking time, but sometimes I forget and they still turn out just fine!

The potato should be crispy on the outside and tender on the inside. You can use a thermometer to make sure the internal temperature of the potato has reached roughly 207ºF, which will ensure a fluffy result. Cut the potatoes in half, fluff the middle with a fork, and then serve with your favorite toppings.

Leftover baked potatoes can be stored in an airtight container in the fridge for up to a week. You can reheat baked potatoes in the air fryer for 5-10 minutes at 360ºF. (This works best if they are cut in half already, so the middles heat through faster.)
Notes
Cooking times based on potato weight:
8 ounces or less: Bake at 400ºF for 45 minutes
9 to 16 ounces: Bake at 400ºF for 1 hour
16+ ounces: Bake at 400ºF for 1 hour and 15 minutes, or until the center reaches an internal temperature of 207ºF
A really small potato might bake in closer to 30 minutes, but these weights take into account that you are baking medium to large potatoes as a side dish. If you prefer cubed potatoes, try my Crispy Air Fryer Potatoes recipe to cook them faster.
Nutrition
Calories:
168
kcal
|
Carbohydrates:
38
g
|
Protein:
5
g
|
Fat:
1
g
|
Saturated Fat:
1
g
|
Sodium:
11
mg
|
Potassium:
888
mg
|
Fiber:
3
g
|
Sugar:
1
g
|
Vitamin C:
12
mg
|
Calcium:
28
mg
|
Iron:
2
mg
Nutrition information above is automatically calculated using generic ingredients, and is only an estimate, not a guarantee.
If you try this method, please leave a comment below letting me know how it works out for you! And if you make any modifications, I'd love to hear about those, too. We can all benefit from your experience.
–
Reader Feedback: What do you use your air fryer for most often? We bought it to make french fries, but now I'm cooking all sorts of veggies in it!