These crispy Air Fryer Potatoes have quickly become one of my family's favorite side dishes. They take only a few minutes of hands-on time, then they cook to crispy perfection in the air fryer!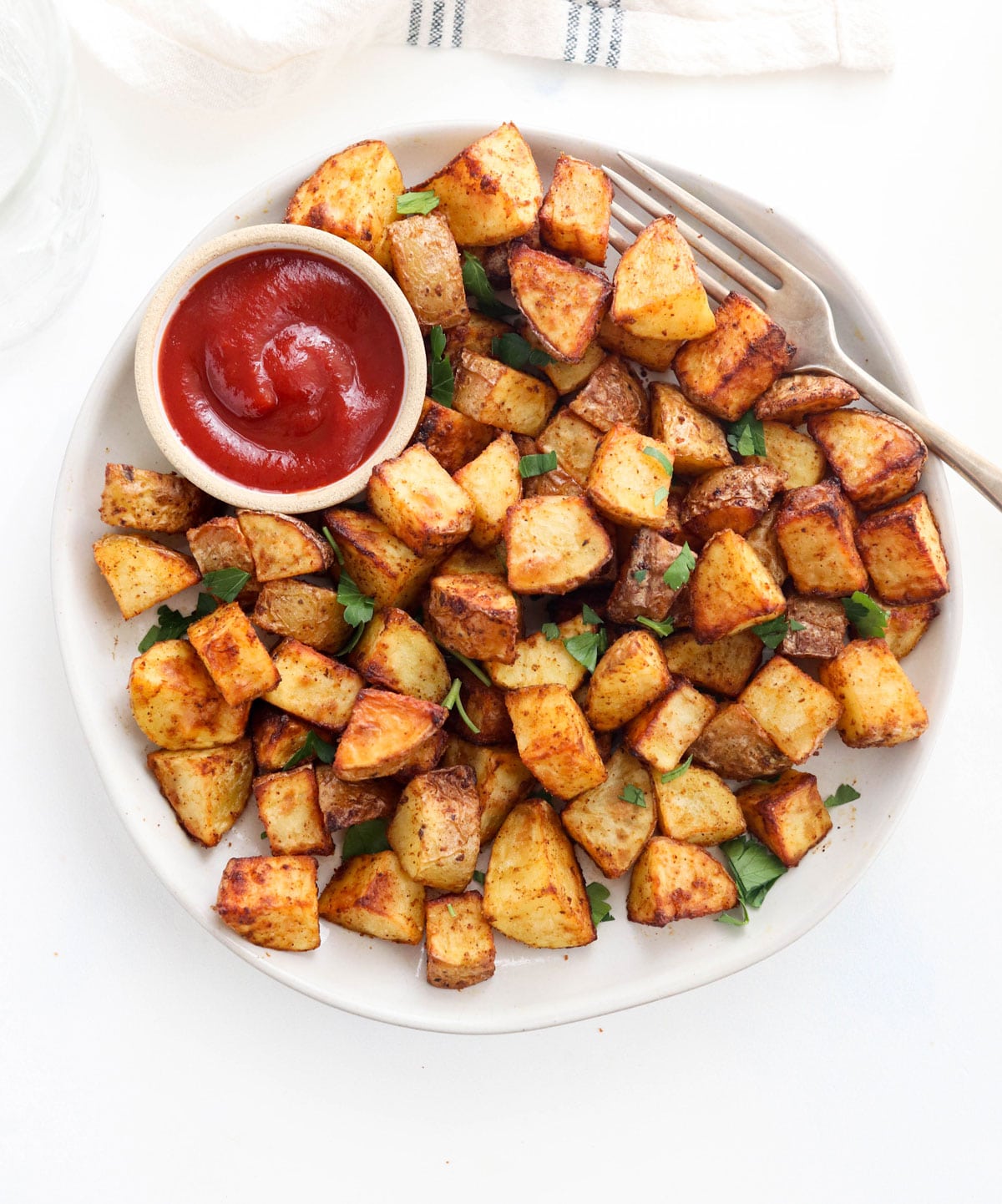 How to Prepare the Potatoes for Air Frying
To prepare the potatoes, you simply have to cut them into bite-sized chunks, about 1 to 2 inches thick. The smaller you cut the potatoes, the faster they will cook, so it's most important that you try to cut the potatoes into similar sizes, so that they will cook evenly.
Toss the potato chunks in a little bit of olive oil and your favorite seasonings (see mine in the recipe below), then arrange them in a single layer in your air fryer basket. My air fryer can hold about 1 pound of potatoes at a time, without them overlapping.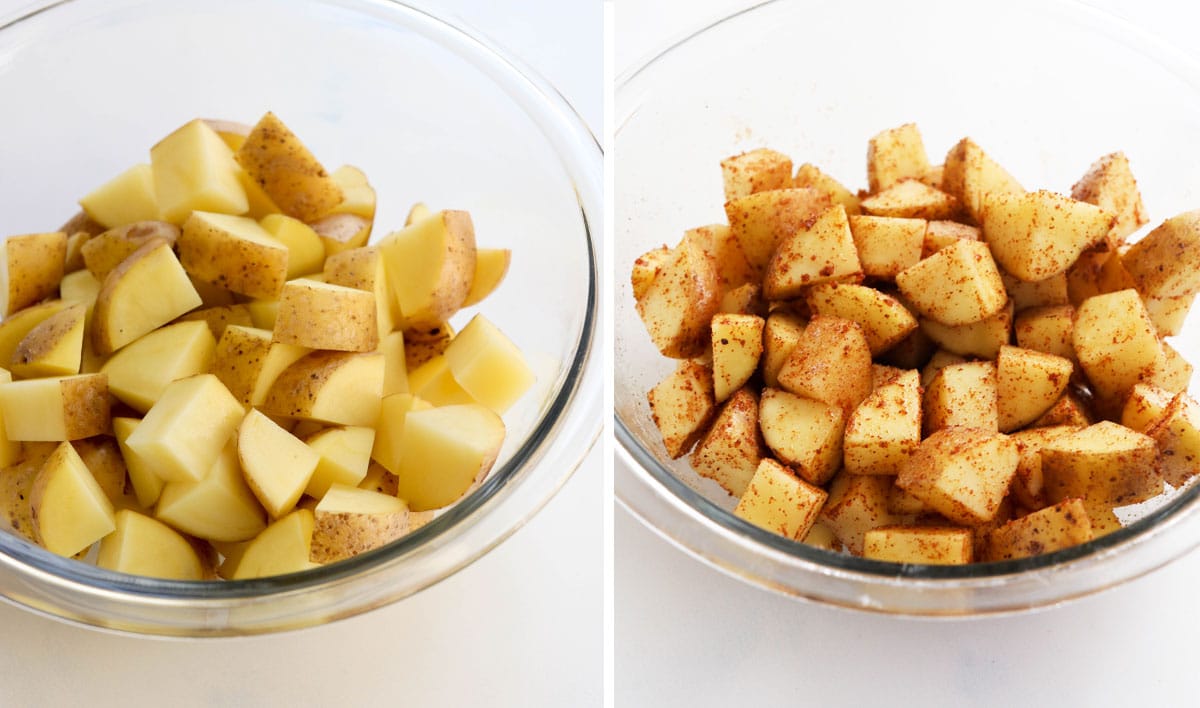 Do You Have to use Oil?
A benefit of using an air fryer to cook anything is that you can get crispy results, while using a lot less oil than you would for deep frying.
In theory, you can cook in the air fryer without using oil, but the resulting food could potentially be dry in texture. I like to use about a tablespoon of oil when cooking in the air fryer, so that these potatoes get nice and golden, with a melt-in-your-mouth texture. Feel free to experiment with the amount you use to see what you like best!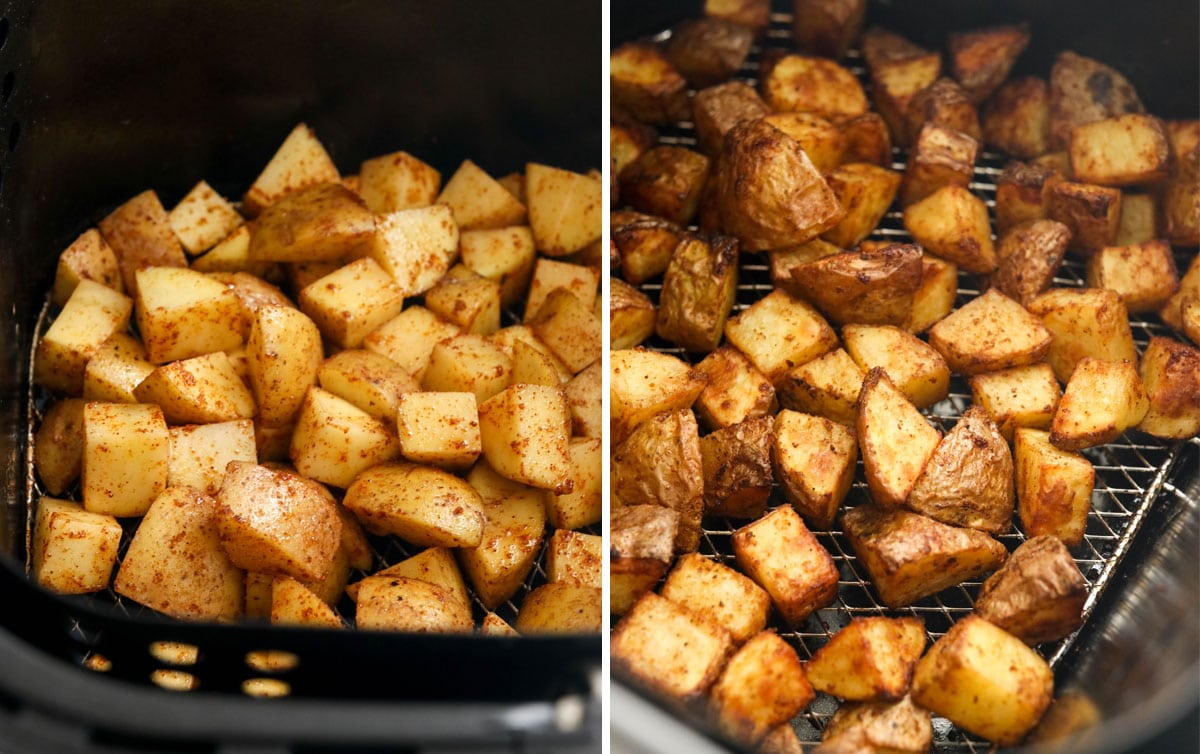 Which is the Best Air Fryer?
When choosing the best air fryer, I like to take into consideration your budget and space needs. I've experimented with 4 brands of air fryers at this point, and my favorite two so far are the Instant Vortex (a basket-style model) and the Cuisinart Air Fryer (which is a mulit-purpose convection oven).
Note: I recently received a Breville Air Fryer, which is even larger and more expensive than the Cuisinart model I mentioned above. It holds a lot more food, but I will need to test it several more times before I can recommend it or not! I've used the two machines I mentioned above for over a month each, so I feel more confident in recommending those so far.
The basket-style air fryers tend to be more affordable, so that's where I recommend starting if you're not sure how much you'll use an air fryer. The perk of the more expensive convection oven models is that they tend to serve more than one purpose, and can hold more food.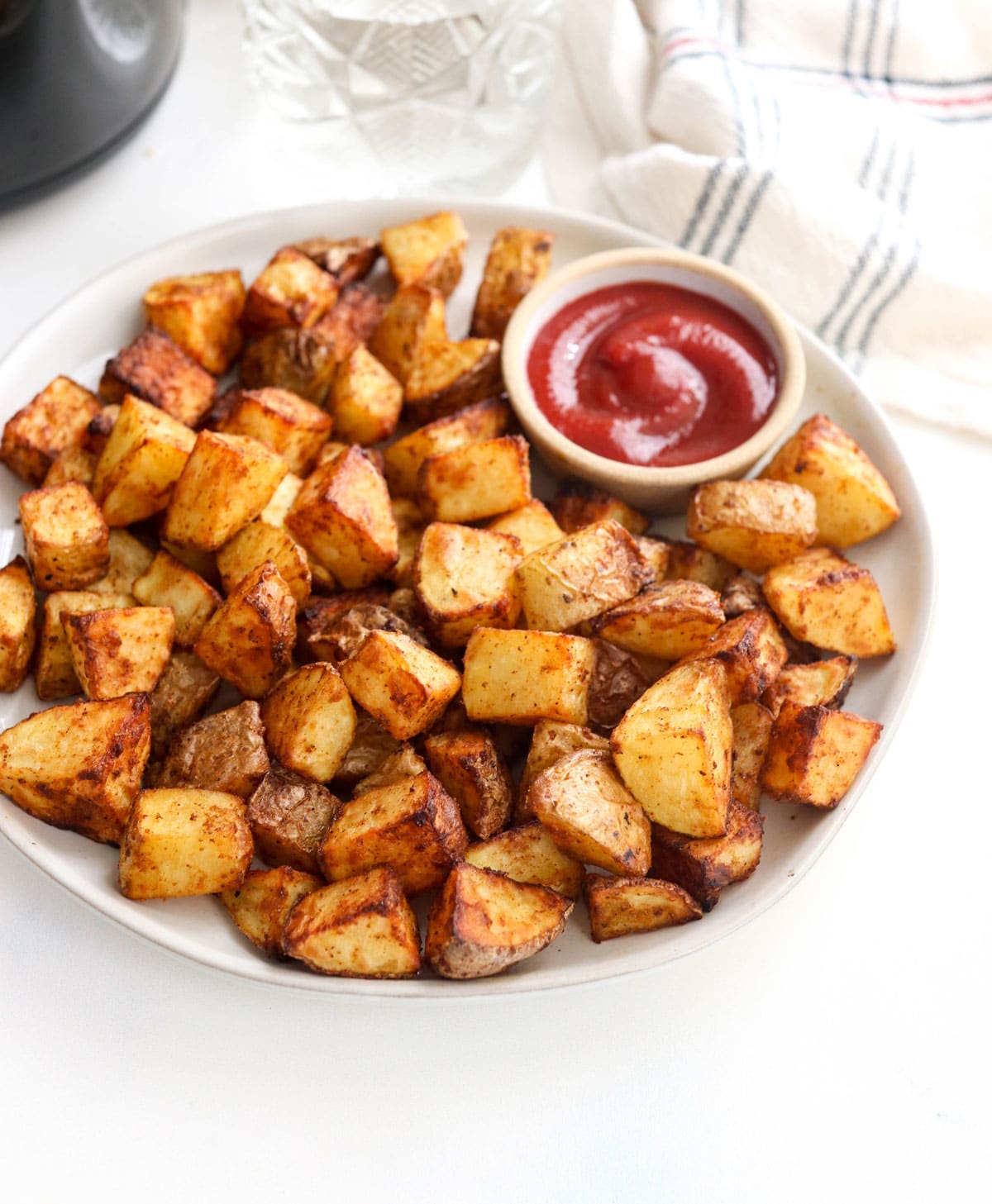 Note: If you own the same Cuisinart Air Fryer that I do, keep in mind that it tends to run hotter than the basket-style air fryers, so you might want to lower the temperature by up to 50ºF when working with air fryer recipes, or the food could burn on the outside. (So, if a recipe calls for cooking something at 400ºF, set the Cuisinart to 350ºF instead.)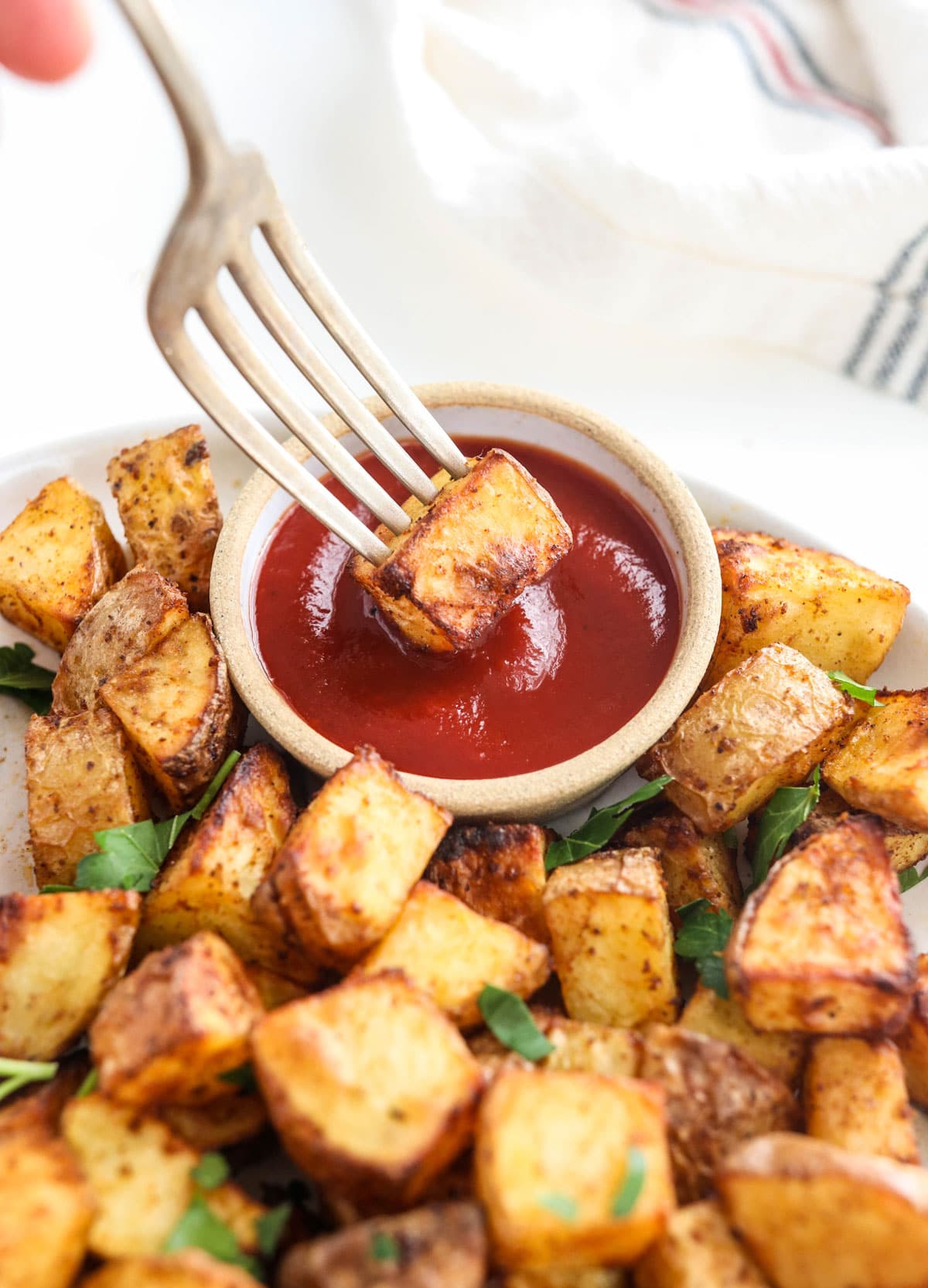 More Air Fryer Recipes:
I've got more air fryer recipes coming for you soon, but in the meantime you should try the following tutorials that are already up.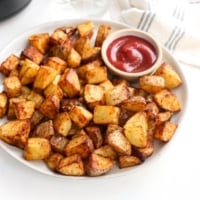 Crispy Air Fryer Potatoes
These Air Fryer Potatoes are quickly becoming my family's favorite side dish! They are perfectly crispy on the outside and tender on the inside, and cook in just 20 minutes.
Ingredients
1

pound

yukon gold potatoes

(or similar)

1

tablespoon

extra-virgin olive oil

1/2

teaspoon

garlic powder

1/2

teaspoon

onion powder

1/4

teaspoon

paprika

1/2

teaspoon

fine sea salt
Instructions
Preheat the air fryer to 360ºF, then cut the potatoes into 1- or 2-inch chunks, trying to keep them similarly sized so that they will cook evenly.

In a large bowl, toss the potato chunks with the olive oil, garlic powder, onion powder, paprika, and salt. (You can use only olive oil and salt if you prefer, but this seasoning combination is really good!)

Arrange the seasoned potatoes into a single layer in your air fryer basket, making sure that the potatoes aren't touching as much as possible. Cook for 15 minutes at 360ºF.

When the timer goes off, remove any smaller pieces that might be done, then shake the basket, and return the remaining potatoes to cook for another 5 minutes. The potatoes are done with they are golden on the outside and tender on the inside. They should be easily pierced with a fork.

Serve warm! Leftover potatoes can be reheated in your air fryer using the same temperature for about 5 to 10 minutes, depending on how thickly you sliced them.
Video
Notes
You can also use this method for cooking other varieties of white potatoes, such as Russets or red potatoes.
Nutrition
Calories:
99
kcal
,
Carbohydrates:
15
g
,
Protein:
3
g
,
Fat:
4
g
,
Saturated Fat:
1
g
,
Sodium:
303
mg
,
Potassium:
468
mg
,
Fiber:
3
g
,
Sugar:
1
g
,
Vitamin A:
62
IU
,
Vitamin C:
13
mg
,
Calcium:
34
mg
,
Iron:
4
mg
Nutrition info above is automatically calculated using generic ingredients, which may not always be accurate. For more accurate results, be sure to use the labels on the back of your ingredients at home.
If you try this recipe, please leave a comment below letting me know how you like it. And if you make any modifications, I'd love to hear about those, too! We can all learn from your experience.
–
Reader Feedback: What's your favorite thing to make in the air fryer? I'd love to hear what you want me to make next!