If you've ever dined at the Veggie Grill, you may have already tasted their "All Hail Kale" salad. It's ridiculously delicious.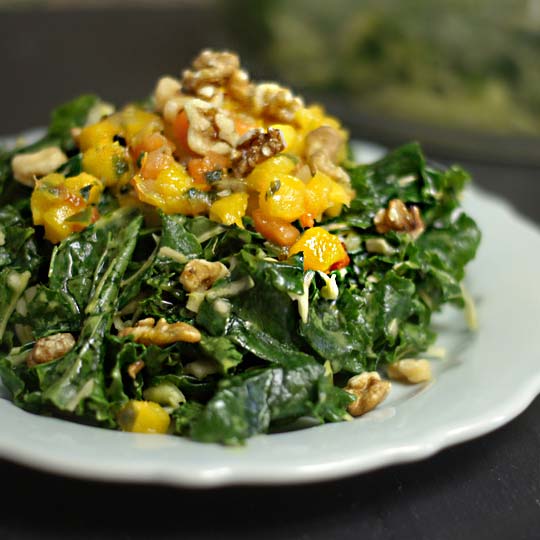 In fact, it's the kind of salad you'd serve to people who claim they don't like salad.
They'd eat their words. And then, more salad.
Since we don't dine out very often, I've been determined to create a "copycat" recipe to mimic the flavors found in this dish. Luckily, my job was pretty easy, since the original recipe is already posted online. However, now that I know what's in their Papaya Ginger salad dressing, I'm not so thrilled. (Over 3 cups of canola oil!)
For the following healthier version, I drastically reduced the oil and upgraded the ingredients. The resulting dressing is downright addictive, and certainly rivals the original!
—
Papaya Ginger Dressing
Makes 1.5 cups
Adapted from this recipe
Ingredients:
1/2 cup papaya chunks
1/4 cup fresh lime juice
1/4 ounce fresh ginger, peeled
2 Tablespoons coconut vinegar
2 Tablespoons extra virgin olive oil
1/4 cup honey
1/4 teaspoon fine sea salt
1/4 cup water, or more to thin
Directions:
In a high-speed blender, combine all of the ingredients and blend until completely smooth and silky.
Papaya Ginger Dressing
A sweet, gingery dressing inspired by the Veggie Grill.
Ingredients
1/2

cup

papaya chunks

1/4

cup

fresh lime juice

1/4

ounce

fresh ginger

, peeled

2

Tablespoons

coconut vinegar

2

Tablespoons

extra virgin olive oil

1/4

cup

honey

1/4

teaspoon

fine sea salt

1/4

cup

water

, or more to thin
Instructions
In a high-speed blender, combine all of the ingredients and blend until completely smooth and silky.

Massage into kale leaves, and serve!

Store leftovers in the fridge for up to 4 days.
Nutrition
Calories:
371
kcal
,
Carbohydrates:
56
g
,
Fat:
18
g
,
Saturated Fat:
2
g
,
Sodium:
397
mg
,
Potassium:
164
mg
,
Sugar:
50
g
,
Vitamin A:
460
IU
,
Vitamin C:
41.5
mg
,
Calcium:
10
mg
,
Iron:
0.4
mg
Per Serving: Calories: 371, Fat: 18g, Carbohydrates: 56g
—
To prepare the salad, you'll need:
1 bunch curly green kale
Papaya Mango Salsa, from Trader Joe's (or any salsa of choice)
Maple Glazed Walnuts (<–recipe link)
Papaya Ginger Dressing (recipe above)
Shredded cabbage (optional)
Remove the kale leaves from the stems, and wash and dry thoroughly. In a medium bowl, toss the shredded cabbage in a bit of the Papaya Ginger dressing, and coat well. Set aside.
The Veggie Grill tops their salad with a homemade Corn Salsa, but when I saw that Trader Joe's carried a Papaya-based salsa, I knew it would be perfect over this salad. Plus, it saves me a step in the preparation process. To prepare the store-bought salsa, all I do is rinse it well– to remove as many additives as possible.
This salsa adds a great spicy "kick" to the sweet salad dressing.
Top the kale leaves with a bit of Ginger Papaya dressing, then use your hands to massage the dressing well into the leaves. The kale will soften and wilt as you go!
Transfer the massaged kale to a serving plate, top with marinated cabbage, salsa and Maple Glazed Walnuts, then serve!
—
I hope you enjoy this salad as much I we do!
While this dish is technically mis-combined, you can easily remedy that by removing the walnuts and adding some ripe avocado slices, instead. (Remember, avocado is a fruit and fruits can combine with leafy greens!)
Reader Feedback: Have you ever tried to re-create your favorite restaurant meals at home?