This Baked Falafel recipe is as easy as it gets! It uses canned chickpeas, so there's no soaking required, and it tastes just as delicious as the traditional fried version, only with less oil. It's a win-win!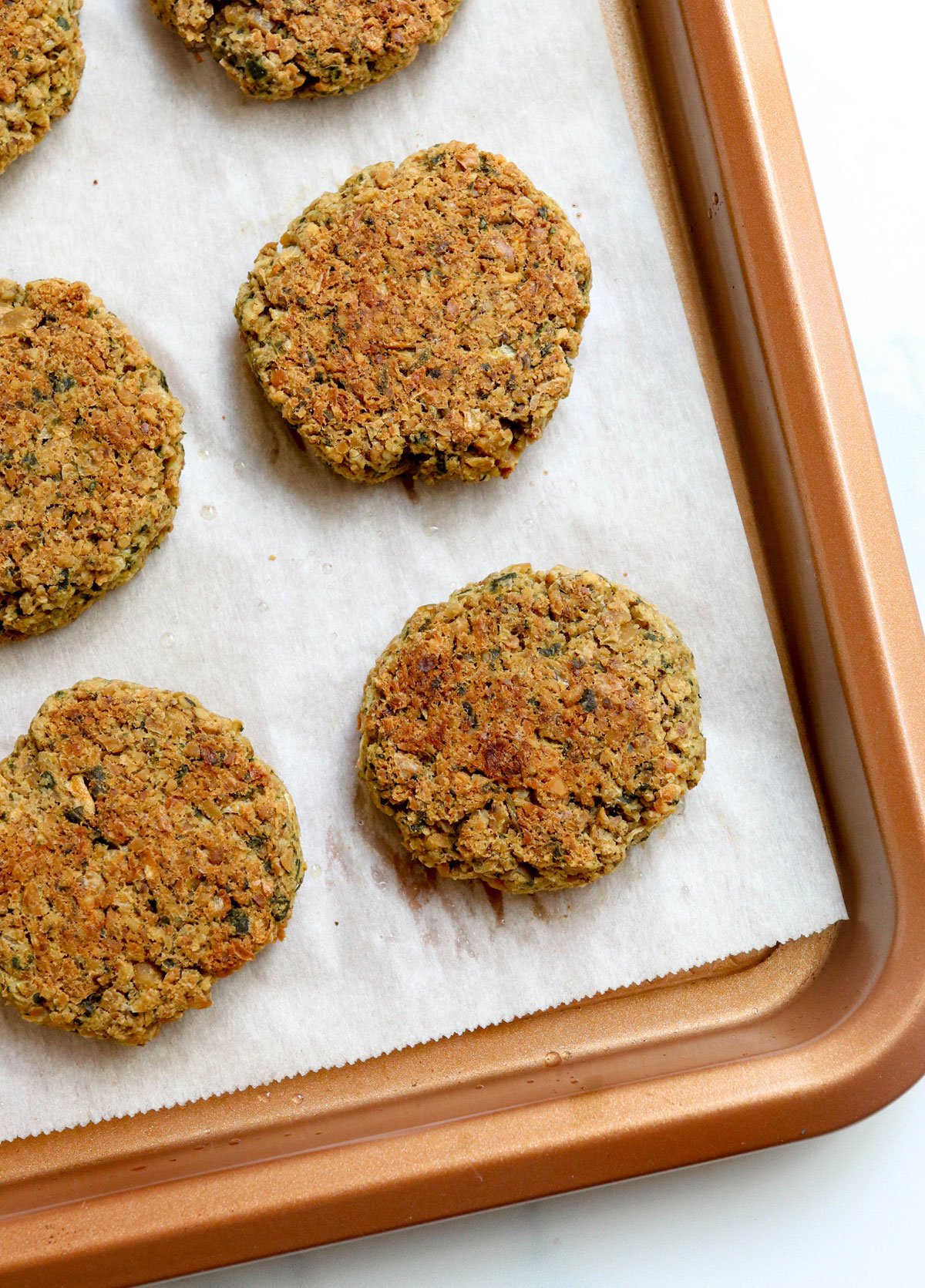 Why You'll Love This Falafel Recipe
No soaking required. Yes, you can make falafel from canned chickpeas instead of dry ones that you have to soak ahead of time. It's a huge time saver!
Baked, not fried. This recipe uses significantly less oil, and they bake all at once for maximum efficiency. No need to stand by the stove!
Gluten-free & Vegan. There are no specialty ingredients are required to make this recipe, and it's perfect for those on a special diet.
Bakes in less than 30 minutes. No flipping required to help these keep their shape, so you can be productive around your house while they bake.
They're totally delicious. Add them to your favorite salad or wrap for an extra punch of flavor and plant-based protein in each bite.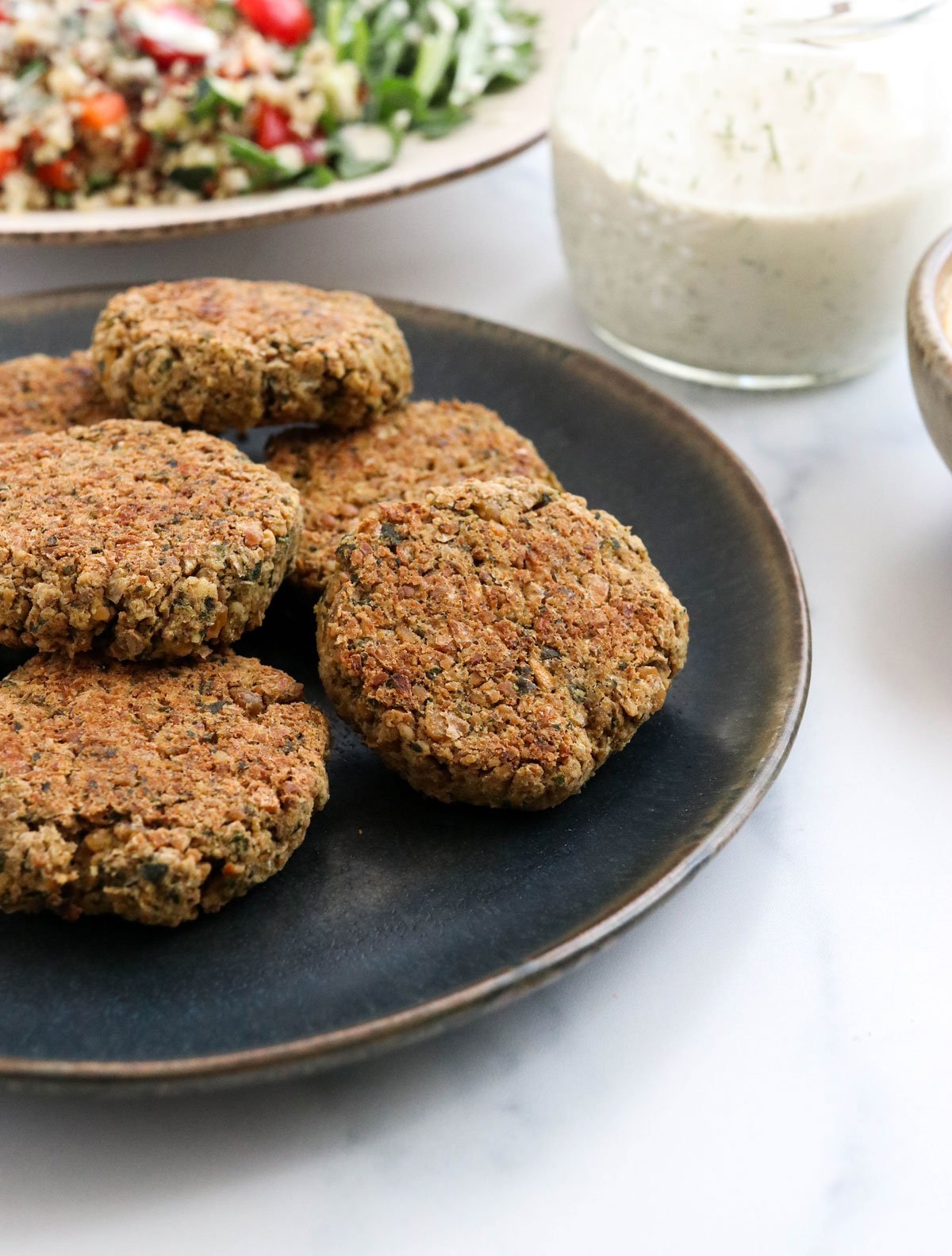 Why aren't canned chickpeas usually used in falafel recipes? Traditional falafel is typically made dry chickpeas that are soaked, so that the chickpeas don't get too hydrated. Canned chickpeas are cooked, so they are definitely "over hydrated" in that sense, but this recipe balances that out by adding in some ground walnuts to help loosen-up the texture.
The resulting recipe is lightly crisp on the outside, tender on the inside, and perfectly seasoned. Are you ready to try it?
Ingredients You'll Need
To make baked falafel, you'll need just a handful of kitchen staples.
Canned chickpeas. Yes, you can use canned chickpeas in this recipe! Normally you'd have to use dry chickpeas that are soaked for hours, but I'm too impatient for that, so I figured out a way to make canned beans work.
Fresh herbs. Fresh parsley and cilantro make this recipe taste more authentic, which is important since we're taking shortcuts elsewhere. Feel free to use just one or the other if you don't have both herbs on hand.
Shallot. I like the mild flavor and small size of a shallot, but you can also swap this for a 1/2 cup of diced red onion, or a few chopped green onions.
Seasonings. A mix of ground cumin and coriander give this baked falafel recipe its signature flavor. You'll also need a good pinch of salt! I use Real Salt brand, if you want to use the same one I do.
Walnuts. Adding walnuts to the mix helps prevent a "mushy" texture from using canned chickpeas. I find this works better than using flour as a binder, but if you need a nut-free recipe, I've also used 2 tablespoons of chickpea flour as a swap.
Olive oil. A little olive oil helps prevent the centers from drying out as the falafel bake (water doesn't work quite as well, FYI, because I tried that first), and I also like to brush the outside with oil to help them crisp up in the oven.
These nutrient-dense patties are naturally gluten-free, vegan, and grain-free, and they make the perfect topping for salads and bowls, or a hearty pita filling.
How to Bake Falafel
Process the ingredients. You'll pulse the ingredients in a food processor until the mixture sticks together between your fingers. Don't over-mix, or you'll wind up with a bean puree.
Form Balls. Scoop 2 tablespoons of dough and roll it between your hands to make a ball. Then flatten the ball into a small patty, about 1-inch thick.
Bake. Arrange the falafel patties on a lined baking sheet, brush with olive oil, and bake until firm to the touch, about 25 minutes. There's no need to flip them!
Serve! Let the falafel cool on the pan for 5 to 10 minutes, then serve warm as a pita filling or as a salad topper.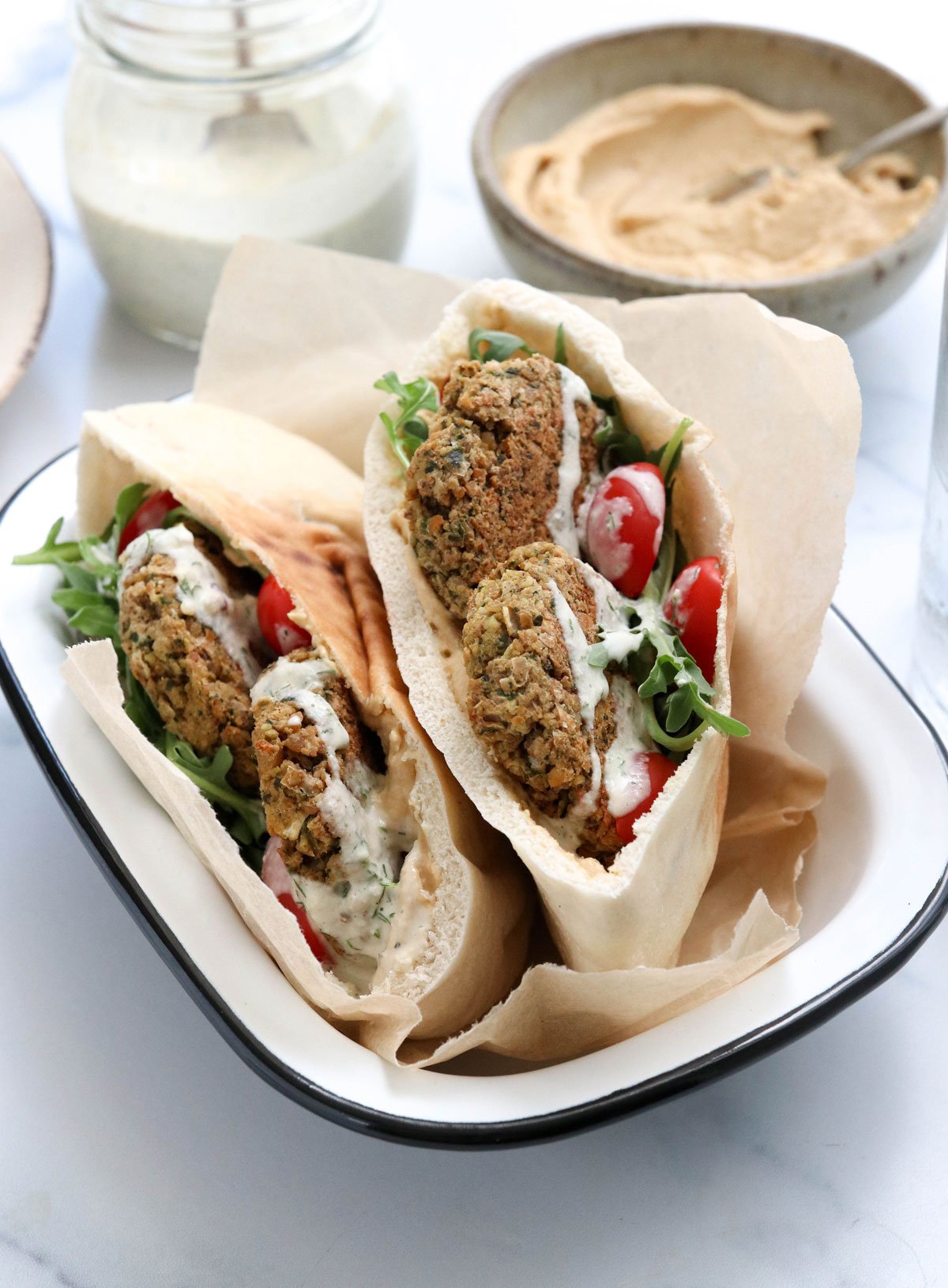 Falafel Serving Suggestions
Wondering what goes with falafel for dinner? You can make your own "falafel bowls" with the following ideas.
Curious about pan-frying the falafel? This recipe is too fragile to pan-fry as written, but if you refrigerate the dough ahead of time, it might hold together better for pan-frying. Feel free to experiment with it if you have your heart set on a crispier (and slightly greasier) result.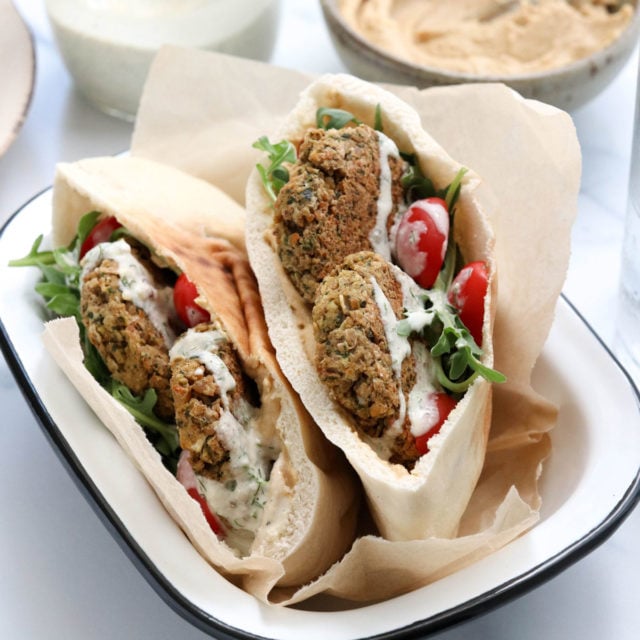 Baked Falafel
Baked Falafel are made with canned chickpeas to make things as easy as possible! This baked recipe uses less oil, so it's a healthy protein you can serve on salads, bowls, or as a pita filling.
Equipment
Ingredients
1/2

cup

walnuts

(53 grams)

1/3

cup

fresh cilantro

(15 grams)

1/3

cup

fresh parsley

(15 grams)

1/2

teaspoon

ground cumin

(1 gram)

1

teaspoon

ground coriander

(3 grams)

1

(14.5 oz) can

chickpeas

, rinsed and drained

1

shallot

, diced (~1/2 cup diced; 41 grams)

2 to 3

garlic cloves

, minced (7 grams)

3/4

teaspoon

fine sea salt

(6 grams)

1

tablespoon

olive oil

(13 grams), plus more for brushing
Instructions
Preheat the oven to 400ºF and line a baking sheet with parchment paper. In a large food processor fitted with an "S" blade (mine is 12 cups) add the walnuts, cumin, coriander, cilantro, and parsley. Process briefly, just until they are broken down into smaller pieces.

Drain and rinse the chickpeas well, then pat them dry so they aren't too wet. Add the chickpeas to the food processor, along with the chopped shallot, garlic, salt, and olive oil. Process again, stopping to scrape down the sides, just until the mixture will stick together when pressed between your fingers. Don't over-process it into a puree.

Use a tablespoon to scoop 2 tablespoons worth of the filling into your hands. Roll into a ball, then flatten it slightly to create a small patty. Repeat with the remainin filling, making roughly 12 pieces. Arrange them on the lined baking sheet, and brush both sides with olive oil, to help prevent them from drying out in the oven. (Note: Only the top really needs to be brushed with olive oil, if you'd like to keep this as low-oil as possible.)

Bake for 20 to 25 minutes at 400ºF, or until the tops look dryer and feel firm to the touch. (No need to flip!) Remove the falafel from the oven and let them cool for 5 minutes before serving. The bottom side will look the most golden and crisp, so I like to serve that side facing up. These are best served right away, but you can store them in an airtight container for up to 5 days. Reheat in a greased skillet for 3 minutes on each side to warm them up again.
Notes
Nutrition is for 1 of 12 pieces. This information is automatically calculated, and is just an estimate, not a guarantee.
Nutrition
Calories:
100
kcal
,
Carbohydrates:
11
g
,
Protein:
4
g
,
Fat:
5
g
,
Saturated Fat:
1
g
,
Polyunsaturated Fat:
3
g
,
Monounsaturated Fat:
2
g
,
Sodium:
149
mg
,
Potassium:
142
mg
,
Fiber:
3
g
,
Sugar:
2
g
,
Vitamin A:
181
IU
,
Vitamin C:
3
mg
,
Calcium:
27
mg
,
Iron:
1
mg
If you try this Baked Falafel recipe, please leave a comment below letting me know how you like it! And if you make any modifications, I'd love to hear about those, too.