Are you ready to make the best hummus ever? All you need is 5 minutes to blend it together, and it tastes better than any version you'd buy from the store.
Homemade hummus is my favorite dip for veggies or crackers, and it's also a great spread for sandwiches and Mediterranean pizza.
Be sure to check out the tips below for making silky-smooth hummus, like the kind you'd get from a restaurant. This popular Middle Eastern dip features chickpeas, also called garbanzo beans, which are a good source of plant-based protein and fiber. It's the perfect addition to salads, bowls, and more.
Try it on a Falafel Bowl, in your favorite veggie wrap, or stir it into pasta for added creaminess, without using dairy. (My favorite trick ever!)
Ingredients You'll Need
This hummus recipe is made with simple ingredients that you probably already have on hand.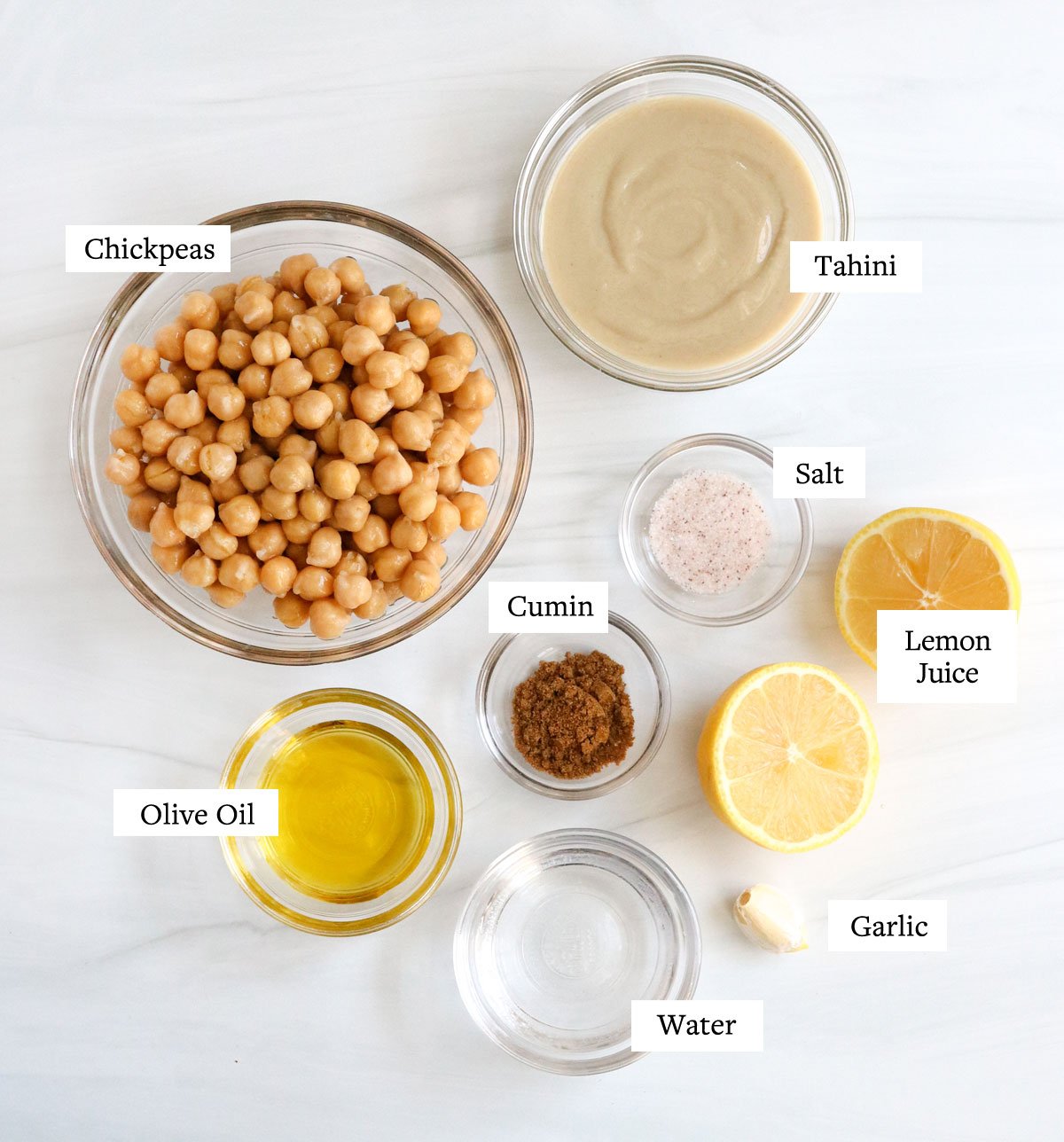 • Chickpeas. Use canned chickpeas for convenience, or you can cook your own! I have tutorials on how to cook chickpeas on the stove, or Instant Pot Chickpeas, if you prefer a more hands-off approach. Using warm, freshly cooked chickpeas will make the hummus even creamier when you blend it, but I'll also share a trick for getting smoother results with canned chickpeas, too.
• Tahini. If you're not familiar with tahini, it is simply a paste made from ground sesame seeds. The taste of tahini can vary drastically from brand to brand, so make sure you use one that you enjoy the flavor of. (See tips below for brands I like!) You can also make homemade tahini pretty quickly.
• Lemon juice. Use fresh lemon juice (not the kind from a bottle) for the best results. This adds a bright, tart flavor and helps balance out the tahini and garlic.
• Extra virgin olive oil. This isn't necessary if you are following an oil-free diet, but it adds a nice richness to the final dip.
• Garlic. Depending on how much you love garlic, you can use just 1 clove, or more cloves to your liking. See the tips below for avoiding a sharp flavor.
• Ground cumin. This is a common ingredient in traditional hummus, if you are looking for the classic flavor.
• Salt. I use Real Salt brand, but any good sea salt will do for this recipe, to help bring the flavor out.
You can add any other extras you like to make this healthy dip your own! See variations below if you'd like to get creative with it.
Tips for Making the Best Hummus
Making hummus can be as easy as adding the ingredients to a food processor and blending, but here are a few tricks for making it super-silky-smooth, if you don't mind putting in a little extra effort.
1. Use extra-soft chickpeas. If you're using freshly cooked chickpeas, try adding baking soda to the cooking water.
According to Bon Appetit, this will raise the pH of the water, to help the beans break down faster. (A good thing for hummus; but not necessarily other chickpea recipes.)
You can use this trick with canned chickpeas, too! Simply add a 1/2 teaspoon of baking soda to a small pot of boiling water, and let the canned chickpeas cook for 15 to 20 minutes. This will make them extra-soft, without taking the time & effort to soak or cook them from scratch. Rinse them off briefly after you cook them, to remove any baking soda flavor.
There's no need to peel the chickpeas in this case, as their skins will be very soft and easy to pulverize after this quick cooking step.
2. Mellow the garlic. Raw garlic can have a sharp, sometimes overpowering, flavor on its own, but when you mince it directly into lemon juice, the acidity will help mellow it out. Let them mingle together in a bowl, while you measure out the other ingredients, for a better overall taste.
3. Use good tahini. Be sure to taste your tahini before you add it to this hummus recipe. If it tastes very bitter, it will make your hummus taste bitter, too. My favorite tahini brands are Artisana raw tahini (which has a mild flavor & thick texture) and Soom Foods (which has a nutty flavor and very drippy consistency).
Regardless of the tahini you use, I recommend starting with a small amount, like a 1/4 cup, then adding more to taste, as you see fit. You can always add more tahini to make the dip creamier, but it's more difficult to hide a bitter flavor if you start with too much.
How to Make Hummus
Now that we've discussed the secrets to good hummus, let's make it!
1. Prep. 
Add the freshly squeezed lemon juice to a small bowl, and mince the garlic directly into it. I use a microplane to finely mince the garlic, but a garlic press will work, too. Let it rest together while you measure out the other ingredients.
This is also the time to soften up the chickpeas, using the baking soda trick mentioned above, if you'd like to. This step is optional, for extra-smooth hummus, but you can also skip it if you're in  a hurry. (I often skip it, for a faster 5-minute recipe!)
2. Blend. 
Add the drained chickpeas, lemon juice and garlic, tahini, cumin, olive oil, and salt to a food processor or blender. Add water, just a couple tablespoons at a time, then blend until smooth.
Stop and scrape down the sides of the machine, and blend again unti the hummus is totally creamy. Add more water, as needed, to help make it fluffy in texture. (I usually use 4 to 5 tablespoons total.)
Note on Using a Blender: I find that the more narrow base of a blender means you'll need to use more water when blending hummus.
This means the hummus will be more likely to turn out diluted in flavor, so you may need to increase the other ingredients to help compensate for that. Add extra lemon juice, garlic, tahini, cumin, and salt, until you're happy with the flavor.
3. Serve. 
Once you've adjusted any seasoning to taste, transfer the finished hummus to a serving bowl and garnish it with an extra drizzle of olive oil and a sprinkle of paprika on top. I also like to add a few freshly chopped herbs, like fresh parsley or cilantro.
Serve it with toasted pita bread, sliced cucumbers or carrots, or any other veggies and crackers that you love.
Hummus Variations
Want to get creative with the ingredients? Try these extra add-ins.
Roasted red peppers. Add 1 entire roasted red pepper to this recipe, along with a 1/4 teaspoon of smoked paprika and a few red pepper flakes on top. It reminds me of romesco sauce.
Sun-dried tomatoes. Add a 4 to 6 sundried tomato halves to this recipe, along with a 1/4 teaspoon of dried basil or dried oregano. You may need to add a little exra water, to help them blend.
Pesto. Add a spoonful of prepared pesto into this hummus, for an extra herb-y flavor. You can also just add a dollop on top when serving. I love the contrast of tastes and textures!
Have trouble digesting beans? Try Zucchini Hummus, for a version made without chickpeas.
Prefer a sweet variation? Try chocolate hummus for a fun dessert dip.
Easy Hummus
This is the best hummus recipe! Made with chickpeas, tahini, garlic, and lemon juice, it comes together in just 5 minutes for a healthy dip, or you can take the extra step of boiling the chickpeas for even smoother results.
Equipment
Ingredients
1

(15 oz.) can

chickpeas

(about 1 1/2 cups)

1/3

cup

tahini

(Whole Foods 365 or Soom brand)

3

tablespoons

fresh lemon juice

1

tablespoon

olive oil

1

garlic clove

, minced

1/2

teaspoon

ground cumin

1/2

teaspoon

fine salt

(I use Real Salt brand)

3 to 5

tablespoons

water

, as needed for texture
Instructions
Drain and rinsed the chickpeas, then add them to the bowl of a food processor fitted with an "S" blade. (Alternatively, you can use a blender, instead.) See the notes below if you'd like to make extra-soft chickpeas for an even smoother result.

Taste and adjust any seasoning as needed, adding more lemon juice or tahini, if desired. I usually add 1/4 teaspooon more salt, and sometimes another garlic clove, depending on who I am serving this to. (If it's just for me, I always use 2.) You can serve this right away, or store it in the fridge where it will thicken up a bit more.

Hummus can be stored in an airtight container in the fridge for up to one week. You can freeze anything you think you won't finish before then.
Notes
Nutrition information is for 1 of 6 servings; roughly 1/4 cup of hummus. This information is automatically calculated, and is just an estimate, not a guarantee.
Tip for Extra-Smooth Hummus: To create mushy chickpeas, drain and rinse the can of chickpeas and add them to a small saucepan. Cover them with 2 inches of water and add in the 1/2 teaspoon of baking soda. Bring the liquid to a boil over high heat, then let them boil for 15 minutes, or until the skins are slipping off and the chickpeas are easily mashed. This step is optional, but will give you smoother results. Rinse the chickpeas briefly after boiling them, to remove any baking soda flavor.
If you prefer to cook your chickpeas from scratch, add the baking soda to your cooking water, to raise the pH level of the cooking water. This will result in chickpeas that are falling apart-- which is a good thing for hummus!
Nutrition
Calories:
83
kcal
,
Carbohydrates:
3
g
,
Protein:
2
g
,
Fat:
8
g
,
Saturated Fat:
1
g
,
Sodium:
5
mg
,
Potassium:
54
mg
,
Fiber:
1
g
,
Sugar:
1
g
,
Vitamin C:
3
mg
,
Calcium:
16
mg
,
Iron:
1
mg
If you try this hummus recipe, please leave a comment and star rating below letting me know how you like it.