This Mediterranean Quinoa Salad is one of the best quinoa salads you'll ever make. It's a healthy recipe that you can make ahead of time for a protein-packed lunch, and it's also a great base for a bowl-style meal, like Falafel Bowls.
Why You'll Love It
By now, you're probably familiar with quinoa (pronounced keen-wah), a gluten-free superfood that is actually more of a seed, than a grain. Quinoa contains all of the essential amino acids the body needs, so it's also a complete source of plant-based protein.
Here are some potential health benefits:
It's important to note that quinoa, like other grains, contains anti-nutrients including saponins and phytic acid. This may hinder nutrient absorption. You can reduce these anti-nutritional factors by rinsing the quinoa, or soaking it in water and then draining it, before cooking.
Rinsing quinoa also helps to remove any bitter flavor it might contain. If you've cooked quinoa before and didn't care for the taste, that might be why!
This is especially important when making a sweet recipe, like quinoa porridge.
Want more quinoa recipes? Try Quinoa & Black Bean Salad for a Southwest flavor, or Hearty Quinoa Soup for a warmer option.
Ingredients You'll Need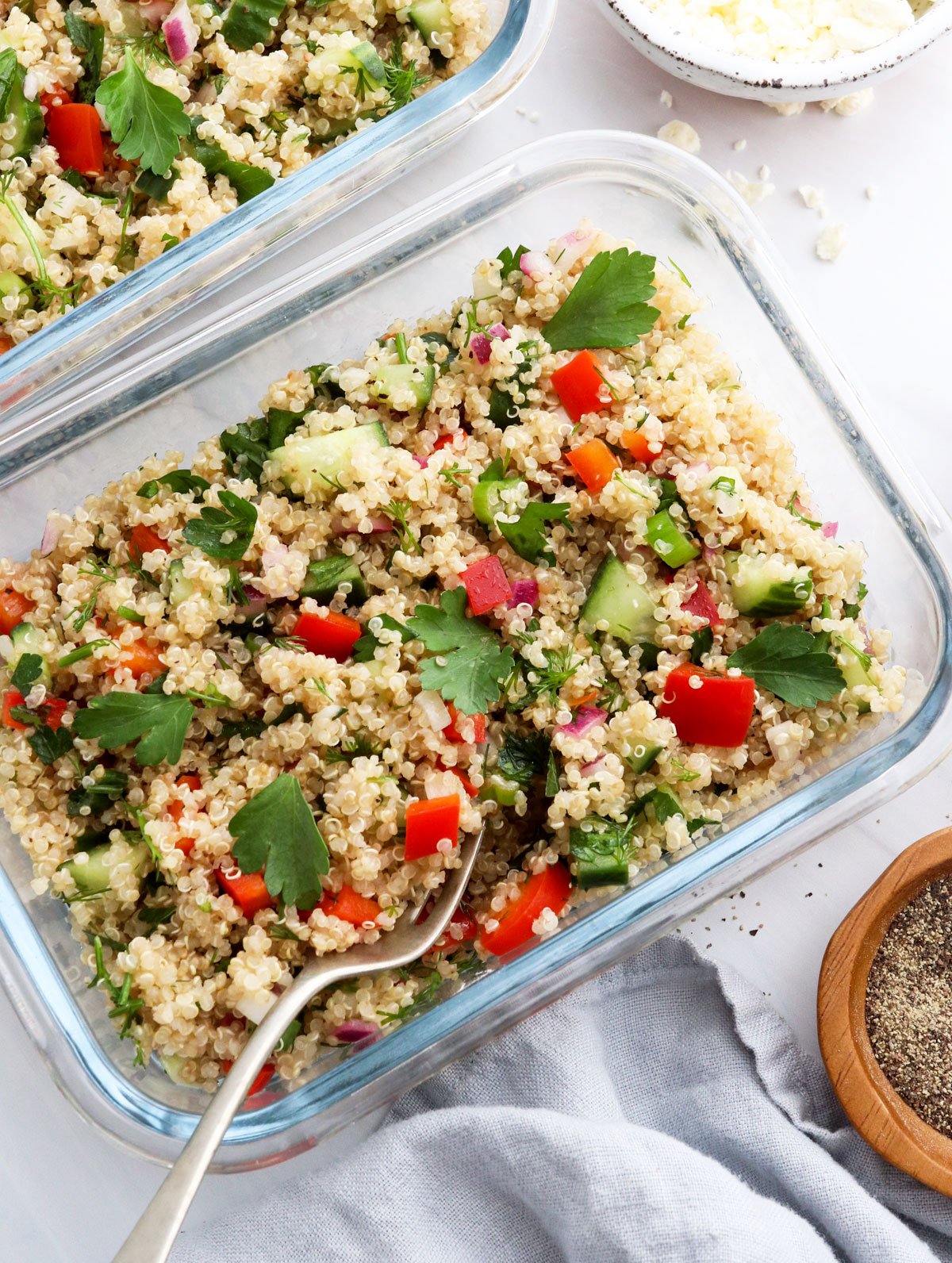 What is quinoa salad made of? 
Quinoa
Cherry tomatoes
Red bell pepper
Cucumber
Red onion
Lemon juice
Olive oil
Fresh herbs
Salt & pepper
You can add any extra toppings you love, such as sliced olives or a tangy feta cheese. For extra protein, you can also add sliced chicken breast or cooked shrimp.
How to Make the Best Quinoa Salad
1. Cook the quinoa. Quinoa is the only thing you need to cook for this recipe. Start by rinsing the dry quinoa in a fine mesh strainer to remove the saponin (bitter flavor), then transfer the drained quinoa to a small saucepan.
Cover the quinoa with 3 1/2 cups of water, and bring the liquid to a boil. Once it's boiling, lower the heat and cover the pot. Cook until the quinoa has absorbed the liquid, about 15 minutes.
Fluff with a fork and let it cool as you assemble the rest of the salad.
2. Prepare the dressing. Add the olive oil, lemon juice, salt and black pepper to the bottom of a large bowl. Whisk that together, then you can continue to add the veggies and fresh herbs as you chop them, tossing them in the dressing as you go.
I like to start with the red onion, so the flavor can mellow in the dressing. Alternatively, you can use a shallot instead, or just stick to green onions, if the red onion flavor is too strong. (I've heard rinsing an onion under cold water also helps remove a strong flavor.)
3. Toss it all together. Once you've added the red onion, dill, parsley, tomatoes, bell pepper, and cucumber to the bowl, add in the cooled quinoa and toss well.
Keep in mind that the flavor of this salad will be stronger while the quinoa is still warm, and it will become more muted when you chill it in the fridge.
You can serve this right away without chilling, but keep in mind that you may need to adjust the flavor again once it has chilled in the fridge overnight.
Be sure to add any extra toppings you love! Kalamata olives are a classic addition in Mediterranean-style salads, and I love the creamy, tangy addition of some crumbled feta, too.
Storage Tips
This quinoa salad will keep well in the fridge for up to 5 days when stored in an airtight container. I purposefully don't add garlic to this recipe, it can become a little too pungent as it is stored, but feel free to add it, if you like.
Quinoa salad is one of my favorite make-ahead lunch ideas, because it keeps so well! Portion it into individual containers, for an easy "grab and go" option for your week ahead. You can add different toppings each day, if you'd like to change it up!
Frequently Asked Questions & Substitutions
Can I use something other than lemon juice? Sure! You can use lime juice, or start with 2 tablespoons of red wine vinegar, instead. Vinegar tends to be more pungent than citrus juice, so start with less, and add more as you go.
Can I make it vegan? This recipe is vegan if you don't add the feta cheese on top. Try a drizzle of creamy tahini dressing on top, if you'd like to add dairy-free creaminess, or some freshly sliced avocado.
What other herbs can I use? If you don't have dill or parsley on hand, you can swap it for fresh cilantro, or a smaller amount of fresh mint leaves or basil, for a slightly different flavor.
How do I add extra protein? You can add in cooked chicken or shrimp, or for a vegetarian option, try adding in cooked chickpeas or black beans. You could even add some baked tofu, if you like!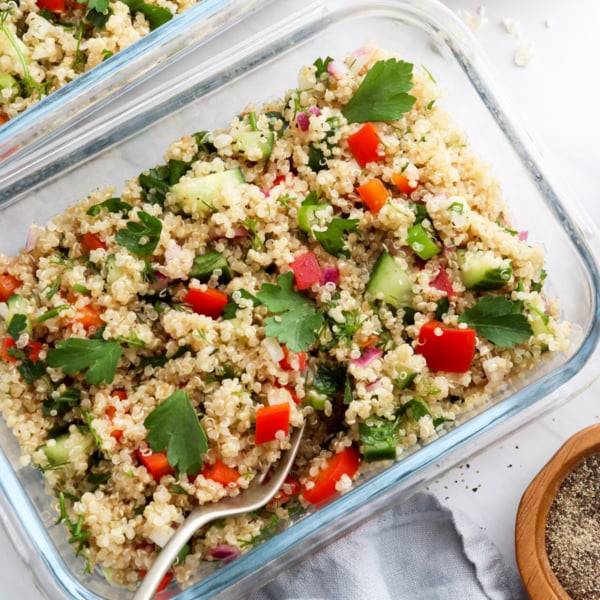 Quinoa Salad
This quinoa salad is my favorite packed lunch, loaded with plant-based protein. Easy to make with lemon juice, fresh herbs, and crunchy veggies!
Ingredients
2

cups

dry quinoa

, rinsed

3 1/2

cups

water

1/4

cup

extra virgin olive oil

6

tablespoons

freshly squeezed lemon juice

(about 2 large lemons)

1/2

red onion

, chopped

1

large

cucumber

, chopped

1

red bell pepper

, chopped

1/2

cup

fresh dill

, chopped

1/2

cup

fresh flat-leaf parsley

, chopped

3

green onions

, white and green parts only, chopped

1/2

cup

kalamata olives

, sliced (optional)

fine sea salt & black pepper

1/2

cup

crumbled feta

(optional; omit to keep this recipe vegan)
Instructions
Rinse the quinoa in a fine mesh sieve under running water for 60 seconds, to help remove any bitterness. Add it to a small saucepan and cover with the 3 1/2 cups of fresh water. Bring the water to a boil over high heat, then lower the temperature and cover for 15 minutes, cooking until the quinoa has absorbed all of the water. Fluff with a fork, and allow to cool while you chop the vegetables and herbs.

In the meantime, mix together the olive oil, lemon juice, 1 teaspoon of sea salt and a 1/2 teaspoon of ground black pepper in a large bowl.

Add the vegetables to the bowl of dressing as you chop them, starting with the red onion, followed by the cucumber, bell pepper, dill, parsley, and green onions. Toss well to combine, and add in the cooked quinoa when it has cooled slightly. Season with additional salt and pepper, if desired. (I usually add up to 1 teaspoon more salt, to taste.) Add in the optional olives, if using, and the crumbled feta, for an extra creamy and tangy flavor.

Allow the mixture to marinate at least an hour before serving, or chill in the fridge overnight. This salad can be served cold or at room temperature, and should keep in an airtight container in the fridge for up to 5 days.

Video
Notes
Nutrition information is for 1/6th of this recipe. This information is automatically calculated, and is just an estimate, not a guarantee.
See the full post above for substitution ideas and step-by-step photos.
Nutrition
Calories:
362
kcal
,
Carbohydrates:
42
g
,
Protein:
11
g
,
Fat:
17
g
,
Saturated Fat:
4
g
,
Polyunsaturated Fat:
3
g
,
Monounsaturated Fat:
9
g
,
Cholesterol:
11
mg
,
Sodium:
334
mg
,
Potassium:
539
mg
,
Fiber:
6
g
,
Sugar:
3
g
,
Vitamin A:
1544
IU
,
Vitamin C:
44
mg
,
Calcium:
129
mg
,
Iron:
4
mg
If you try this quinoa salad, please leave a comment and star rating below to let me know how you like it!