Banana milk is an easy, dairy-free milk that you can blend together in just minutes! It's perfect for those who need a low-fat and nut-free option, and it tastes totally delicious.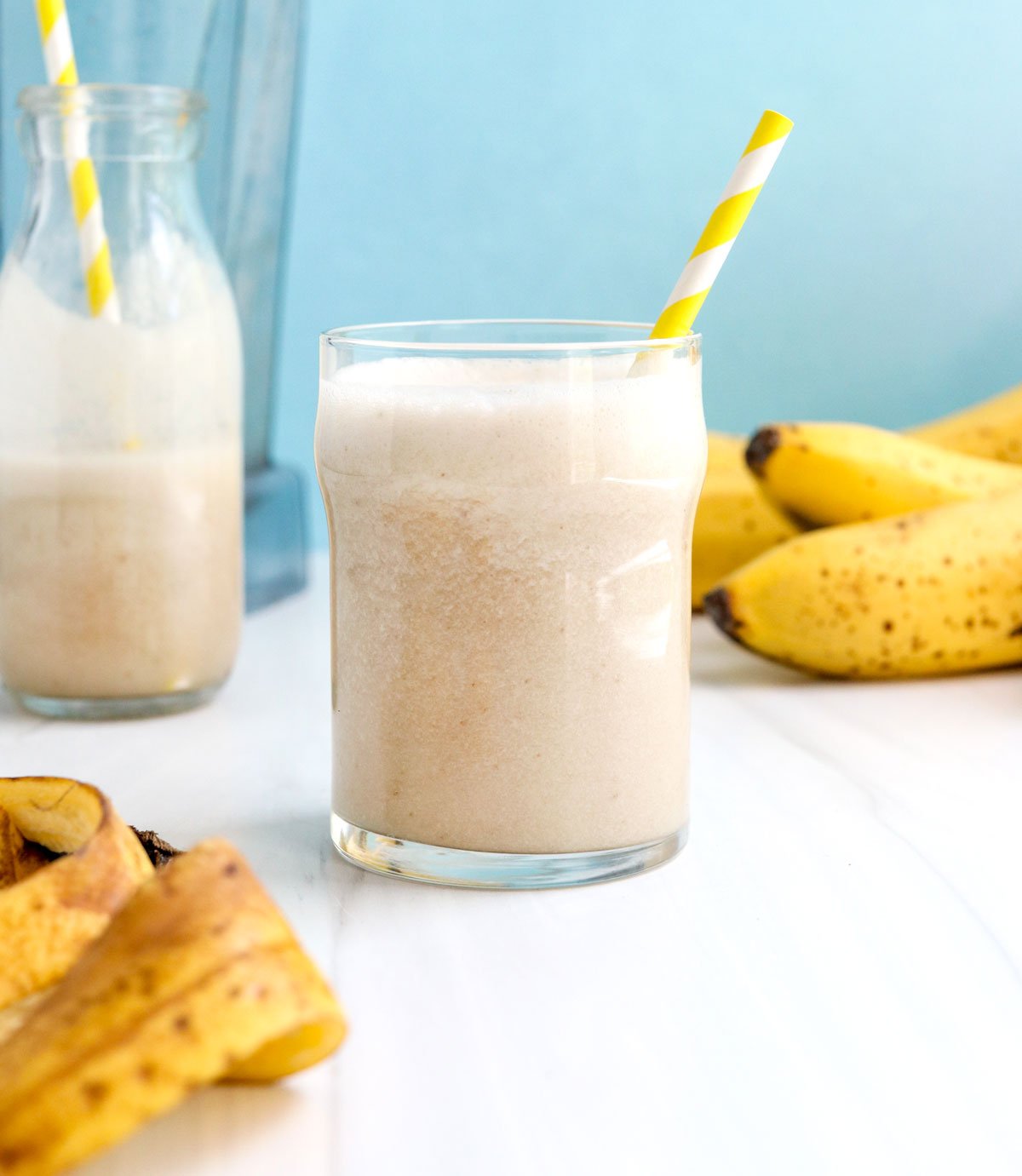 What is banana milk? It's made by blending a ripe banana and water together, into a creamy, milk-like consistency. When you use a ripe banana, it's naturally sweet and breaks down quickly in the blender.
This is not to be confused with Korean banana milk, which is a banana-flavored dairy milk often made with banana juice concentrate and/or artificial flavors.
Why You'll Love It
It's vegan. This type of dairy-free milk is popular among the vegan community, particularly for those who need nut-free options. You can serve it over cereal, just like you would almond milk or oat milk.
It's nutritious. Bananas are a great source of potassium and fiber.
It's easy to make. All you need is 2 ingredients and roughly 1 minute of effort to make this non-dairy milk option.
It's allergy friendly. This recipe is gluten-free, dairy-free, nut-free, soy-free, and more, so it's a great option for those with limited food choices.
It's naturally sweet. When you use a ripe banana to make this, you don't need to add any extra sweeteners.
How to Make Banana Milk
1. Gather the ingredients. 
All you need for this recipe is ripe bananas and water. If you want to get creative with it, you can also add a splash of vanilla extract, a pinch of cinnamon, or maple syrup, for extra flavor.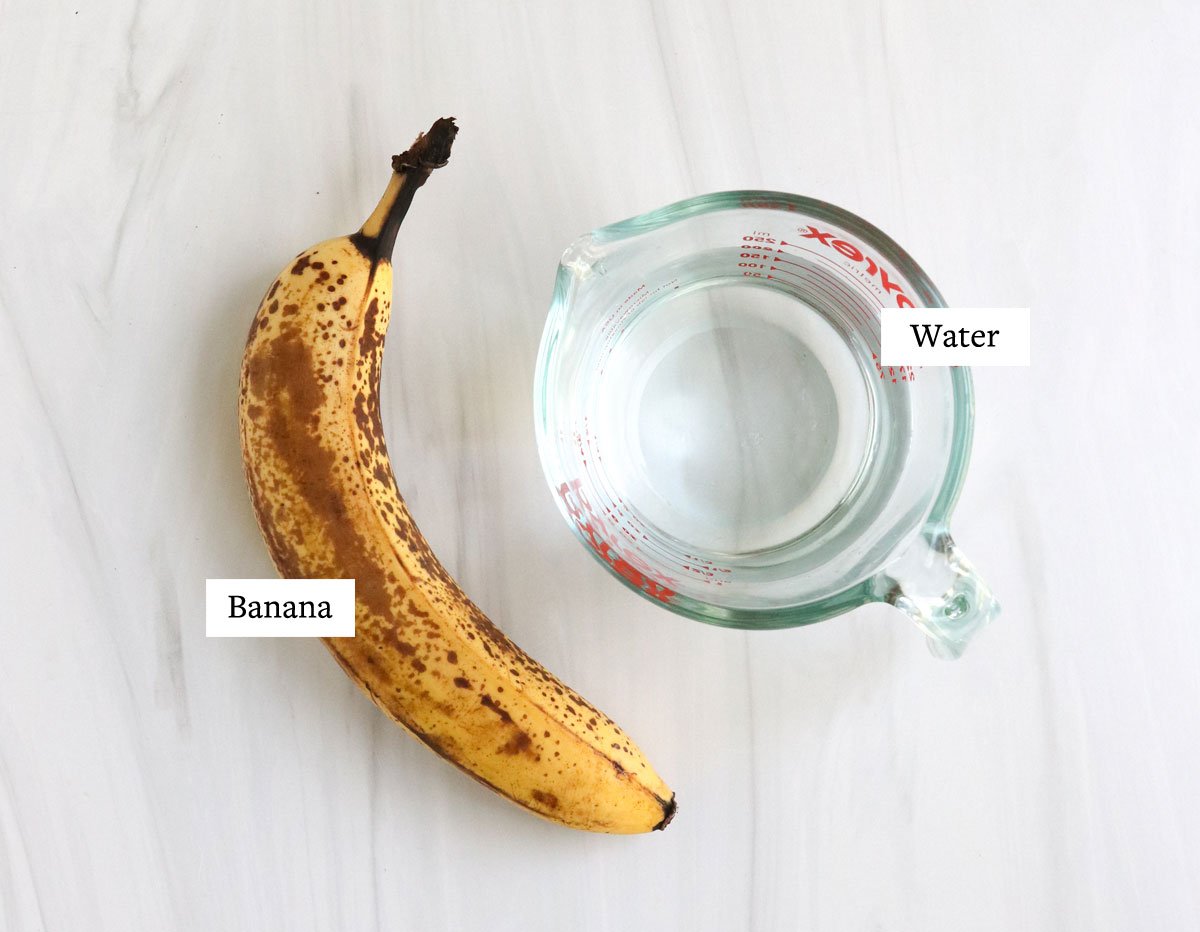 2. Blend. 
Peel the banana and add it to a blender, along with the water. Blend until very smooth.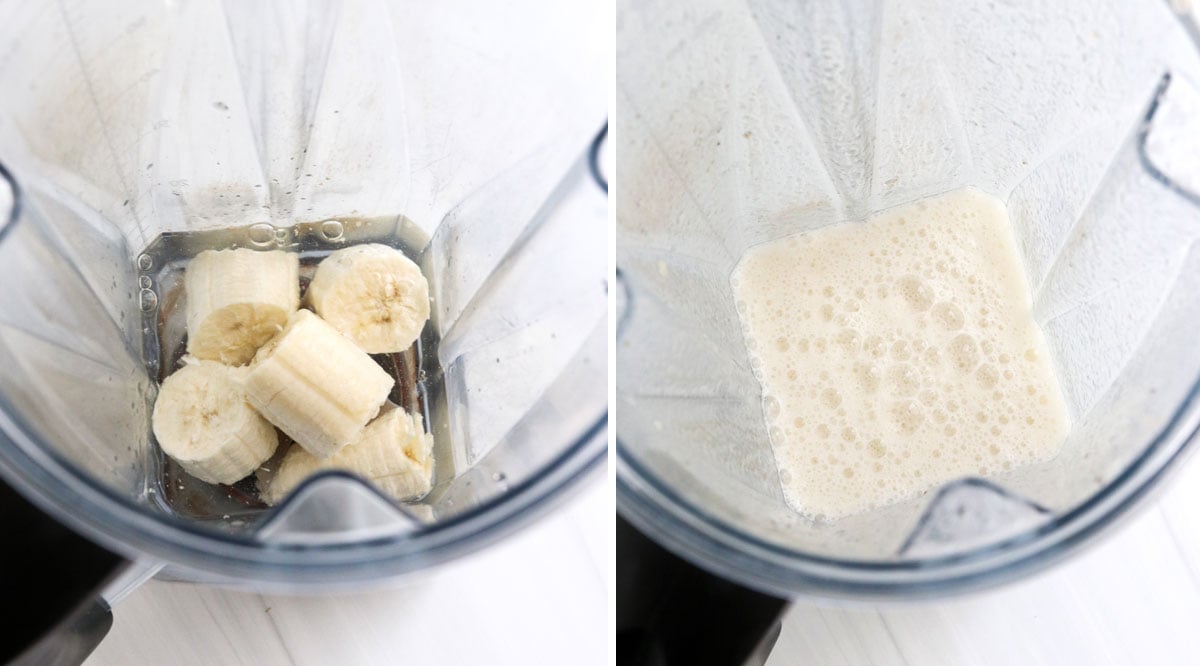 3. Enjoy!
As soon as it's blended, serve it right away.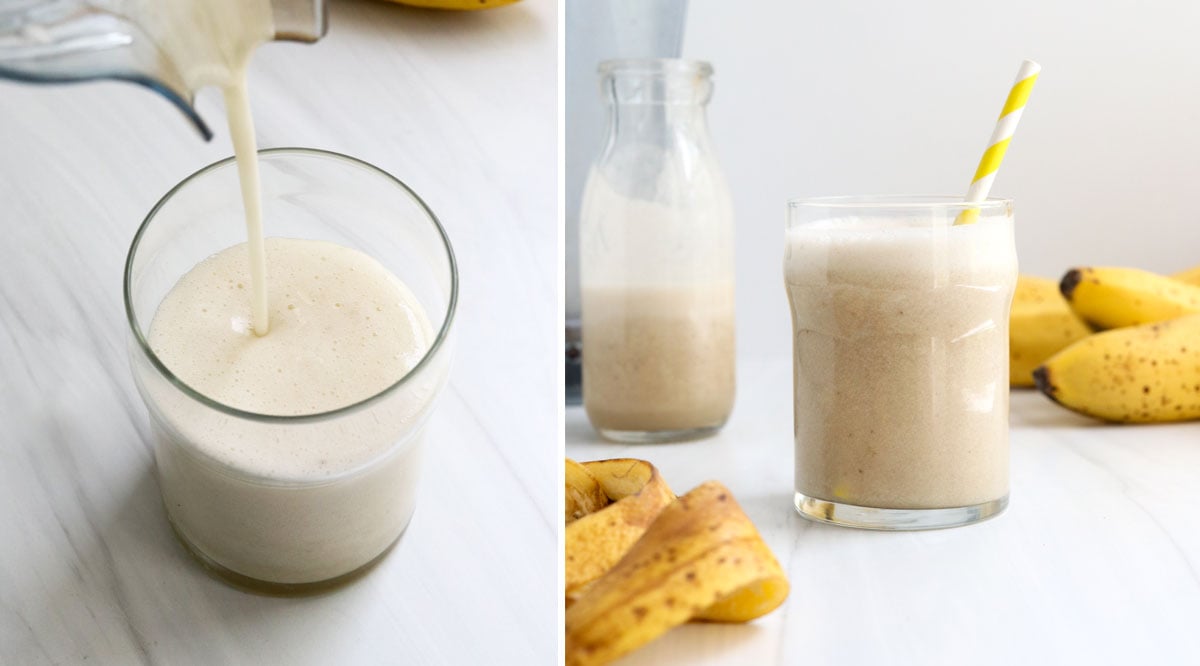 Note: This is not the type of flavored milk you'll want to make a large batch of, unless you're going to drink it quickly, because the bananas will start to turn the milk brown over time. After 30 minutes or so, the banana milk will start to look like chocolate milk!
Because of this, you may not want to use this recipe for meal prep. It's more of a recipe that you make in a pinch, when you want to use the milk right away.
With that being said, you can store the milk in an airtight container in the fridge for up to 2, if you don't mind the color difference. You will need to shake it before serving again, as separation is normal.
Banana Milk Variations
 • Add cinnamon. A 1/4 teaspoon of ground cinnamon will give this milk a lovely spicy flavor.
 • Add vanilla. It's also delicious with a 1/4 teaspoon of pure vanilla extract.
 • Add hemp hearts. Shelled hemp seeds are a complete source of plant-based protein, and will add even more creaminess.
 • Add sweetness. You can add a splash of maple syrup (or honey, if you're not vegan) to this recipe, if you prefer a sweeter drink.
How to Use It
Wondering how to use banana milk? Try one of these easy ideas.
 • Cook your oatmeal with it. Use banana milk instead of water, for added sweetness and nutrition. You can also use it to make overnight oats.
 • Serve it over cereal. It makes a refreshing treat, especially if you serve it over a cereal or healthy granola.
 • Make pudding. Try banana milk as the liquid for chia seed pudding or sweet potato pudding.
 • Use it in a smoothie. This isn't necessary in a smoothie that already calls for banana, like my peanut butter banana smoothie, but you can always add the extra banana flavor, if you'd like to!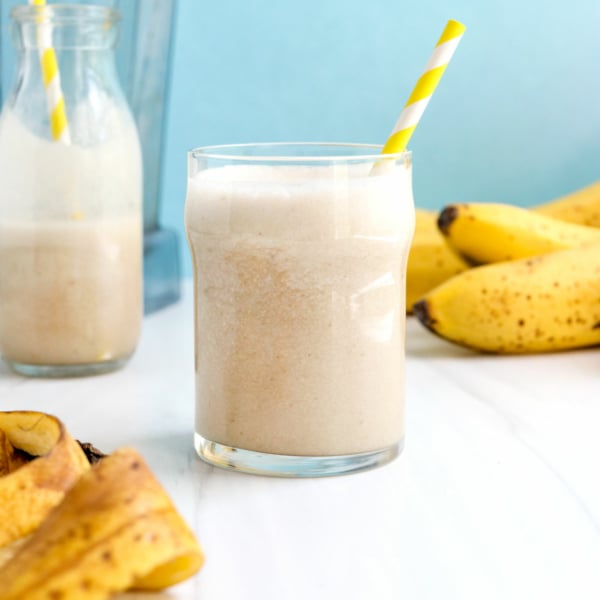 Banana Milk
Here's how to make banana milk, with just 2 ingredients! This dairy-free milk is perfect for those who need a nut-free option.
Instructions
Peel the banana and break it into chunks as you add it to the blender. Pour in the water, then blend until very smooth, about 30 seconds.

The banana milk is ready to serve right away! In fact, this is a recipe you want to prepare just before using it, as the banana milk will start to turn brown as it sits. This is perfect when you need a quick cereal milk in a pinch!

If you need to store any leftovers, you can store it in an airtight container in the fridge for up to 2 days, but don't be surprised by the discoloration or separation. Shake well before using it again.
Notes
Nutrition information is for the whole batch, assuming you use a medium-sized banana. This is automatically calculated, and is just an estimate, not a guarantee.
Add extra flavor: Try adding in a 1/4 teaspoon of cinnamon or vanilla extract, or 1 teaspoon of maple syrup.
Chocolate milk variation: Try adding 1 tablespoon of cacao powder and 1 tablespoon of maple syrup.
Nutrition
Calories:
105
kcal
,
Carbohydrates:
27
g
,
Protein:
1
g
,
Fat:
1
g
,
Saturated Fat:
1
g
,
Polyunsaturated Fat:
1
g
,
Monounsaturated Fat:
1
g
,
Sodium:
13
mg
,
Potassium:
422
mg
,
Fiber:
3
g
,
Sugar:
14
g
,
Vitamin A:
76
IU
,
Vitamin C:
10
mg
,
Calcium:
13
mg
,
Iron:
1
mg
If you try this banana milk recipe, please leave a comment and star rating below letting me know how you like it.