Sweet Potato Pudding is a healthy dessert, made with just 4 simple ingredients. It tastes like the holidays, with a hint of ginger in each bite, and has a vibrant hue, thanks to whichever variety of sweet potato you use.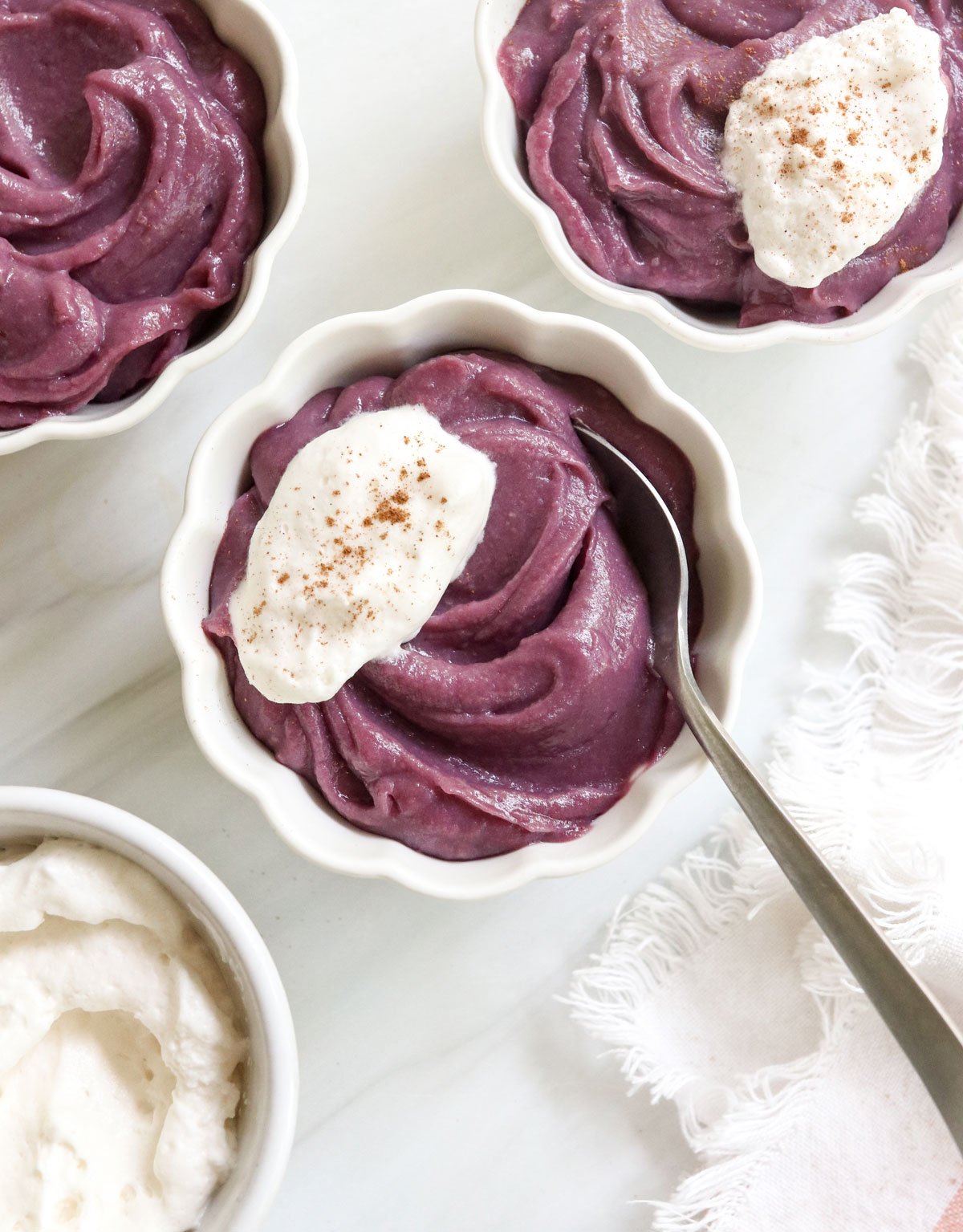 Why You'll Love It
It's unique! While most pudding recipes use milk as the base, this pudding is primarily made of roasted sweet potatoes. When you blend them together with ginger, coconut milk, and maple syrup, it has a warming, comforting flavor that feels like Fall in a cup.
It's wholesome. Instead of using brown sugar or marshmallows, this pudding recipe is naturally sweetened and relies heavily on the sweet potatoes for texture, so there's plenty of fiber, vitamin C, calcium, and potassium inside.
It's allergy-friendly. When you use coconut milk for blending, this recipe is naturally vegan, gluten-free, and dairy-free. You can also use almond milk or oat milk, if you prefer. (Really, any liquid should work.) No butter, eggs, or flour are required.
It's quick to prepare. You do need to bake the sweet potatoes first, but once you have those ready, you just have to toss the ingredients into a blender and blend until smooth. This is the perfect recipe to use up leftover sweet potatoes!
It's easy to make ahead. This pudding is delicious when served warm, but it is also excellent when it is served chilled straight from the fridge. That means you can make it a few days in advance, if you plan on serving this during the busy holiday season.
Prefer to make a casserole? Check out this healthy sweet potato casserole with a crispy oatmeal pecan topping, for more of a Southern sweet potato pudding recipe.
Ingredients You'll Need
What's in sweet potato pudding?
Baked sweet potatoes
Coconut milk
Ginger
Maple syrup
When I can find purple sweet potatoes at the store, I love to use those for their vibrant color and high antioxidant content. Orange sweet potatoes and white sweet potatoes (sometimes called Jamaican sweet potatoes) will work for this recipe, too.
Be sure to use full-fat coconut milk for the creamiest results. Since coconut milk can separate in the can, you might want to blend it together first, so it's easier to measure for this recipe.
Want to add more flavor? You can add a splash of vanilla extract, a dash of cinnamon, or a handful of raisins to this recipe before serving.
How to Make Sweet Potato Pudding
1. Roast the sweet potatoes.
Preheat the oven to 400ºF and pierce the sweet potatoes several times with a knife, to help them vent. Rub the outside with olive oil, then place them on a rimmed baking sheet.
Bake until the sweet potatoes are tender, about 45 to 60 minutes, depending on their size. You can also cook sweet potatoes in the air fryer, if you prefer not to heat up your whole house.
Tip: Use an instant read thermometer to make sure your sweet potatoes are tender on the inside. When they reach an internal temperature of at least 207ºF, you'll know they are ready.
2. Blend.
When the potatoes are cool enough to handle, slice them in half and scoop out the tender insides. (Save the skins for another use, like baked chips.)
Add the scooped potato to a blender, along with coconut milk, maple syrup, and fresh ginger. If you don't have fresh ginger on hand, you could use a 1/4 teaspoon of ground ginger, or a 1/2 teaspoon of ground cinnamon, instead.
Blend until very smooth. Depending on the size and sweetness of your sweet potatoes, you may need to add extra coconut milk, or extra maple syrup, to taste. Continue adding, and tasting as you go, until the pudding reaches your desired consistency.
If you don't have a high-speed blender, you can also mix this pudding the bowl of a standing mixer until smooth. Use a spatula to scrape down the sides often, until everything is evenly mixed.
3. Chill.
You can serve this pudding right away, if you'd like to, or transfer the mixture to an airtight container and let it chill in the fridge. You can serve it chilled in about 4 hours, or make this up to 5 days in advance.
To help the pudding cool down even faster, spread it out into a thinner layer in a large baking dish, and then place it in the fridge to chill.
Serve in individual ramekins or small bowls, with coconut whipped cream on top. Add a sprinkle of cinnamon, or any other spice you like. (A hint of nutmeg is also nice!)
Leftovers can be stored in the fridge for up to 5 days.
More Sweet Potato Recipes
Looking for more ways to enjoy sweet potatoes? Try these!
Sweet Potato Frosting. This is especially fun for Halloween-themed cupcakes, because you can use purple and orange sweet potatoes to make a colorful topping for cupcakes.
Sweet Potato Toast. Roasted slices of sweet potato make an easy alternative to bread! Pop them in the toaster to reheat, and add your favorite toppings, like peanut butter, sliced banana, or avocado.
Sweet Potato Curry. This savory dish is a fast dinner idea! Serve it with rice and any veggies you need to use up.
Sweet Potato Brownies. These vegan brownies are made with sweet potato instead of eggs. They turn out ultra-fudgy, and they are naturally gluten-free.
Vegan Sweet Potato Pie. This tastes better than pumpkin pie, if you ask me! It's a serious hit around the holidays, and is a delicious way to use up baked sweet potatoes.
Sweet Potato Pudding
Sweet Potato Pudding is a comforting dessert, made without dairy or refined sugar. Paired with coconut milk and ginger, it will warm you from the inside out!
Ingredients
1 ½

pounds

sweet potatoes

(about 2 medium)

¾

cup

coconut milk

½

inch

fresh ginger

, peeled

½

cup

maple syrup

, or to taste

pinch of salt
Instructions
To cook the sweet potatoes, pierce them several times with a knife to allow for venting. Place them on a rimmed baking sheet and bake at 400ºF for 45 to 60 minutes, or until the center reaches an internal temperature of 207ºF. Cut them in half, and set them aside to cool for at least 10 minutes.

Once the sweet potato is cool, scoop the insides into a high speed blender, along with the coconut milk, ginger, maple syrup, and salt.

Blend until very smooth. Add more coconut milk, or a splash of water, if needed to help achieve a silky smooth texture.

You can serve the pudding while it's still warm, or store it in an airtight container in the fridge to chill. It will keep well for up to 5 days in the fridge, and can be served chilled for an easy dessert. Top with coconut whipped cream, if desired.
Notes
Nutrition information is for roughly 1/4 cup of pudding, assuming you get 2 cups from this recipe. (You might get more than that!) This information is automatically calculated, and is just an estimate not a guarantee.
• You can use orange, white, or purple sweet potatoes for this recipe. I used purple because I think they are so fun!
Nutrition
Calories:
170
kcal
,
Carbohydrates:
31
g
,
Protein:
2
g
,
Fat:
5
g
,
Saturated Fat:
4
g
,
Polyunsaturated Fat:
0.1
g
,
Monounsaturated Fat:
0.2
g
,
Sodium:
51
mg
,
Potassium:
380
mg
,
Fiber:
3
g
,
Sugar:
16
g
,
Vitamin A:
12066
IU
,
Vitamin C:
2
mg
,
Calcium:
51
mg
,
Iron:
1
mg
If you try this sweet potato pudding recipe, please leave a comment and star rating below letting me know how you like it!