To celebrate the release of my new cookbook, Everyday Detox, I thought it might be fun to share a sneak peek at more of the recipes you'll find in there.
When I signed this book deal nearly two years ago the only disappointing aspect was that we couldn't squeeze photos for every. single. recipe. into the book. Of course, it is still filled with beautiful, full-color photos (done by a professional photographer, so they look much nicer than mine below!), but I personally like to see a photo of every recipe before I make it, so I thought I'd fill in the gaps by sharing additional recipe photos here below, so you can reference them when needed.
I hope they get you excited to start cooking from the new book!
Buckwheat Banana Bread. This book is loaded with mostly grain-free recipes, but I included a few of my favorite psuedograins, like buckwheat and quinoa, too. This vegan quick bread can be made with store-bought buckwheat flour (which is what I used in the loaf above) or you can grind your own raw buckwheat groats for a loaf that is lighter in color.
Banana Coconut Muffins. I love these muffins because they are grain-free, egg-free, and naturally sweetened with only fruit. They are the first muffin my son ever tasted, and they're still one of his favorites! (Mine, too.)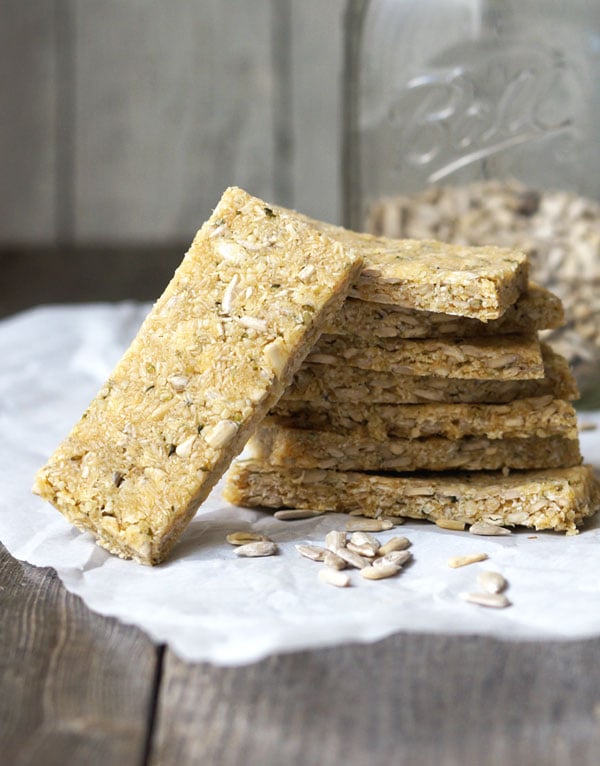 No-Bake Coconut Granola Bars. These snack bars are nut-free and can be stored at room temperature without getting soft, so they're perfect for snacking on the go!
Cinnamon Raisin Snack Bars. These bars taste like a cinnamon raisin cookie, without the flour or added sugar. They may not look like much, but they are downright addictive!
Raw Falafel Wraps. Traditional falafel is deep-fried, but this version is light and hydrating with all of the flavors you love. Perfect for packed lunches or a portable snack!
Thai-Style Lettuce Wraps. These were inspired by the popular lettuce wraps from P.F. Chang's, and this vegetarian version tastes just as delicious, while also being oil-free.
Chinese Cabbage Salad. This salad was inspired by a local LA restaurant called Take A Bao. Their cabbage salad is deliciously addictive, and I needed to make a version at home so we weren't tempted to eat there too often! My version is slightly less sweet than theirs, and can easily be made ahead of time for a convenient lunch or weeknight dinner.
Quinoa Tabouli. This protein-packed dish can be made ahead of time for a convenient and delicious packed lunch option all week long.
"Beef" & Broccoli. This dish was one of my childhood favorites, and my plant-based alternative tastes even better than the take-out version! I made a point of not using any special thickeners, like arrowroot, in this cookbook, so I think you'll be happily surprised by how easy this recipe is to prepare.
Cauliflower Gratin. A lighter alternative to the traditional potato version, this recipe is free of starches and flour thickeners. It almost reminds me of a veggie-based Mac n' Cheese!
Enchilada Stuffed Cabbage Rolls. These "enchiladas" are warm and comforting, and so flavorful that you won't miss the cheese. (Though you're welcome to add it, if you like!)
Cheesy Jalapeno Casserole. This dish is vegetarian comfort food at its best. I combined the concept of a cheesy hash brown casserole with a jalapeño popper to create one delicious casserole!
Dark Chocolate Pudding. If you love chocolate pudding, you'll LOVE this perfected dairy-free recipe. Everyone who tries it goes back for seconds– and they never guess the "secret" ingredient.
Double Chocolate Brownies. These brownies are made with coconut flour, but are unbelievably moist! Make sure you wait for them to cool completely before cutting, as they are easier to cut and taste best at room temperature, with chunks of dark chocolate in each bite!
Almond Butter Freezer Fudge. This recipe is already a fan-favorite here on the blog, but I perfect the recipe in the book to fit a standard-sized pan, so it turns out perfect for your family every time!
Peppermint Fudge Bars. I think this is my favorite dessert recipe in the book. I created them for Christmas two years ago, and they will be a staple in my household from now on!
No-Bake Chocolate Macaroons. These cookies are quick and easy to prepare, and last indefinitely when stored in the freezer– I have some in mine right now! They're the perfect bite-sized way to naturally satisfy your sweet tooth.
Chocolate Cupcakes with Maple Buttercream. I wanted this cookbook to be a go-to resource for your everyday recipe needs, so I felt that it was my duty to provide you with the PERFECT chocolate and vanilla cake recipes. I think I succeeded! These chocolate cupcakes are light and fluffy, just like a traditional cupcake, with a delicious chocolate flavor, and they are extra decadent when topped with this maple buttercream. (There's a recipe for chocolate frosting in the book, too– and both recipes can sit out at room temperature!)
—
Okay, now I'm drooling. I can't wait to hear which recipe you guys make first from your new cookbook. Get your copy of Everyday Detox today!