These healthy Chicken Burgers make a fast and flavorful weeknight dinner. They are a delicious alternative to traditional burgers if you're trying to cut back on red meat, and they pack 20 grams of protein per serving. I love that it takes just 20 minutes to get them on the table, from start to finish!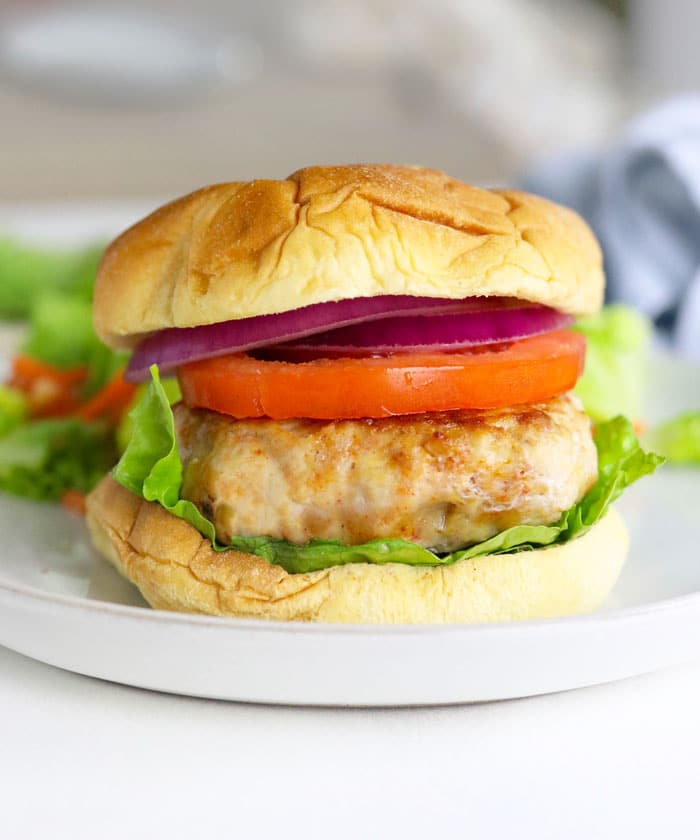 How Do You Make Homemade Chicken Patties?
These healthy chicken burgers are as easy to make as a traditional hamburger. You start with ground chicken instead of beef, mix in some seasonings, and form them into patties using your hands. No extra binders required!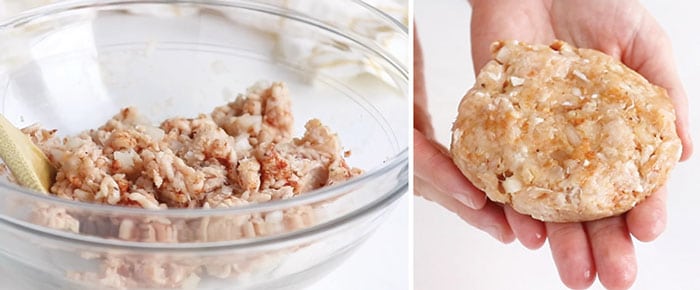 Paleo & Keto Chicken Burgers
Some recipes for chicken burgers will call for breadcrumbs or cheese to help with binding, but this recipe is grain-free and dairy-free to make it suitable for a variety of diets. My brother tends to follow a Keto diet, so this recipe is for him! (It's also Paleo-friendly.)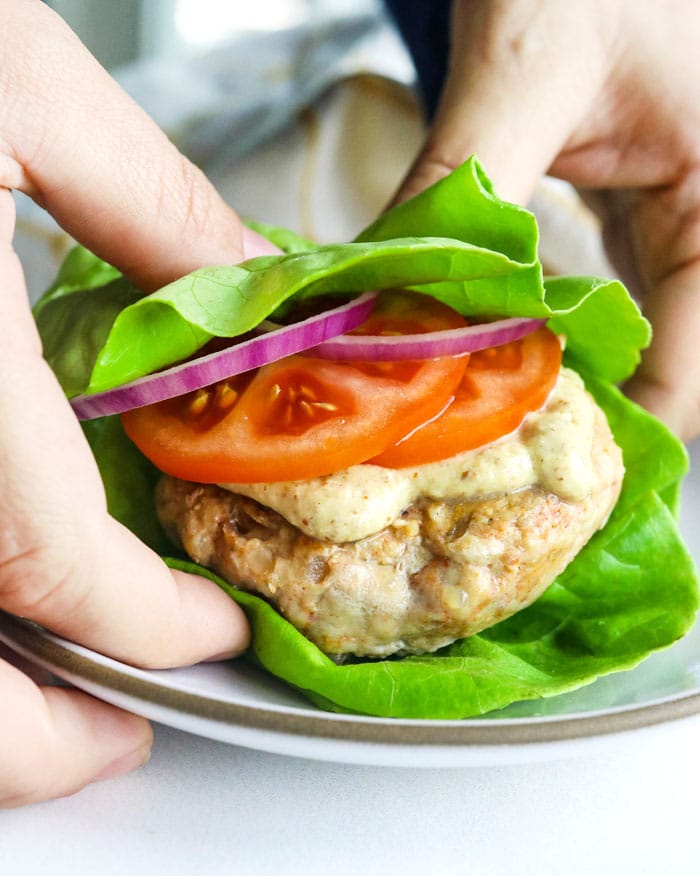 If you follow food combining rules, you can enjoy this burger as a lettuce wrap with a side of roasted broccoli for a properly combined meal. (In the animal protein category.)
What Goes Well on a Chicken Burger?
Topping-wise, you can serve a chicken burger just like a regular burger. I love topping mine with dijon mustard and veggies like lettuce, sliced tomato, and red onion. You can also top it with special sauce, homemade ketchup, sliced avocado, or even BBQ sauce!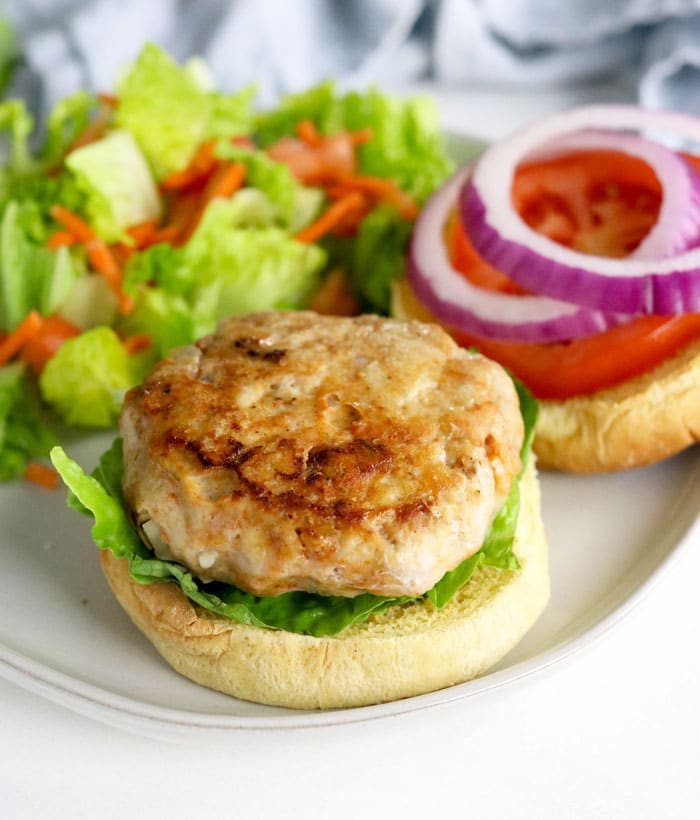 I like to add smoked paprika to this recipe to give the chicken burgers a "smoky" flavor, without having to actually grill them. (Though you can grill them if you want to!)
I also add in some chopped onion because I like the added texture, however if you have picky family members I recommend replacing the chopped onions with onion powder instead. This alternative means less chopping for you, so it's a win-win when you're in a hurry.
Like this recipe? You might also enjoy my Instant Pot Chicken Burrito Bowls and my Chicken Vegetable Soup. (Both of which are properly combined.)
How to make Healthy Chicken Burgers ( 1-Minute Video):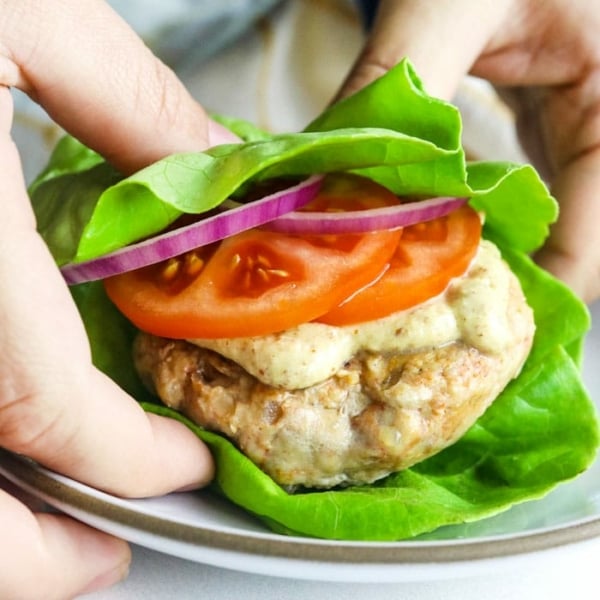 Healthy Chicken Burgers (Low-Carb & Paleo)
These healthy Chicken Burgers take just 20 minutes to prepare, for a fast protein-packed meal. You can serve them with a lettuce wrap instead of a bun to keep them gluten-free and properly combined.
Ingredients
1

pound

ground chicken

(I prefer organic)

1/2

cup

finely diced onion

(or 1/2 teaspoon onion powder)

2

garlic cloves

, minced (or 1/2 teaspoon garlic powder)

3/4

teaspoon

fine sea salt

1/4

teaspoon

smoked paprika

(optional)

freshly ground black pepper
Instructions
In a large bowl, combine the chicken, onion, garlic, salt, paprika, and several grinds of black pepper. Use a spoon to stir it all together, then divide the mixture into 4 even sections so you can form patties.

Get your hands wet to make the mixture easier to work with (it doesn't stick to wet hands) and form a burger patty by pressing it between your hands. Repeat with the remaining mixture until you have 4 evenly sized patties that are about 1 inch thick.

Grease a 12-inch skillet with olive oil, then place it over medium-high heat on the stove. Arrange all 4 chicken burgers on the skillet and let them cook for 5 minutes. Flip the burgers over and cook on the other side for 4 to 5 minutes, or until the burgers reach an internal temperature of 165ºF when checked with a thermometer. (You can also just cut one in half to make sure it's not pink in the middle.)

Serve the cooked burgers warm, with your favorite toppings. You can use a bun or lettuce wrap! Cooked burgers will keep well in the fridge for up to 3 days in an airtight container, or you can freeze them for up to 3 months.
Nutrition
Calories:
173
kcal
,
Carbohydrates:
2
g
,
Protein:
20
g
,
Fat:
9
g
,
Saturated Fat:
3
g
,
Cholesterol:
98
mg
,
Sodium:
505
mg
,
Potassium:
621
mg
,
Fiber:
1
g
,
Sugar:
1
g
,
Vitamin A:
60
IU
,
Vitamin C:
2
mg
,
Calcium:
14
mg
,
Iron:
0.9
mg
Chicken Burger Nutrition (per burger patty): Calories: 173, Carbohydrates: 2, Fiber: 1g, Protein: 20g
Recipe Notes:
You can use ground turkey instead of chicken if that's easier for you to find.
If you follow food combining rules, this recipe falls into the animal protein category and can be served on top of a salad or as a lettuce wrap. (This also makes it low-carb and keto friendly!)
If you try this recipe, please leave a comment below letting me know how you like it. And if you make any substitutions, please let me know how that works out for you, too! We can all benefit from hearing about your experience.
–
Reader Feedback: What's your favorite type of burger? We make black bean burgers most often, but Austin told me that these burgers are his current favorite.