If you have more fresh zucchini than you can eat, freezing it is the fastest & easiest way to preserve it. Today, I'm showing you how to freeze zucchini (in just minutes!), and how you can use frozen zucchini, once you have it.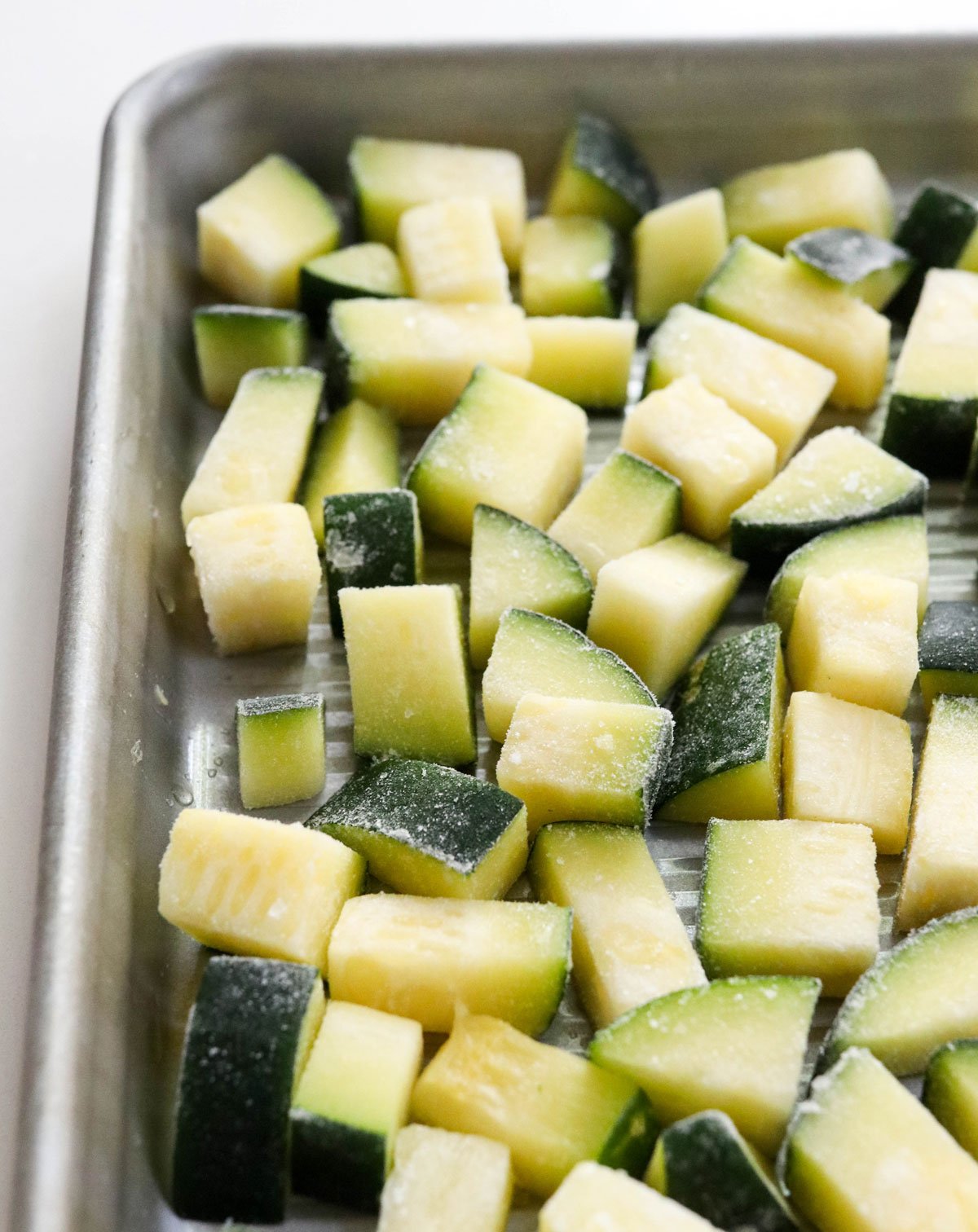 Zucchini is one of my favorite vegetables, because it's super versatile. You can use it in muffins, bread, lasagna, or stuff it for a savory meal. The flavor is so neutral, you can even use it in a vegan cheesecake!
How Do You Freeze Fresh Zucchini?
To freeze zucchini, you'll need to slice it into small pieces first. I like to cut the zucchini lengthwise, into 4 spears (sort of like a pickle), and then you can cut those spears into smaller pieces.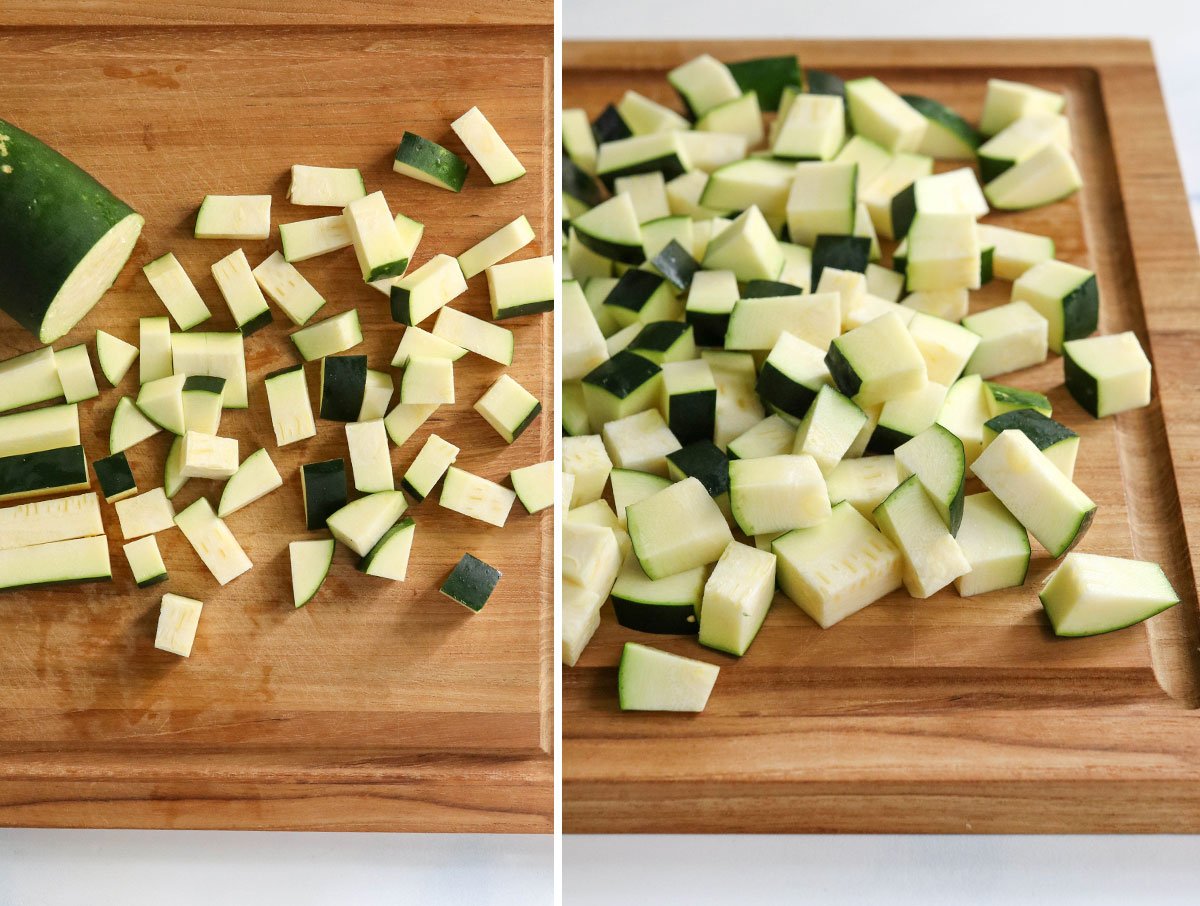 This keeps the pieces relatively uniform in size, and easy to measure for recipes later.
Arrange the zucchini pieces into a single layer on a baking sheet lined with parchment paper. (It will stick to the pan if you don't line it first!)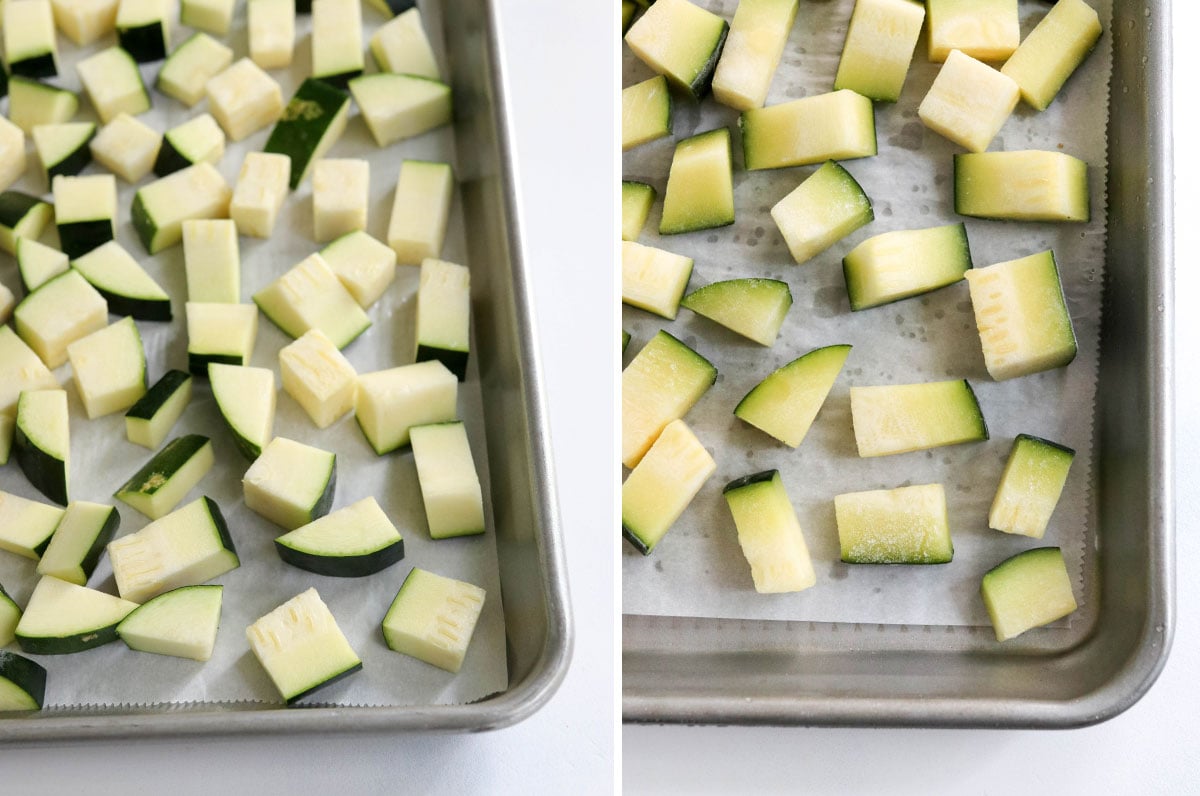 Freeze the zucchini for about 1 hour, until it's firm to the touch, then transfer it to an airtight container to preserve the flavor as you store it.
Freezing the individual pieces first makes the zucchini easy to measure, so you're not stuck with one big frozen chunk to deal with later!
Can You Freeze Zucchini Without Blanching It?
Yes, you can freeze zucchini without blanching it! Blanching vegetables before you freeze them is thought to deactivate their enzymes, which could potentially cause discoloration or make vegetables mushy.
However, in my experience, frozen vegetables are almost always more mushy than fresh vegetables after you thaw them, regardless. (This is the case with frozen green beans, too.)
I tend to use frozen zucchini in smoothies most often, so taking the time to blanch it, when I'm simply going to use it frozen, doesn't make much sense. Save yourself some time and skip the blanching process!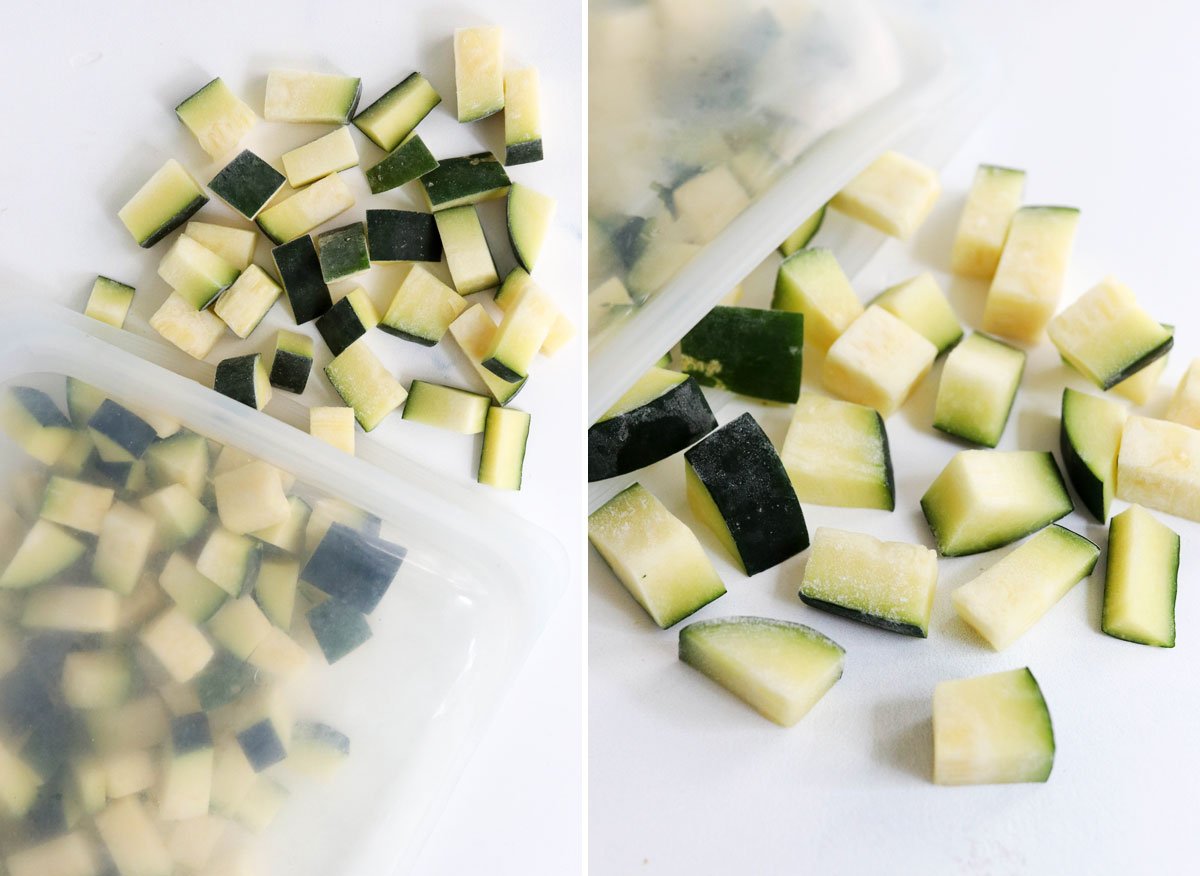 Keep in mind that frozen zucchini adds almost NO flavor or color to most smoothie recipes. It's more like you're adding a handful of ice to a smoothie, only it has more vitamins and minerals than ice.
You can use it in a low sugar smoothie recipe, or add it to any other smoothie you love.
What Can You Use Frozen Zucchini For?
You can use frozen zucchini in a number of ways, but below you'll find my favorite ideas.
Really, you can use zucchini as an extra vegetable in nearly any cooked dish! I recommend using it along with other veggies, rather than as a side dish on its own, because the texture won't be quite as sturdy as compared to fresh zucchini.
More Zucchini Recipes You'll Love
Curious about freezing other fresh produce? You can freeze bananas or strawberries using a similar method, as well as nearly any other raw veggie, like broccoli, cauliflower, carrots, and beets.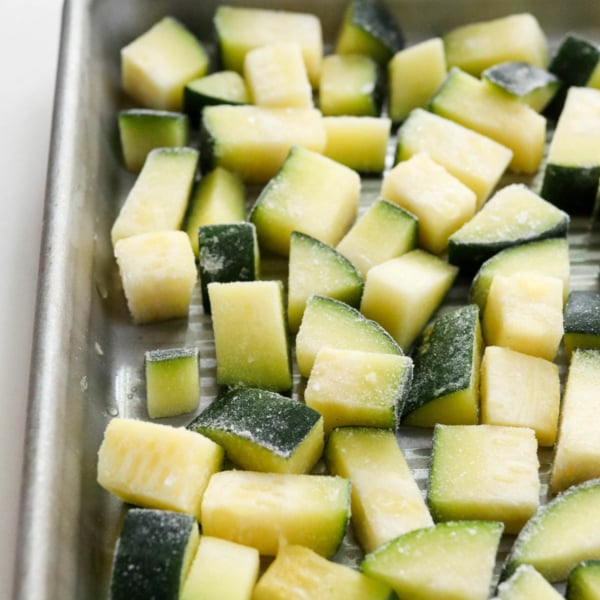 How to Freeze Zucchini
Here's how to freeze zucchini in just minutes! No blanching required. You can use frozen zucchini in smoothies, soups, and more!
Equipment
Ingredients
2

zucchini squash

(or as many as you need to freeze)
Instructions
Be sure to wash the outside of the zucchini, to remove any dirt or debris. Dry well with a towel, then slice the zucchini into 1-inch pieces. I like to slice the zucchini lengthwise into 4 spears (like a pickle), then chop those spears into smaller pieces, to be as fast & effiecient as possible.

Line a large baking sheet with parchment paper, then spread the raw zucchini pieces into a single layer. Try to keep the pieces from touching, so they won't stick together later. Place the pan in the freezer and let the zucchini freeze until firm to the touch, about 1 hour. (If you leave it in a little longer, that's fine, too.)

For the best flavor, transfer the frozen zucchini to an airtight bag or container. Because the pieces are individually frozen, they will be easy to measure for smoothies, soups, and more. Frozen zucchini will keep well in the freezer for up to 6 months.
Notes
Frozen zucchini will be mushy when it thaws, so it's best used in recipes where the texture isn't essential-- like in soups, curries, and frozen smoothies. It also can be thawed and used in a blended recipe, like my Zucchini Hummus.
Nutrition information is for roughly 1/2 cup of frozen zucchini, but this is just an estimate and not a guarantee.
Nutrition
Calories:
17
kcal
,
Carbohydrates:
3
g
,
Protein:
1
g
,
Fat:
1
g
,
Saturated Fat:
1
g
,
Sodium:
8
mg
,
Potassium:
256
mg
,
Fiber:
1
g
,
Sugar:
2
g
,
Vitamin A:
196
IU
,
Vitamin C:
18
mg
,
Calcium:
16
mg
,
Iron:
1
mg
If you try this method for freezing zucchini at home, please leave a comment below letting me know how it works out for you. And if you try anything different, I'd love to hear about that, too! We can all benefit from your experience.
–
Reader Feedback: Do you freeze your own produce often? We've always kept frozen bananas on hand, but freezing veggies is a game-changer for avoiding extra food waste!