This Spinach Smoothie is one of my favorite green smoothie recipes. It calls for simple ingredients that you probably already have on hand, and you can't taste the spinach at all!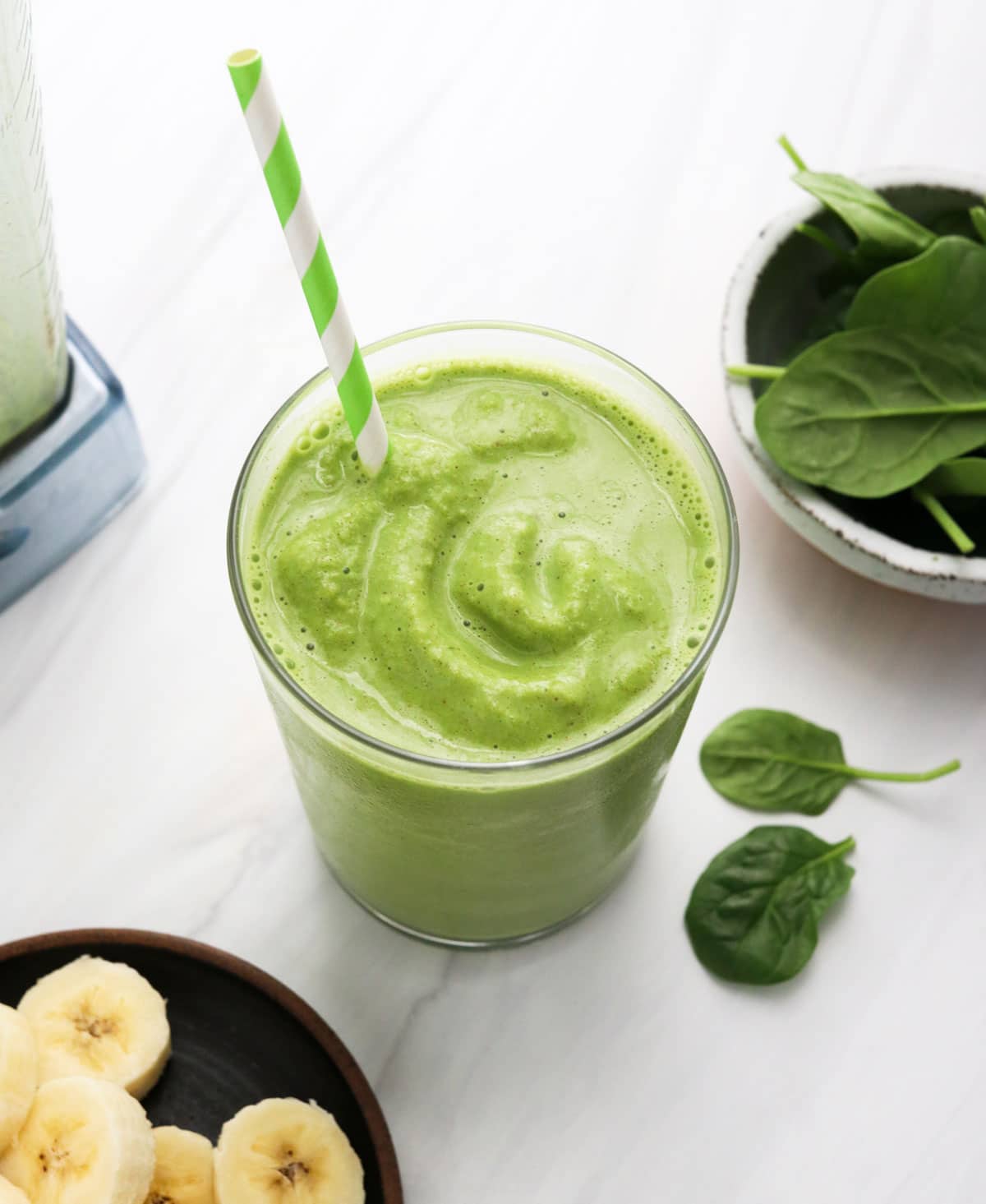 It's the kind of smoothie you could enjoy practically every day, because it's so quick and flexible. I'll even show you how to make freezer bags for below, so you can prep these ahead of time for a faster morning. They are perfect if you like to meal prep for the week!
Benefits of Spinach
Wondering why you might want to include spinach in your smoothies?
Worried about eating too much spinach? Those who are prone to developing kidney stones may want to limit their spinach intake, since it's a source of calcium and oxalates. The data isn't clear on how much dietary sources contribute kidney stones, so this is just something to point out, if you want to discuss it with your doctor.
Spinach is also a good source of vitamin K1, which helps with blood clotting and may interfere with certain blood-thinning medications. You may want to discuss your intake with your primary health care provider, to be on the safe side.
Ingredients You'll Need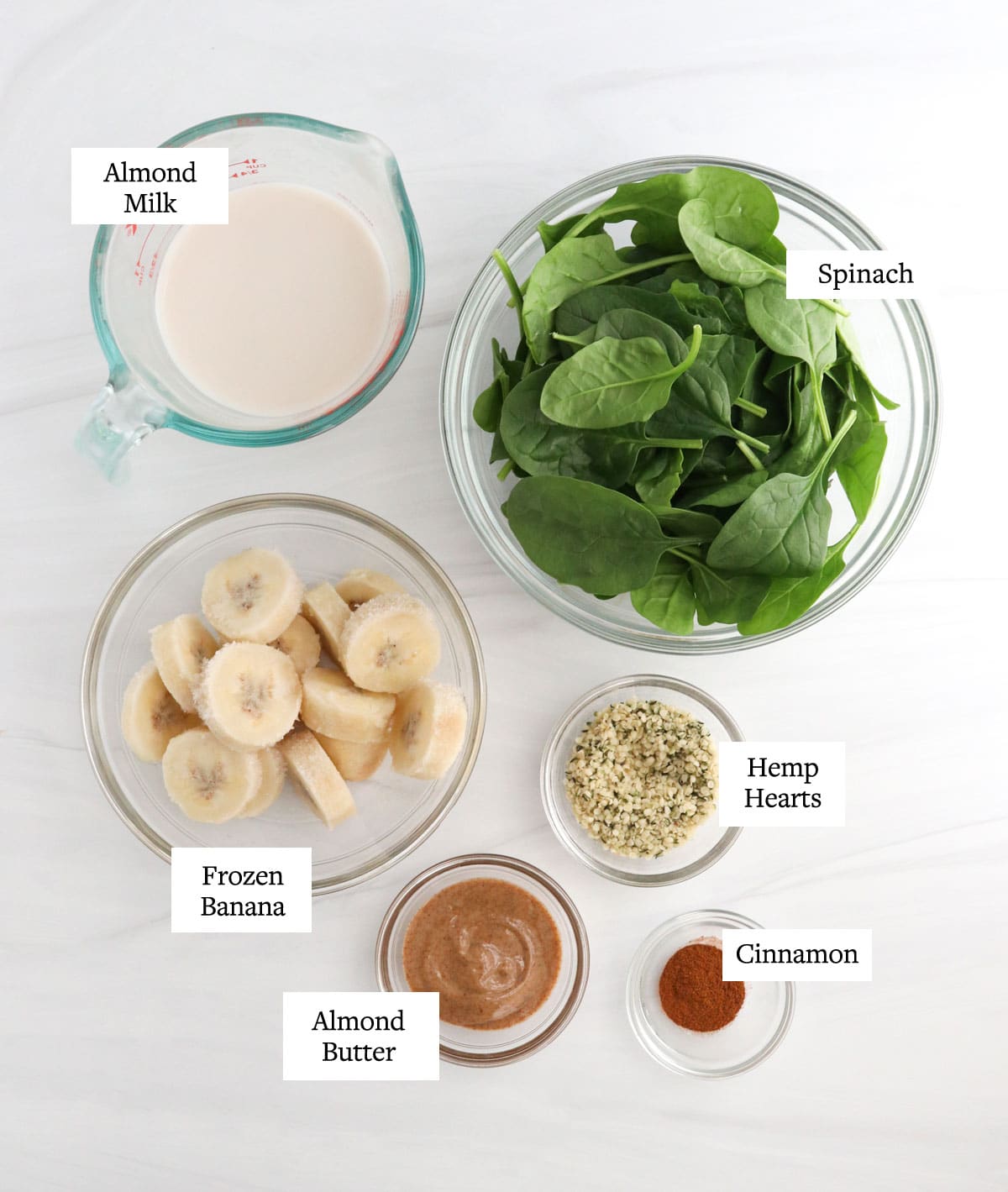 What's in a spinach smoothie?
Frozen banana (here's how to freeze bananas)
Spinach
Nut butter
Milk of choice
Hemp hearts (or protein powder)
Cinnamon
The spinach flavor is so mild that it blends right in with the other ingredients. You really won't be able to taste it! I prefer to make this smoothie with peanut butter lately, but it's also delicious with almond butter. When you use almond milk or oat milk in this recipe, it's vegan and dairy-free, too.
Adding a nut butter to this smoothie makes it ultra-creamy, almost like a healthy milkshake. But the only sweetness comes from using a banana, so make sure you freeze the banana when it is very ripe, with lots of black spots on its skin. (And be sure to peel the banana before you freeze it.)
Don't like bananas? If you prefer to make a smoothie with no banana, try swapping it for 3 to 4 pitted Medjool dates, instead. They add a natural sweetness, without any banana flavor. I especially love them in my favorite chocolate smoothie.
How to Make the Best Spinach Smoothie
1. Start with the greens. If you don't have a very powerful blender, I recommend starting off with just the spinach and milk. Blend those together, until the spinach is pulverized, so you won't have any chewy leaves in your final drink.
2. Blend. Once the spinach is broken down, you can add in the frozen banana (cut it into coins for easy blending), nut butter, hemp hearts, and cinnamon. Blend again, until the smoothie is very smooth and creamy.
Note: I recommend starting with only 1/2 cup of milk for this recipe, because bananas vary so much in size and I don't want your smoothie to turn out too runny in texture.
For a large banana, I usually have to add another 1/4 cup of liquid to the blender, to make it blend smoothly. It's always going to be easier to add liquid to a smoothie, rather than trying to make it thicker later with ice, which will dilute the flavor greatly.
3. Enjoy! This smoothie will have the best taste and texture when you serve it right away. I love the slushy-like texture!
If you need to store leftovers, they will keep in an airtight container in the fridge for up to 2 days, but the texture will not be the same.
How to Make a Freezer Bag (Smoothie Meal Prep)
If you'd like to make this recipe in advance, I suggest making a smoothie bag that you can store in the freezer, then blend together shortly before drinking it.
Here's how:
1. Add the peeled banana, spinach, hemp hearts, and cinnamon to an airtight container or storage bag. (I like to use reusable silicone bags to reduce waste.) You can add the nut butter at this point, too, but it's a little messier to try to get in and out of the bag later, unless you can sandwich it between your ingredients, like the spinach leaves.
2. Seal the container and store it in the freezer for up to 3 months.
3. When you are ready to make the smoothie, dump the contents of the bag into the blender, and add in 3/4 cup milk. (You'll start with more milk for this frozen version to help with blending.) Add in a big spoonful of nut butter, if you didn't add it to the bag, then blend!
The smoothie is ready to serve right away, for a faster morning without much measuring or mess to clean up.
Expert Tips & Common Questions
Is raw or cooked spinach better? If you are concerned about the oxalate found in raw spinach, cooking it may reduce the oxalate content by 30-87%. The oxalic acid found in spinach can also interfere with nutrient absorption, so cooking the spinach and breaking down that acid may also help improve the absorption of iron and calcium.
With that being said, raw spinach is very convenient (especially when you buy it prewashed) and can be frozen, to help avoid food waste, so either version will work in this smoothie recipe.
Keep in mind, if you use cooked spinach, it will shrink quite a bit, so you won't want to use a full cup of cooked spinach in this recipe or the flavor will be too concentrated. Start with a 1/4 cup or 1/2 cup of cooked spinach, and adjust to taste as you go.
Can I use frozen spinach? Store-bought frozen spinach is usually blanched before being frozen, so this is an easy shortcut if you'd like to use cooked spinach in your smoothies. Just keep in mind that you'll want to start with a smaller amount of the frozen spinach, since it's so concentrated compared to fresh baby spinach. In this case, you'll probably want to use a little more liquid for blending, too.
What else can I add to this smoothie? Feel free to get creative with this one! You can add more frozen fruit, like strawberries, blueberries, or pineapple, and you can also add more filling elements, like chia seeds or greek yogurt, if you'd like to. Just keep in mind that adding more fiber will also mean that you need a little more liquid to blend.
For more smoothie inspiration, check out my Chocolate Peanut Butter Banana Smoothie, Oatmeal Smoothie, and Coffee Smoothie.
How do I thicken it? If you end up adding too much liquid to this smoothie, you can thicken it by adding a handful of ice cubes, which will slightly dilute the flavor, or you can add a little extra frozen fruit, like more banana, or even some frozen mango.
Do I have to use milk? Nope! You can use water or orange juice as the liquid, instead.
Spinach Smoothie
This spinach smoothie recipe is quick and easy, using simple ingredients that you probably already have on hand. You can't taste the spinach at all!
Equipment
Ingredients
1/2

cup

almond milk

, plus more as needed to blend

1 to 2

cups

baby spinach

(see notes)

1

tablespoon

peanut butter

(or almond butter)

2

tablespoons

hemp hearts

1

frozen banana

, sliced

1/4

teaspoon

ground cinnamon
Instructions
If you don't have a powerful blender, start by placing the milk and spinach in a blender. Blend until the greens are totally pulverized, for the best texture. (You can skip this step if using a high-speed blender.)

Add in the rest of the ingredients, and blend until very smooth. You may need to add up to a 1/4 cup more milk or water to help everything blend smoothly, depending on the size of the banana you use. The riper the banana you use, the sweeter this smoothie will be. If you need to add sweetness, you can always add a pitted Medjool date, or a splash of maple syrup, or honey (if not vegan), and blend again. Serve right away for the best taste and texture.

Leftover smoothie can be stored in an airtight container in the fridge for up to 48 hours, but the taste and texture will change over time. Be sure to check out the freezer bag tips in this post, for another make-ahead option.
Notes
Nutrition information is for the whole batch. This information is automatically calculated, and is just an estimate, not a guarantee.
To make a more filling smoothie, feel free to add another tablespoon of nut butter, or extra frozen fruit + more liquid to blend.
I typically use fresh baby spinach in this recipe, but you can use frozen spinach if you prefer. In that case, start with just a 1/4 cup of frozen spinach (since it is more compact) and then you can add more, to taste, as you blend. See more tips in the full post.
Nutrition
Calories:
399
kcal
,
Carbohydrates:
34
g
,
Protein:
18
g
,
Fat:
24
g
,
Saturated Fat:
3
g
,
Polyunsaturated Fat:
14
g
,
Monounsaturated Fat:
6
g
,
Sodium:
261
mg
,
Potassium:
696
mg
,
Fiber:
6
g
,
Sugar:
16
g
,
Vitamin A:
3046
IU
,
Vitamin C:
19
mg
,
Calcium:
239
mg
,
Iron:
6
mg
I hope you'll enjoy this spinach smoothie recipe soon, and please leave a star rating and comment below to let me know how you like it!
—
Reader Feedback: What's your favorite smoothie combination?