These oat flour pancakes are gluten-free, vegan, and surprisingly fluffy! They have quickly become a family favorite, and I love that they are egg-free.
How to Make Oat Flour Pancakes
Oat flour is one of my favorite gluten-free flours because it's affordable and easy to find in stores, but make sure you look for "certified gluten-free" on the label to avoid cross-contamination. You can make your own flour by simply grinding gluten-free rolled oats in a coffee grinder or blender.
Aquafaba as a Vegan Egg Substitute
In my experience, oat flour needs eggs to "fluff up," but I finally figured out a way around that by using aquafaba, which is the liquid leftover from a can of chickpeas. (Or any other variety of bean.) Aquafaba whips up just like egg whites, adding lift to vegan recipes like this one.
I found that you get the best stability, and the most fluffiness, when you add a pinch of cream of tartar to your aquafaba mixture. It's helps provide the same structure in recipes that eggs do.
If you don't have aquafaba on hand, I also have you covered. I found that using arrowroot starch and additional water can also replace eggs in this oat flour pancake recipe, so I've included that variation in the notes below the recipe.
I've also included two methods for preparing these pancakes. You can cook them the traditional way, on a skillet or griddle on the stove, or you can bake them, to cook several at once, without added oil. Either way, they're delicious!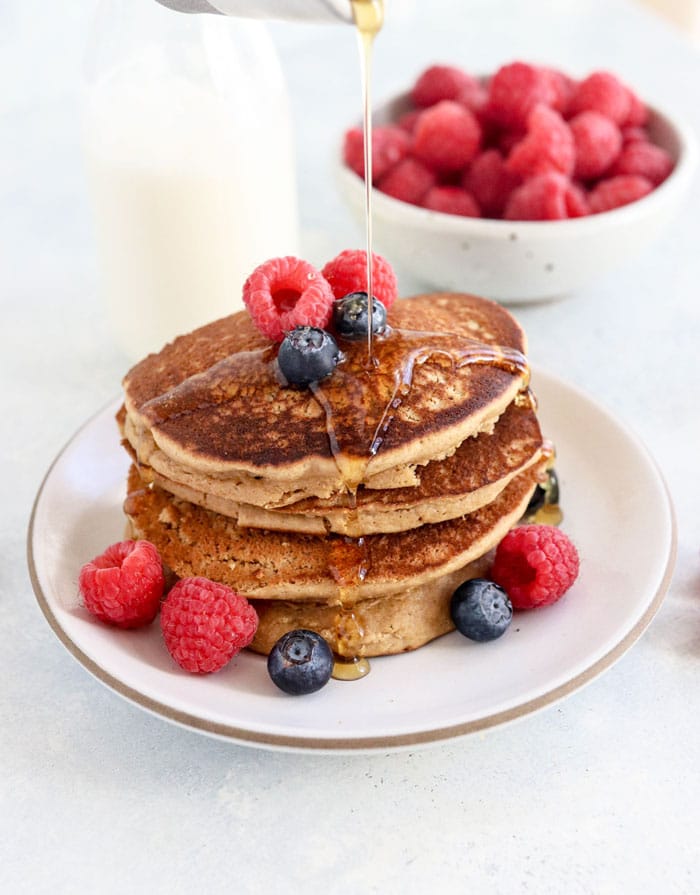 Vegan Oat Flour Pancakes
These Oat Flour Pancakes are amazingly fluffy, without using eggs! I love how quick and easy they are to make, with an option to use aquafaba, or not.
Ingredients
3

tablespoons

aquafaba

(liquid from chickpeas)

1/8

teaspoon

cream of tartar

1

cup

oat flour

(certified gluten-free, if needed)

3 to 4

tablespoons

coconut sugar

2

teaspoons

baking powder

1

tablespoon

olive oil

1/3

cup

water

1/8

teaspoon

fine sea salt

2

teaspoons

apple cider vinegar
Instructions
Preheat your oven to 350ºF and line a baking sheet with parchment paper (for baked pancakes) or preheat a skillet over medium-low heat on your stove top (for skillet pancakes).


In a large bowl, whisk together the aquafaba and cream of tartar until foamy, about 1 to 2 minutes.

Add in the oat flour, 3 tablespoons of the sugar, baking powder, oil, water, and salt and stir until a smooth pancake batter is formed. Stir in the vinegar last, which will react with the baking powder, adding a little extra fluffiness to the pancake batter. Taste the batter and add 1 more tablespoon of sugar, if desired. (My family prefers them a little sweet.) This batter will thicken as it rests, so feel free to add extra water, just 1 teaspoon at a time, if it thickens while cooking the pancakes to help make it pour-able again.


FOR BAKED PANCAKES: Pour the batter 1/4 cup at a time onto the lined baking sheet. It should spread into small pancakes, so leave room for them to spread a bit when baked. Bake at 350ºF until the centers feel firm to a light touch, about 8 to 10 minutes. There's no need to flip them this way, and the whole batch can cook at once.


FOR SKILLET PANCAKES: Grease the preheated skillet, and pour 1/4 cup of the pancake batter into the center. Wait for the middle of the pancake to bubble, about 4 to 5 minutes on medium-low heat. (If the heat is too high, they can burn-- just like traditional pancakes!) Use a spatula to flip the pancake when it looks sturdy enough, then cook on the other side for another 3 to 4 minutes. Remove from the pan, and repeat with the remaining batter, greasing the pan each time to help prevent sticking.


Serve the pancakes warm, with fruit and/or maple syrup, as desired.

Notes
Nutrition information is for 1 of 5 pancakes. This is just an estimate, and not a guarantee.
Nutrition
Calories:
123
kcal
,
Carbohydrates:
16
g
,
Protein:
3
g
,
Fat:
4
g
,
Sodium:
65
mg
,
Potassium:
263
mg
,
Fiber:
1
g
,
Calcium:
83
mg
,
Iron:
1.1
mg
Per pancake: 123 calories, Fat: 4g, Carbohydrates: 16g, Fiber: 1g, Protein: 3g
Recipe Notes:
To make this recipe without aquafaba, omit the aquafaba and cream of tartar. Instead, use 1/4 cup of arrowroot or tapioca starch and increase the water to 1/2 cup total.
You can omit the oil if you prefer an oil-free pancake. Just add 1 more tablespoon of water, if needed to thin out the batter. The pancakes are just slightly gummier in texture without the oil, but still totally enjoyable.
If you'd like a recipe with buckwheat flour, try my Baked Buckwheat Banana Pancakes instead.
As always, if you try something different with this recipe, please leave a comment below letting us know what you tried. We can all benefit from your experience!
–
Reader Feedback: Have you worked with aquafaba before? What's your favorite way to serve pancakes? My kids just like theirs with peanut butter on top– no syrup!