These Vegan Buckwheat Banana Pancakes are my new go-to pancake recipe. The batter can be whipped up in 10 minutes or less, and they're naturally gluten-free, dairy-free, and egg-free. They're even grain-free, if you consider the fact that buckwheat is a grain-like seed, similar to quinoa and amaranth, and doesn't grow on grasses the same way cereal grains do. If you love my Buckwheat cookies, you'll love these, too!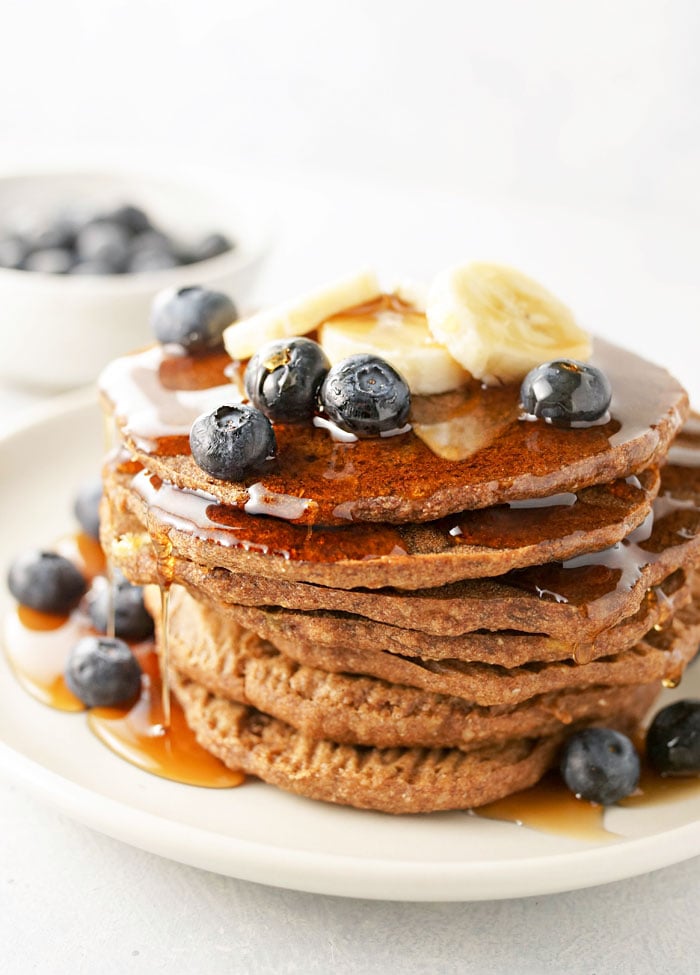 Benefits of Buckwheat
Buckwheat consumption has been linked to lower blood sugar levels in diabetics (source), as well as lowering blood pressure and improving cholesterol levels. (source) I love working with buckwheat flour, particularly freshly ground buckwheat groats, because you don't have to mix it with other flours or starches, as you have to do with many other gluten-free flours.
You can buy buckwheat flour at many grocery stores now, but I prefer to grind my own buckwheat groats because the flavor isn't as bitter and the color is a little more appealing. (Especially in these vegan buckwheat pancakes, if you look at the photos below!)
As an Amazon associate, I earn on qualifying purchases.
Store-Bought vs. Homemade Buckwheat Flour
Buckwheat hulls are included in most store-bought buckwheat flours, giving it a dark bluish-gray hue, as seen in the pancakes on the left above. The pancakes on the right are made with freshly ground buckwheat groats, and look a little more appealing for kids or picky family members.
I tested this recipe using both the store-bought flour, and my homemade flour that I quickly ground in a coffee grinder. Making my own flour took only 30 seconds, and I think the difference is worth it– but the choice is up to you!
How to Make Buckwheat Pancakes
These vegan buckwheat pancakes are an easy one-bowl recipe that you can stir together in less than 10 minutes. I like to start by mashing the bananas in the bottom of the bowl with a fork, then you add in the rest of the ingredients and stir until a batter is formed!
I'm also lazy when it comes to pancakes, so I prefer to bake these pancakes instead of pan-frying them. Baking them means you can cook all 6 pancakes at once— which is a huge time-saver– and it also means you don't need to add extra oil to the recipe, because there's no pan to grease. Simply use a silicone baking mat, or parchment paper, to prevent sticking.
If you prefer to fry these in a pan, feel free to do so, but I love having the whole batch ready to go in just 15 minutes of baking time. I hope you'll enjoy them, too.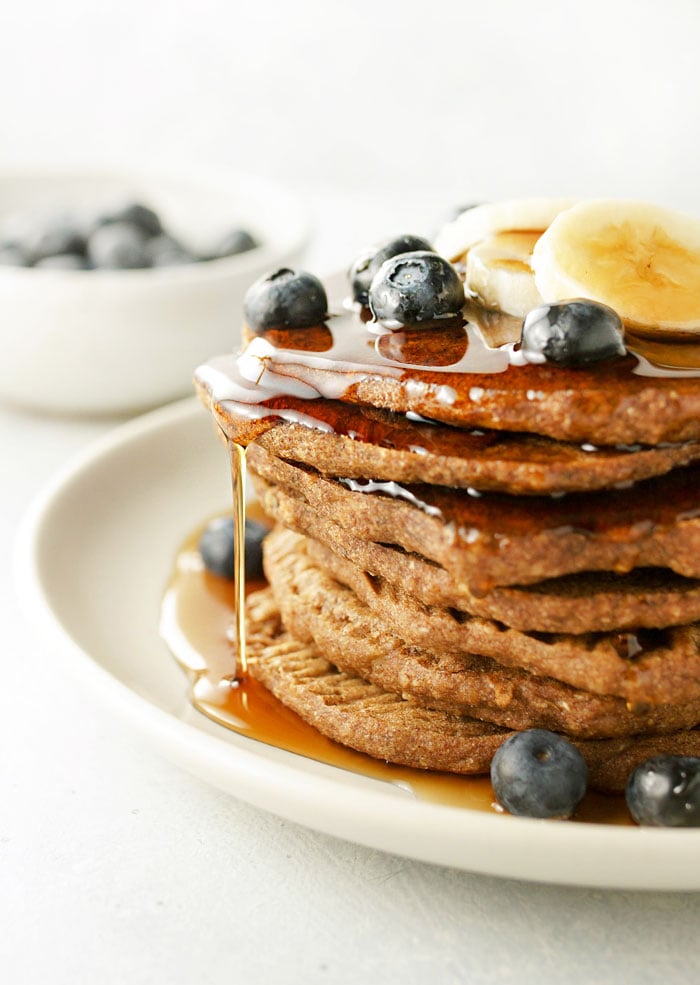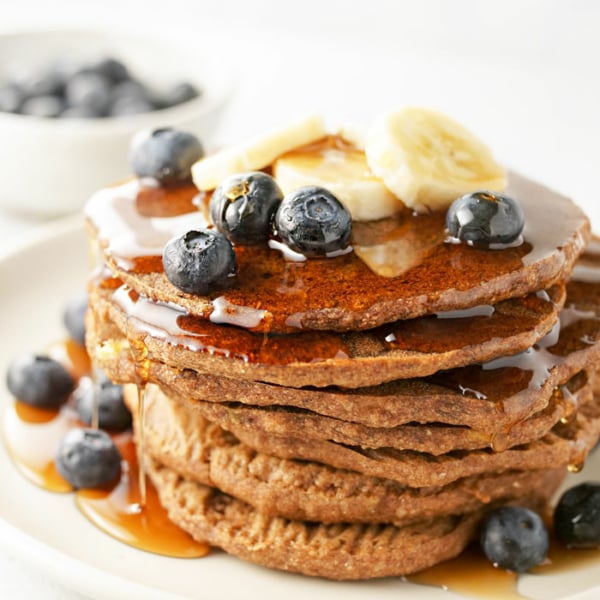 Vegan Buckwheat Pancakes
These Vegan Buckwheat Pancakes are naturally gluten-free, dairy-free, egg-free, and sweetened only with fresh fruit. Bake them to save time and get breakfast on the table faster!
Ingredients
1/2

cup

buckwheat flour

(store-bought or ground groats)

2

very ripe bananas

, about 3/4 cup mashed

2

tablespoons

olive or coconut oil

2

tablespoons

water

1

teaspoon

ground cinnamon

1

teaspoon

vanilla extract

1/2

teaspoon

baking soda

2

teaspoons

apple cider vinegar
Instructions
Preheat the oven to 350ºF, if you plan on baking the pancakes. If you'd like to grind your own buckwheat flour, simply pour raw buckwheat groats into a coffee grinder and grind until a fine flour-like texture is achieved, about 30 seconds. Measure the flour after grinding.

In a large bowl, mash the bananas (a few lumps are okay), then add in the ground buckwheat flour, oil, water, cinnamon, vanilla, baking soda, and vinegar. Stir well to create a fairly uniform batter. It will be slightly thicker than traditional pancake batter, not quite as runny.

To bake the pancakes, scoop the batter using a scant 1/4 cup measure, creating about 6 evenly sized mounds on a large lined baking sheet. Use the back of a spoon to spread the pancakes out, creating pancakes that are roughly 5- or 6-inches in diameter, and about 1/4-inch thick. Bake until the centers are firm, about 15 minutes at 350ºF.

If you prefer to pan-fry the pancakes, pour the scant 1/4-cup of batter into a greased skillet over medium heat, and use the back of a spoon to flatten the pancake into your desired size and thickness. (About 5 or 6 inches wide) Allow the top to bubble and the edges of the pancake to dry, about 4 or 5 minutes, then flip and cook through on the other side.

Serve warm, with fresh fruit and pure maple syrup, if desired.
Nutrition
Calories:
339
kcal
,
Carbohydrates:
49
g
,
Protein:
5
g
,
Fat:
15
g
,
Saturated Fat:
2
g
,
Sodium:
280
mg
,
Potassium:
596
mg
,
Fiber:
7
g
,
Sugar:
16
g
,
Vitamin A:
76
IU
,
Vitamin C:
10
mg
,
Calcium:
28
mg
,
Iron:
2
mg
Nutrition information above is for 1/2 the batch (roughly 3 pancakes). This is automatically calculated using generic ingredients in a database, so it's just an estimate and not a guarantee.
Recipe Notes:
This recipe makes 6 pancakes, enough to serve 2 people. Feel free to double or triple the recipe to have extras! I think these would keep well in the fridge for up to a week. I haven't tried freezing them yet, but I imagine they would freeze and thaw well, too.
If you need to use another type of gluten-free flour, I suggest starting with a different recipe. I have you covered if you need Coconut Flour Pancakes, Almond Flour Pancakes, Oatmeal Pancakes, or Vegan Oat Flour Pancakes.
Reader Feedback: Do you like working with buckwheat flour, too? Let me know if you want to see more buckwheat recipes in the future!
SaveSave