Have you ever tried homemade hazelnut butter? All you need is one simple ingredient (hazelnuts!) and a little bit of patience.
This hazelnut butter recipe is the result of having leftover hazelnuts after making homemade nutella and my favorite chocolate hazelnut smoothie.
If you've made homemade almond butter, peanut butter, or cashew butter before, this will be a breeze for you.
It's naturally vegan and paleo friendly, too.
Benefits of Hazelnuts
Hazelnuts are famous for their role in the popular chocolate hazelnut spread, but they also pack some potential health benefits, too.
Not to mention, hazelnuts have a unique flavor! Blending them into a nut butter makes it easy to add this flavor to smoothies, oatmeal, chia pudding, and more.
Ingredients You'll Need
What's in hazelnut butter? 
You can use raw hazelnuts, or blanched ones, if you'd like to skip the step of removing their skins. I definitely prefer starting with blanched hazelnuts if you can find them!
Flavor-wise, you can add a pinch of salt, or ground cinnamon, if you'd like, but this recipe requires no added oil or sweetener.
In fact, adding a sweetener, like maple syrup or honey, or a liquid flavoring, like vanilla extract, can cause a homemade nut butter to seize in the food processor… so I don't recommend it.
How to Make Hazelnut Butter
1. Roast the nuts. Preheat your oven to 300ºF and arrange 1 pound of hazelnuts in a single layer on a rimmed baking sheet. (The rimmed baking sheet will prevent any nuts from rolling off!)
Place the pan in the oven for 10 to 15 minutes, to gently toast the nuts. This should make their skins crack and easier to remove.
Note: Alternatively, you can purchase blanched hazelnuts, which already have their skins removed. In this case, you don't have to roast the nuts first, but warming them up does help them break down faster in the food processor.
Let the nuts cool for about 10 minutes, or until they feel safe to handle with your hands.
2. Remove the skins. Transfer the warm nuts to a dry towel, and rub them well to remove as much of the hazelnut skin as possible.
It's okay if you don't remove every piece of hazelnut skin, as sometimes it will stick to the nuts, but the goal is to remove as much as you can.
3. Blend. Transfer the warm hazelnuts to a food processor or blender, and secure the lid. It's important that the hazelnuts are cool enough to handle so you don't melt the plastic of your food processor or blender, either.
Start processing them, without adding any oil or other ingredients. I typically let the food processor run for 5 minutes, stopping to scrape down the sides every minute or so, to help keep the nuts towards the blades at the bottom.
Note: Only some blenders are able to pulverize nuts into nut butters. Standard blenders (like one under $100) usually aren't powerful enough to do so, and even super-powerful blenders with a narrow base (like certain Vitamix models) aren't ideal, either.
Using a food processor is a more fool-proof option in this case.
When 5 minutes have passed, stop the machine and remove the lid. Stop and scrape down the sides, then secure the lid again and continue processing.
After 4 to 5 minutes, you should hear a sloshing sound, as if the nut butter is becoming more liquefied.
Once the nut butter is totally smooth, with a consistency that drips off of a spoon, it's ready to use. You can add a pinch of salt at this point, or leave it unsalted.
Storage Tips
Hazelnut butter can be stored in a clean, dry jar with a lid at room temperature for up to 2 weeks. It's important that no moisture is introduced into the jar, or it will spoil more quickly.
For a longer shelf life, I recommend storing it in an airtight container in the fridge, for up to a month or so.
Frequently Asked Questions
What happens if I leave the skins on the hazelnuts? Hazelnut skin tastes very bitter, so if you don't remove it first, your hazelnut butter might not taste very good.
Can I add sweetener? I don't recommend adding a liquid sweetener to this recipe, as it may cause the hazelnut butter to seize, changing the texture. If you'd like to make a sweet recipe, be sure to refer to my nutella recipe, and expect a shorter shelf life.
Can I use a blender? I haven't had great luck using a blender to make nut butters; it's one of the most challenging things to make in a blender, especially if you'd like to avoid adding oil to the recipe. If you're willing to experiment with it, and have a lot of patience, feel free to give it a try.
You'll probably need to stop and scrape down the sides much more than you do with a food processor in that case.
How to Use It
Wondering how to use hazelnut butter now that you've made it?
Here are some ideas: 
Drizzle it on pancakes or oatmeal
Add a spoonful to a chocolate smoothie
Serve it with sliced bananas for a snack
Spread it over a piece of dark chocolate for a treat
Blend it with coffee or tea (try this vegan latte)
However you use it, I hope you'll love this easy homemade hazelnut butter. I can't wait to hear what you try!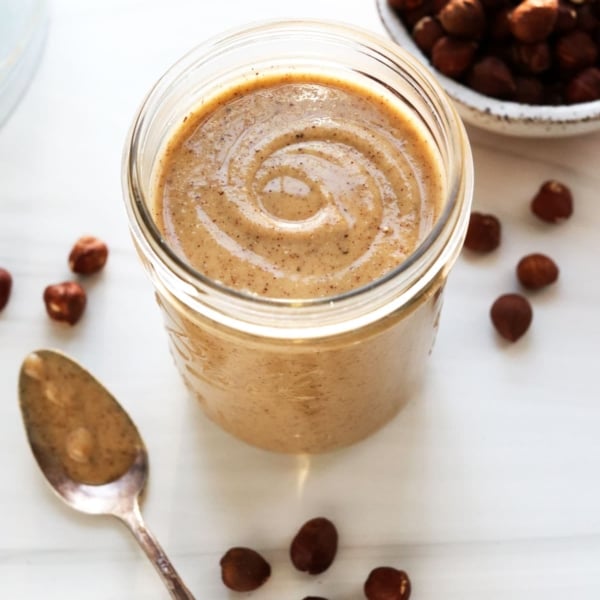 Homemade Hazelnut Butter
Here's how to make hazelnut butter with just 1 simple ingredient! All you need is a food processor and some patience.
Equipment
Ingredients
16

ounces

hazelnuts

(raw or blanched; about 3 cups)

1/2

teaspoon

salt

(optional)
Instructions
If you're starting with hazelnuts that have skin, preheat the oven to 300ºF. (You can skip this step if starting with blanched nuts.) Spread the hazelnuts out into a single layer on a rimmed baking sheet, and place them in the oven to roast for 10 to 15 minutes, until the skins start to crack.

When the hazelnuts are done roasting, let them cool until you can safely handle them. Transfer the hazelnuts to a dry towel, and rub them gently until the skins start to fall off. It's okay if you don't get the skin off every single nut; you're just trying to remove as much as possible. (The hazelnut skin is bitter, so the more you remove, the better the flavor will be.)

Transfer the skinned hazelnuts to the bowl of a large food processor fitted with an "S" blade. Secure the lid and process the nuts for about 5 minutes, stopping to scrape down the sides of the machine as you go. I usually scrape the sides every minute or so, if the ground hazelnuts keep crawling up the sides of the machine.

After roughly 5 minutes of processing, the ground hazelnuts should start to thicken up, turning into a paste. Continue processing, for another 4 to 5 minutes, until you hear more of a "sloshing" sound. When the hazelnut butter is done, it should have a very runny texture, and will drip off of a spoon.

You can use this hazelnut butter right away, or you can add up to a 1/2 teaspoon of salt and process briefly, for a salted hazelnut butter. Do not add any liquids to this recipe, like honey, maple syrup, or vanilla extract, as it may cause the hazelnut butter to sieze and could ruin the texture. (See the notes below for a sweet recipe.)

Homemade hazelnut butter can be stored in an airtight container in the fridge for at least 1 month, when you only use clean utensils in the jar. Be sure to keep it free from added moisture for the best shelf life.
Notes
Nutrition information is for 1 ounce of unsalted hazelnut butter, or roughly 2 tablespoons. This information is automatically calculated, and is just an estimate and not a guarantee.
To make a sweet chocolate hazelnut butter, check out my homemade nutella recipe.
Nutrition
Calories:
178
kcal
,
Carbohydrates:
5
g
,
Protein:
4
g
,
Fat:
17
g
,
Saturated Fat:
1
g
,
Polyunsaturated Fat:
2
g
,
Monounsaturated Fat:
13
g
,
Potassium:
193
mg
,
Fiber:
3
g
,
Sugar:
1
g
,
Vitamin A:
6
IU
,
Vitamin C:
2
mg
,
Calcium:
32
mg
,
Iron:
1
mg
If you try this hazelnut butter recipe, please leave a comment and star rating below letting me know how you like it!