Jackfruit tacos are a quick and easy vegetarian meal that you can whip up  in just about 20 minutes, from start to finish. They make such a fast weeknight meal!
What is Jackfruit?
Jackfruit is a large, oblong-shaped fruit with a green bumpy skin. The average size fruit weighs anywhere from 10-25 pounds!
Jackfruit can taste sweet, like a mango or banana, when eaten ripe, but it's most often sold in cans in its green unripened state, which has more of a neutral flavor. You'll want to look for cans of green jackfruit for this taco recipe.
Does It Taste Like Meat?
Jackfruit looks like shredded meat, but it doesn't necessarily taste like it. It has more of a neutral flavor, and does a really good job of absorbing flavors, which is why it makes such a great option for a "Pulled Pork" substitute, and these tacos.
I'd say that jackfruit most reminds me of the texture of canned artichoke hearts. Jackfruit shreds more easily (you can literally just pull it apart with your fingers to get a cool shredded meat texture) and when you rinse off the brine, it's ready to use in your recipes.
How to Buy It
Jackfruit is available as the fresh (huge!) fruit, or in more convenient cans or frozen bags. When buying canned or frozen, make sure you buy green jackfruit for this recipe. Otherwise you could be buying a ripe version that is too sweet.
I have only tested this recipe with canned jackfruit, but I image it would work well with frozen as long as you use the same amount and let it thaw.
How to Make the Best Tacos
Jackfruit tacos are quick and easy to make, taking only about 20 minutes. First, you'll chop up half of an onion, and saute it in olive oil for 5 minutes.
While that's cooking, I like to open up the canned jackfruit and rinse it really well in a strainer. Use your fingers to shred it directly in the strainer.
When the onion is softer, add in the seasoning and stir briefly. In a small bowl, stir together the tomato paste, maple syrup, lime juice, and salt, and then thin it out with water until it resembles ketchup.
Add it to the pan with your jackfruit, and stir it all together!
Once everything is hot, it's ready to serve. Make sure you taste the mixture and adjust the seasonings to your taste.
If you didn't rinse your jackfruit well, it might taste a little salty or sour– and you can always balance that out by adding a bit more sweetness.
Serve this jackfruit taco meat with your favorite taco shells and toppings!
For a properly combined meal that digests easily, stick to vegetable toppings like shredded lettuce, salsa, and homemade guacamole or sliced avocado. Lay out various toppings and make a taco bar for your family!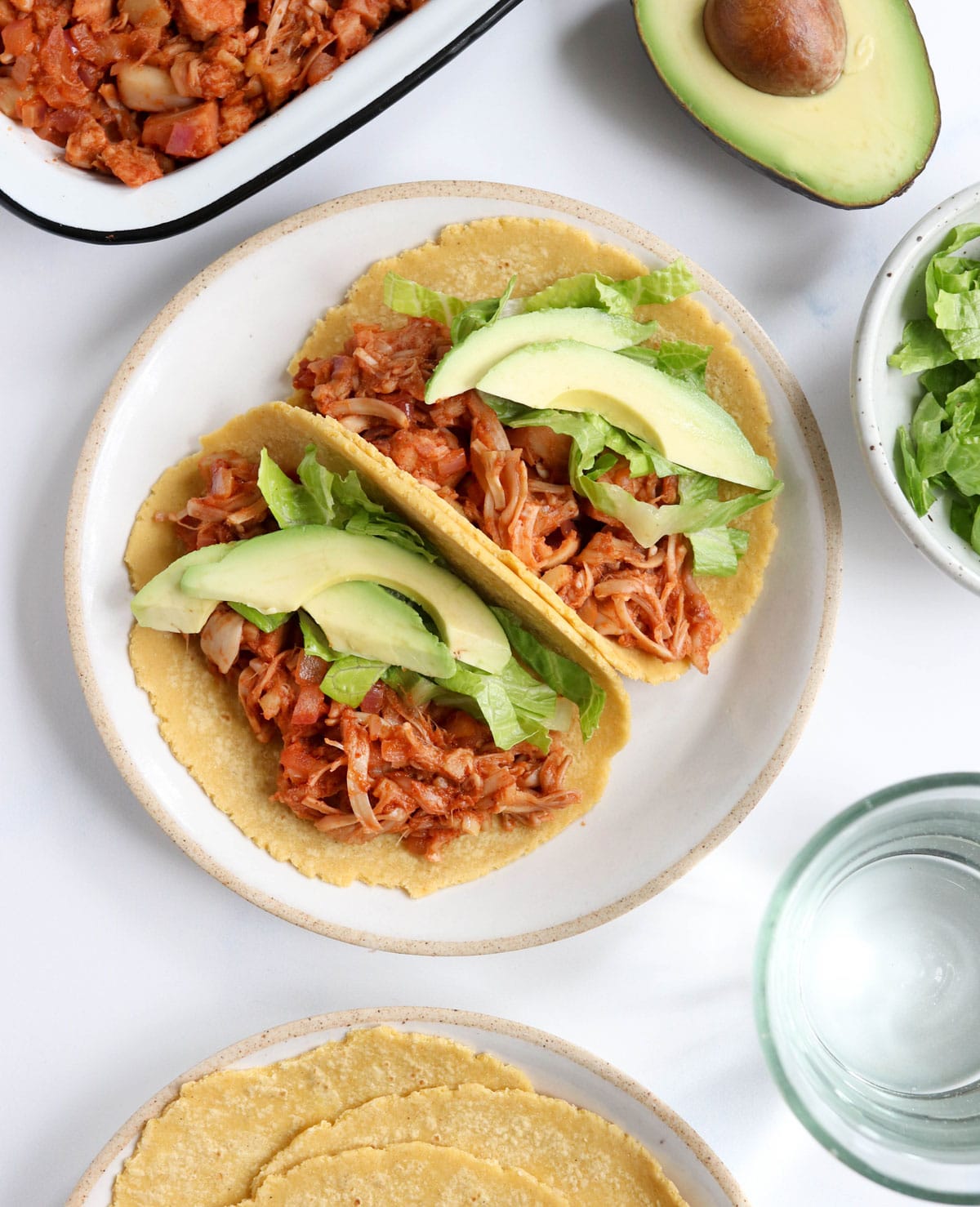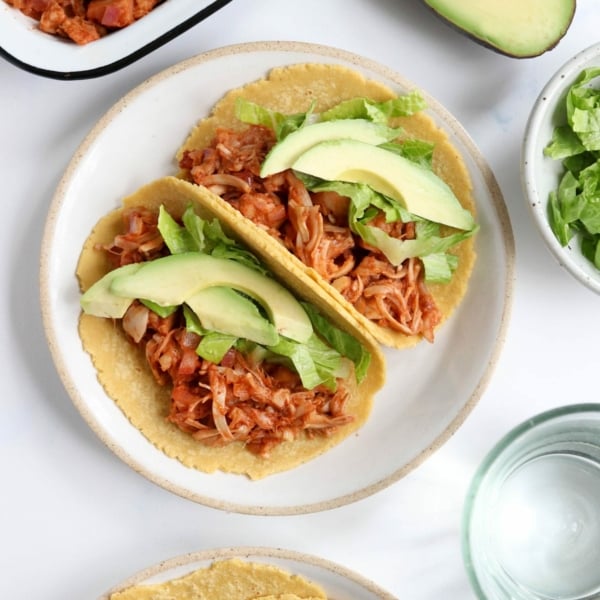 Best Jackfruit Tacos
Jackfruit makes an easy vegetarian base for taco "meat," and easily absorbs your favorite seasonings. This flavor combination is addictive, so you might want to double the recipe!
Ingredients
1

(20 oz.) can

green jackfruit

, drained and rinsed

1

tablespoon

extra-virgin olive oil

1/2

red onion

, diced

1

teaspoon

ground cumin

1

teaspoon

chili powder

1/4

teaspoon

garlic powder

(or 2 cloves minced garlic)

2

tablespoons

tomato paste

(with no salt added)

1

tablespoon

maple syrup

1

tablespoon

lime juice

(or lemon juice)

1/2

teaspoon

salt

water, as needed
Instructions
Drain the canned jackfruit, and rinse it very well to remove any brine. Use your fingers to "shred" the jackfruit into pieces that resemble shredded meat. Rinse the jackfruit again, then set it aside.

Heat the olive oil in a large skillet over medium heat, and saute the onion until it starts to soften, about 5 minutes.

Add the cumin, chili powder, and garlic to the skillet and stir briefly, just until the onions are coated in the spices. Add the jackfruit to the skillet and stir again. Add a splash of water to the pan if the seasonings are sticking to the bottom.

In a small bowl, stir together the tomato paste, mape syrup, lime juice, and salt. Add about 2 tablespoons of water, or more as needed, to help thin it out into a sauce that resembles the texture of ketchup. (If your tomato paste includes salt in the ingredients, leave out the salt and add it to taste later.)

Add the sauce to the skillet and stir well to coat the jackfruit. Cook and stir until everything is heated through, and adjust any seasonings to taste. Depending on how well you rinsed your jackfruit, you may want to add a little more salt, or another splash of maple syrup to help balance out the acidity. Serve warm, in your favorite taco shells and with your favorite toppings.

Leftover jackfruit taco meat should keep well in an airtight container for up to a week in the fridge.
Notes
This recipe is easy to double if you're serving more than 2 adults! We usually get about 6 generously-filled tacos from this recipe.
Nutrition
Calories:
123
kcal
,
Carbohydrates:
14
g
,
Protein:
1
g
,
Fat:
7
g
,
Saturated Fat:
1
g
,
Sodium:
728
mg
,
Potassium:
262
mg
,
Fiber:
1
g
,
Sugar:
9
g
,
Vitamin A:
541
IU
,
Vitamin C:
8
mg
,
Calcium:
32
mg
,
Iron:
1
mg
Nutrition info above is for half the batch– each serving should generously fill about 3 taco shells.
If you try this recipe, please leave a comment below and let me know how you like it. And if you make any modifications, I'd love to hear about those, too. We can all benefit from your experience!
–
Reader Feedback: Have you tried jackfruit yet? Let me know if you have any other recipe requests!