This post is sponsored by USA Pulses and Pulse Canada
These Kung Pao Chickpeas are cooked in a flavorful sauce that rivals your favorite take-out restaurant, and they couldn't be much easier to prepare. Just throw the ingredients in your slow cooker in the morning and it will be ready for you by dinnertime!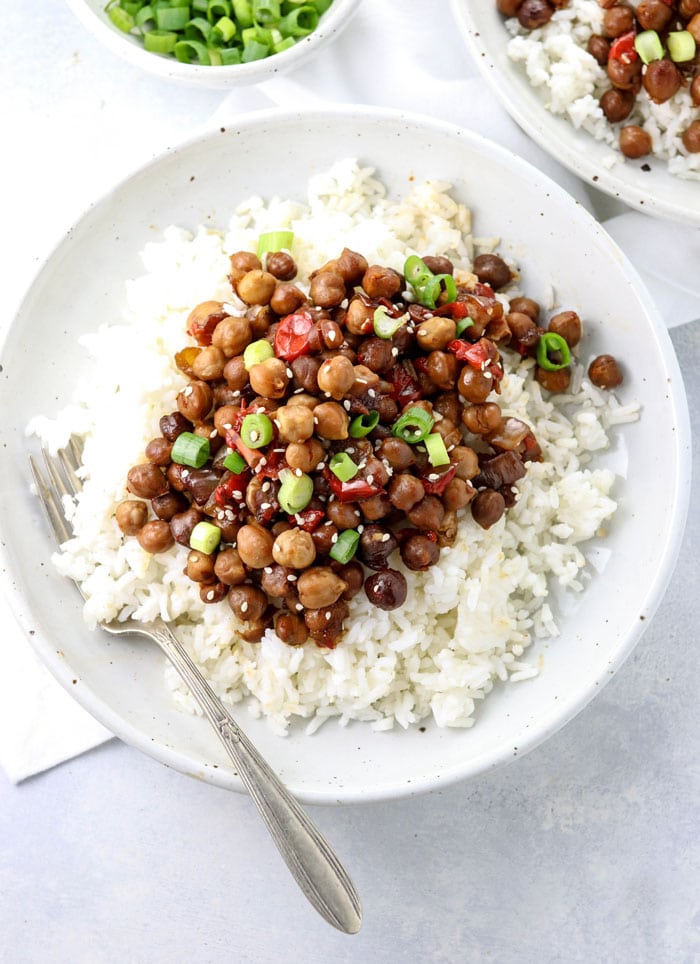 I love using chickpeas as a substitute for chicken in vegetarian recipes because they're loaded with filling fiber and plant-based protein. Chickpeas have about 15 grams of protein per cup!
Like other pulses, chickpeas are also a source of complex carbohydrates, which are thought to help balance your blood sugar levels and give you sustained energy.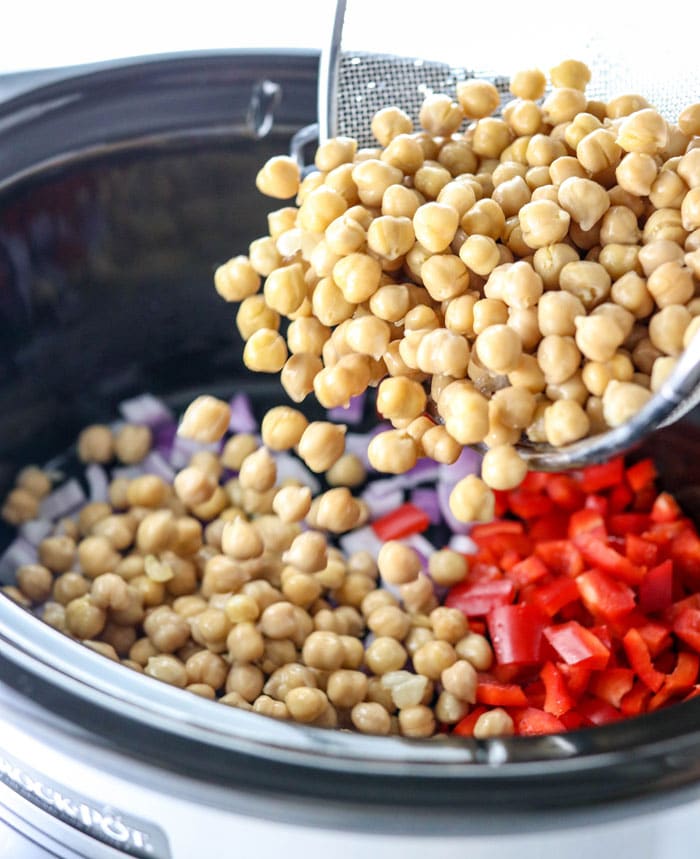 Cooking this dish in a slow cooker allows the chickpeas to marinate in this flavorful Kung Pao sauce, for maximum flavor with minimum effort.
While developing this recipe, I noticed that other recipes for Kung Pao Chicken call for a prepared hoisin sauce and one or more types of chiles. I'll be honest– those ingredients sound a little too complicated for me, so my goal was to make this version as easy as possible.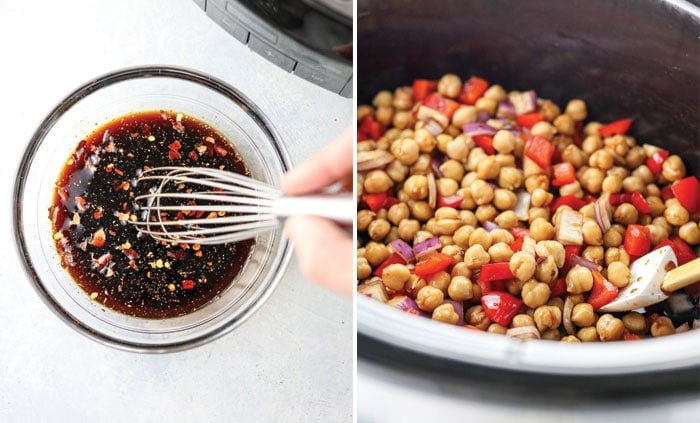 I hope you'll enjoy this less-authentic (but still totally delicious) recipe that you can make with ingredients you probably already have in your pantry.
You can can add a handful of peanuts at the end for some added crunch, but I decided to make my recipe nut-free and more allergy friendly.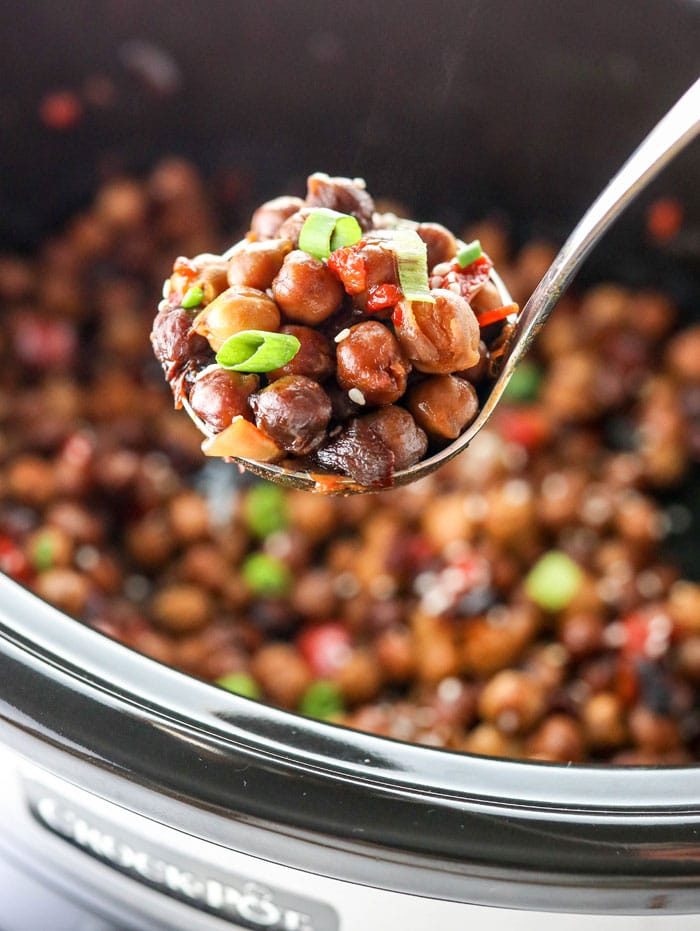 Either way, it's a total crowd-pleaser!
Kung Pao Chickpeas (in a Slow Cooker!)
STARCH | Gluten-free, Dairy-free, Egg-free, Nut-free, Vegan
These Kung Pao Chickpeas make an easy vegetarian dinner and taste like your favorite take-out. A great source of plant based protein, the prep work is a breeze!
Keyword:
kung paa chickpeas
Ingredients
1/2

red onion

, chopped

1

red bell pepper

, chopped

3

cups

cooked chickpeas

(or two 15 oz. cans, rinsed and drained)

1/4

cup

tamari

(gluten-free soy sauce)

2

tablespoons

balsamic vinegar

(the more syrupy, the better)

2

tablespoons

maple syrup

1/2

teaspoon

garlic powder

(or 2 minced garlic cloves)

1/2

teaspoon

ground ginger

(or 2 teaspoons fresh minced ginger)

1

teaspoon

red pepper flakes

1

teaspoon

toasted sesame oil

3

green onions

, chopped

sesame seeds

, for garnish

Cooked white rice

, for serving (or cauliflower rice)
Instructions
Add the red onion, bell pepper, and chickpeas into the bowl of your slow cooker.

In a small bowl, whisk together the tamari, vinegar, maple syrup, garlic, ginger, red pepper flakes, and sesame oil. Pour the sauce into the slow cooker and stir well.

Cover the slow cooker and set it to cook for 3 hours on high heat, or 6 hours on low heat. If you need to cook it longer due to your schedule, I'd recommend adding 2-4 tablespoons of water to the mixture to help prevent the sauce from over-cooking. (If you have a super-nice slow cooker, it might also give you the option to have the cooker start cooking later in the day on a timer.)

Once the cooking is done, give the chickpeas a stir and serve them warm over a bed of white rice (or cauliflower rice) with a sprinkling of green onions and sesame seeds on top.

Leftovers can be stored in an airtight container in the fridge for up to a week.
Per serving: Calories 120, Carbohydrates: 19, Protein: 8, Fat: 2
Half-Cup Habit
This vegetarian main course is a great way to make sure you're reaching your Half-Cup Habit goals. This 4-week challenge encourages readers to add 1/2 cup serving of pulses (beans, lentils, chickpeas, or dry peas) to their diets three times a week. In other words, you simply have to eat 1 1/2 cups of cooked pulses a week. By participating, users will receive free recipes, pulses cooking tips and more.
Click here to join me in taking the Half-Cup Habit today!
—
Reader Feedback: What's your favorite way to serve chickpeas? 
SaveSave
SaveSave
SaveSave