Pesto Pasta is an easy weeknight meal that comes together in less than 30 minutes. You can whip up the pesto as your pasta cooks, for maximum efficiency, and it's so delicious, you'll want to lick the bowl clean!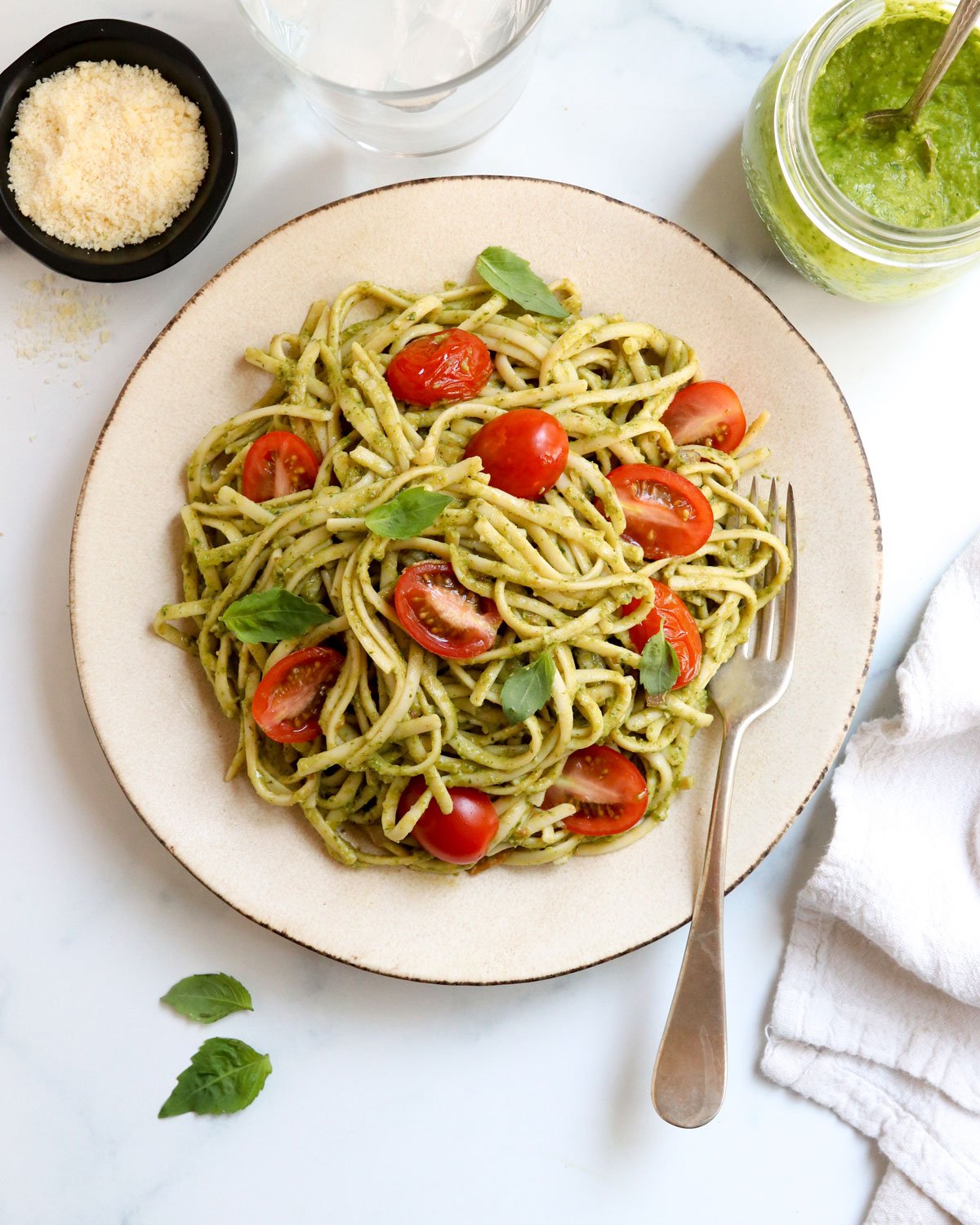 Why You'll Love It
It's comforting. Pasta is the ultimate comfort food, right? And when you add your favorite pesto sauce and veggies, you'll get a little bit of everything in each bite.
It's easy. Cook the pasta according to the directions on the package, and while you wait for the pasta to cook, you can whip up the pesto in a blender or food processor. It doesn't get much more time efficient than that!
It's delicious. I'm partial to using a homemade pesto here, so you can totally control the flavor. You don't always know what you're going to get with a store-bought pesto, but a homemade pesto will always have the perfect amount of lemon juice, garlic, and salt, since you can taste it as you go.
It's flexible. If you follow a special diet, like gluten-free or dairy-free, this recipe is easy to adjust. I love using chickpea noodles, which are naturally gluten-free, grain-free, and a good source of plant based protein, but you can use any other pasta you have on hand. (As long as you keep the general ratios the same.) If you need a dairy-free pesto, I've got you covered with my favorite vegan pesto recipe, and if you need a nut-free recipe, try my broccoli pesto.
Need an oil-free dish? Use water instead of oil to saute the veggies, and try my Zucchini Pesto recipe, which is oil-free.
How to Make It
Cook the pasta. Bring a pot of salted water to a boil (I usually add a tablespoon of salt to the water) and then cook the pasta according to the directions on the package.
Make the pesto. While the pasta is cooking, prepare the pesto. Most pesto recipes, like my kale pesto, require just a handful of ingredients and a few seconds in a blender.
Saute the veggies. If you want to add veggies to this pasta, which I highly recommend, start sauteing them in a wide skillet on a separate burner. This way the veggies will be ready to go soon after the pasta is drained. I think red onion and cherry tomatoes go particularly well with pesto, but I also love sauteed cabbage with any pasta dish, as a sneaky way to get more veggies in. You can hardly tell the difference between the cabbage and the pasta! (Try my Vegan Pad Thai or Peanut Noodles if you don't believe me.)
Mix it all together. Once the pasta is cooked, reserve roughly a 1/4 cup of the cooking water, then drain it. Add the pasta to the pan of cooked veggies, along with 3/4 of a cup of pesto, and the reserved cooking water, to help thin it out. (This is optional, if you're pesto isn't already runny.) Season with salt and pepper to taste, then serve warm.
Feel free to add any other protein you like to this dish, such as Air Fryer Chicken or Crispy Baked Tofu, to make it extra filling.
Variations
The type of pesto and veggies you use will determine the overall flavor of this dish. Here are some ideas to try, if you want to switch things up!
I'd love to hear any other combinations you try, too!
Pesto Pasta
Pesto Pasta is a fast weeknight meal that comes together in less than 30 minutes! You can prepare the pesto while the pasta cooks, and add in any veggies you have on hand for a nourishing and comforting dish.
Equipment
Ingredients
8

ounces

linguine noodles

(or any other variety; I use Banza brand)

1

tablespoon

extra-virgin olive oil

1/2

red onion

, thinly sliced

1

cup

cherry tomatoes

, sliced in half

1/2

cup to 3/4 cup

prepared pesto

(Broccoli pesto is used in these photos)

1

tablespoons

extra-virgin olive oil

salt and pepper
Instructions
Bring a pot of salted water to a boil, and prepare the noodles according to the directions on the package. While you wait for the water to come to a boil, slice the red onion and tomatoes.

Once the pasta is cooking, prepare the pesto, if you haven't already. Add the pesto ingredients to a blender, and blend until smooth.

When the pasta is tender, reserve a 1/4 cup of the starchy cooking water, then drain the pasta. In a larges skillet over medium-high heat, add a tablespoon of olive oil and start sauteeing the red onion. It should soften in about 5 minutes, then add in the tomatoes and stir briefly. Season with 1/4 teaspoon of salt, as you stir the veggies.

When the veggies are as tender as you'd like them to be, add in the pasta, prepared pesto, and the cooking water to help thin-out the pesto sauce, if needed. Stir until everything is hot and evenly coated, then season with salt and pepper, to taste.
Notes
Nutrition information is for 1 of 4 servings, using a generic store-bought pesto sauce. This will vary dramatically, based on what kind of pesto you use. My pesto recipes are lower in calories, since they use less oil.
Nutrition
Calories:
399
kcal
,
Carbohydrates:
47
g
,
Protein:
9
g
,
Fat:
19
g
,
Saturated Fat:
3
g
,
Polyunsaturated Fat:
1
g
,
Monounsaturated Fat:
5
g
,
Cholesterol:
2
mg
,
Sodium:
285
mg
,
Potassium:
228
mg
,
Fiber:
3
g
,
Sugar:
4
g
,
Vitamin A:
779
IU
,
Vitamin C:
10
mg
,
Calcium:
67
mg
,
Iron:
1
mg
If you try this Pesto Pasta recipe, please leave a comment below letting me know what you think!