This Raspberry Vinaigrette recipe is quick & easy, calling for just 7 ingredients. It tastes so much better than a bottle of store-bought dressing, you might be tempted to drink it straight out of the blender!
What does Raspberry Vinaigrette taste like?
Raspberry vinaigrette tastes like a cross between raspberry jam and a red wine vinaigrette. It's tangy and sweet, with a classic raspberry flavor. It goes really well over my popular Arugula Salad, and will brighten up any salad ingredients you need to use up.
This is the kind of dressing I make for company, because it's a show stopper. The flavor and color are so impressive!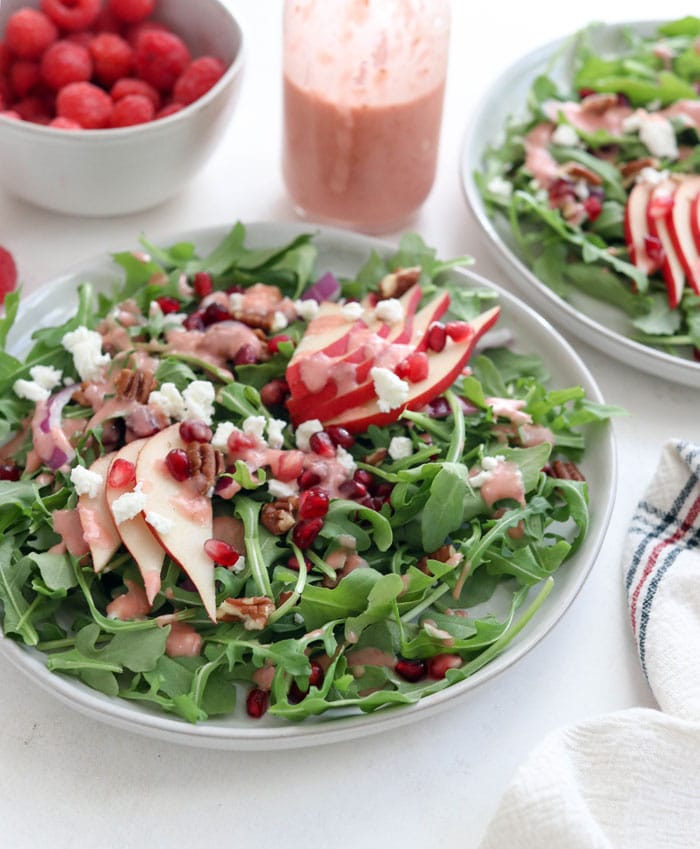 How long does homemade Raspberry Vinaigrette last?
Because this dressing calls for fresh raspberries, it will only last in the fridge for 4 to 5 days. For the best flavor, I recommend making it the day you plan on serving it, or up to 24 hours in advance.
I purposefully make a small batch of this dressing, so that I know I will use it up in a single week, but you can double it if making this for a party or as a meal prep recipe.
How do you make healthy Raspberry Dressing from scratch?
This dressing is super-easy to prepare. Just add all of the ingredients into a blender, and blend until smooth! You can taste and adjust any seasonings from there. For a more tangy dressing, add an extra splash of vinegar, or you can sweeten it up with extra honey.
The raspberry seeds might not totally break down if you're not using a high-powered blender like the Vitamix, but I don't mind the texture of the seeds when I'm serving this over a salad. The seeds can add a nice crunch! (I also like to serve this dressing with extra raspberries on top of my salad, so you'll be eating the seeds anyway, in that case.)
How to Thicken a Healthy Salad Dressing
The raspberries and shallot act as a natural thickener in this recipe, so you won't need as much oil. As a result, you'll have a healthy salad dressing that is lower in calories than many store-bought versions.
Raspberry Vinaigrette (in 5 minutes!)
This Raspberry Vinaigrette is a delicious, healthy salad dressing made with only a few ingredients. This recipe makes a small batch-- only 3/4 cup-- so double it if you need more.
Equipment
Ingredients
1/2

cup

fresh raspberries

1/4

cup

extra-virgin olive oil

3

tablespoons

red wine vinegar

2

tablespoons

maple syrup

1

tablespoon

finely chopped shallot

(or red onion)

1/4

teaspoon

fine sea salt
Instructions
Combine all of the ingredients in a blender, and blend until very smooth. Taste and adjust the flavor to your taste, adding more vinegar for a tangy flavor, or more maple syrup if you want it a little sweeter.

You can serve this dressing right away, or store it in an airtight container in the fridge for up to 5 days. (I think the flavor is the very best within the first 48 hours, if you plan on making this for company!)
Notes
You can use honey instead of maple syrup for sweetness. In that case, you might want to use only 1 to 1.5 tablespoons, since honey is sweeter than maple syrup.
Nutrition
Calories:
104
kcal
,
Carbohydrates:
6
g
,
Protein:
1
g
,
Fat:
9
g
,
Saturated Fat:
1
g
,
Sodium:
98
mg
,
Potassium:
30
mg
,
Fiber:
1
g
,
Sugar:
4
g
,
Vitamin C:
3
mg
,
Calcium:
10
mg
,
Iron:
1
mg
Nutrition information is for roughly 2 tablespoons of dressing. Nutrition is automatically calculated using generic ingredients, so it's only an estimate and not a guarantee.
If you try this recipe, please leave a comment below and let me know how you like it. And if you make any modifications, I'd love to hear about those, too. We can all learn from your experience!
More Salad Dressing Recipes
If you need more salad dressing inspiration, try one of these popular recipes!
–
Reader Feedback: What's your favorite salad dressing?