I feel like a kid on Christmas morning.
The cookbook is finally here, and I'm sharing one of my favorite recipes from it below– you'll love these Chocolate Pecan Crumble Bars!
As you may know, this book has been a long time in the making, so I'm thrilled to know it will be arriving at your doorsteps today and popping up on store shelves all over the country. I appreciate your support more than I can say.
When I set out to write this cookbook, I had a few goals in mind:
1. I wanted it to be loaded with recipes that you'll actually use on a regular basis.
I often find that I'll only use one or two recipes out of most of the cookbooks I own, and I wanted this one to be different. So, I filled this book with recipes that I personally use on a daily basis– including my very favorite salad dressings, smoothies, entrees, and desserts. If you've taken a look at my What I Ate posts, you've probably noticed that I really do enjoy the recipes from my own cookbook quite often!
2. I wanted the recipes to be as easy and approachable as possible.
Believe it or not, I'm actually a pretty lazy cook. If a recipe has a long ingredient list or complicated instructions, I won't go near it. (If you ask me to beat egg whites, I'll give up right there!) So, all of the cookbook recipes have a pretty brief ingredient list and don't call for anything too complicated. I won't use two types of flours in the same recipe, as many other gluten-free recipes do, and I've also avoided using any special thickeners, like arrowroot or tapioca starch.
The recipes in the book are also labeled for food combining purposes and allergy needs. All of the recipes are gluten-free, and many of them are vegan, soy-free, egg-free, dairy-free, nut-free, and sugar-free as well.
3. I wanted to create healthy recipes that satisfy your comfort food cravings.
Healthy living is supposed to make your life better, and a life without pizza, ice cream, or brownies just doesn't sound like much fun to me! So, I've made it my mission to re-create some of my favorite comfort foods, using whole food ingredients to make them taste as decadent as possible. I've included recipes for cheesecake, lemon bars, brownies, cookies, pizza, coffee cake, pancakes, lasagna, pad thai, "beef" & broccoli, mac n' cheese, ice cream, and more!
4. I wanted you to be able to enjoy these recipes while also reaching your health goals– whether you're looking to lose weight, clear your complexion, sleep better, or improve your digestion.
I've included a 3-step eating guide to help you do just that, along with a meal plan, shopping list, and tips for preparing your foods ahead of time to help you get started right away!
Testimonials
While working on this program, I actually put together a large test-group to make sure this program would work for a variety of people. Here's what a few of them had to say, after just one week of following the meal plan in the book:
This gave me the "jump start" I needed, and the recipes are amazing. In seven days, I lost 4 pounds and my husband lost 6 pounds! There was not one recipe that we tried this past week that we didn't love— and I'm cooking for a family of 4. And it was CHEAP! To provide healthy meals for my family and stay under budget is amazing. This is exactly the kind of plan that I've been looking for! – Jen V.

The food combining that you taught me has been my saving grace. It's made such a difference in my digestion!  I stuck to this meal plan Monday through Friday lunch before traveling, and lost almost 3 pounds. -Andrea H.

Given that I already have healthy habits, this plan was a great reinforcer to get back on track.  The meal plan was very helpful! I noticed myself snacking less and was able to last longer between meals.  It also helped me with my busy schedule. The recipes were FABULOUS!! Super easy to prep, especially after doing it once, and the flavors were very versatile. My fiance, who is a picky eater and does not care about he eats, was loving all the smells in the kitchen while I was cooking and willing to try the recipes!!  That alone speaks for your recipes.   -Jessica T.

Keeping my meals properly combined really makes a difference in my digestion. These simple meals are more quick to prepare, taste amazing, and are easier to digest so its a win-win for everyone. And your plan and the recipes that go along with it make it SUPER easy to stick to. There's an option literally for everyone! And of course, I  can't forget to mention again how yummy all the recipes are. Which is in fact the most important part, because no one will stick to it if they don't like the food. You've got all the bases covered! —Alyssa S.
The key to reaching and maintaining your goals is to develop healthy habits that you can practice on a daily basis– hence the name Everyday Detox— so I hope the recipes and eating guide in this book will help you do just that!
—
Now I think it's time to share a recipe from the book.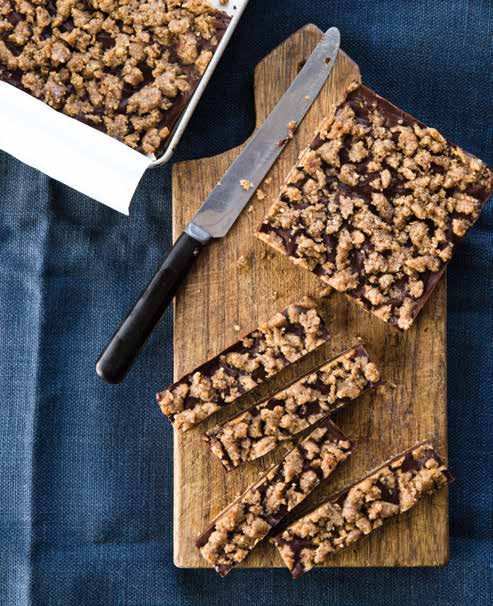 These Chocolate Pecan Crumble Bars are one of my favorite desserts for impressing guests, because they look as good as they taste– but they don't require a ton of work. You use the same "dough" for both the crust and crumble topping, so you prepare those layers all at once, using just one bowl. Like most of my recipes, it's also easily adaptable, so if pecans aren't your favorite feel free to use any other nut you like!
Chocolate Pecan Crumble Bars
These bars look as impressive as they taste, but they are deceptively easy to prepare. Featuring buttery pecans and fiber-rich dates, these bars are loaded with minerals, including magnesium, manganese, copper, and iron, and are teamed up with a homemade chocolate layer that's bursting with antioxidants. Because they are a raw, no-bake dessert, be sure to serve these bars directly from the refrigerator or freezer for best texture.
Ingredients
CRUST AND CRUMBLE TOPPING
3

cups

raw pecan halves

8

soft Medjool dates

, pitted

¼

cup

melted coconut oil

½

teaspoon

sea salt
CHOCOLATE FILLING
½

cup

raw cacao powder or cocoa powder

¼

cup

melted coconut oil

¼

cup

maple syrup

, at room temperature
Instructions
Line a 9-inch square baking dish with parchment paper and set aside.

Prepare the crust and topping: Place the pecans in a food processor fitted with an "S" blade and process until they are ground into a meal. Add in the dates, coconut oil, and salt and process again until the dough sticks together when pressed between your fingers.

Reserve ı cup of this mixture for the crumble topping and press the rest of the dough evenly into the lined baking dish, then set aside.

Prepare the filling: In a medium bowl, whisk together the cacao powder, coconut oil, and syrup until smooth. Pour the chocolate filling over the crust and smooth the top with a spatula.

Sprinkle the remaining ı cup of crumble over the top of the chocolate layer and use your hands to gently press the topping into the chocolate filling. Place in the freezer to set for at least 2 hours and then cut into bars and serve chilled.
Notes
Reprinted with permission from Everyday Detox, by Megan Gilmore, copyright © 2015, published by Ten Speed Press, an imprint of Penguin Random House LLC. Photographs copyright © 2015 by Nicole Franzen.
Nutrition
Calories:
239
kcal
|
Carbohydrates:
16
g
|
Protein:
2
g
|
Fat:
20
g
|
Saturated Fat:
7
g
|
Sodium:
73
mg
|
Potassium:
211
mg
|
Fiber:
3
g
|
Sugar:
11
g
|
Vitamin A:
30
IU
|
Vitamin C:
0.2
mg
|
Calcium:
30
mg
|
Iron:
1
mg
Per Serving: Calories: 239, Fat: 20g, Carbohydrates: 16g, Fiber: 3g, Protein: 2g
Here's some more cookbook info:
Where to Purchase:
For those of you who would like to pick up a copy of the book, you can find a list of retailers here.
Social Media Fun:
I can't WAIT to see photos of you with your cookbooks and all of the recipes you make. Use the hashtag #everydaydetox and tag @detoxinista so I can find you! Also be on the lookout for some giveaways on Instagram, Facebook, and Twitter. I'll be giving away several signed copies soon!
—
Reader Feedback: For those of you who have received your copy of Everyday Detox, which recipe are you going to make first? If you share any photos on social media, tag them with #everydaydetox so I can find them!