If you love spaghetti squash, but don't love how long it takes to bake in the oven, you'll love how much faster it cooks in the Instant Pot! It doesn't get much easier than this.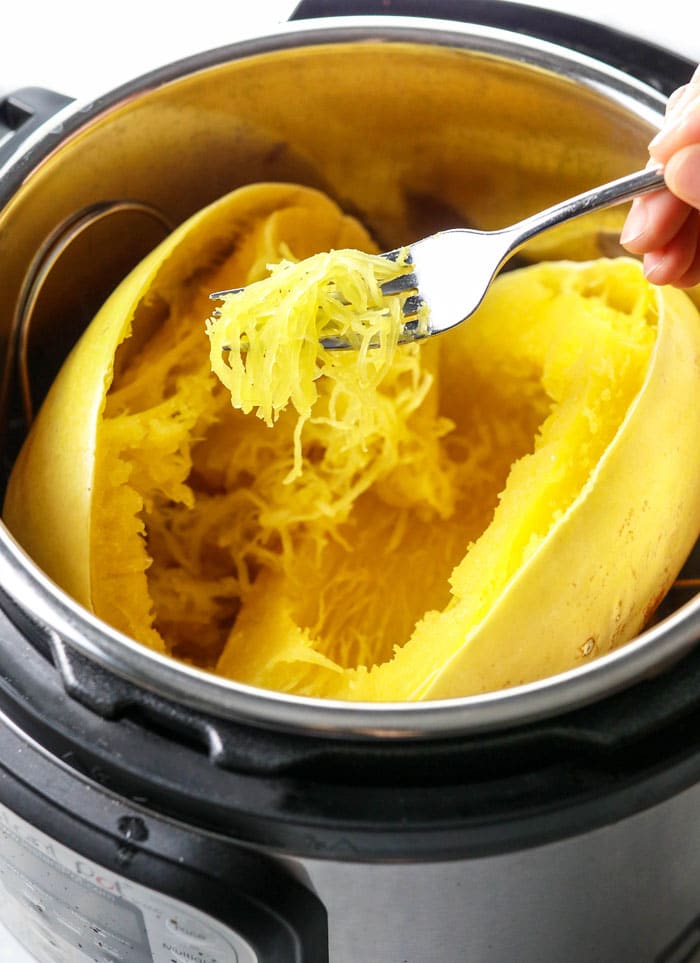 Instant Pot Spaghetti Squash
You can cook spaghetti squash in the Instant Pot in just 7 minutes, plus the time it takes to come to pressure (which is usually an extra 10 minutes or so).
I feel like the Instant Pot isn't always a time-saver, but in this case, it totally is. It normally takes me 45-60 minutes to bake a spaghetti squash in the oven!
Now, I'm sure you could probably bake the spaghetti squash whole if you wanted to, but I much prefer to slice it in half first, so that it cooks faster and so I can scrape the seeds out easily. When you try to scoop the seeds out AFTER the squash is cooked, I feel like you lose too much of the good, cooked squash in the process.
How to Cut Spaghetti Squash
I like to use a sharp knife to slice this hard squash in half lengthwise. Typically my knife gets "stuck" in the hard shell, so when that happens I'll lift the squash by the knife handle and then hit it on the cutting board, so that the knife will continue the cut through the shell. Once you get most of the shell cut, the rest of the shell can be split in half by pulling the halves apart with your hands.
Tip: For longer "spaghetti" strands, cut the shell the other way, crosswise.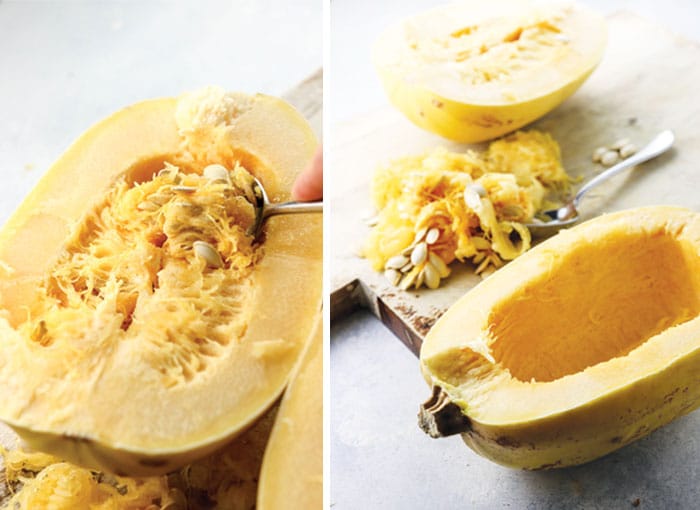 What Does Spaghetti Squash Taste Like?
Spaghetti squash is a relatively bland vegetable, so it's mild flavor can go well with a number of seasonings and sauces. It's more hydrating and not as starchy as other winter squashes, like butternut or acorn, and it's also not as sweet in flavor. I prefer to pair it with savory seasonings, like in my Cheesy Spaghetti Squash Casserole or Spaghetti Squash Enchilada Boats.
When is Spaghetti Squash in Season?
Spaghetti squash is harvested in the Fall but it can last for months when stored in a cool place, so it's usually available from Fall through Winter, and sometimes into early Spring.
How Long Can You Store Spaghetti Squash?
You can store the uncooked squash for months in a cool location. After you cook the squash, I've kept it stored in the fridge for up to a week with good results! I find it's slightly more moist after storing it pre-cooked, but it can be a time-saver when making a casserole like the Spinach & Artichoke Casserole in No Excuses Detox, or the Cheesy Jalapeno Casserole in Everyday Detox.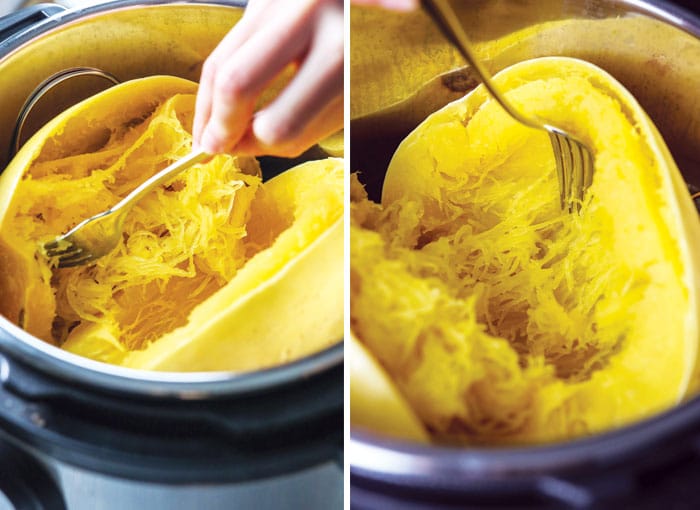 Spaghetti squash can be a great side dish, or act as a pasta or shredded potato substitute. I hope you'll enjoy it more often now with this fast cooking method!
Can you cook a whole spaghetti squash in the Instant Pot?
Yes! Simply pierce the spaghetti squash with a knife to vent, and then place it on the trivet with a cup of water in the pot. Cook on high pressure for 15 minutes for a 3-pound squash. (If your squash is larger, I'd add 3 more minutes to the cook time.)
Allow the pressure to naturally release for 10 minutes before manually turning the pressure release valve to venting, then use heat-proof oven mitts to remove the squash. You may want to let the squash cool slightly before slicing it in half and removing the seeds with a spoon.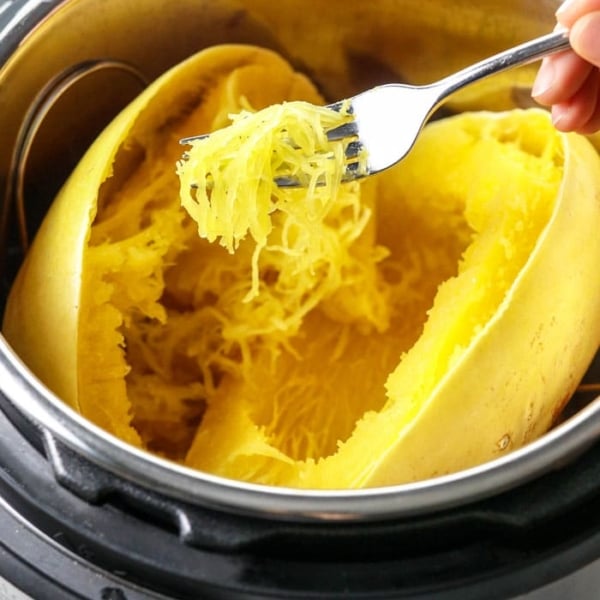 Instant Pot Spaghetti Squash (in 7 minutes!)
Instant Pot Spaghetti Squash is faster than cooking this low-carb squash in the oven. This 7-minute method turns out perfectly every time!
Ingredients
1

spaghetti squash

(about 3 pounds)

1

cup

water
Instructions
Slice the spaghetti squash in half and then scoop out the seeds in the center.


Place a trivet or steamer basket in the bottom of the Instant Pot and add a cup of water into the bottom. Arrange the cut squash halves on top of the trivet and secure the lid. Make sure the steam release valve in the lid is turned to the Sealing position.


Use the pressure cook or manual button to set the pressure cooker to cook at high pressure for 7 minutes. It will take roughly 8-10 minutes for the pot to build pressure before the cooking cycle begins, so make sure to consider that extra time when planning your meal.


When the timer goes off, carefully turn the steam release valve to Venting, to quickly release any remaining steam pressure. (Make sure your hand isn't over the vent, so that you don't get burned by the steam.)


When the floating valve in the lid drops, it's safe to remove the lid. Use a fork to check the squash to make sure it's cooked to your liking. I like my squash to be tender, but not mushy. If there is water collected in the center of your squash, drain it before serving.


To serve the squash, use the tines of a fork to separate the cooked strands into spaghetti-like pieces and remove them from the hard shell. Use the cooked squash in your favorite recipe and store leftovers in an airtight container in the fridge for up to a week.
Video
Nutrition
Calories:
74
kcal
,
Carbohydrates:
16
g
,
Protein:
1
g
,
Fat:
1
g
,
Sodium:
44
mg
,
Potassium:
260
mg
,
Fiber:
3
g
,
Sugar:
6
g
,
Vitamin A:
290
IU
,
Vitamin C:
5
mg
,
Calcium:
56
mg
,
Iron:
0.8
mg
Per serving: Calories: 74, Protein: 1, Carbohydrates: 16, Fat: 1
Recipe Notes:
If you'd prefer to cook a WHOLE spaghetti squash, without cutting it in half first, follow the directions above but cook at high pressure for 15 minutes. Let the pressure naturally release for 10 minutes, then move the steam release valve to venting and remove the lid when the floating valve drops.
If you don't have an Instant Pot, here's how to cook spaghetti squash in the oven.
As always, if you have additional cooking tips to share, please leave them in the comments below so we can all benefit from your experience.
—
Reader Feedback: What's your favorite way to serve spaghetti squash?