Spaghetti Squash is one of my favorite alternatives to pasta, because it's easy to cook and requires no special equipment to make the noodle-like strands. When you drag a fork through the cooked flesh, it turns into spaghetti!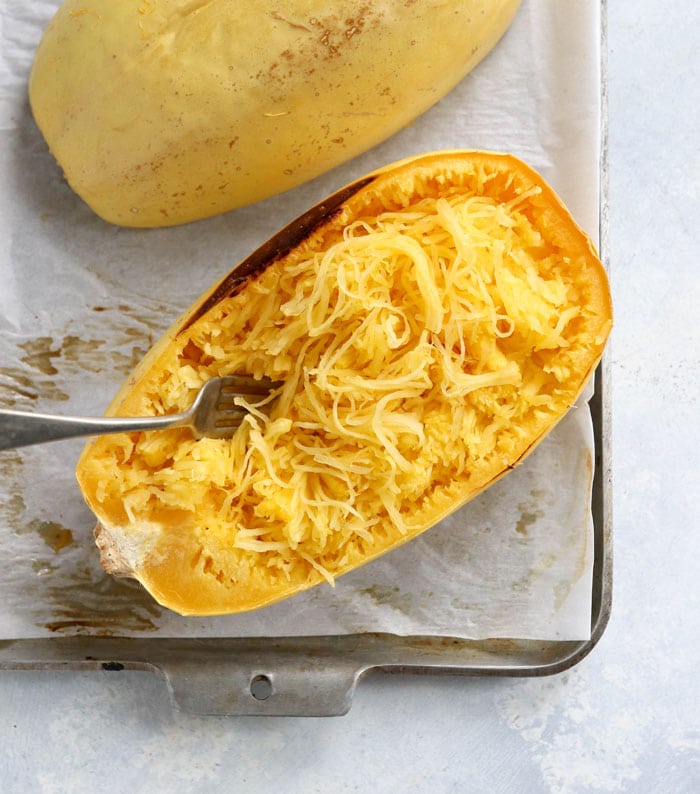 Is Spaghetti Squash Healthy?
Spaghetti squash is an excellent source of fiber and has only 42 calories per cup. (By comparison, there are 220 calories in a cup of cooked spaghetti.) One cup of cooked squash has 2.2 grams of fiber, which is 9% of your daily needs.
Spaghetti squash is also high in vitamin C, beta-carotene, and other antioxidants. Because it's a very hydrating vegetable, it's considered neutral for food combining (unlike other winter squash, which are starchier).
What Does It Taste Like?
Spaghetti squash has a very mild, almost neutral flavor, though I think of it as being slightly sweet. It's not nearly as strong in flavor as other winter squash, like acorn or butternut squash, so what I notice more about it is the texture.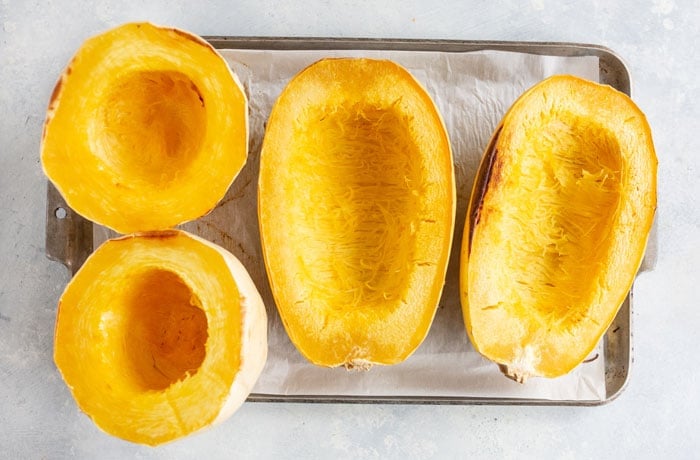 Spaghetti squash "noodles" can be a little watery, or have a slight crunch to them depending on the squash. This slightly crunchy texture is what makes them stand out from regular pasta to me. I like the texture, but it can be a surprise if you're expecting regular spaghetti noodles.
How to Cook It
The most traditional way to cook spaghetti squash is by slicing it in half and roasting it cut-side down on a pan in the oven. Some people drizzle oil over the squash before cooking, but I find that to be unnecessary.
On average, a spaghetti squash is tender in 45 to 60 minutes, depending on the size. When it's tender, you can easily run a fork through the cooked middle to get the noodle-like strands out!
How To Cut It
The hard shell of a spaghetti squash can be a little intimidating to cut through when it's raw. If you ask me, it's much easier to cut the squash cross-wise, rather than trying to cut it lengthwise through the stem.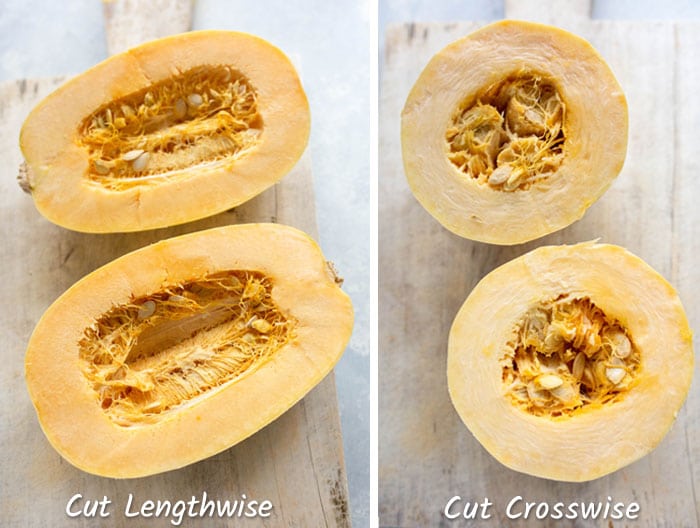 Cutting the squash cross-wise is not only a little easier, but it also results in longer noodles. If you want long spaghetti squash noodles that you can twirl with a fork, try cutting your squash cross-wise.
How to Cook a Whole Spaghetti Squash
You can avoid the cutting process all together by cooking spaghetti squash whole. It takes longer in the oven, but all you have to do is poke the spaghetti squash several times with a fork or knife to allow for venting, then bake it in the oven until the shell gives when gently pressed, about 1 hour and 20 minutes.
It's a good idea to turn the squash over half-way through baking so that it's evenly cooked.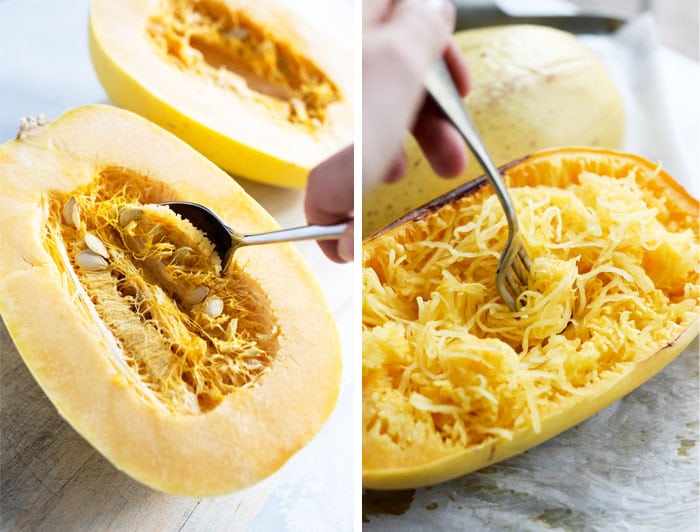 Cook it in the Instant Pot
If you have an Instant Pot, you can cook a spaghetti squash in less than 20 minutes. It's the easiest way if you ask me! Check out my Instant Pot Spaghetti Squash tutorial, which uses a 7-minute pressure cooking cycle. (You just have to make sure you use a squash that is under 4 pounds, so that it will fit in your electric pressure cooker.)
Just like in an oven, you can cook a spaghetti squash whole or cut in half in the Instant Pot, but cooking it whole will double the time it takes to become tender.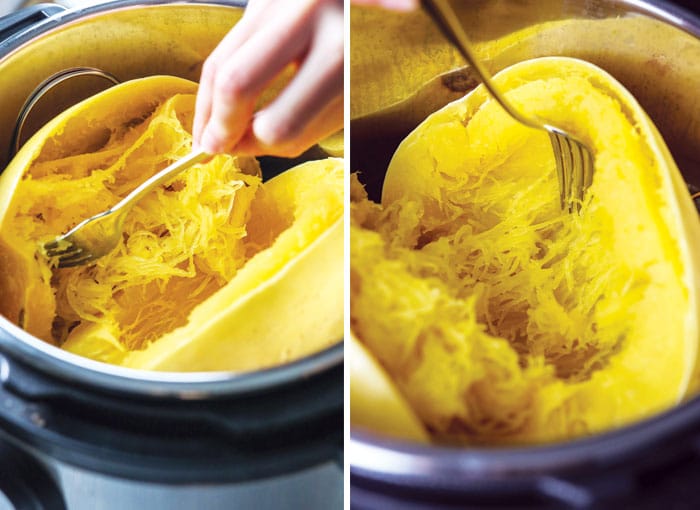 When is it in season?
Spaghetti squash is harvested in the Fall, but it can be stored in cool temperatures for months. That's why you may still see this winter squash available in your stores well into the Spring, too.
How Do You Know When It Goes Bad?
If you're like me and are worried about a squash you have sitting on the counter, here's how to tell when a spaghetti squash has gone bad:
The stem of the squash should be firm and dry. If it's black or moist, it's probably going bad.
The shell, or rind, of the squash should be pale yellow and firm. If it has dark yellow or brown spots on it, for feels squishy to the touch, it's starting to go bad. Small spots can be cut away, however, just like any other vegetable.
The inside should be firm and evenly colored when you cut into the squash. If you see spots or if it has a strong odor, it's going bad.
Cooked spaghetti squash can be stored for up to one week in the fridge, or up to 3 months in the freezer.
Is Spaghetti Squash a Good Substitute for Pasta?
I think spaghetti squash is a good substitute for pasta when the right sauce is used. Because spaghetti squash has a slightly sweet flavor, I like to balance that out with more salty and savory sauce options, like using a homemade pesto.
Or try my Spaghetti Squash Enchilada Boats or Cheesy Spaghetti Squash Casserole, which acts almost like a hash brown substitute.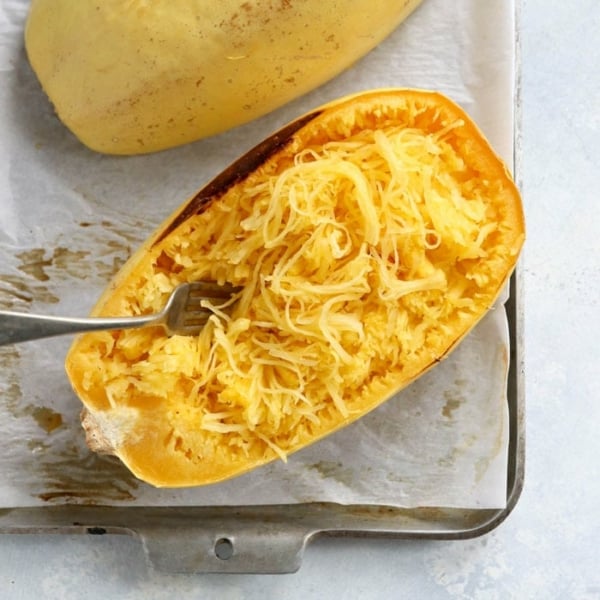 How to Cook Spaghetti Squash
Here's how to cook spaghetti squash, along with tips for getting long noodles, how to easily cut through the hard shell, and recipes to use it up!
Ingredients
1

spaghetti squash

(about 3 to 4 pounds)
Instructions
Preheat the oven to 400ºF and line a baking sheet with parchment paper to prevent sticking. (You can grease the pan with oil, if you prefer.)


Use a sharp, sturdy knife to cut the squash in half. You can cut it crosswise or lengthwise, but I find that crosswise is the easiest and gives you the longest "noodles" later.


Use a spoon to scoop out and discard the seeds in the middle of each squash half. Place the squash halves cut-side-down on the pan, then roast in the oven at 400ºF until tender. about 45 to 60 minutes.


You can tell the squash is done when the shell gives easily when pressed with the back of a fork, or you can check to see if the shell is easily pierced by the tines of the fork. Remove the squash from the oven and allow it to cool for 10 minutes before handling.


Use an oven mitt or towel to hold the squash, as it will still be hot. Using a fork, scrape the cooked flesh out of each squash half into a bowl. Use the squash right away with your favorite sauce, or in your favorite recipe.


Cooked spaghetti squash can be stored in an airtight container in the fridge for up to 1 week. Freeze it for up to 3 months.

Nutrition
Calories:
74
kcal
,
Carbohydrates:
16
g
,
Protein:
1
g
,
Fat:
1
g
,
Sodium:
41
mg
,
Potassium:
260
mg
,
Fiber:
3
g
,
Sugar:
6
g
,
Vitamin A:
290
IU
,
Vitamin C:
5
mg
,
Calcium:
56
mg
,
Iron:
0.8
mg
Recipe Ideas
If you're not sure what to do with your cooked spaghetti squash, try one of these easy recipes below. They are super-fast to prepare if your squash is already cooked!
If you prefer a simple presentation for your squash noodles, try topping them with my easy Instant Pot Spaghetti Sauce, Avocado Pesto, or Cauliflower Alfredo sauce.
–
Reader Feedback: Have you tried spaghetti squash yet? What's your favorite way to serve it?