If you're in charge of making a vegetable side dish for Thanksgiving this year, here are some of my tried-and-true favorite recipes to choose from. They're always a hit with my family, and as an added bonus, all of them are gluten-free! (Many are dairy-free, too.)
When it comes to holidays, I'm all for splurging on the "real thing," when it's called for, but in many cases, I think the recipes below taste BETTER than the versions my family used to make! I hope you'll think so, too.
16 Thanksgiving Vegetable Side Dishes:
This is my go-to salad to bring to holiday gatherings, because it's always such a hit! Expect everyone to ask you for the Apple Cider Dressing recipe. If you have guests who don't love blue cheese, leave it in a bowl on the side so people can add it themselves!
This green bean casserole is entirely vegetable-based, made with a "cream sauce" using cooked parsnips. It's surprisingly creamy and comforting, and it's healthy enough to be enjoyed year-round.
This easy stuffing is loaded with vegetables, and is naturally gluten-free. Wild rice has more protein than other varieties of rice, making this side dish extra hearty and filling, too!
This creamy side dish reminds me of mashed potatoes, but when you use cauliflower it's lower in carbohydrates with a satisfying texture that you can smother with gravy. I make mine dairy-free, but you can load them up however you like! Try them on the stove top or in a slow cooker.
It wouldn't be Thanksgiving in my house without a really good gravy you want to pour over everything. This gluten-free gravy happens to be entirely vegetable-based, and is thickened without using a flour or starch. Everyone loves it!
This Cornbread tastes remarkably similar to the Jiffy boxed mix my mom used to make, but it's not even made with corn! Instead, it uses millet and a sneaky veggie to make a fluffy, gluten-free skillet bread.
For a low-effort sweet potato dish, try these naturally-sweetened sweet potatoes! I love their caramelized flavor more than a traditional sweet potato casserole, and it's dairy-free and vegan.
If you grew up eating the classic corn casserole made with Jiffy cornbread mix and canned creamed corn, this recipe is for you! It reminds me of the original version my mom used to make, but it's naturally gluten-free and dairy-free.
This creamed spinach recipe is made with a dairy-free cashew cream sauce that I'm pretty sure I would enjoy over any vegetable! If you don't love spinach, try it over sauteed kale, instead.
This casserole reminds me of the cheesy hash brown casserole my mom used to make. Instead of potatoes, this one is packed with lower-carb spaghetti squash "noodles" and uses plain yogurt instead of a can of creamed soup.
Instead of using typical salad greens, try shaved brussels sprouts for your holiday salad. This one is tossed in a red wine vinaigrette and has festive toppings like dried cranberries and toasted hazelnuts.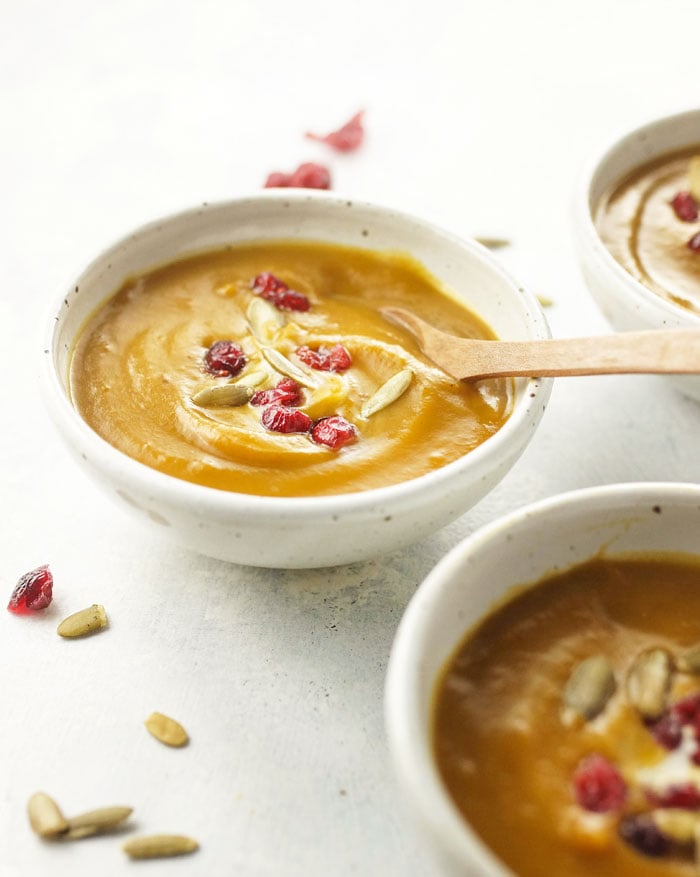 This creamy soup is naturally dairy-free, getting its silky texture from the pureed squash and a touch of coconut milk. When you add some tart cranberries and crunch pumpkin seeds on top, it looks extra-festive and has a nice contrast of textures and flavors.
This hearty salad is a nice change from wimpy side salads, and the process is as hands-off as possible when you make the rice portion in the Instant Pot! Get the recipe from my friend Kathryne at Cookie + Kate.
If you need to avoid grains entirely, this vegetable-based stuffing is for you. It has all the flavor you love, and is pretty easy to throw together!
This dairy-free take on green bean casserole uses protein-rich chickpeas to make the "cream sauce." Top it with some toasted hazelnuts instead of the more traditional deep-fried onions for some crunch!
This recipe is a fan favorite from The Fresh & Healthy Instant Pot Cookbook. You can find it in the Soups & Stews chapter of the book, but I also let my friend Jen share it on her website, Simple Green Smoothies.
–
Reader Feedback: Did I miss any of your favorite side dishes? Feel free to share links to more recipes in the comments below!